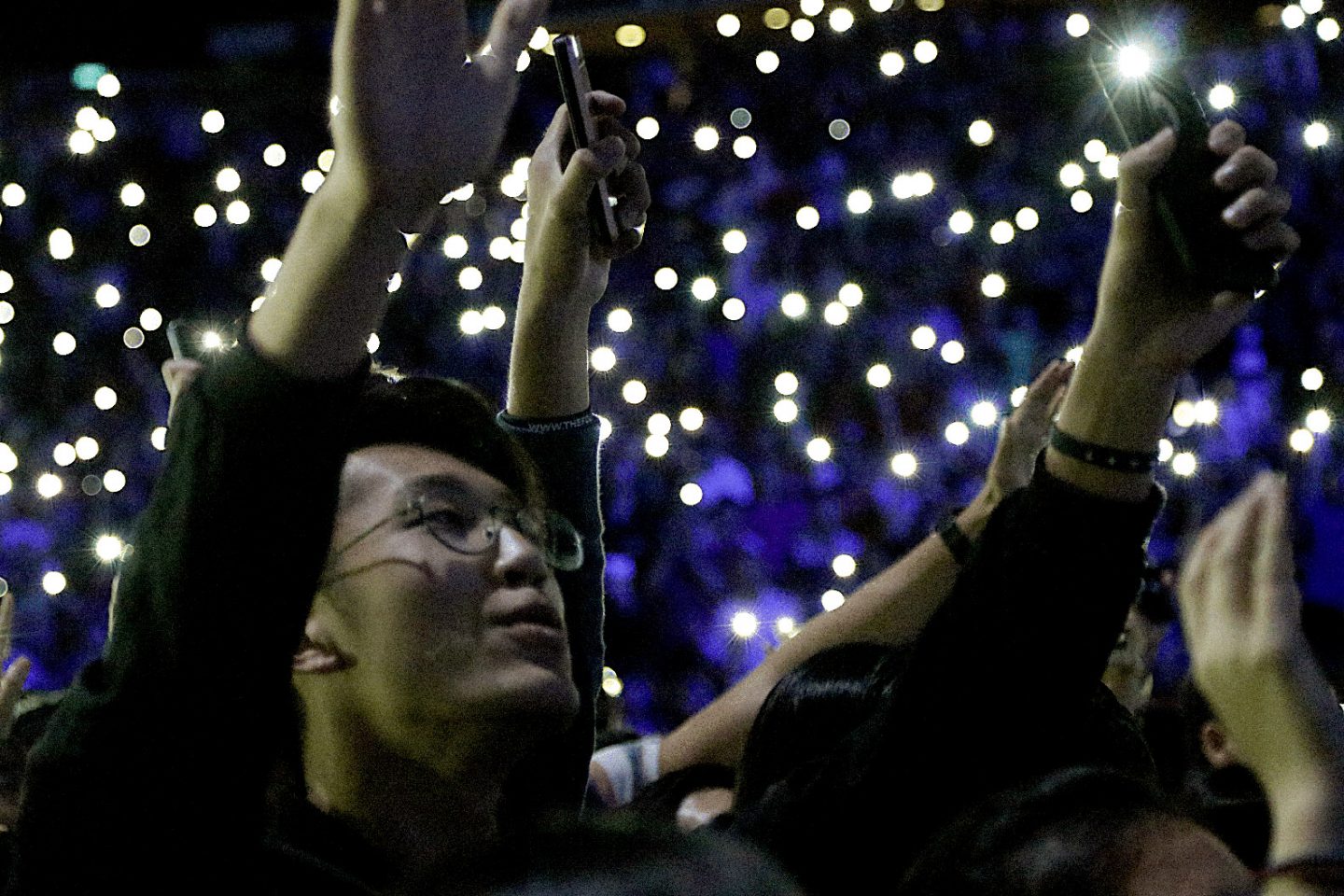 Smartphone lights went up all around the Singapore Indoor Stadium in a show of unity for evangelism at Day Of His Power. Photo by Lim Junheng.
The goal for churches and members in Singapore: To have a point of prayer and witness in each and every high-rise building in the nation.
"Every apartment block, every commercial block," LoveSingapore chairman Lawrence Khong said at this year's Day Of His Power celebration on Wednesday (8 August) night. "The Christians who are gathered there will begin to pray and take ownership of their own neighbourhood."
"We are going to see Jesus visiting that block and signs and wonders beginning to take place. And we're going to see people coming to know the Lord."
"I want to declare that Singapore will be saved."
Most Singaporeans live in high-rise buildings, pointed out Pastor Khong, the founder of Faith Community Baptist Church. According to 2017 figures from the Singapore Department of Statistics, 79% of Singaporeans are residents of HDB blocks, while 15.6% of Singapore stay in condominiums and other apartments.
Together, high-rise dwellers make up close to 95% of households in Singapore.
The diversity to be found in each building – thanks to the country's multi-racial makeup and HDB's racial quotas per block – means evangelism to every strata of society will be possible, he said.
We begin to know them, pray for them – and believe God for a revival of our block.
"If all we do is to evangelise to people we know, we will always be evangelising to people in the same social strata," he told the cross-denominational crowd at the Singapore Indoor Stadium, which was so full that hundreds had to be turned away at the door.
"There are poor people, people of different races, persuasions and religions within each block. We begin to know them, pray for them – and believe God for a revival of our block."
To illustrate the idea, a huge map of Singapore was projected onto the spartan floor of the Indoor Stadium. Christians under the age of 30 were then called to stand on the part of the floor representing their neighbourhood, the house lights were dimmed, and lights from handphones went up all around the stadium.
"Look up at the sky and count the stars — if indeed you can count them," God told Abraham. "So shall your offspring be." (Genesis 15:5)
The death and rebirth of a dream
Pastor Khong said this vision came after God had gently rebuked him at the beginning of this year.
"My son, Lawrence, you used to have the dream, but you lost it," Pastor Khong recounted God telling him.
Pastor Khong said he was able to grow FCBC, which was founded in 1986, from 300 to 10,000 members within a decade on the back of a conviction that the church would plant a cell in every block in Singapore. The LoveSingapore network, launched in 1995, supported this aim as well.
In the early years, Pastor Khong recounted, he put up a map of Singapore in his office, which he marked whenever a new cell was created. Couples from FCBC would even choose the location of their HDB purchase based on where there was a need for a cell, he added.
However, the target floundered at the turn of the century, and Pastor Khong stepped down as LoveSingapore Chairman. Victory Family Centre's founding pastor, the late Pastor Rick Seaward, took over for a seven-year stretch before handing the reins back to Pastor Khong.
Now, after 17 years, God was giving Singapore a second chance, said Pastor Khong.
"This is the Year of Prayer. Next year, 2019, is the Year of Proclamation," he noted. And God had told him: "I am about to move and if my people were to believe me and dream that dream."
He referenced God's covenant with Abraham as the Lord's plans for Singapore. In Genesis 15 and 17, God told Abraham that countless descendants (Genesis 15:5) and God-fearing nations would be made through him (Genesis 17:7).
Pastor Khong said: "We want to go out as Antioch. But there's nothing like when you see your own nation, filled with millions of you."
No Holy Spirit, no harvest
In the opening message of the night, Bishop Rennis Ponniah of the Anglican Diocese of Singapore called for a fresh outpouring of the Holy Spirit on the audience of more than 8,000, as the Singapore Church prepares for the Year of Proclamation in 2019.
The fire for God's truth cannot be an antagonistic one, as Jesus did not come to call down God's wrath on unbelievers, said the Bishop, citing Luke 9:51-56. Therefore, Christians cannot be hostile towards those who are against them.
Instead, the fire that God wants to call down on his church today is that of God's love, through the Holy Spirit (Acts 2:1-11).
This fire of God's love is a liberating, overflowing love.
"This fire of God's love is a liberating, overflowing love," he said. "It is our love for God, His love for us, our love for one another, and a love for lost souls."
It is also only through the Holy Spirit that the church will be united, Bishop Ponniah said, in reference to Acts 8:12-17.
The passage recounts how John and Philip were sent to Samaria to baptise new saints in the Holy Spirit. John was one of the disciples that originally wanted to destroy the unbelieving Samaritans in Luke 9:51-56.
But the power of God's love gave them a new heart through the Spirit.
"Without the filling of the spirit, there isn't enough generous love, believing love, forgiving love."
"We all need the fire of the Father's love to lead the harvest."
If you have enjoyed reading Salt&Light...
We are an independent, non-profit organisation that relies on the generosity of our readers, such as yourself, to continue serving the kingdom. Every dollar donated goes directly back into our editorial coverage.
Would you consider partnering with us in our kingdom work by supporting us financially, either as a one-off donation, or a recurring pledge?
Support Salt&Light