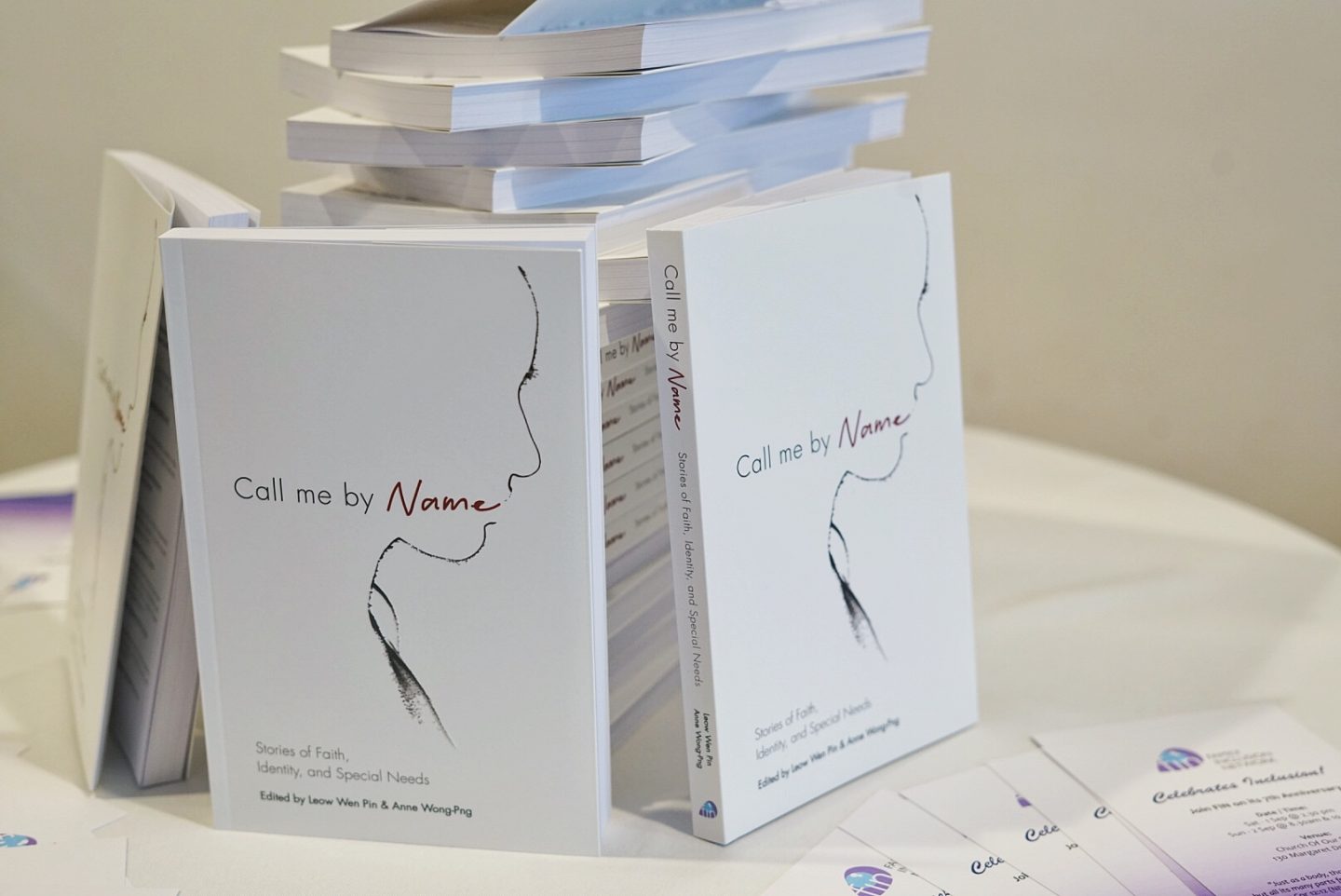 Call Me By Name is a compilation of stories about people with disabilities, their caregivers, and individuals involved in the special needs sector. Photo by Rachel Phua.
All men are fearfully and wonderfully made (Psalm 139:14) – how does one make sense of this verse in light of a broken world (Genesis 3:17)? 
A new book launched by the Family Inclusion Network, an organisation that connects individuals with disabilities and their families, aims to address the truth behind this line of Scripture in light of disability issues. Local Christian publisher Graceworks helped to produce the book. 
Call Me By Name is a compilation of stories from Christians with physical and intellectual disabilities, their caregivers, and individuals working in the special needs sector. 
The book is co-edited by Anne Wong-Png, the founder of the Family Inclusion Network, and Leow Wen Pin, the school supervisor of AWWA School and a faculty-in-preparation at the Singapore Bible College. Leow also teaches a course on disability theology at the Biblical Graduate School of Theology. 
The theme of the book centres on the storytellers' take on how they overcome marginalisation and adversity through their faith in Jesus Christ. 
Wong-Png said they chose to embark on this project, which started in July 2017, because both of them wanted more people to recognise the diversity of conditions among the special needs community and for Christians to properly understand the their needs.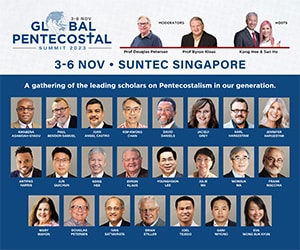 Doing so could improve how churches include and treat people with special needs, Leow said. 
"My understanding of the Gospel is that God saved the Church in order to be a united family that embraces God's inclusive heart for all the nations. People with disabilities are part of this united family, and so we must work hard to include them," he said.
The Bible also shows that God is especially interested in how believers respond to the marginalised so the Church must act with love to include them, Leow added. 
According to a survey on the quality of life conducted in 2016 by the National Council of Social Services, which gathered 981 responses from people with disabilities, this group of people experienced a lack of autonomy and control over their lives, and also felt excluded from contributing meaningfully to society.
God embraces each individual uniquely and personally (Acts 2:39). 
Wong-Png said she titled the book Call Me By Name to prompt readers not to identify special needs people by their conditions, as if they were defined by their disabilities. 
But God embraces each individual uniquely and personally (Acts 2:39), she said, and Christians should follow suit. 
Shedding misconceptions
Wong-Png, whose 26-year-old daughter, Cheryl, has learning difficulties, dismissed the notion that people need to be trained in order to interact with people with special needs.
"You can google for all the symptoms of a particular disability, but it's until you actually befriend them that you understand them," she said. "And when you know one, you only know one. Everyone is different." 
Gerald Png, Wong-Png's husband and the owner of the restaurant Soul Food, said he hopes the book stirs up the faith of readers with disabled family members as they recognise there are others battling the ordeal alongside them. 
"Hopefully it'll point people to God as they learn that the strength these caregivers have can only come from God (2 Corinthians 12:9)," he said.  
For Call Me By Name, Gerald wrote about his experience running his restaurant, a social enterprise staffed mostly by people with special needs.
He wants his story to encourage other entrepreneurs to consider hiring these individuals, as well as present insights into how the food and beverage (F&B) industry does not just offer them a job, but also inculcates life skills.  
Associate Professor Wong Meng Ee who teaches at the National Institute of Education is another contributor. 
The special education expert presented his account living with visual impairment to show that dealing with hardship and keeping the faith is "not all cosy and rosy, all angels and halos".
He shared his journey of wrestling with God, the grief process and the loneliness as he learned to cope with reality. Faith cannot shield one from the emotional turmoil, he said. 
Being a follower of Christ doesn't mean it's going to be a cushy life, Wong said. 
"Some people think, 'If I follow God, I will be relieved of all my ailments'," Wong said. "But being a follower of Christ doesn't mean it's going to be a cushy life."
And perhaps his story will galvanise believers to be more thoughtful in the way they lend a hand to those who are suffering, instead of throwing Christian platitudes at them, he added. 
President of the National Council of Social Services Anita Fam, who attended the soft launch of the book, told Salt&Light that what struck her about the book was its authenticity and honesty, which she believes will provide hope to readers who are facing a tough time. 
Interacting with special needs individuals 
Gerald said his biggest takeaway as a parent of a special needs child is finding out what it means to trust God (Psalm 56:3).
He recalled one day when Cheryl was out alone, and she had gotten lost. When she called her dad, he could sense her distress. She could not say where she was. 
Fortunately, Gerald could make out her location through the announcements in the background. She was on the MRT.
He told her to get out of the train, pass the phone to someone, and wait for him. 
"You and I take these situations for granted because we can read," he said. "I have to trust a heavenly Father to protect my daughter and do what an earthly father can't." 
In the same manner, people should not be afraid to approach those with special needs, he and his wife said. 
Treat people with disabilities like you would treat any other person.
Treat them like you would treat any other person, Gerald said. 
"Inclusion is not, 'If you scream a little bit during service, I won't say anything, because I want to show I'm Christian enough to tolerate it.'
"It's, 'Come, sit next to me, and I'll interact with you.'"
Wong-Png added that when one meets a special needs person while their caregivers are around, it is important to include everyone in the conversation. 
"Avoid speaking only to the parent even if the person cannot talk. It's giving the individual respect," she advised. "They may not respond, but in their spirit they feel welcomed and know this person cares." 
Call Me By Name will be available on Gracework's online store from September 1, 2018 onwards. 
If you have enjoyed reading Salt&Light...
We are an independent, non-profit organisation that relies on the generosity of our readers, such as yourself, to continue serving the kingdom. Every dollar donated goes directly back into our editorial coverage.
Would you consider partnering with us in our kingdom work by supporting us financially, either as a one-off donation, or a recurring pledge?
Support Salt&Light