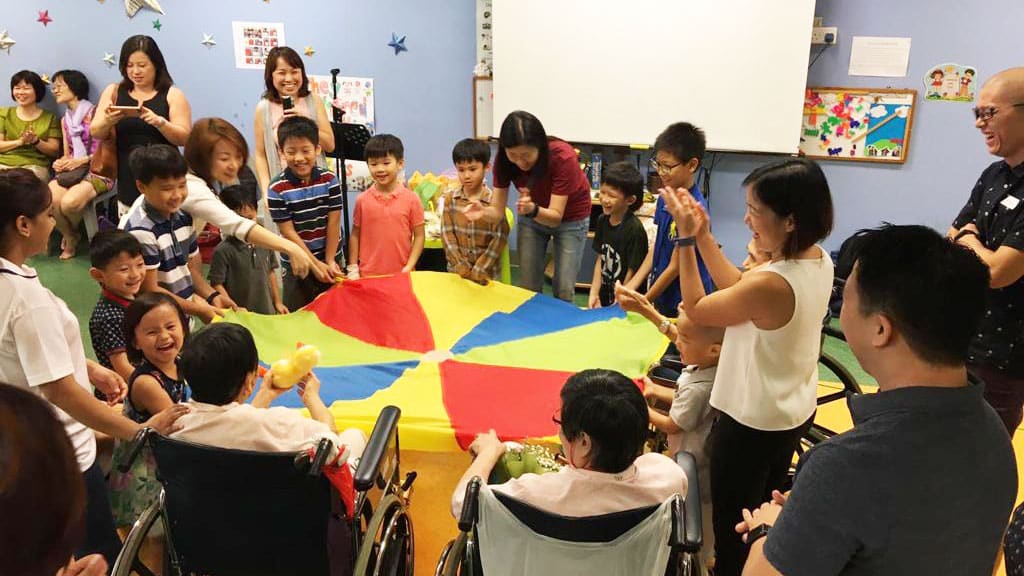 All photos courtesy of SJSM Village.
After a two-year sabbatical, early childhood educator Angilita Charles was seriously considering a mid-career switch into geriatrics, dealing with elderly-related healthcare. During her time outside of the workforce, Angilita had realised that her parents were getting weaker with age and she felt that she wanted to be part of the solution in meeting their needs and of other seniors like them.
It was a choice she deliberated and prayed over for a long time: 15 years of experience in preschool education was not a small thing to let go of, and it was difficult to think of leaving the little ones she dearly loved.
Then, one day, a friend told her about an opportunity that she would never have dreamt of – a preschool was looking for someone to lead a new school located in the same compound as a nursing home and a day activity centre for the elderly.
It was the ultimate solution to the two-pronged, seemingly conflicting burden on her heart.
As part of her job, she would manage the kindergarten's involvement in intergenerational activities such as crafts, physical exercise and even social mingling.
It was the ultimate solution that she knew could only have come from God.
Angilita is the Centre Leader at Little Seeds Preschool (St John's-St Margaret's), located inside the newly-opened St John's-St Margaret's Village, or SJSM Village.
The 273-bedder SJSM Nursing Home and St Andrew's Senior Care (Dover) are also facilities based within the compound in Dover which used to be solely occupied by SJSM Church.
Eight-year journey of faith
SJSM Village is the first purpose-built facility in Singapore that integrates various intergenerational facilities in one place – a vision birthed over eight years ago when Rev Dr Joshua Sudharman, then-vicar of St John's-St Margaret's (SJSM) Church, received a notice concerning the request to extend the land lease of the church.
It was a letter that would set the church and its community on a long journey of faith and obedience, and kickstart the transformation of the historic church premises.
SJSM Church, a flourishing Anglican church which has had an active presence in the community ever since it was founded in 1971, sits on a 1.39ha plot of prime land in Dover which was home to many British during Singapore's colonial period. In fact, the original sanctuary was formerly known as the St John's Garrison Church built by the British.
Now, however, the land on a little hill along Dover Avenue is being used to build a nursing home to serve the needs of Singapore's ageing population in the area.
In 2014, over 14% of the population in the surrounding area were seniors over 65 years old, significantly higher than the national average of 11%. Eldercare services were already forecasted to be in high demand.
The lease renewal was conditional: If SJSM would build and operate a nursing home within its premises, the lease would be renewed. If not, the church would have to return two-thirds of the land to the Government to do so itself.
Could God be leading SJSM to live out the intergenerational scene described in an Old Testament prophecy?
In 2012, Rev Joshua had just taken over the role of vicar at SJSM Church from Rev Rennis Ponniah who was taking on the role of  Bishop of Singapore. He was only a few weeks into his role when Rev Joshua faced the first of many major decisions to come.
At the annual SJSM leaders retreat in 2013, Rev Joshua was led to the prophet Zechariah's vision of the new city of Jerusalem.
In it, Zechariah described the heavenly city where men and women "of great age" would sit in streets full of rambunctious children playing (Zechariah 8:4-5).
There, the little seed of an idea was planted. Could God be leading SJSM to be a community in Singapore that lived out the intergenerational scene described in an Old Testament prophecy?
Rev Joshua and his other leaders thought so. SJSM would not just build and operate the nursing home that was needed, but also include a preschool where children would study and play alongside the elderly in the house of God.
And thus, Project Spring Winter (PSW) was birthed.
The leaders envisioned a place where the elderly would experience companionship, purpose and hope amongst the young, and where the young would learn to honour, love and serve the old.
It would also be where the community would recognise the dignity and value of each generation.
"We envisioned a community of different generations sharing and doing life together," said Rev Alvin Toh, the current vicar of SJSM Church. "That means not only do we seek to cater to different needs, but also draw out the hidden value of intergenerational interactions."
Getting buy-in
But this was a multi-million dollar project with many moving parts including various partnerships, including that with St Andrew's Mission Hospital, the community service arm of the Anglican Diocese, and Little Seeds Preschool which is a faith-based childcare operated by preschool operator, Anglican Preschool Services.
Initial costs for the project were estimated to be about $80 million including construction and the land lease renewal. SJSM would need to foot almost $47 million.
SJSM Village is the fulfilment of the vision of building a "church without walls" intergenerational project that SJSM had started.
Rev Joshua recalled one fundraiser, "Count Me In", in particular.
They had just reached over $10 million in funding and needed to hit the threshold of $15 million before the Anglican Diocese would grant the church formal approval to proceed.
As an Anglican church, they were under the authority of the Diocese.
That weekend, over 1,000 members signed their name on a banner that read: "As for my talent, time and treasure, Count Me In for PSW" and acknowledged their ownership of the humongous project.
In that one week, they raised the $5 million in project funding needed to secure permission from the Diocese.
"Porous" church walls to share love
The design process began in 2017 and by 2021, amidst multiple and major disruptions during the pandemic, construction was completed.
Only one other facility bears some similarity: The St Joseph's Home in Jurong which is a 400-bed nursing home where an infant-care and childcare centre were added in 2017.
The preschool and nursing home shares a sheltered bridge which the leaders hope will be common ground for many shared interactions. Activities such as morning walks and craft-making sessions allow seniors and pre-schoolers to naturally engage with one another, said Cara Lee, Deputy Director of the Anglican Preschool Services' early childhood development centres.
Earlier in August, when Covid restrictions were relaxed, seniors and children jointly celebrated National Day with pledge recitals and songs, she shared.
By next January 2023, the various partners of SJSM Village are looking to conduct weekly in-person singing sessions and invite family members to participate in the various activities.
SJSM Village is the fulfilment of the vision of building a "church without walls", said Rev Joshua. "It will be a 'porous' church with many entry and exit points, where people are constantly flowing through. And while they pause or linger here, we have the opportunity to build relationships which convey the love of Christ to them."
Traditionally people have always perceived the church to be a place where only Christians go, added Rev Alvin.
"But it is so much more than that – it is a place where we love and care for one another and a place we experience God's love as a community."
---
Find out more about how God led the SJSM community through a series of videos documenting the process of Project Spring Winter. Hosted by blogger Dr Leslie Tay and his wife, Lisa, the videos were commissioned by the PSW Committee in remembrance of God's grace and provision. 
MORE STORIES LIKE THIS:
5 church models in the New Normal: Which way should your church go?
St Andrew's Cathedral: Landmark of love and sacrifice during the darkest days of WWII Singapore
If you have enjoyed reading Salt&Light...
We are an independent, non-profit organisation that relies on the generosity of our readers, such as yourself, to continue serving the kingdom. Every dollar donated goes directly back into our editorial coverage.
Would you consider partnering with us in our kingdom work by supporting us financially, either as a one-off donation, or a recurring pledge?
Support Salt&Light