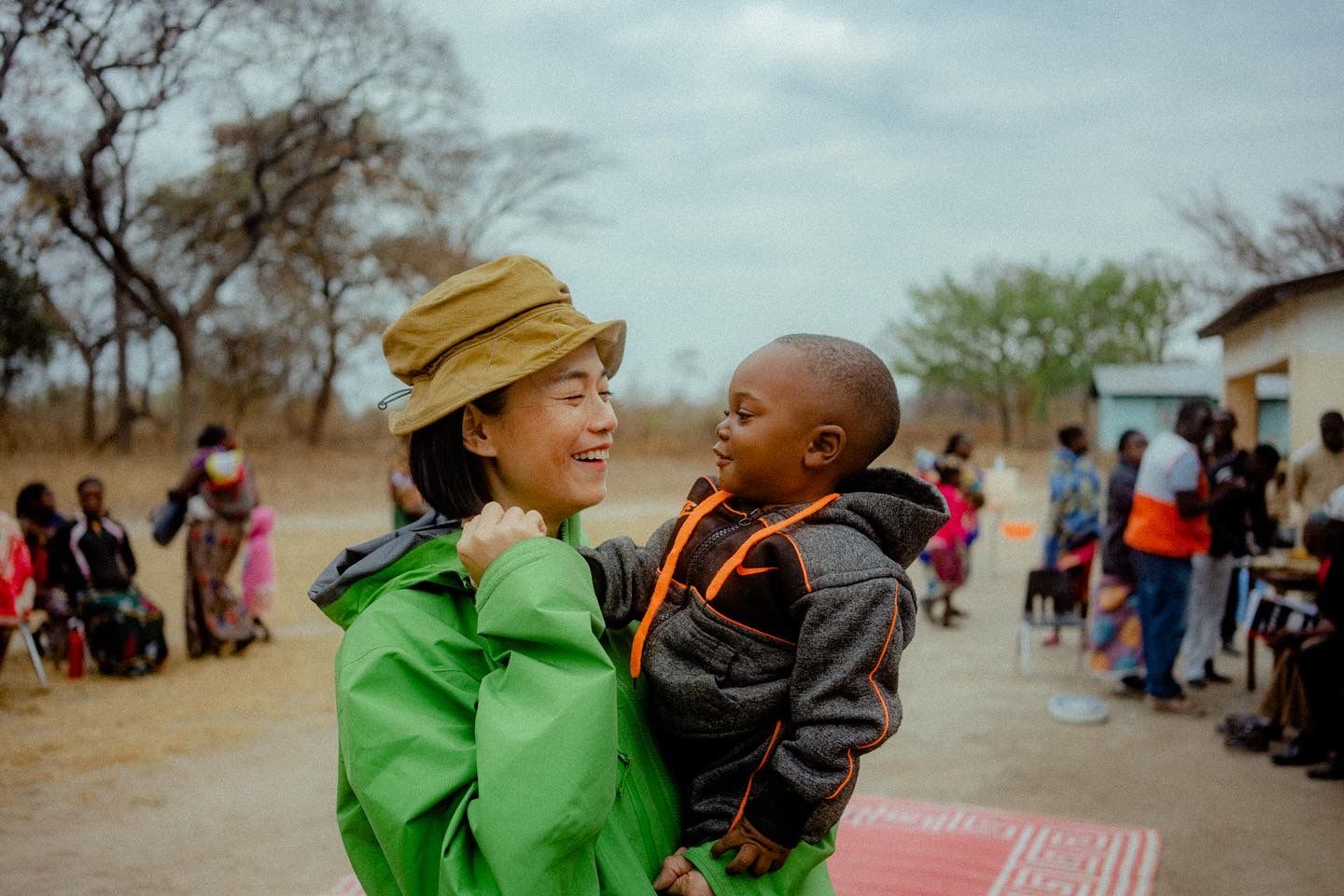 "As we sow in prayer, as we love upon each child, I choose to believe that God is at work in each and every life," says Felicia Chin on the children she befriended during her recent trip to Zambia with World Vision. Photo by Ang Wei Ming.
As we drove down the vast and sandy roads on the way to visit some villages, the first thing that caught my attention was the flowers.
Amid the dry and barren fields stretching beyond both sides of the road, out would pop a sudden burst of flowers, clothed in vivid royal purple or striking red.
To me, it symbolised hope – something that I would see in the lives of the people I would come to know in the next week. 
Giving out of their lack
In Zambia for a trip with World Vision and 还好吗 hhm.sg, I was here to visit the two children – Liness and Mwansa – I've been sponsoring for the past three years.
I was also here to witness the work that World Vision has been doing in Musosolokwe, a village in Zambia, over the past decade.
Zambia is one of the least developed countries in Africa, with 54% of the population living on less than $1.90 a day.
I was struck by their joy and generosity in spite of their circumstances.
In the 2019 Human Development Index, which measures overall development such as life expectancy, education levels and standard of living, the landlocked country ranked 143 out of 189 countries, with nearly half of the population unable to meet their minimum calorie requirements and more than one-third of children under five stunted in growth.
When I met with the Zambian villagers, however, I was struck by their joy and generosity in spite of their circumstances.
It was so amazing to see the whole extended family and village coming, singing and dancing, to welcome us into their home. They were just so unabashed in professing how joyful they were to see us. The way they honour people is so simple, yet so profound.
One mother, Mary, welcomed us into her house.
As we sat on the floor of her home chitchatting, she shared with me how she had to walk for three hours to the nearest clinic to give birth.
Her youngest child, who is now two years old, had been delivered as she was on the way to the clinic. With the help of a family member who was with her, she had to borrow water from a nearby village – before walking the rest of the way to the clinic with her newborn!
As we sat on the floor of her home, she shared how she had to walk for three hours to the nearest clinic to give birth.
I later visited the clinic, which is rundown and very underfunded. There are limited medical supplies and only one delivery room, which offers little privacy as the window is only covered by a thin curtain.
Mary has six children. I can't imagine what she has had to go through to deliver all her children. My hope is that women like Mary will be able to give birth to new life in a safer environment.
Back in her home, I showed Mary a photo of Ming Jie (Jeffery Xu) and introduced him as my fiancé. 
She was so excited and told me: "Take a chicken from me for your wedding!" A while later she really returned with one – a fat one!
When I asked her how many chickens she had, she told me she had 10. I was so touched. She doesn't have much, yet her heart was so full. She didn't even think about what she lacked but gave me what she had to bless me.
While we were with another family – the family of Liness, my sponsored child – I noticed how they honoured us as guests and allowed us to eat all the best parts of the meal first.
When I asked Liness which was her favourite, she told me it was the chicken dish. But I saw that she had only eaten one little bite of the chicken on her plate. I asked when it was that they last had chicken. Liness' mother thought for a while and told us that it was over a month ago.
Later, I realised that the family only has four chickens but they killed one just for us. That made me tear up because they really gave us everything out of their lack.
Sowing into little lives
I was so inspired by the way they face life. They don't give up.
Just as there were bursts of colour in the barren landscape I saw, there were bursts of hope in the land of Zambia. God hears their cries and is sending people to help.
An example is World Vision, which has been in Zambia since 1981. Today, it has teams in nine provinces working to understand and address the needs of the people. They start with essential things like water and education, but they also work to change mindsets of parents – for example, that their daughters should get educated instead of getting married young.
World Vision is also very big on sustainability. For example, to provide access to clean water, they don't just build a well and say "there you go". Before they build a borehole, they will test how clean the water is and ensure that the village has systems in place so that the clean water is used properly.
At weekend reading camps, which helps to equip children with reading and writing skills before they go to school, ink is made out of sugar and charcoal so that the locals are able to make their own markers.
I saw how many of these initiatives empower the villagers, so much so that even after World Vision moves on to help other villages, the people can still continue to flourish.
To be honest, I felt that there was a sense of hope and confidence in the children and families who have been part of the World Vision programme.
As we sow in prayer, as we love upon each child, I choose to believe that God is at work in each and every life.
I believe that this hope came through that deposit of love into their lives from those on the ground, supported by the funds that have been channelled to them. 
We are privileged to be in Singapore where we are able to fund people who really need support, and I feel it is really a move of God to channel help to these areas. That's where I see God at work.
During the Chosen event held by World Vision, where each child gets to choose his or her sponsor instead of vice versa, there was a bouncy castle for the kids to play on. I've never seen so many children pouncing – they were really pouncing – on a bouncy castle at once! But they were so happy.
We were praying for these children to really feel the joy of the Lord. I deeply felt that God cares for each and every one of them and that each one is so precious in His eyes.
As I was helping to give out snacks and bags to them, I felt like I just wanted to ask every child their name, give them a hug and hold their hand.
As God's hands and feet, I just wanted to show them God's heart for them, to let them know that they are special to Him.
As we sow in prayer, as we love upon each child, I choose to believe that God is at work in each and every life. Don't belittle what $45 a month can do. Every month you may just be giving a small portion of what you have, but pooled together it does big things.
God's heart revealed
While we may look and live differently, deep inside we all have the same needs and desires.
As I heard one Zambian mother share about her malnourished four-year-old child, the deep concern I saw in her eyes reminded me of my friends in Singapore when I heard them share about their child getting sick. It's the same eyes. It's the same concern.
Mothers in Africa, mothers in Singapore, they are all at heart the same. They want their child to be healthy. They wish to have a bit of dignity when they give birth. They want to know their children are safe.
And as human beings, we all desire to live life the best way that we can. Over the two weeks my heart was so full just looking at how well these villagers live and love despite what they lack.
I was so touched when Liness, my sponsored child, gifted me a basket that she took a week to make using pieces of twisted paper and some straw. And Mwansa, my other sponsored child, made me a broom out of straw. It even has a string so I can hook it up. 
This trip has been such an eye-opener. We were only in Zambia  for four full days, but the team and I felt like we were there for at least two weeks because each connection was so deep. Even though we only had one, two hours with each family, the connections were so meaningful.
By God's grace, as I heeded His prompting to talk to particular people or to help out in different ways, I saw how He revealed his heart for these people to me.
His heart is revealed when you choose to obey, when you choose to give – that has been my experience.
---
Watch more of Felicia's experience in Zambia here.
---
RELATED STORIES:
Felicia Chin 陈凤玲 says, "Joining 还好吗 hhm.sg feels like going back to school!"
"Felicia Chin, I choose you!": World Vision flips script to let vulnerable children choose their sponsors
"God is in the business of restoring my family": Felicia Chin on her hope this Christmas
If you have enjoyed reading Salt&Light...
We are an independent, non-profit organisation that relies on the generosity of our readers, such as yourself, to continue serving the kingdom. Every dollar donated goes directly back into our editorial coverage.
Would you consider partnering with us in our kingdom work by supporting us financially, either as a one-off donation, or a recurring pledge?
Support Salt&Light