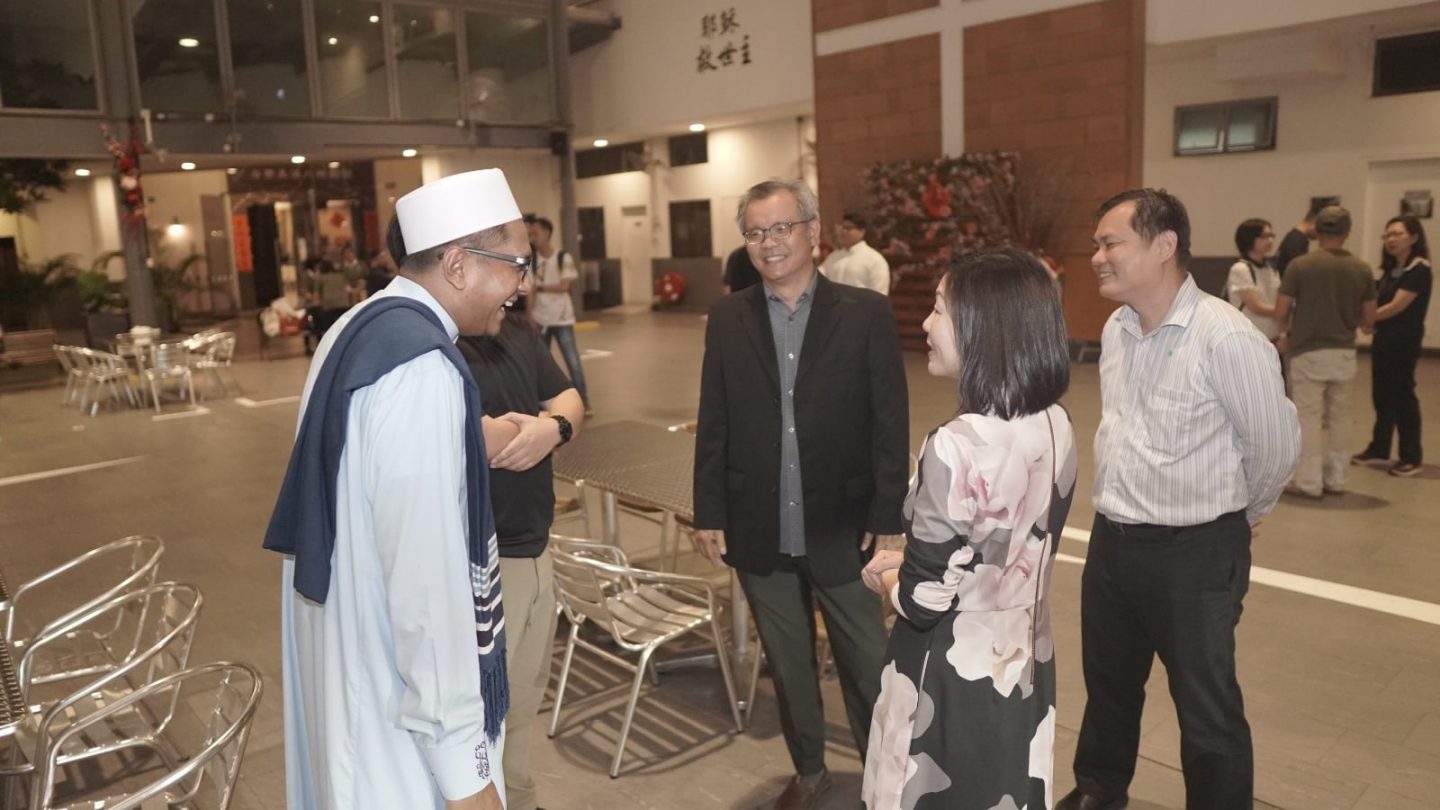 "Just as we share our neighbourhood spaces, we also share the same commitment to peace and harmony," said Bethesda (Bedok-Tampines) Church in a statement released yesterday. The church hosts inter-religious events at its premises. (Photos taken before the Circuit Breaker.)
In the wake of news yesterday (Jan 27) of the arrest of a 16-year-old Singaporean Protestant Christian teenager who had planned to use a machete to attack Muslims at two mosques, churches have taken immediate steps to reject any ideology of violence and declare their commitment to unity in Singapore.
Churches and leaders across denominations urged solidarity and expressed kinship with Singaporeans of all races and religions:
"We have kinship with our neighbours"

: Bethesda (Bedok-Tampines) Church 
To our neighbours of other faiths in Bedok and Tampines: 
As part of the Bedok-Tampines fabric for more than three decades, BBTC would like to express our kinship with those of you whom we regularly interact with on the sidewalk, at void decks, and at coffeeshops and hawker centres. 
Just as we share our neighbourhood spaces, we also share the same commitment to peace and harmony. 
Over the years we have expressed our commitment to religious harmony by serving Bedok and Tampines residents regardless of race or religion through our Bethesda Care Services charity, and by hosting inter-religious events in our premises. 
Our faith informs us to love our neighbours as ourselves – the very opposite of the violent intended actions and radical aggression seen in the case of self-radicalisation we have all been shocked and dismayed to learn about. 
Violence must never be the answer. It directly contradicts God's precious gift of life, and sows division and discord into our peaceful nation. 
The Bible tells us: "Blessed are the peacemakers."
In this spirit, we appreciate every one of you as our friends and fellow countrymen, and stand united with you in our effort to keep the peace in our multi-religious nation.  
"Together we seek to Love God by loving 

our

 neighbours"

: The Methodist Church in Singapore  
As Christians, we seek and pray for the welfare of our city and strive to live in peace with one another. This encapsulates the teaching of our Lord and Saviour, Jesus Christ, to love our neighbour as ourselves.  
Through the pain of the news, we are reminded of how easy it is for external forces to influence our flock and we urge our pastors and leaders to redouble their work in good Christian education and discipleship.  
We encourage all to come together in unity; Christians, Muslims and other faiths alike to pray for the peace and harmony within our nation; let us live together in compassion and consideration for each other.  
We definitely do not condone the hatred and evil intent but let us also remember to pray for this young man who has been led astray that God will change his heart and mind towards love, joy and peace; with repentance comes forgiveness. Let us remember his family, friends and community as they heal from this incident.  
May God's Love strengthen you as we together seek to Love God by Loving our Neighbours. 
"Let us remain strong, vigilant and united"

: Assemblies of God of Singapore  
We do not condone the boy's intended actions and pray that God will reveal to him the folly of his ways. 
This disturbing incident once again shows the two-edged sword of the digital space with easy access to a wealth of information. We need to be alert and safeguard our young people who are more susceptible to negative online influence. 
At such a time, it is even more vital for Christians, churches and everyone in Singapore to come together as one united people. Singapore is a multi-racial and multi-religious society and all of us must do our part to preserve the fabric of our beloved nation. 
We uphold everyone in Singapore in our prayer – that God will keep us safe and that we will remain strong, vigilant and united.  
"We stand in solidarity with our fellow countrymen"

: 3:16 Church 
We're deeply dismayed to hear of the recent news involving a 16-year old radicalised student who planned to attack two mosques. We are thankful for the authorities and the security agencies who have successfully protected Singapore from this terrorist attack.
It is our shared responsibility to guide our loved ones and those around us so as to protect them from the risk of radicalisation or dangerous ideology.  
The threat of terrorism to Singapore remains high. In this digital age, online self-radicalisation may happen to anyone regardless of age, race and religion.
This sobering case is a reminder for us to exercise discernment and vigilance when seeking information online. 3:16 Church is committed in our stand against hatred and violence. We stand in solidarity with our fellow countrymen in Singapore to uphold our harmonious, multi-religious and multi-racial society. 
"Let's protect our common goodwill"

: Cornerstone Community Church 
We are deeply saddened and troubled by the news that a young man, who identified himself as a Christian, was detained for plotting a terrorist attack against two mosques in Singapore. 
Cornerstone Community Church strongly condemns these deplorable actions and would like to assure our Muslim friends that these actions are in no way influenced by Christian teachings, which espouses love and service for our neighbour. 
We stand resolutely for religious and racial harmony and are unreservedly opposed to any form of violence from any community against another.
We encourage members of both faith communities to continue reinforcing this value and protect the common goodwill shared amongst us. 
---
We are committed to defeating hatred, say Singapore churches as self-radicalised youth is detained
Alert authorities early if you notice signs of radicalisation in an individual: MCCY
If you have enjoyed reading Salt&Light...
We are an independent, non-profit organisation that relies on the generosity of our readers, such as yourself, to continue serving the kingdom. Every dollar donated goes directly back into our editorial coverage.
Would you consider partnering with us in our kingdom work by supporting us financially, either as a one-off donation, or a recurring pledge?
Support Salt&Light