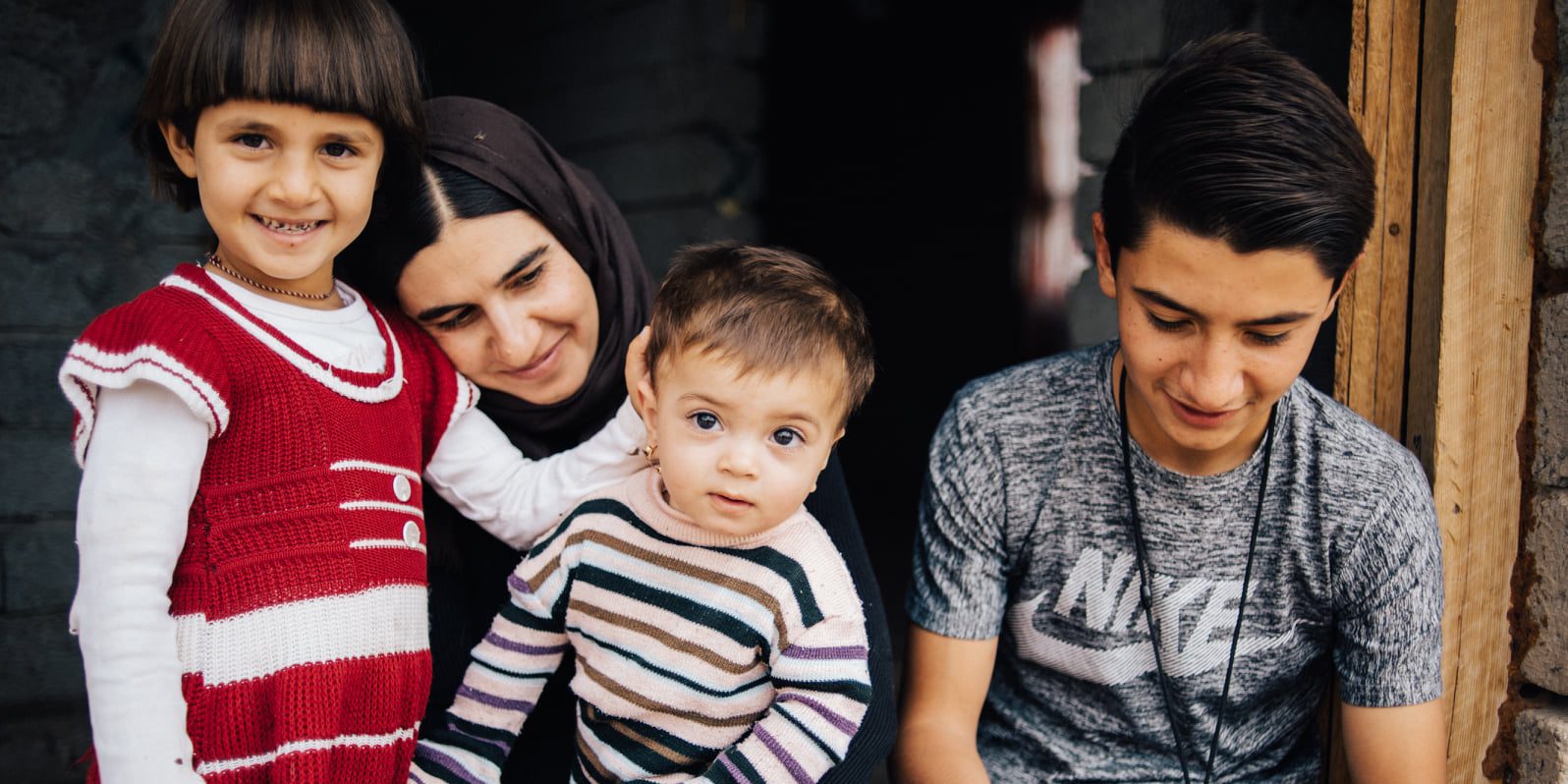 Covid-19 has impacted refugees and displaced persons more acutely than others, with many of them left without work and living in overcrowded tents and apartments. All photos from Habibi International.
Father's Day is a particularly special day for Yazidi sisters Maha and Faheema.
It is the day they honour their father for the courageous sacrifice he made to give his wife and eight children a better life.
His family, including five daughters and three sons, was among the 500,000 Yazidis displaced from northern Iraq in 2014 when the Islamic State of Iraq and the Levant (ISIL) carried out what the United Nations (UN) has since recognised as a genocide.
According to statistics by the UN, members of ISIL executed 5,000 men and captured some 7,000 women and girls as wives and sex slaves in their campaign to forcefully convert the Yazidis.
A better future for the children
After surviving the genocide by fleeing with his family to a refugee camp in the northern Kurdistan Region of Iraq – which houses about 1.5 million forcibly displaced persons – the girls' father resolved to move his family to a safer place.
In 2017, he left Iraq alone and travelled through Turkey to the Netherlands, leaving his family uncertain if they would ever see him again.
In 2017, he left Iraq alone and travelled through Turkey to the Netherlands, leaving his family uncertain if they would see him again.
He arrived safely and stayed in a refugee camp for almost two years as he applied for a family reunification permit to bring his family to the European country, where they now live.
"For my family, everything has changed. Everything's doing better … I haven't felt this feeling (of being unsafe) since I came here. You feel like you are safe and you live in peace," shared Maha, 30, who revealed she is pregnant with her first child, a baby boy.
While life now looks more promising, she is unsure when she will be able to reunite with her partner, who is a refugee in Germany. Nevertheless, she has hope for what the future holds for her family.
"I hope that my children will have a better life than I had in Iraq, and that they will do something that I couldn't do," she said.
And she knows she owes it all to her father. Wishing her father a Happy Father's Day, she added: "Thank you, Dad. You are our hero and you've done a lot for us. We will never forget that."
Maha and Faheema were sharing their story on Heart-to-Heart, a series of eight video interviews streamed on Facebook by Habibi International in the week leading up to World Refugee Day today (June 20), which also coincides with Father's Day this year. 
Habibi International is a non-profit organisation that journeys with forcibly displaced communities in the Middle East. The series was organised by the new Habibi Singapore team, which was officially launched yesterday.
Each interview in the Heart-to-Heart series, averaging about 20 minutes, opened up an opportunity to hear from people who have worked with refugees, as well as refugees themselves, about the realities of what many forcibly displaced people face.
According to statistics by the UNHCR, the UN Refugee Agency, there are more than 80 million forcibly displaced people worldwide, as of mid-2020.
"We're not looking so much to provide the right answers to everything, but we hope to shed a little bit more light on what's happening on the ground, and begin to unpack a really complex world," said Heidi Tan, director of operations at Habibi International, who hosted the series.
Struggling with mental health issues
A prevalent theme across the various topics discussed, which included mental health, family, education and aspirations, was the impact of the Covid-19 pandemic on refugees, many of whom are left without work and confined to overcrowded tents and apartments.
Hoi Yan, a teacher at ElShaddai Learning Centre for refugees in Malaysia, shared that many have been struggling to pay for their rent and daily expenses since a total lockdown was ordered from June 1.
Others, who have taken ill, have been left to die at home because they cannot afford to go to a hospital, added Hoi Yan, who is also a house guardian at a refugee shelter.
There are some 179, 570 refugees and asylum-seekers registered with UNHCR in Malaysia, 80% of whom are from Myanmar, including the Rohingyas, Chins and Myanmar Muslims.
Xiang, a social worker who has worked with internally displaced persons in the Middle East, added that the pandemic has exacerbated mental health issues in these communities.
"The proportion of people with severe mental health conditions, such as schizophrenia or manic depression, is on the rise."
"Singaporeans are very far away from the suffering of the refugees and IDPs (internally displaced persons), and I think it's really crucial to understand the situation they're going through mentally because of the pandemic," she said.
Before the pandemic, a global estimate by the World Health Organisation stated that 1 in 5 of the adult population in conflict affected areas have mental health problems, including post-traumatic stress disorder, depression and anxiety, due to the loss they have experienced.
"As time goes by we also see that the proportion of people with severe mental health conditions, such as schizophrenia or manic depression, is on the rise for those displaced," she said, adding that these sufferers are at a higher risk of being abused or neglected because of the lack of resources. 
Since the pandemic, the UNHCR has been receiving an "alarming" increase in alerts about mental health issues across the Middle East and North African region, said Xiang, who is pursuing a Masters in Human Services.
"These mental health issues are becoming worse and worse," she said, before listing countries that have seen an increase in suicide attempts and hospital admissions due to psychosocial stressors. "All these things are increasingly quite rapidly at the moment."
Classes in caravans and tents
The pandemic has also made it more difficult for young refugees to keep up with their education, something that had already been a huge struggle before the arrival of Covid-19.
Yazidi brothers Maher, 18, and Nael, 17, who were internally displaced from their hometown due to the genocide in 2014, shared that, when they first fled to the Kurdistan Region of Iraq, there were no schools for them to attend.
It was only a year later that one was set up, with classes held in caravans and tents, which has not been the most conducive environment for learning due to the lack of sufficient ventilation and electricity.
"It was not really a real school to me … In the beginning it was really hard," said Maher, with Nael adding that the need to wear a mask now adds to the discomfort. 
They could also only attend school three times a week, as there was not enough capacity to have all the students in school full-time, they said.
When Covid-19 first struck, school was cancelled even though Maher, who was in Grade 9 last year, was due to take a big exam at the end of the year.
"School is very important for us. It helps us to get a job in the future, helps us with a lot of things."
They later started online learning, which mainly involved independent studying through videos on YouTube and other reading materials sent on Telegram.
Due to a shortage of textbooks, they also have had to copy by hand certain sections so they can bring it home to study, Nael said.
Thanks to his hard work, Maher passed all nine subjects in his exam and is continuing with his education, though classes have become more irregular. 
"Sometimes the school manager will put on social media saying, 'Tomorrow you have school' … and after that in two hours they'll be like, 'No, we cancelled it.' It's always like that," he said.
Despite the difficulties they face, the brothers persist in turning up for school and doing their best for their own education.
"Because school is very important for us. It helps us to get a job in the future, helps us with a lot of things," said Maher, adding that he also enjoys meeting new people.
Addressing students around the world, Nael added: "If you have a dream and you want to get it, (but you feel) it's just too hard for you to get it, it's not hard when you try. So just try it and don't give up."
Leadership is cleaning up trash
Despite the obstacles that these refugees have faced, however, the Heart-to-Heart series showed clearly that they are not just helpless statistics, but have something to offer their communities and the world.
Since 2018, Maher and Nael have been part of the Clean Village Initiative, which was conceived by students during a mentorship class by Habibi International, to clean up the trash in their village every week.
"In the beginning, there was garbage all around. So we cleaned it because it's very important to be clean. And it's good for peoples' health, for the kids not to get really sick," explained Maher.
"When there was garbage, people would just burn it. You know how burning things smell? But it hurts lots of kids. So the best thing that we did, I think, is we tried to make sure kids are healthy."
Stephanie Tsang, director of education at Habibi International, said: "That's what leadership is, right? It's looking at things that you can change, starting with where you're at."
Her dream is to one day set up a school for the Yazidis and run a programme that gives the Yazidis hope, and be a place where they can be equipped to be resilient, think critically and be leaders in their own society.
Documenting stories through paintings
Giving his people a voice and a face is Falah Alrasam, a self-taught artist who spent about seven years in a refugee camp.
After he was displaced in 2014, he began documenting the stories of the Yazidi people through his paintings, most of which were done in a tent at the camp. 
The computer science graduate, who was also an English teacher for nine years, shared that it was not easy pursuing his dreams as a child growing up.
"Here, the atmosphere is different than in other countries like Germany or the US. Their kids, they get what they want. If they're good at anything, the family provides them (with what they need) so they can work on it. 
"Sometimes I didn't have simple paper … so I used to 'draw' on the sky and tried to apply my imagination onto the space," he said. "And when my grandpa and mum saw me doing that … they thought I was crazy!"
Despite not having an art education, he hones his skills through daily practice and watching videos on YouTube. He hopes that his paintings will provide others with a snapshot of what his people have endured since 2014.
Many Yazidis hold aspirations for their lives, especially the younger generation. But Falah said they lack the most important thing: "There should be a basic comfortable environment for them so they can work much more to fulfil their dreams."
An adventure with God
Lim Nan, a Singaporean who spent six years serving refugees in the Middle East and the North Africa region, urged viewers to step up to obey God's call to care for the lost and the least (Matthew 25:40).
"Looking at the statistics (of refugees), the sheer numbers are mind boggling," he said, adding that these people live in constant fear for their lives and that of their families. "It's beyond comprehension what these people go through."
He added: "We cannot be too chill. We relax, we postpone, we say, 'Let me think about it', and that day never comes. At the same time, the clock is ticking, the fatalities are climbing."
The first step is to be open to whatever God would like us to do, he said.
"Very often we may say we want to do something for God but in our minds we still have handbrakes pulled up. We may have encumbrances, other thoughts and issues holding us back," said Lim.
But he urged believers to embark on an adventure with God for His glory.
"Read more than just the Bible … and ask the Lord, 'In light of the Bible and the world news, what do you want me to do?'"
Using the illustration of car headlights, he said: "They do not shine all the way to your destination. They shine just far enough for you to drive safely. And many times that is how God will speak to us."
He also encouraged viewers to look at their God-given skills and talents, and "present your CV to the Lord", allowing Him to use them for His purposes.
"Do not spend your life working for your earthly bosses and leave nothing to our heavenly boss. But give your best to your heavenly boss," he said.
Once this heart issue is resolved, he offered some practical steps to take, including doing research on issues surrounding refugees, as well as plugging into agencies and individuals involved in the work.
"Ultimately, read more than the Bible," he said. "When I was in the field … most of the time I'd read the news first and then read the Bible. Then I'll ask the Lord, 'Lord, in the light of the Bible and the world news, what do you want me to do? What am I supposed to do?'"
Closing his sharing with John 21:17, Lim said:
"Jesus said to Peter the third time, 'Simon, son of John, do you love Me?' Peter was grieved because He said to him the third time, 'Do you love Me?' and he said to Him, 'Lord, You know everything; you know that I love You.'  Jesus said to him, 'Feed my sheep'"
---
Learn more about refugees by watching the Heart-to-Heart series, and stand to win a free coffee and toast set from Mad Roaster, where proceeds go to refugees. Click here for more details.
---
FOR MORE STORIES ON REFUGEES, READ:
Break my heart, Lord, for what breaks yours: Refugees, missions and you
Break my heart, Lord, for what breaks yours: Refugees, missions and you
"It's like God opened a door. I just stepped into it," said 72-year-old NGO worker who serves refugees at our doorstep
If you have enjoyed reading Salt&Light...
We are an independent, non-profit organisation that relies on the generosity of our readers, such as yourself, to continue serving the kingdom. Every dollar donated goes directly back into our editorial coverage.
Would you consider partnering with us in our kingdom work by supporting us financially, either as a one-off donation, or a recurring pledge?
Support Salt&Light