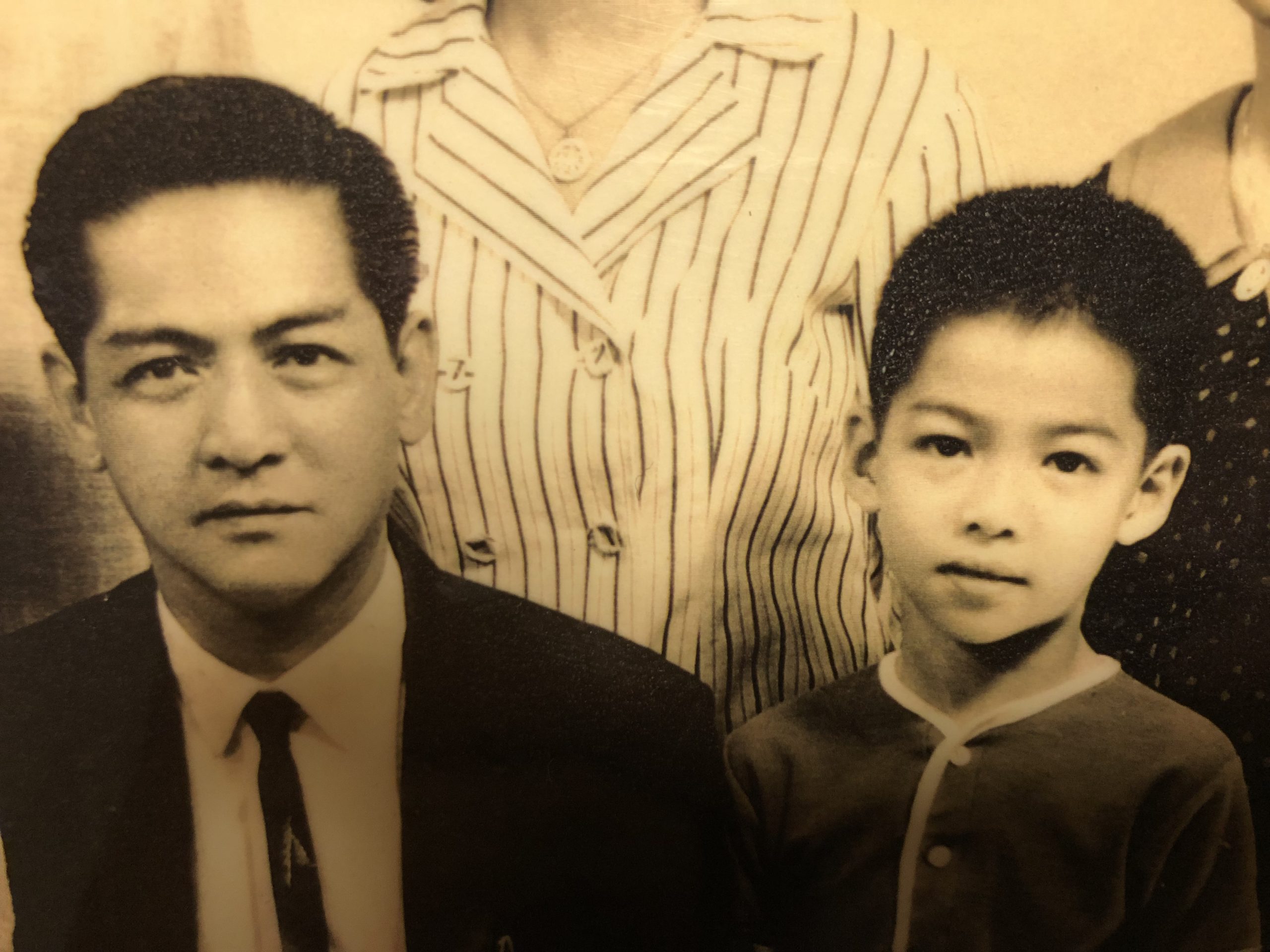 Dr Tan Lai Yong, at 7 or 8, with his dad, Tan Siew Kang. Despite being illiterate, the elder Mr Tan nevertheless taught his son invaluable life lessons. Photo courtesy of Dr Tan Lai Yong.
"My father used to play with my brother and me in the yard. Mother would come out and say, 'You're tearing up the grass." 'We're not raising grass,' Dad would reply. 'We're raising boys.'" (Harmon Killebrew)
A staggering 82% of studies since the 1980 finds "significant associations between positive father involvement and offspring well-being". 
Salt&Light asked some dads to share memories of how they were shaped by their father. 
"My dad made the lost and the least feel like family": Rev Samuel Gift Stephen, Alliance of Guest Workers Outreach 
Rev Samuel Gift Stephen is well known for serving the migrant worker community. 
At the peak of the Covid pandemic last year, he spent up to 15 hours a day doing meal deliveries and looking after the well-being of migrant workers as they served the Stay-Home Notice (SHN) issued to all workers in the construction industry.
For his service, he received a Special Commendation award from President Halimah Yacob in the Leader of Good category at the President's Volunteerism & Philanthropy Awards 2020 Special Edition.
It is his father who is leaving a living legacy of selfless service.
Growing up, Pastor Sam used to have "no less than five guest workers in my house at any point in time," he told Salt&Light. "Every day."
"Guest workers would come over to our home and share their joys, sorrows, achievements and difficulties."
His father was an evangelist from India who would invite the workers to share their meals and stay over.
"My dad is the greatest inspiration in my life. He taught me to always love unconditionally and serve sacrificially.
"Almost on a daily basis, guest workers would come over to our home and share their joys, sorrows, achievements and difficulties.
"My dad would always listen to them and always made them feel like family. On many occasions, he would invite them to sleep over and I shared my bed with these brothers.
"His love for these guest worker brothers inspired me to love and serve them."
"My dad serves everyone unconditionally and sacrificially and these traits seem to have rubbed off on me."
"He walked the talk and modelled for me values": Jason Wong,
Dads for Life
Jason Wong is known in Singapore as the founder of two national movements, the Yellow Ribbon Project in 2004, and the Dads for Life movement in 2009. He spent 24 years in the public service helping prisoners, abused children and youths at risk.
Wong has been married for over 20 years and is a loving, involved father to two children.
He regularly speaks at conferences to audiences young and old on the value of a strong family life.
"Looking back, I am thankful that my father said to me when I was young, 'Don't drink, don't smoke, don't womanise, don't take drugs.' I now understand that it has to do with health, wealth and relationships … basically my whole life.
"I am able to do what I do as a father now, not just because of what he said, but because he walked the talk and modelled for me these values." 
"He showed me that man is a husband before he is a father": Jonathan Cho, Covenant Chambers LLC
Jonathan Cho mentors Awaken Generation as a volunteer and is an advocate and solicitor at Covenant Chambers LLC.
His choice to practise criminal law has inspired other young lawyers to do the same.
Now Cho has added another role to his profile: Loving husband and doting father to Zoey, 3, and Isaac, 1.
"The most valuable lesson that my father taught me, by his example, is that a man is a husband before he is a father," says Cho.
"Throughout my life (and even now), I see his demonstration of how his love for his wife, my mother, and their marriage, comes first."
"But it is not in the form of competition between spouse and children.
"The marital relationship is foundational; it is the core on which the layer of fatherhood is built.
"Witnessing the unflinching reality of the faithful love of my father for my mother formed a bedrock for me in the home as I went through the different stages of my life.
"Even now, as a father in my own right, I continue to look to his example and find that I have so much more to learn."
"It was hard for my dad to give me what he never received": Bryan Tan, Centre for Fathering
Back in 2010, when Bryan Tan was an army officer climbing up the ranks, en route to what he calls the peak of his career in the military, he "never wanted to be a father", he told Salt&Light.  "When my first child was born in 2010 I didn't know how to manage that. I was really overwhelmed with managing a marriage and a child."
"My dad was so busy providing for the family that he wasn't around in the early years."
For Tan, this initial reticence towards fatherhood stemmed from his own experiences growing up.
"I didn't have a (positive) role model," he says. "My dad was so busy providing for the family that he wasn't around in the early years.
"My dad was seldom home at those moments when I needed him most.
"He was also a man who seldom expressed his emotions, except when it came to displaying anger. Hence, I took it as a sign of masculinity when I do not express mine.
"Sadly, I never got to know my dad for who he was and what his aspirations were. Since young, I strove really hard to get my dad's attention, and some form of affirmation for what I was good at. I yearned to be like him as a man, as a husband and as a father.
"Unfortunately … I was left without any notion and model of what it meant to be a beloved son, man, husband and father. I sought affirmation in all the wrong places in life.
"Soon, I became anyone that anybody wanted me to be. And I got really successful at doing that. I was thrust into marriage and parenthood without handles on navigating either … I did not know who I was or what I was meant to do. I could never see God as father too, because of the strained relationship I had with my own dad."
"I made a conscious decision to suspend my judgement, and to honour and love him unconditionally."
But it was God who finally brought him the peace he craved. Now Tan, the CEO of Dads for Life and Centre for Fathering, diligently works to repair his relationship with his father and makes sure he is present for his three children. 
"With a renewed understanding of Godly Sonship, I felt convicted to reconcile with my own dad as I could feel his heart towards me as a prodigal son. I was not honouring him by being judgmental of his perceived unacceptable actions towards my family.
"Father God showed me how it was hard for my dad to give me what he never received or experienced in his own relationship with his father – love and affirmation. I made a conscious decision then to suspend my judgement, and to honour and love him unconditionally.
"The hurts that I had with him hindered the process. It took another man to perform identification repentance in proxy of my dad some months later, before I could fully forgive him and it took another year before I was able to sit and speak with my Dad, as a filial son would do with his father, as this process of healing on both ends took time.
"Today, my heart is open to receive my Dad in all circumstances, and I want him to be a part of my children's lives too."
"What I learnt from him is to never be afraid of failure":
Joshua Chong, Global Live Seafood
Seafood supplier, Joshua Chong, has been working in his parents' business for more than 10 years.
His father, David, an aeronautical engineer, started the seafood business with his wife, Pearly, and incorporated the business in 2004 while the younger Chong was still a teenager. 
Following in his father's footsteps, Joshua too struck a different path when he quit his job in finance in 2012 to work full-time at Global Live Seafood.
"I have additional help from God that my Dad doesn't have … I don't have to just use hard work or the trial-and-error method."
Says Joshua, who has a 3-year-old son, Luke, and a 1-year-old daughter, Faith: "My father, who is not a Christian, is a traditional hard worker. He had no prior expertise in doing business nor did he have the know-how on keeping live seafood alive.
"What I learnt from him is resilience – never be afraid of failures, keep trying till you succeed. Don't give up just because it's difficult or because you have failed many times. Patience and hard work. These are some of the values I want to pass to my children too."
He adds: "I have additional help from God that my Dad doesn't have. I can look to Him for help and wisdom when things are not right or difficult. I don't have to just use hard work or the trial-and-error method.
"With the assurance that God is with me, and for me, and the attitude of resilience that I learnt from my father, I am more willing to brave tough times and not give up easily."
"He showed me a life that is not racist": Abraham Yeo, Homeless Hearts
Abraham Yeo is the co-founder of Homeless Hearts, whose work for rough sleepers saw him nominated for The Straits Times Singaporean of the Year 2019.
The 2011 Japanese Earthquake shook the former software engineer, impressing upon him the dire needs of the homeless. Today, Yeo maintains strong friendships with the destitute and wandering, inviting them to his home and even to his wedding. He and his wife, Cheng Yu, continue to advocate for greater societal support for the homeless.
"When you see this from young, you will find it much easier to reach out to others."
Says Yeo of his father: "He's half-Peranakan, so he has some background in the Malay language. The culture is more mixed, so it is more natural for him to mingle with people from different backgrounds.
"My father really mingled around, and he would make friends with people from different races and ethnic groups and cultures. I think that has influenced me; it set a good example for me.
"If you grew up in a background where your parents keep criticising other races, even if you are aware that it is good to make friends with people from other cultures, you are still conditioned to fear people who are different from you.
"But, if it is ingrained in your parent's lifestyle, then when you see this from young, you will find it much easier to reach out to others, and pass this attitude on to your own children.
"By the grace of God, I hope that our daughter will find it normal to interact with people, not just from different cultures, but also different socio-economic backgrounds. And that she would find it normal to give the same treatment to everyone."
"He said, 'I am a blind man'": Dr Tan Lai Yong, author, educator and missions doctor 
Dr Tan Lai Yong needs no introduction.
Dubbed the "wandering saint of Singapore" by the media for his medical work among poverty-affected communities in Yunnan, China, he also teaches at the College of Alice and Peter Tan (National University of Singapore).
Before the pandemic, he regularly took his students to visit and volunteer at foreign workers dormitories.
"You should keep going to school, so that you will not be blind."
In his book Encountering Covid, Embracing Covenant, Engaging Community, Dr Tan tells this anecdote of his father, an illiterate man who nevertheless taught his son valuable life lessons.
"One day, my father brought me to a road sign, the sign for 'Old Airport Road'.
"As we stood together there, a little boy and a much taller man, he pointed at the road sign and said of himself, 'I am a blind man.'
"I was perplexed. Here was my father, driving around, telling me, a pre-school kid, that he was blind. I did not understand, so I asked him what he meant.
"He said, 'This is Old Airport Road. I only know it is Old Airport Road because somebody told me it is Old Airport Road. But I do not know what these letters say or mean. Even if you changed these letters, I would not know what they were.
"Therefore, I'm a blind man.
"You should keep going to school, so that you will not be blind. If someone changes the road sign, you will know that the sign is incorrect or the road is wrong.'
"That was my sober beginning to schooling."
---
FATHER'S DAY STORIES:
"He made a mark on us young Christian men": A tribute to a father who was role model to six sons-in-law
If you have enjoyed reading Salt&Light...
We are an independent, non-profit organisation that relies on the generosity of our readers, such as yourself, to continue serving the kingdom. Every dollar donated goes directly back into our editorial coverage.
Would you consider partnering with us in our kingdom work by supporting us financially, either as a one-off donation, or a recurring pledge?
Support Salt&Light