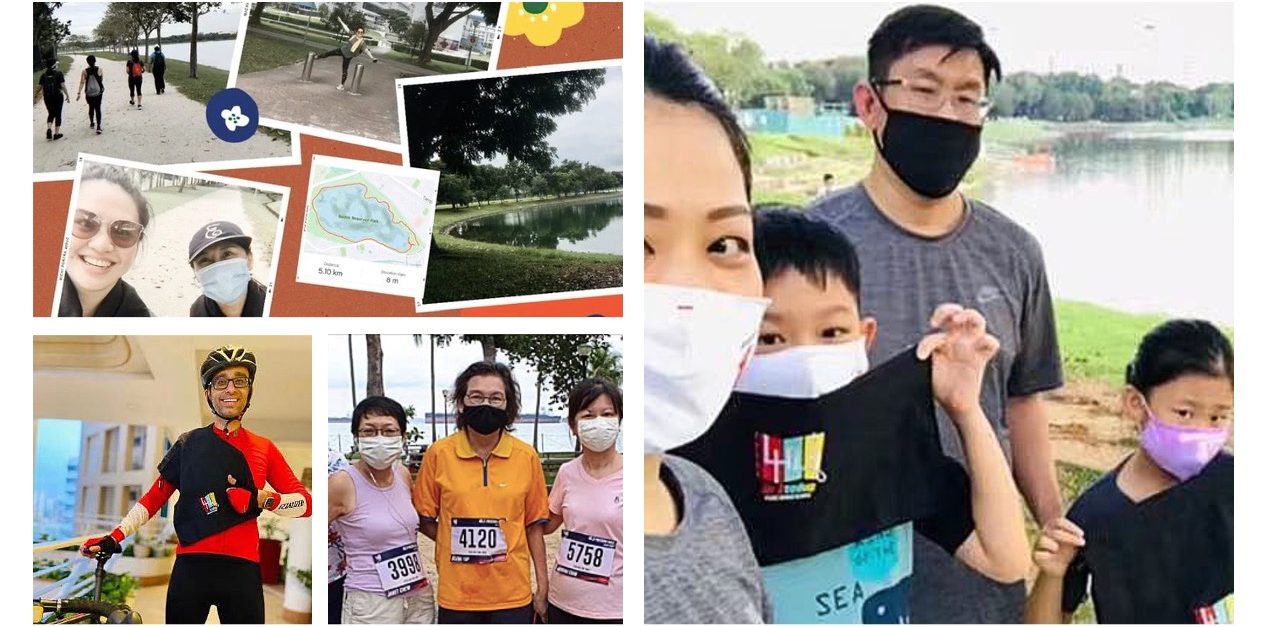 Hagar Singapore's 40.3 for Freedom challenge is back. Last year's participants (pictured), ran, walked and cycled. All photos courtesy of Hagar Singapore.
Make burning calories count by exercising to raise funds for survivors of trafficking and slavery.
Hagar Singapore's virtual fitness challenge themed around the number 403 is back for the second year – this time with new categories to include more participants of different ages and fitness levels.
The fundraising 40.3 for Freedom challenge, held in Singapore, replaces the Angkor Wat Run in Cambodia which is currently on hold because of the Covid-19 pandemic. 
Parents are encouraged to involve their kids in the fitness challenges to open a conversation about modern slavery. 
The number 403 is significant as the funds raised go towards rewriting the stories of the 40.3 million people living in slavery around the world.
Beyond walking, running and cycling, participants this year have the freedom to select any sport or fitness activity around the number of 403 in distance, duration or intervals. There are prizes for the most creative choices.
Depending on one's fitness level, one may do 403 sit-ups, or split a daily 40-minute high-intensity interval training (HIIT) workout into 3 shorter sessions.
Tennis lovers could play a 40.3-minute match together. 
Parents are encouraged to involve their kids in the fitness challenges to open a conversation about modern slavery. 
Hagar Singapore recommends that race participants start with a minimum goal of raising $500, which could finance critical assistance for 10 survivors. 
Those who identify better as a friend of a fitness fiend can pledge their support in dollars. Children may also donate a portion of their daily allowance to the cause. 
The 10-day virtual fitness challenge will run from November 5 till November 14.
Exacerbated by Covid
Hagar has been running recovery and empowerment programmes for survivors of human trafficking since 1994. The Covid-19 pandemic has exacerbated the survivors' needs.
"More than 70% (of the survivors) have lost their jobs since Covid struck last year," said Lynette Lim, Director of Development and Communications at Hagar Singapore.
"With the ongoing lockdowns in their countries, they are unable to find new livelihood options. Things have worsened to the point that they are unable to access even basic food and medicine. Many children have dropped out of school because they cannot afford the additional costs from doing home-based learning." 
"We need all the support to help the survivors through these extremely difficult crises," said Lynette.
Help one person to impact six
Hagar Singapore is aiming to raise $180,000 to provide critical relief for about 1,000 survivors in Cambodia, Vietnam and Singapore. A portion of funds will also be directed toward providing critical relief for the displaced women and children in Afghanistan.
In last year's 40.3 for Freedom challenge, 68 race participants supported by close to 1,700 donors raised $177,435 to benefit 874 women and child survivors of trafficking and slavery in these countries. 
The funds were used to provide critical food assistance, medical treatment, Covid-19 essentials, educational support during school closures and economic assistance for survivors who had lost their jobs during the pandemic.
Breaking down how funds raised can benefit survivors:
$50 provides one month of meals and daily living essentials for two survivors
$100 helps to keep a survivor in school for three months
$180 provides counselling for a child with a history of trauma and abuse
$250 provides emergency shelter for a child survivor for three months
$500 provides comprehensive recovery assistance for one survivor, including safe accommodation, legal assistance and trauma-informed counselling.
$50 provides one month of meals and daily living essentials for two survivors. 
Hagar's experience shows that for every individual supported, an additional four to six people in their household are positively affected.
Said Chantou, a Hagar beneficiary in Cambodia: "Thank you for helping me and my family. We are hungry all the time but now we have food. My children can study and I am so happy. I am learning new skills from Hagar and I hope to find a job soon so that I can support my family."
Said Denise and Darrell, a brother-sister duo who participated in the 2020 race: "Human trafficking and slavery are heinous crimes. We're no fitness fiends, but we just want to do what little we can to help."
---
Want to join 40.3 for Freedom? 
Dates: November 5 – 14, 2021 
Location: Anywhere in Singapore
Registration fee: $30
This challenge is suitable for all ages and fitness abilities and one can complete the race anytime from November 5 to November 14.  In this virtual race, you can perform any kind of fitness activity where you are to complete the challenge.
There are three categories:
Distance Challenge (4.03km or 40.3km of selected fitness activity)
Duration Challenge (40.3 minutes, 4.03 hours or 40.3 hours of selected fitness activity)
Interval Challenge (40 minutes of selected fitness activity, every 3 days or 3 times per day)
To register:
Sign up for the race here and select a challenge category.
Set up your fundraising page (click here for tips) to let people know what motivated you to join 40.3 for Freedom. With just $500 raised, you can help 10 survivors recover from exploitation and abuse.
Complete the challenge any time from November 5 to November 14, 2021. Hagar beneficiaries in Cambodia and Singapore will be participating too.
About the organiser:
Hagar Singapore is part of Hagar International, a Swiss-based international humanitarian nonprofit organisation, which has local offices in Australia, Hong Kong, New Zealand, Singapore and the United States of America.
Founded in 1994, Hagar offers support to women and children who are survivors of gender-based violence and human trafficking.
In Hebrew, Hagar means "one who flees" or "one who seeks refuge".
---
RELATED STORIES:
Hagar Singapore launches virtual run to raise support for survivors of trafficking and slavery
Slavery is not a thing of the past: Love Justice International
If you have enjoyed reading Salt&Light...
We are an independent, non-profit organisation that relies on the generosity of our readers, such as yourself, to continue serving the kingdom. Every dollar donated goes directly back into our editorial coverage.
Would you consider partnering with us in our kingdom work by supporting us financially, either as a one-off donation, or a recurring pledge?
Support Salt&Light