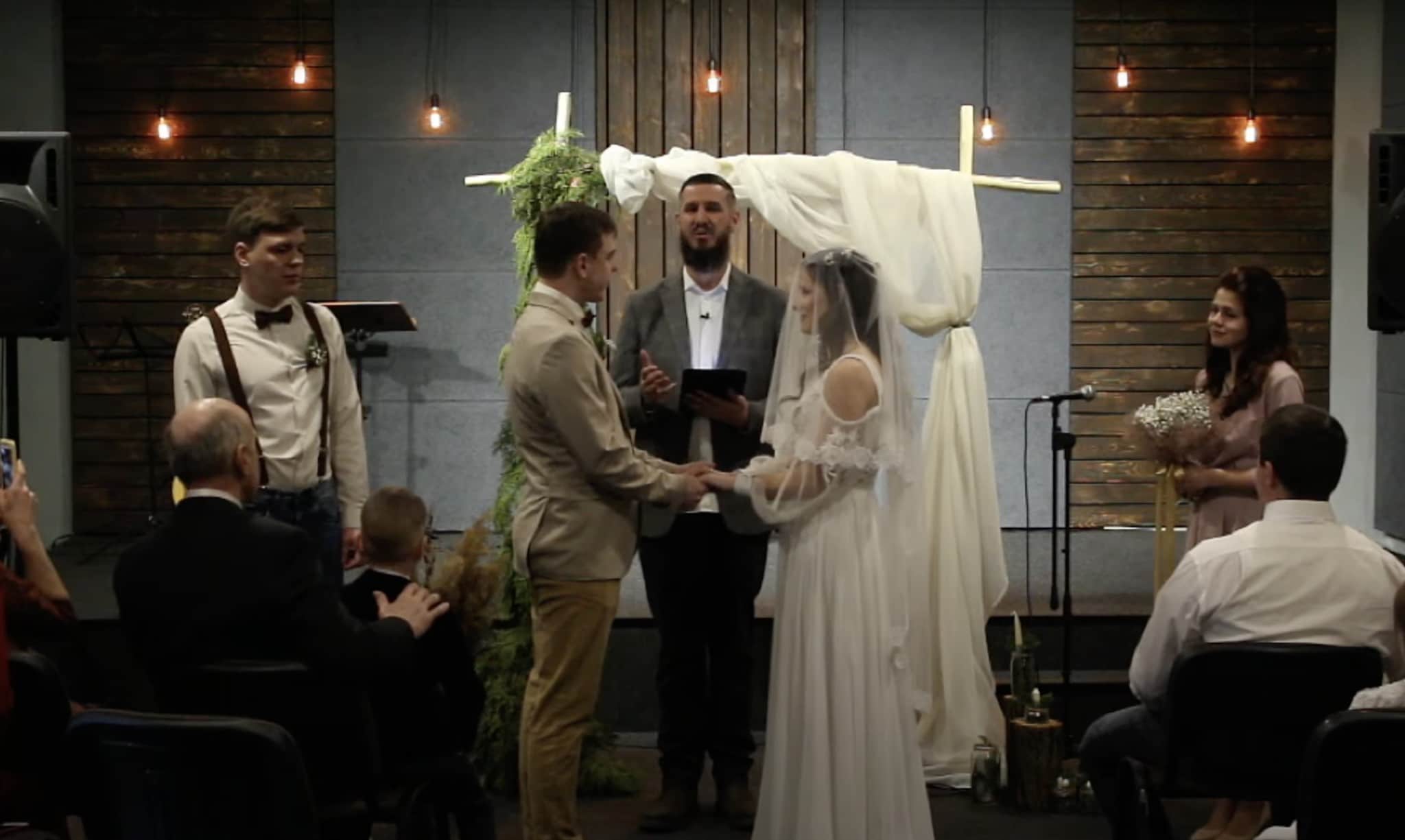 "A wedding? In the middle of a war? ... What better reminder that we serve a higher King and have a deeper joy? The light is not afraid of the darkness," says Pastor Benjamin Morrison, seen here performing the wedding of Andrey and Nadya on the third day of the war. All photos courtesy of Benjamin Morrison.
The plan was set. Andrey and Nadya, a young Ukrainian couple, were to be married in Kyiv, where they live, on February 26 (Saturday).
But in the wee hours of the morning, just two days before they were due to say their wedding vows, bombs started falling from the sky as Russian forces stormed major cities including Kyiv. Russian President Vladmir Putin had ordered an invasion of Ukraine.
Thousands fled the city under siege, some with nothing more than the clothes on their back. In a moment, the plans of more than three million population in Kyiv – and millions more in the rest of the country – were turned upside down, including Andrey's and Nadya's.
But not entirely.
The couple fled to Svitlovodsk, a city about 290km southeast of Kyiv where Nadya's family lives, and, at the encouragement of their pastor, moved resolutely forward with their plan to get married.
Surrounded by family, they wed in the church Nadya had grown up in, rejoicing and dancing as fighter jets zipped overhead and Ukrainian soldiers with automatic weapons patrolled outside in the streets.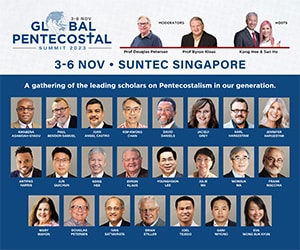 Among all the horrific stories that he has seen and heard in the past week of war, it is this story of determined joy that stands out the most to Pastor Benjamin Morrison, who performed the young couple's wedding.
Sharing this story on his Facebook page, he wrote: "You may be thinking: 'A wedding? In the middle of a war? That doesn't make sense!' But during war is when it makes the most sense. Because, first, what better reminder that even war cannot stamp out love?
"And second, what better way to say that we serve a higher King and have a deeper joy than to rejoice in the midst of chaos? The light is not afraid of the darkness; it dispels the darkness."
Sharing homes, food and hope
The hope that fuelled this unlikely wedding is the same hope that Pastor Benjamin and his 80-strong congregation at Calvary Chapel of Svitlovodsk is hoping to share with some of the thousands of refugees who pass through Svitlovodsk as they flee the country.
"We've had a couple of refugees try to give us money to help the next people who come along. I think generosity breeds generosity."
Located in central Ukraine, Svitlovodsk, which has largely been spared the brutal attacks that major cities have suffered, is a stopover point for many Ukrainians as they make their way from their homes in the east toward neighbouring countries in the west.
According to the United Nations, more than one million people have fled Ukraine since the war broke out, and three more million are expected to flee in the coming weeks and months.
When asked why he has chosen not to leave, Pastor Benjamin, a church planter from the United States who has been living and serving in Ukraine for 20 years, said: "This is where God's called us. We're not going to just take off. Who's going to minister to them in this time?"
His congregation and his family – a Ukrainian wife and two teenage children – have been helping to coordinate humanitarian aid between cities and are also housing, feeding and praying for refugees in their church building and homes.
"This is obviously a time where people have a lot of fear and need hope, and we have that hope in Christ. So what better chance to serve them and to share that with them?" Pastor Benjamin told Salt&Light from Svitlovodsk. 
"In God's providence, we're at the right place at the right time to be able to minister some peace and just practically show the love of Christ."
"Most of them, they get to this point and are completely exhausted. They're coming from places with heavy bombing so they're shaken, they're literally running for their lives," he said.
"In God's providence, we're at the right place at the right time to be able to serve them. We're able to provide them a meal, give them a place to sleep, minister some peace to them and just practically show the love of Christ."
At a time where hate and war seem to be taking centerstage, he has seen the ripple effect that small acts of love and kindness can have. "We've had a couple of refugees try to give us money to help the next people who come along. I think generosity breeds generosity," he said.
The director of church planting network City to City Ukraine added that he is drawing strength from fellow believers in the country who are praying together and staying to serve the country's people – even those in heavily bombed cities.
He said: "They're my heroes. We've even got one guy who's a church planter in Kharkiv. He got his family out but he's remaining there to serve, so this is the guy that we're coordinating humanitarian aid with."
Leading The Lord's Prayer in a bomb shelter
There has also been an openness to conversations about Christ and the Gospel as people are forced to stare death in the face, Pastor Benjamin told Salt&Light. 
"We're praying and believing that the victory is the Lord's and that He will put down the pride of man."
Some refugees have asked his family why they are staying to help, giving them opportunities to share their faith, while others have engaged with them in theological conversations about grace and suffering.
Whenever the air raid siren goes off, Pastor Benjamin and his family hunker down in the bomb shelter in the basement of their apartment building.
"We've spent quite a bit of time down there so far with our neighbours," he said.
During these times, he has read the Psalms to them and led them in praying The Lord's Prayer together, a familiar prayer in the Eastern Orthodox country.
An elderly man had also approached him to ask how to read the Bible properly, said Pastor Benjamin.
"The thing is, whatever the enemy intends for evil, God uses for good. And every step that the enemy takes thinking it will bring him a victory, it only furthers God's victory because God's victory is subversive. The ultimate example is the cross, right?" he said.
"So we take great courage and great comfort in that. We're praying and believing that the victory is the Lord's and that He will put down the pride of man."
Finding the strength to keep going
Last Sunday, the first Sunday since the war started, congregants of Pastor Benjamin's church gathered "for the regular service at the normal time", with the company of some refugees who were in town.
"It was probably the best, sweetest time of worship that I remember in our church. It was just a time where people knew this is where the rubber meets the road and Christ is our rock and our refuge," he said.
After a time of worship, he preached a sermon on David and Goliath, in which he talked about finding confidence and courage in the time of crisis by turning to the Lord.
"I've had time during this crisis to shed tears before the Lord, but the question is are we going to stay there? Are we going let that swallow us?" he told Salt&Light.
He added that he has found comfort in praying the Psalms, which he had been reading "in God's providence" even before the war broke out.
"We can come to the Lord and pour out the anxiety, the fear and the sorrow from all of this that's in our hearts. If we're not doing that, then I think we walk around with it," he said.
"But it's when we come and we pour that out in prayer, we cry out, we weep, that God turns our hearts to that moment of hope, to His salvation in Christ, and that's what gives us the strength to keep going."
Pray for Ukraine
Addressing the Church in Singapore, Pastor Benjamin said: "Continue to pray for us. We believe that God is the Lord of lords. He is the ruler of history. It was a surprise to us, maybe, but not a surprise to Him. 
"At the same time, we also know that He is a God of justice and the victory ultimately will be His and that's inevitable."
He offered the following prayer pointers:
Pray that there will be a swift victory over this evil and this violence. Pray that justice will come, and that God's will will be done on earth as it is in heaven.
Pray that God will use all these things, as He is already doing, for good and for many to come to faith in Christ.
Pray that the international community will have the wisdom and courage to take the bold steps necessary to help put an end to this war.
Pray for all the refugees. Pray that City to City Ukraine will be able to use our connections to link refugees up with a church or someone who can minister to them.
GIVE TO UKRAINE
Those who are interested to support the relief work that Pastor Benjamin is doing may donate here. Readers may also give via Pastor Benjamin's personal Wise account.
Benjamin David Morrison
[email protected]
Bank name:
Wise Asia-Pacific Pte. Ltd. (Formerly TransferWise)
Bank code:
0516
Account number:
382-584-1
Money will go to the work that their church is doing with refugees, as well as to the coordination efforts to transport aid between cities.
---
MORE UPDATES ON UKRAINE:
"We don't have to wonder what they're going to do. We've seen it": What a Taliban takeover in Afghanistan means for Christians
Romanian Christians driving through snow storms and risking lives to help refugees from Ukraine
"We need God's miracle": Christians in Ukraine plead for united prayer
If you have enjoyed reading Salt&Light...
We are an independent, non-profit organisation that relies on the generosity of our readers, such as yourself, to continue serving the kingdom. Every dollar donated goes directly back into our editorial coverage.
Would you consider partnering with us in our kingdom work by supporting us financially, either as a one-off donation, or a recurring pledge?
Support Salt&Light