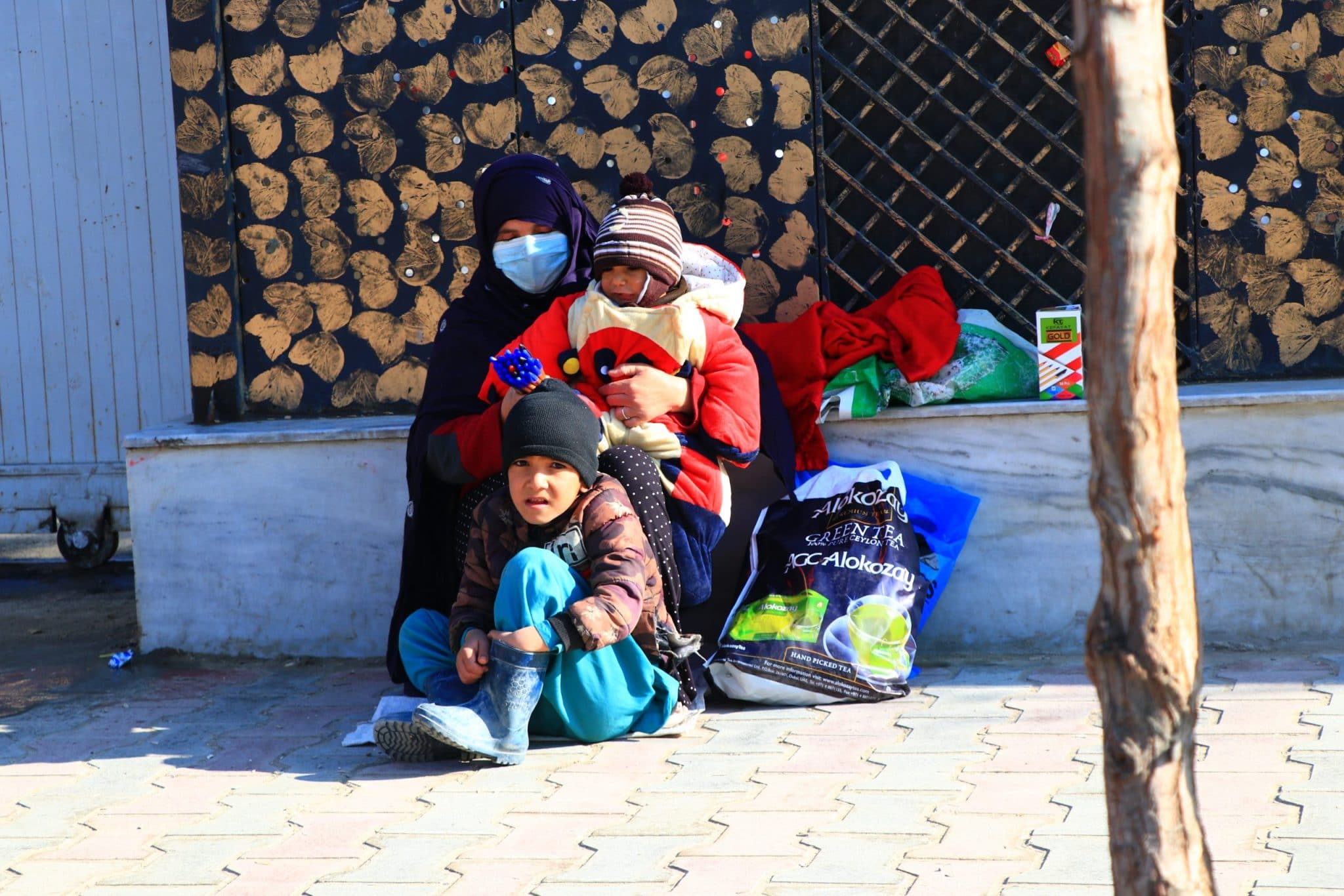 From dust to dust: Women and children, among the most vulnerable among Afghans, scrounge for survival by begging on the streets. All photos courtesy of Hagar Singapore.
On August 15, 2021, the Taliban wrested control of Kabul in Afghanistan. Now, more than six months after the Taliban takeover, Kabul's streets seem to be lined with hunger, aid agency Hagar International told Salt&Light.
Child beggars' footfalls are compounded by those of adult women – with their own children in tow – brazenly trying to stop traffic in an attempt to get food.
Dotting the city's garbage dumps are boys foraging for plastics to recycle – this, in spite of the winter's cold. The few cents this effort reaps could buy some bread, the only staple for many of the poorest.
The scenes bear out the warning the United Nations Development Programme (UNDP) had issued last September of a "rapid, catastrophic deterioration in the lives of Afghanistan's most vulnerable people".
Providing first-hand accounts of the situation since the Taliban takeover, Hagar International has projected that "with the collapsed economy, the Afghans will need critical relief for another year or more".
Desperate needs
Recently, Hagar has noticed a "huge spike" in new informal camps for Internally Displaced Persons (IDP) sprouting up. "They cannot go back to their homes now; they have no food, no money, no livelihood. They create their own makeshift shelters with sheets of canvas or any materials they can find," said Lynette Lim, Hagar Singapore's Communications Director.
In absolute terms, the number of displaced people is "easily double" that which is reported, not least because more than 1.5 million jobs have been lost since the change in government.
Those who have any cash are limited to withdrawals of USD200 over a four-week period.
The Afghan economy no longer receives international funding, which had made up some 80% of the previous government's budget. 
Destitution and desperation are driving people into mental collapse.
Public schools are closed. Teachers are not turning up for work because they have not been paid, and "children are roaming the streets because they have nowhere to go and are hungry all the time", Lim added.
Petty crime is on the rise, along with child abuse, domestic and sexual violence. Both inside and outside of refugee camps, destitution and desperation are driving people into mental collapse.
The Covid-19 pandemic is still raging in the country. News sources report that only five hospitals still offer Covid-19 treatment. Due to the lack of doctors and medicines and basic amenities, 33 hospitals closed over the last few months.
However, "the sad reality is that COVID-19 is not a big concern to the people because they are fighting for survival every day, looking to get hold of anything to feed their stomachs", Lim said.
"PCR tests are not done at government facilities. The only way is to get tested in private facilities, but that costs around USD50 to USD60 for each test, which people cannot afford.
"There are definitely cases but actual numbers are unknown because people are not testing. They are just hoping to get fed, at least one meal a day so they can live yet another day. 
"Our Hagar Afghanistan team are racing against time to help the people rebuild livelihoods, achieving self-sustainability in the long run."
Pray for Afghanistan
Current UNDP projections are that 97% of Afghanistan's 38 million population will plunge into poverty by the middle of this year. UNICEF estimates that up to 1 million children under the age of five could die by end-2022 due to severe malnutrition. 
Hagar's own assessment is that deaths arising from hunger are increasing by the day. Furthermore, there's great fear about a looming famine.
Their request is unity in prayer for:
God's grace, mercy and strength to be upon the people of the land.
Sustenance for the displaced and families to hold out through the current brutal winter, especially malnourished children.
Protection against Covid-19 and waterborne diseases, which are rising sharply in IDP camps.
Provision and shelter for displaced children and families as people continue to flee violence and conflict amid the Taliban takeover.
Safety and freedom of women and girls, all of whom are at risk of oppression and violence.
Financial providence, to be able to continue caring for those who are suffering, and reach more who are in dire need.
Wisdom for our Hagar Afghanistan team as they make plans for the longer-term recovery and rebuilding efforts
Protection upon Christians and Christian NGOs who continue to live and work under the new government regime. May God's daily grace sustain us all.
How you can help
Hagar International – one of the few NGOs allowed by Taliban rule to give humanitarian support – is making a fresh appeal for USD500,000 (about SGD680,000) in donations towards its continuing work in the country, which includes:
Food distribution to some of the worst affected areas while transitioning its food relief programme to a livelihood project.
Child-friendly spaces to accommodate the increasing number of at-risk children, many found abandoned on the streets.
A residential shelter for abandoned girls under the age of 14.
Critical healthcare services in six villages where there are no clinics and healthcare workers . These are located primarily in Surobi, the impoverished district allocated to Hagar, which is 60km outside of Kabul.
To join Hagar International in its relief effort in Afghanistan, click here to make a donation.
---
If you have enjoyed reading Salt&Light...
We are an independent, non-profit organisation that relies on the generosity of our readers, such as yourself, to continue serving the kingdom. Every dollar donated goes directly back into our editorial coverage.
Would you consider partnering with us in our kingdom work by supporting us financially, either as a one-off donation, or a recurring pledge?
Support Salt&Light