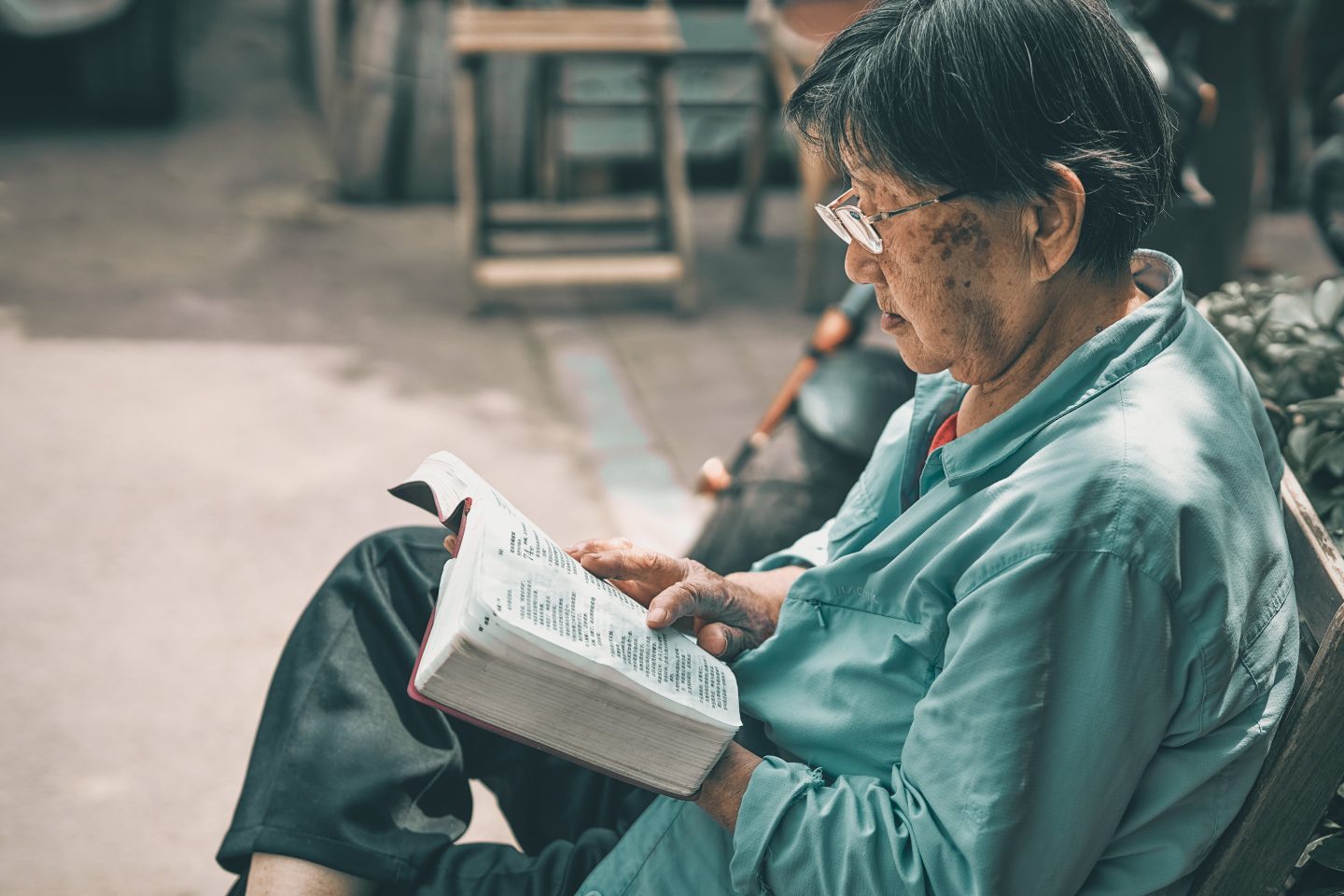 Daily telephone devotionals in six dialects are a Christian organisation's gift to the elderly who don't have Internet access. Image from Unsplash.
The idea for a daily telephone dialect devotional came to Vincent Toh, 52, when he was invited to preach at Holy Grace Presbyterian Church last year.
"I saw so many elderly people," said Toh, who is general secretary of Christian Communications Singapore, a publishing and training organisation serving Chinese churches. "But the church told me there were even more elderly people at home which they could not reach out to."
This sparked off the production of the company's 30th anniversary "gift" to reach out to the elderly. They were launched on July 1. The audio files cost $38,000 to produce.
Toh recruited about 50 volunteers to record two-years worth of daily devotionals in six Chinese dialects: Teochew, Hainan, Shanghai, Hakka, Foo Chow and Hing Hwa.
Telephone devotionals in Mandarin, Hokkien and Cantonese are available through other organisations (phone numbers are listed at the end of this story).
Toh had heard from the elderly that hearing their own dialect would engage them more than Mandarin. 
The telephone devotionals are free (regular phone charges apply).
All an elderly person needs to do is to call the hotline, and select their choice of dialect. The five-minute devotional, which changes everyday, will introduce them to the Gospel and teach them how to pray to the Lord. 
Toh had heard from the elderly that hearing their own dialect would engage them more than Mandarin. 
Time is not on their side to introduce the elderly to the Lord," Toh said. "If not, we will not be able to reach out to them any longer." 
The devotionals are for believers and non-believers. Most devotionals are from two Chinese Christian publications: Daily Devotional and Living Water.  
"We hope the elderly will come to know our Lord through this telephone devotional," Toh said. "We hope the spirit of the Lord will touch them."
To ensure access to the devotional at all times, Christian Communications Singapore pays a vendor to maintain ten telephone lines.
A phone call away
The telephone devotionals are targeted at the elderly who do not use a smartphone, and who are unlikely to have access to the internet. They are hard to reach as they lack the resources necessary to access their church's online service.
 Toh relies on word-of-mouth to spread the news of the telephone devotionals. They include younger Christians who have elderly parents. Toh also works with Christian volunteers who visit the elderly who may be neglected.  
"God provided all these volunteers to help us and make this happen," Toh said. "All we do is just coordination."
Christian Communications Singapore has produced fridge magnets for these volunteers to give out. These magnets contain the hotline numbers to call for the devotionals.
Toh hopes that these magnets will remind the elderly to call when they are feeling lonely or neglected.
Beyond Singapore
The audio files for the devotionals are also available on Christian Communication Singapore's website. The files are also sent via Telegram. Users are free to download and distribute these files as they wish.
"Some churches thank us for the devotionals. Due to the COVID-19 outbreak, many of the elderly cannot come to church."
According to Toh, some Christians have been forwarding the files to WhatsApp groups that have elderly members.
The ministry is not just limited to Singapore. When Toh contacted dialect-speaking Christians in another Asian country to help with the recordings, he found that they also needed such materials. 
"Some churches thank us for the devotionals. They tell me that we came in at the right moment. Due to the COVID-19 outbreak, many of the elderly cannot come to church," said Toh.
"This is God's timing." 
The story behind the world's most commonly used Chinese Bible
"They are not forgotten": Vulnerable seniors receive care packs and have homes disinfected by volunteers
---
Telephone numbers for Chinese dialect and Mandarin devotionals
Christian Communications Singapore
Teochew/Hainan/Shanghai: 6380 5841
Hakka/Foo Chow/Hing Hwa: 6380 5842 
For links to download the devotional audio files, click here.
Faith Community Baptist Church
Cantonese: 6424 9544
Hokkien: 6424 9547
Mandarin: 6424 9499
Telok Ayer Chinese Methodist Church
Hokkien: 6324 4007
If you have enjoyed reading Salt&Light...
We are an independent, non-profit organisation that relies on the generosity of our readers, such as yourself, to continue serving the kingdom. Every dollar donated goes directly back into our editorial coverage.
Would you consider partnering with us in our kingdom work by supporting us financially, either as a one-off donation, or a recurring pledge?
Support Salt&Light