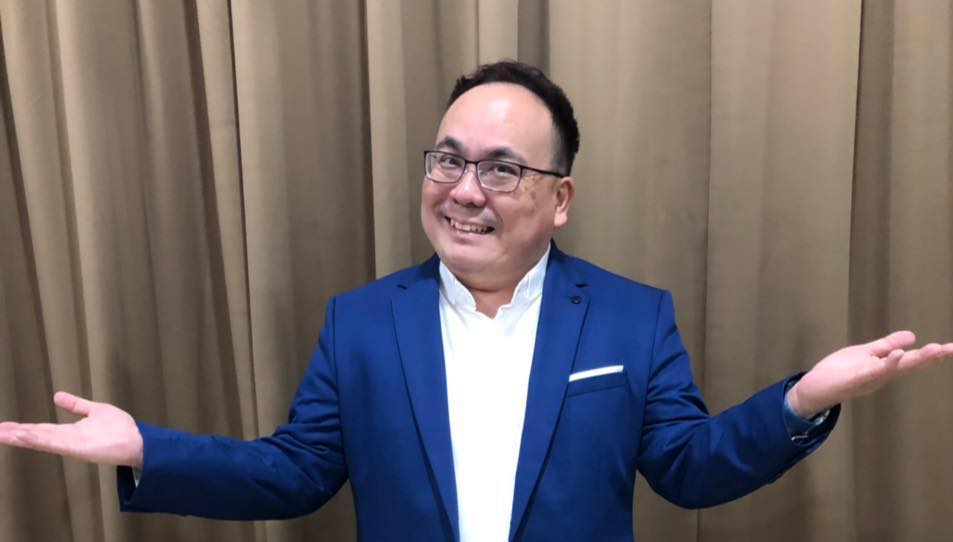 Ps Raymond Sim (Case 227) tested positive for the coronavirus last week after returning from France. Photo from Ps Sim's Facebook.
As Pastor Raymond Sim, 53, lay alone in an isolation ward with a persistent fever and in low spirits, it was Romans 8:18 that offered him the greatest comfort.
"For I consider that the sufferings of this present time are not worthy comparing with the glory that is to be revealed to us." (Romans 8:18)
"The verse has become so real to me," Ps Sim, the children and youth pastor at Lighthouse Evangelism Church, said in a video posted on his personal Facebook page yesterday (March 18). In the video, he is clad in light brown hospital garb and has an IV drip attached to his hand.
Earlier this week on Sunday (March 15) afternoon, he was confirmed to have a COVID-19 infection and is currently being warded at the National University Hospital (NUH).
"If only I had been extra cautious."
"Although my situation may not be persecution … (and) it could have been a consequence of my own actions, God reminded me that this suffering that I am experiencing is in no comparison to what we will experience of His glory that will be revealed to us.
"May God continue to be glorified in all that we do, in whatever situation that we are in, and in such a time as this."
Outpouring of God's love
Ps Sim, who is Case 227, was in France from March 7 to March 12 with his daughter. According to a report by the Ministry of Health, he reported an onset of symptoms on March 11 while overseas and went to the emergency department of NUH three days later.
"This suffering I am experiencing is in no comparison to what we will experience of His glory."
He was confirmed to have the coronavirus infection the next day.
Ps Sim told Salt&Light that he felt "disappointed" and "emotionally down" when he first found out about the results.
"Questions came: How can I face my church members? How can I face my family after causing all this compulsory quarantine for them?
"If only I had cancelled my trip with my daughter to France. When we left, Asia was the one battling with COVID. Europe was supposed to be free. If only I had been extra cautious."
But it was during this time of guilt and worry that Romans 8:18 became real to him, he said.
Ps Sim added that being in isolation for these past four days has given him the time to look back and be grateful to God for the opportunity to serve Him in many areas of ministry.
Through this ordeal, he has also experienced God's love through his church, friends, family and even those he had lost contact with for a time. 
He has been receiving "so much love" from people and churches all the way from Indonesia, Malaysia and Japan, including encouraging and prayerful text messages and fruit baskets.
"I can open a fruit shop in my hospital room!" he joked.
He added that colleagues and friends have also stepped forward to deliver food to his family as they serve their Stay Home Notice period. Ps Sim is married with three children.
Not out of the woods yet
Ps Sim told Salt&Light this morning that though his fever has broken, he is still nursing a headache and is feeling listless.
He added that both his wife and daughter have been admitted to NUH with fevers, though their swab tests have been negative so far.
As for himself, his swab tests have still come back positive.
"Doctors told me that I'm not out of the woods yet, so continue to pray for me and my family as we live through this storm," he said in his Facebook video.
Rising up in faith
Lighthouse Evangelism Church has since suspended worship services and is moving "fully online" until further notice, according to a video by Pastor Pacer Tan, senior pastor of the church, posted on its Facebook page on Monday (March 16).
"Challenge our spirits that it's precisely in the midst of all these to rise up in faith, to trust that God has got this."
"It is in the safety and protection of all our beloved members and the church that we are making this decision," he said.
He added that the decision to suspend physical services was made by the church leadership before it was confirmed that Ps Sim was a COVID-19 positive case.
"Please rest assured that we took all sorts of precautionary measures. When Pastor Raymond flew back to Singapore, he has not been in direct contact with any church pastor or staff, or any Lighthouse member, so rest assured that there will not be an infection spread coming from Lighthouse."
He also urged members to pray for Ps Sim and his family, and to continue to trust in the Lord.
"I've heard some people say that in this coronavirus situation, it's really hard to focus on God. But I really want to encourage us and challenge our spirits that it's precisely in the midst of all these challenges, the crisis at hand, the pandemic that is global … (that we) rise up in faith (and) trust that God has got this covered and in His beautiful time, this will all be resolved.
If you have enjoyed reading Salt&Light...
We are an independent, non-profit organisation that relies on the generosity of our readers, such as yourself, to continue serving the kingdom. Every dollar donated goes directly back into our editorial coverage.
Would you consider partnering with us in our kingdom work by supporting us financially, either as a one-off donation, or a recurring pledge?
Support Salt&Light