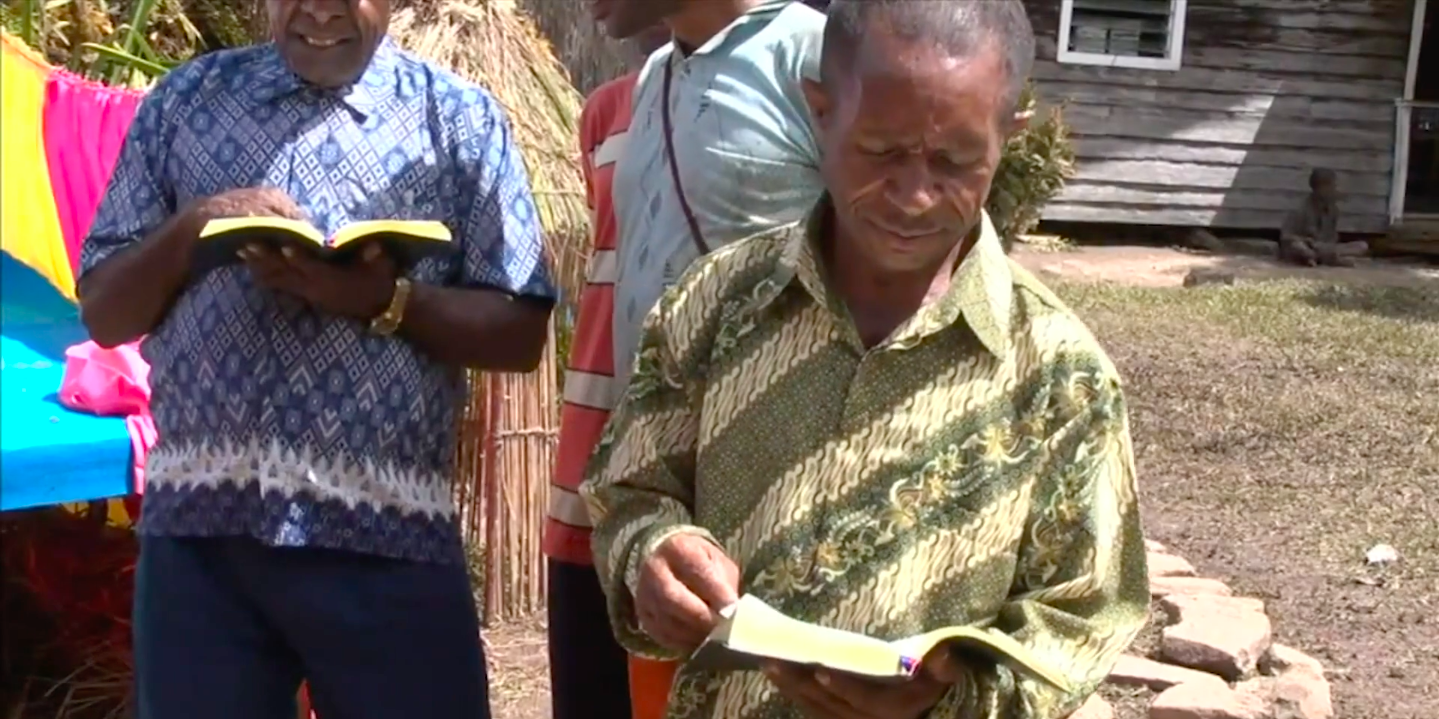 The Kimyal tribe from West Papua, Indonesia, holding a copy of the first New Testament in their language, as depicted in Imagine Life without the Bible. Screengrab from Imagine Life without the Bible.
Dancing and waving their arms in the air, hundreds of men, women and children gather in eager anticipation at a small airstrip in Korupun, West Papua, Indonesia.
As a white chartered plane makes its landing, some crane their necks to catch a clearer glimpse, while others hoot and celebrate with fervour.
Something the Kimyal tribe, which has some 4,100 people, has long been waiting for has finally arrived: The first New Testament in their language.
A hushed silence falls upon the crowd as the pilot of the plane places a large white parcel into the arms of the village pastor, Pastor Siud, who receives it with a passionate prayer.
"O God, O God, the plan which you had from the beginning, regarding your Kimyals, which already existed in your Spirit, the month that you had set, the day that you had set, has come to pass today," he declares.
"O God, today, you have placed Your Word into my hands, just like you promised."
"O God, today, you have placed Your Word into my hands, just like you promised. You have placed it in our land. And for all this, O God, I give You praise."
The villagers' faces brim with emotion, as some wipe away tears. Raising their treasured parcels above their heads, the crowd returns to their village dancing and leaping in celebration.
"I will pass it on to my children, and it will keep them in the path of righteousness," says one villager. "And once we're gone, our children will pass it on to their children."
A glimpse of Bible poverty in Asia
This scene from Imagine Life without the Bible, a 30-minute short film by illumiNations Asia, a Bible translation movement, is likely foreign to many of us.
At just a click of a button, we have access to not just a Bible in our own language, but also countless resources to help us understand it better.
But not everyone has the same privilege. And many who yearn for a Bible in their heart language are closer to Singapore than we think.
Of the 745 people groups in Asia who do not have a single verse of Scripture in their language, almost half are from Southeast Asia, according to statistics by illumiNations Asia.
While these language groups can be found in countries like Malaysia, the Philippines, Vietnam and India, the greatest need is in Indonesia, where about 300 people groups do not have access to Scripture in their language.
Speaking in a heart language
Heeding the rallying call for every tribe and tongue to know God's name (Revelation 5:9), many are putting their hands to the plough.
In Asia, the Bible is currently being translated into 523 languages. (This number is not part of the 745 languages that do not yet have any Bible translation work being done.)
One of them is the Mualang language, which is spoken by an indigenous community in West Kalimantan, just 870km away from Singapore.
Here, a team of four – three translators and one facilitator – have been labouring for six years to bring God's Word to some 40,000 people. They are part of Kartidaya, an Indonesian non-profit Bible translation organisation.
To date, they have translated 24 Bible stories, a Gospel film about Jesus and the Gospel of Luke. Their goal is to have the entire New Testament in their language by 2028.
"If people don't understand, they can't obey."
Speaking to Salt&Light in Bahasa Indonesia over Zoom, translator Adi Antus, 29, said that preaching and Scripture reading in their churches are done in Bahasa Indonesia as there is no Bible in the Mualang language.
However, not everyone – especially the elderly and the less educated – can understand the language well. Even for those who are conversant in it, Mualang is still their heart language – the language they speak at home and understand the best.
This is why Adi, a native Mualang language speaker, has committed himself to the translation work. "I believe God doesn't want to make it difficult for us to understand His Word. On the contrary, He wants to let us know what His will is for all of us," he said.
Playing a part in God's grand mission
Already he has seen what a difference Scripture in the Mualang language has made.
"People are amazed," he said. "They now know that God wants to speak in their own language."
"I believe God doesn't want to make it difficult for us to understand His Word."
He recalled a Scripture engagement event they held three years ago, where people gathered to listen to Bible stories in their language and play some games.
"I saw how the people were so glad and joyful. There was this one lady who was so enthusiastic that she walked for three hours from her village to attend the event, because she knew it was going to be in her language," he said.
Sophia (not her real name), the team's facilitator who had been helping to interpret the interview, jumped in eagerly to share her amazement at how passionate the participants had been.
"We prepared a contest where they had to retell one of the translated Bible stories. We just wanted them to narrate it. But the people were so happy that they came up with a whole drama, a whole choreography. They brought costumes and acted out the whole story!"
She also recalled the participants sitting in rapt attention when the preacher brought God's Word to them in their heart language. At moments, their eyes would light up in understanding at something the preacher had said.
"That was a really, really good moment," said Sophia, who came to Indonesia from Mexico in 2011 after God placed a burden on her heart for those without God's Word.
Ultimately, the goal of having the Bible in a community's heart language is so that they can obey God's Word (Matthew 28:19-20), said Adi.
"If people don't understand, they can't obey. We can't be selfish. We need to think about these people who can't understand God's Word, so in the future they will understand God's will through His Word in their heart language."
He is encouraged by Revelation 7:9-10, which foretells that there will be "a great multitude that no one could number, from every nation, from all tribes and peoples and languages" standing before God and praising Him.
He said: "This is something that God wants, and He wants to use me for this."
Asia for Asia
It is time for Asia to believe that God wants to use us, too, for the Bible translation work He is doing in the region, said Andrew Tay, who leads illumiNations Asia.
For decades, Bible translation work in Asia has been carried out and funded by our brothers and sisters in the West, said Tay, who was on the board of Bible translation organisation Wycliffe for more than 20 years.
"God seemed to be saying: It's time for Asia to do its part."
During the 2008 Global Financial Crisis which hit the Western world hard, Tay observed that funding for Bible translation work in Asia halved though there was still wealth in the region.
"That struck me," he said. "We had the wealth, but we were not doing our work and were dependent on the US to do and fund our work. That didn't make sense, and God seemed to be saying: It's time for Asia to do its part."
In 2017, he set up illumiNations Asia, the Asian arm of illumiNations, a coalition of 10 Bible translation partners who are working to have Scripture in all languages by 2033.
"It's more than just money, it is giving emotional support, prayer support and being present to encourage."
The model that illumiNations Asia adopts seeks to raise support for Asian projects from within the region.
It also uses local mother-tongue translators, instead of foreign missionaries, to do the work, thereby reducing the time needed for the translator to become familiar with the community's culture and language.
Currently, they are working on 50 languages in 11 Asian countries, said Tay.
In the short film Imagine Life without the Bible, Bishop Emeritus Dr Wee Boon Hup said: "Many of our countries (in Asia) are experiencing increasing prosperity … and Asia needs to step up to reach out to Asians."
He added that apart from supporting the work financially, it also important to understand how the work is being done, "so that it's more than just money, it is giving emotional support, prayer support and being present to encourage the Bible translators themselves even as they continue to do their work".
Want to find out more about Bible translation?
If you're curious to learn more about Bible translation in Asia and how it's done, visit illumiNations Asia's website here.
In this Year of the Bible, the illumiNations Asia hopes to invite 10,000 believers to be part of the Bible translation movement, and to raise a full Bible for a language group in Asia. Find out how you can play a part here.
READ MORE STORIES ON BIBLE TRANSLATION:
This Pentecost, will you help give the New Testament to a language group without Scripture?
If you have enjoyed reading Salt&Light...
We are an independent, non-profit organisation that relies on the generosity of our readers, such as yourself, to continue serving the kingdom. Every dollar donated goes directly back into our editorial coverage.
Would you consider partnering with us in our kingdom work by supporting us financially, either as a one-off donation, or a recurring pledge?
Support Salt&Light