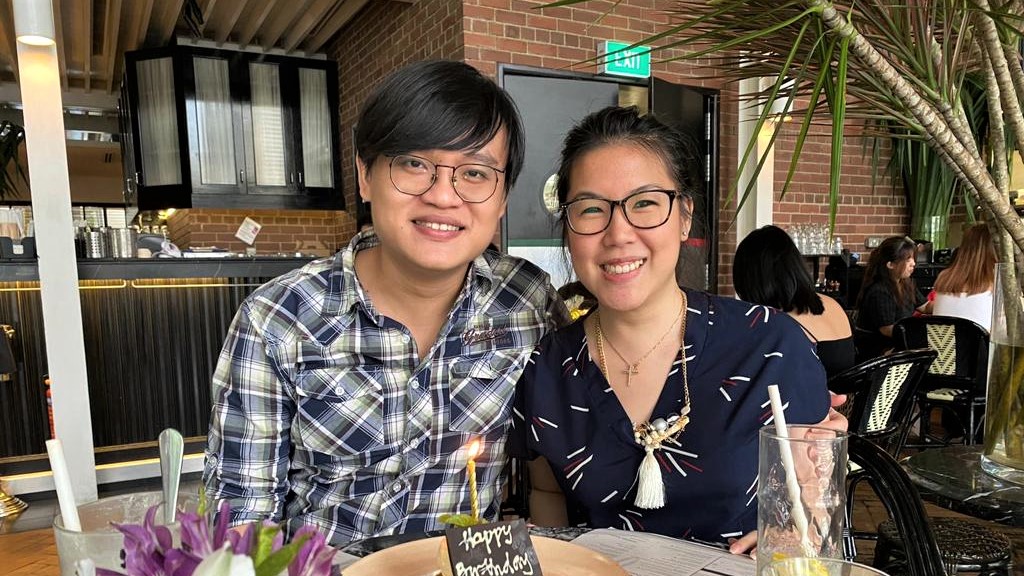 Alex Yeo and Charmaine Wee founded Mental Connect to list resources for those seeking help for mental illness, especially Christian resources. All photos courtesy of Charmaine Wee.
At her worst, Charmaine Wee, 37, was hearing voices and hallucinating. At one point, someone found her lying on the ground in public unable to move because she "felt like something was sitting on me".
On more than one occasion, she had to be hospitalised at the Institute of Mental Health (IMH).
"I had close shaves a couple of times, nearly over-dosing. I thought I was going to die a few times."
Diagnosed with schizophrenia and then schizoaffective disorder at age 29, her biggest struggle was finding faith-based help. Schizoaffective disorder is a mental illness that combines symptoms of schizophrenia (hallucination and delusions) with mood disorder (depression and mania).
"Nobody told me there were Christian resources (for mental illness). I Googled and I couldn't find them," said Wee who was exposed to Christianity from young.  
Her journey has led her to start Mental Connect, a website that lists services and events, including Christian ones, for those seeking "whole community care" for mental illness.
"Something I've learnt through my personal journey is that a Christian psychiatrist or counsellor would acknowledge that spirituality exists and would appreciate it.
"So, if I say I see angels or hear God, a Christian psychiatrist or counsellor can entertain the possibility that it may be something in the spirit."
Tumultuous teen years
By Wee's own admission, she was a rebellious teenager. She had her first drink at 13 and was "drinking heavily" by the time she was 16.
At the Christian school she attended, she got into trouble for vandalism and was openly defiant even while she was active in Christian Fellowship. Her behaviour often earned her "talks with the leaders about discipline issues".
Doctors she has seen tell her that her lifestyle could have caused "traumas to the brain".
"I was struggling with living in the world and trying to love Jesus. I felt I should serve. I suppose it was God's prompting. (My behaviour) would have been worse if I didn't serve."
At 16, she left the church after a fight with the youth pastor.
Away from the church and Christian community, her life spiralled. By 17, she had progressed to substance abuse. Mixed with alcohol, the result was a potent cocktail.
"I had close shaves a couple of times, nearly over-dosing. I thought I was going to die a few times. It freaked my friends out because they had to tell me to breathe in and breathe out because (it was like) I had forgotten how to breathe."
Doctors she has seen tell her that her lifestyle could have caused "traumas to the brain" and contributed to its eventual deterioration.
"I was also a premature baby and when I was four or five, I fell playing tag with my childhood friend. I had a hairline crack on my skull. Doctors think these could have contributed to my diagnosis as well."
Muddling through relapses
When Wee was 25, a good friend killed himself and she "went into depression". By then, she was already struggling with some symptoms and had returned to church for help and to serve because she remembered being happy there.
"I didn't know about mental health, didn't know anything about depression. I didn't know that if it was left untreated, it could escalate to something more severe. 
"Seeking medical help … doesn't make you less of a Christian. It doesn't mean you don't have enough faith."
"I was told to just pray, read the Bible and confess the Word of God, and worship and the depression would go away. Sometimes it would. Sometimes it wouldn't. So, I turned to my old drinking habit instead."
From a very young age, Wee had been keenly aware of the spiritual realm. When she became a Christian, she moved in the prophetic gift. "I was known to be quite accurate in foretelling and words of knowledge. Things would come to pass."
Her gifts, however, would make diagnoses of her condition difficult. In 2012, while at a Christian conference, she started hearing voices after she was prayed for. When she asked for help, she was told it was spiritual warfare.
By the time Wee returned from the three-day conference, she was hallucinating as well. Then, she turned up in church "talking about really bizarre things". In the end, she was admitted to IMH. That was when she got her first diagnosis – schizophrenia. She stayed at the hospital for a month.
"Various friends came to see me. They told me it was a spiritual attack, that I wasn't sick. Nobody told me that I might have mental health issues."
"It took a village – and the right village – to get me back on my feet."
Three years later, Wee suffered a relapse. The voices and visions returned. She went back to IMH, was diagnosed once more with schizophrenia and put on medication.
"The anti-psychotic medication made my mind foggy and I put on a lot of weight. I couldn't think straight. I found it hard to work. And my body image was getting me depressed from all the weight gain."
To get off the medication, she tried counselling. She went through both cognitive behavioural therapy (CBT) which focuses on changing thought patterns to change behaviour as well as Interpersonal Psychotherapy (IPT) which looks at relationships.
But every year, she would still suffer a relapse when she tried to get off the medication. 
Finally, a breakthrough
In 2018, after yet another relapse, a friend took her to a mental health conference organised by Christian Mental Health Advocates and HOPE Alliance.
At that conference, Wee "started to hear that, in the Bible, mental health issues are spoken about" and that mental illness is a real thing that Christians can suffer from. 
She also met people who shared different Christian resources for mental health like PSALT Care that runs support groups for mental illness and addictions.
That year, seven years into her mental health journey, God gave Wee a vision that opened her eyes to a new understanding.
"I was struggling with taking medication. He asked me, 'What does a marathon runner who has broken his leg need to do? Wear a cast so he can walk. Your brain is your bone; medicine is your cast. You want to finish the race? Take your medicine'.
"Mental illness is a real thing that Christians can suffer from."
"He helped me see that He created medicine and therapists and doctors for a reason. There is no shame in seeking medical help for your mental illness. It doesn't make you less of a Christian. It doesn't mean you don't have enough faith."
Meanwhile, Wee's psychiatrist found a new anti-psychotic medication that worked for her.  The care of Christian mental health professionals along with the acceptance that she was actually sick and required medical help put Wee on the road to recovery.
"I got on the right care continuum. I learnt to moderate my medication with the help of my psychiatrist. I'm learning how to care for myself with my sickness."
Christian community also helped. She met her boyfriend, Alex Yeo, 30, through HOPE Alliance and credits him for her recovery as well.
"Alex is a huge support in stabilising my recovery. Having someone who understood and whom I could trust to share my struggles is important.
"Whenever I feel my symptoms coming, Alex is the person I run to first and we would do grounding exercises that our couples therapist has taught us like sifting through what is reality and what is not, and what would Jesus say about this. It has helped prevent a full-blown relapse."
Wee has not had a relapse in the last two years.
Helping others recover 
Her experience made her think about other Christians who, like her, may be searching for Christian medical help for their mental conditions.
"Talking to Alex one day, I said, "Wouldn't it be awesome if we could create a directory where we could funnel people through to different places to help them in their recovery journey, and help them to know where to go for help?'"
Yeo did not pick up the idea until God spoke to him.
He shared: "We were attending a mental health conference at a church in 2019 and God gave me a vision of vines. I realised that it might have to do with connections and with mental health.
"It hit me then that this could be the prompting about the conversation we had many months ago."
So, while holding down full-time jobs – Yeo works for non-profit suicide prevention organisation Caring for Life while Wee is a marketing and communications manager at private mental health clinic Promises Healthcare – the pair worked on the website.
While Wee drew from her personal experience with psychiatrists, psychologists and therapists, Yeo drew from his years of work in the mental health sector with the government and as a volunteer to come up with a list of mental health resources for patients and their caregivers.
"God gave me a vision of vines. I realised that it might have to do with connections and with mental health."
In December 2019, the couple launched the Mental Connect website at social enterprise SG100 Foundation's event. Nearly 50 guests were invited to witness the launch.
The site lists services and events that cover several categories including different types of therapies, medical help and resources. It also lists Christian psychiatrists, psychologist and counsellors. These are professionals who incorporate spiritual teachings in their help.  
"What we want to show with Mental Connect is that there are tonnes of mental health resources beyond counselling and that the care continuum involves many parts including psychoeducation and community care.
"We are planning to include more categories, especially Christian ones," said Yeo.
Added Wee: "Recovery is possible. When people first get diagnosed, they are very scared. For me, it felt like the end of the world for me. I felt like I had fallen out of life.
"It took a village – and the right village – to get me back on my feet."
SALT&LIGHT FAMILY NIGHT: MY KID IS GAMING TOO MUCH, WHAT CAN I DO?
Almost 90% of the cases that Touch Cyber Wellness sees have to do with excessive gaming.
In The State of Online Gaming 2020 global study, 60% of the Singapore respondents have given up sleep, 24.3% skipped showers and 36% missed out on meeting friends just to keep gaming.  
Gaming is a part the youth culture but some are gaming more than others. How do you know if your child is addicted? Is there such a thing as safe gaming? How can you help a child who games excessively?
To find out this and more, join hosts and family champions Carol Loi and Alex Tee and their guests:
Chong Ee Jay, Family Life Specialist, Focus on the Family Singapore & cyber wellness champion
Date: Tuesday, October 13, 2020
Time: 8.30pm-10pm
Cost: Free
Register at: https://bit.ly/SLFamilyNight13Oct
If you have enjoyed reading Salt&Light...
We are an independent, non-profit organisation that relies on the generosity of our readers, such as yourself, to continue serving the kingdom. Every dollar donated goes directly back into our editorial coverage.
Would you consider partnering with us in our kingdom work by supporting us financially, either as a one-off donation, or a recurring pledge?
Support Salt&Light