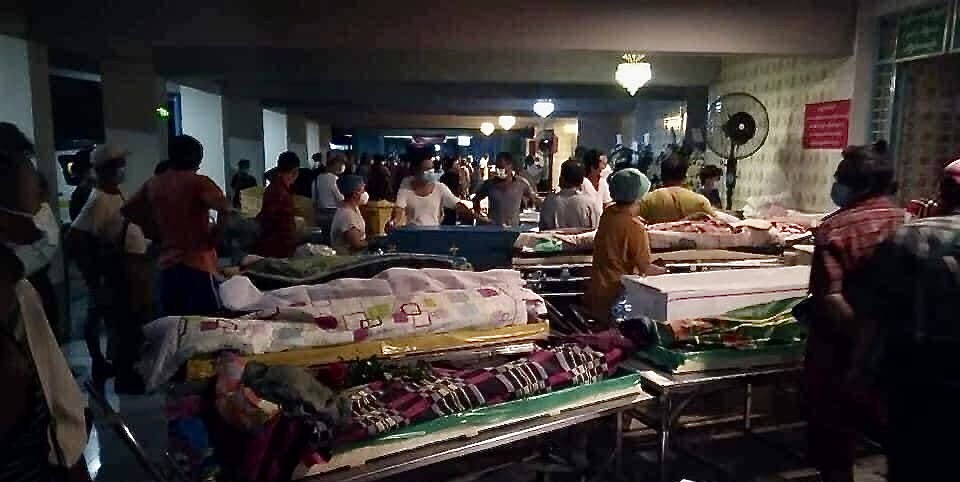 Public health experts predict that 50% of Myanmar's 55 million people will be infected within three weeks by either the Alpha or Delta variant of Covid-19. Hospitals are not admitting any more Covid-19 patients. The sick scramble for oxygen from metal cylinders and join queues to refill them. Dead bodies are piling up in crematoriums – which cannot burn them fast enough. Photo by a citizen journalist.
What's happening in Myanmar looks eerily like surreal scenes from an apocalyptic movie.  
A long trail of vehicles await their turn to unload their cargo – dead bodies – at the crematorium.  
Some vans and lorries carry one body, others three or four. Some corpses have the added dignity of being housed in a simple box, while the rest are only wrapped in cloth or straw mats.  
The dead keep coming, and the crematorium cannot burn the bodies fast enough.  
So the bodies are stacked on top of each other in a pile and left at the back of the crematorium. 
Sick scramble
Out in the streets, the living rush about. They are out hunting for just one thing: Oxygen.   
It does not matter that people are supposed to be at home adhering to stay home orders and curfews. They do not worry about being caught because they do not know if their sick loved ones at home can even survive the day.  
Hospitals are not admitting any more Covid-19 patients. Doctors and nurses, many of whom are involved in the civil disobedience movement since the military coup happened in February, have disappeared from their posts.  
The country cannot – literally and metaphorically – breathe.  
The sick scramble for oxygen from metal cylinders, which run out faster than they can be replaced.  They join queues and wait all day to refill their cylinders. 
People on the ground – non-profit workers and pastors – tell Salt&Light that a 40-litre oxygen cylinder can cost $1,000. An oxygen concentrator machine (which runs on power and need not be refilled) can cost up to $2,000 these days.
Even if the people have the money, sources say some imports of the oxygen apparatus are delayed or blocked by the authorities who are more eager to stock up on these essentials for themselves. Companies which offer the public free supply of oxygen from their factories and plants find themselves quickly being shut down by those in power.  
Yet people still cling to slivers of hope. They go on Facebook and search meticulously for any rumours or news of available oxygen supplies. Then they dash there, only to join a long snaking queue. As they shuffle forward, sometimes they get calls and they drop out of the queue, weeping. It turns out that their loved ones at home have breathed their last.  
Double-whammy
"This is the darkest time in our history. We have been through a lot as a people over the centuries. But nothing beats this double-whammy of being hit with the Covid-19 pandemic that is being mismanaged after the military coup," said Pastor Tristan* (not his real name), from one of the largest church networks in Myanmar. 
According to official figures, there have been more than 208,000 infections and 4,181 deaths in the country since the start of the pandemic. 
Health workers believe the case numbers and death toll are far higher than officially reported because testing collapsed after the military seized power from elected leader Aung San Suu Kyi on February 1. 
One estimate provided by public health experts in Myanmar predict that 50% of Myanmar's 55 million people will be infected within three weeks by either the Alpha or Delta variant of Covid-19. 
Another reputable public health specialist expects that the population will be decimated by at least 10 to 15 million by the time Covid is done with Myanmar. 
2am calls
David*, a youth leader who is originally from Kachin state but now based in Yangon, said doctors interviewed by the media cited figures that some 80 to 90 per cent of people in Yangon have already been infected by Covid-19. He estimates that at least two in every three households are in need of oxygen now.  
David, who works for an international Christian non-profit organisation, was himself diagnosed with Covid-19 in late June. The four adults in his household also had Covid-19, and his two young toddlers also had symptoms of the disease. 
  "Pastors are dying. Many of them are infected because they do funerals, home visits or volunteer in other ways."
Though his lungs have yet to fully recover, David has been going out and about helping others secure oxygen for those in need.
"I even get calls at 2am from people asking me for oxygen. Even though I had arranged for someone else to come over to get that oxygen machine at 6am at that morning, I had to give it away to the one in most urgent need.
"So every day is about finding oxygen and giving it away," said David, who still finds himself experiencing shortness of breath from the aftermath of the disease.  
He knows a number of people around him who have succumbed to the disease, including a relative who died a few days ago because there was a power shortage in Naypyidaw, the capital of Myanmar, and the oxygen machine could not work. 
Lately, he has been working with friends from Singapore to try to get a few oxygen concentrators into the country.
Pastors are dying
Pastor Tristan said many pastors in Myanmar are either infected or at high risk of being infected because of their pastoral and volunteer work.  
"Pastors are dying. Many of them are infected because they do funerals, home visits or volunteer in other ways," said Pastor Tristan.  
"Just a few days ago, I got a call to bury two bodies. They cannot find anyone to bury their dead. How can I say no?" he added.  
"It is the most terrible thing to get so many calls from people who need oxygen but I have no oxygen for them."
He makes it a point to wear Personal Protective Equipment (PPE) when conducting funerals and donates PPE to other pastors who cannot afford it.  
He estimated that Chin state, a predominantly Christian state in western Myanmar, has lost 200 pastors from the disease.  
Apart from a lack of oxygen, there is also a shortage of medicine and food. Shops and factories are closed and people cannot get their supplies. Many are out of a job.  
Pastor Tristan sleeps only three hours a day these days. He spends the rest of the time coordinating volunteer teams on the ground to distribute oxygen, food, PPE and test kits to people who need them. He managed to stockpile some of these items before the military coup happened but supplies are running low.  
"It is the most horrible and terrible thing to get so many calls from people who need oxygen but I have no oxygen for them," said Pastor Tristan.  
"That is because I know that with oxygen, they have a good chance of survival and recovery." 
Singapore churches reaching out to Myanmar 
Over in Singapore, Judson Baptist Church – which serves a congregation of 400 people from Myanmar – has been working with its partner ministry in Myanmar to support its members and their families back home.  
Said Pastor Hitke Wai Faing: "Our members are doing okay because our partner ministry in Myanmar has been supporting their families financially and helping them to find medicine."  
"We are also tapping on our own contacts to try to send four oxygen concentrators over," he added.  
Pastor Steven*, who serves a congregation of about 80 people from Myanmar at a church in Singapore, said the Covid-19 situation in Myanmar is worsening due to the lack of an accountable authority.  
"Their families are facing fighting from the civil war, displacement and a lack of money for daily living."
"Our elected leaders (including president and state counsellor) are all still being detained by military. Armed terrorists abuse their authority by robbing oxygen supplies and medical aid from people and by abducting volunteer doctors. Thousands of Internally Displaced People (IDPs) are suffering and fleeing from their homes as genocide continues against the ethnic groups," said Pastor Steven.
Pastor Timothy Tinwinhman from Church of Singapore (Bukit Timah), who has a congregation of 50 members in its Myanmar service, said his members are mostly domestic workers whose families live in rural villages.  
"They are less affected by Covid. However, they have been having difficulty contacting their family due to internet connection issues. They also can't send money home as the banking system there is not operating. So their families are facing fighting from the civil war, displacement and a lack of money for daily living," he said.  
Members of his congregation have been pooling donations and sending them to organisations, churches and people in need via their own informal networks.  
Let the world know
Apart from praying for Myanmar and her people (see prayer pointers below), Pastor Tristan hopes the country will get the international aid it desperately needs.  
The United Nations said in a report on Monday that it is stepping up efforts to combat an "alarming spike" in Covid-19 cases and expects Myanmar to receive enough vaccines via the COVAX facility this year for 20% of the population. 
Said Pastor Tristan: "We can't breathe. We are dying. Please let the world, Singapore and Christians know."  
*Names changed for security reasons.
---
Those who wish to assist with donations and supplies may contact Chin Charity Inc at [email protected]
Prayer pointers 
In this season of uncertainty, let's take some time to unite in pray for Myanmar and her people. Here are prayer pointers provided to Salt&Light by the pastors and non-profit workers familiar with the needs on the ground in Myanmar:
1. Divine comfort 
During this darkness, let the word of God be the light for them.  
During this sickness, let the sacrifice of Jesus be the healing for them.  
During this starvation, let the grace of God be the provision for them.  
During this hopelessness, let the comfort of Holy Spirit be the courage for them to keep surviving.  
During the losses and brokenness, let the work of God prevail for justice and breakthrough in the nation.  
2. Healing
For those who are in desperate need of oxygen, to be able to breathe well again miraculously.  
For those who are waiting for their last moments in beds, to be able to get up, walk and carry the beds.  
For those who are relying on machines to breathe, to be able to reclaim the breath that God gave.  
For those who are away in helpless lands, to be able to get effective aids that they require.  
From the oldest to the youngest, to be able to fight against the virus with strong immunity.  
For neighbouring countries to help donate oxygen and other medical supplies and for the imports to successfully reach the people who need them. 
For the safety and health of the pastors as they minister and care for the people.  
3. Protection 
For the wicked ones to turn to repentance and to right their wrongs.  
For the powerful nations not to support or supply weapons for the genocide and killings in Myanmar.  
To prepare and protect the chosen leaders for the greater things ahead in righteousness and love.  
4. The future
For the strongholds in the whole nation to be broken and taken down in Jesus' name. 
For the years of suffering to end for all the ethnic groups of Myanmar.  
For the salvation and harvest of millions in Myanmar. 
For the future of the country, for good governance and for schools to reopen.  
---
RELATED STORIES: 
Church in India in crisis as deaths from Covid-19 leave leadership vacuum
Church in India in crisis as deaths from Covid-19 leave leadership vacuum
If you have enjoyed reading Salt&Light...
We are an independent, non-profit organisation that relies on the generosity of our readers, such as yourself, to continue serving the kingdom. Every dollar donated goes directly back into our editorial coverage.
Would you consider partnering with us in our kingdom work by supporting us financially, either as a one-off donation, or a recurring pledge?
Support Salt&Light