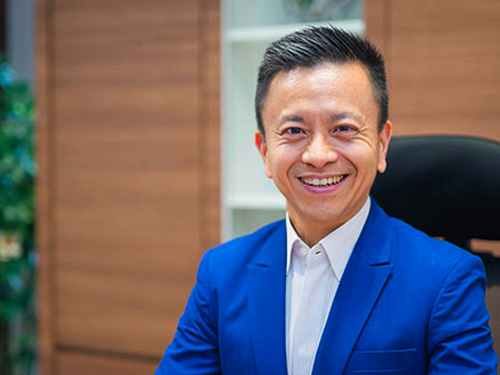 Grace Assembly of God Senior Pastor Wilson Teo.
Grace Assembly of God (AOG) Senior Pastor Wilson Teo has been discharged from the National Centre for Infectious Diseases (NCID), 10 days after testing positive for the COVID-19 coronavirus.
He was allowed to go home after testing negative on two nasal swabs, Ps Teo said in a message sent to his Church members on Friday, Feb 21, 2020.
"Just hours ago, a doctor informed me that I was officially a COVID-19 survivor, and I could go home to hug my family!" he wrote, four days after another case from Grace AOG was discharged on Feb 17.
"It was a liberating feeling walking out of NCID, knowing that my body has won the fight against the virus with the prayers of the saints. I am grateful for this memorable experience, as I am convinced that God's purpose for Grace Assembly will be achieved through this trial."
In his letter, he expressed his gratitude to NCID's medical team.
"My respect has grown exponentially for the doctors and nurses who are serving at the frontline with infected patients. They are always cheering me on and  encouraging me with their smiles and positive attitude, while risking their lives in the process," he wrote.
"I salute these frontline medical warriors!"
Hearing from God
Ps Teo also gave some insight into how he passed his 10 days in NCID through a daily routine of static exercises, reading newspapers  and emails, and conducting online staff meetings.
"The Bible and Christian music were my greatest comfort when surrounded by the four walls. In the silence of my ward, I was filled with the consciousness to hear from God on all that is happening," he said.
I saw God moving powerfully among Gracians – stirring prayer and humility among us like never before.
One of the things he heard from God: "Watch and pray."
Ps Teo said he pondered over this word for many days in the ward, and as he did so, saw what God was doing in his church.
"I saw God moving powerfully among Gracians – stirring prayer and humility among us like never before," he said.
"I sensed Grace AOG having a deeper level of dependency on God and submitting to His Lordship. I witnessed God gathering Gracians to be His hands and feet to reach out to one another in very practical ways.
"I experienced unity among the leadership of the Church.
"It's a work of God and not of Man, a move of God that only the Holy Spirit could orchestrate!"
https://www.facebook.com/saltandlight.sg/posts/504011500313011
If you have enjoyed reading Salt&Light...
We are an independent, non-profit organisation that relies on the generosity of our readers, such as yourself, to continue serving the kingdom. Every dollar donated goes directly back into our editorial coverage.
Would you consider partnering with us in our kingdom work by supporting us financially, either as a one-off donation, or a recurring pledge?
Support Salt&Light