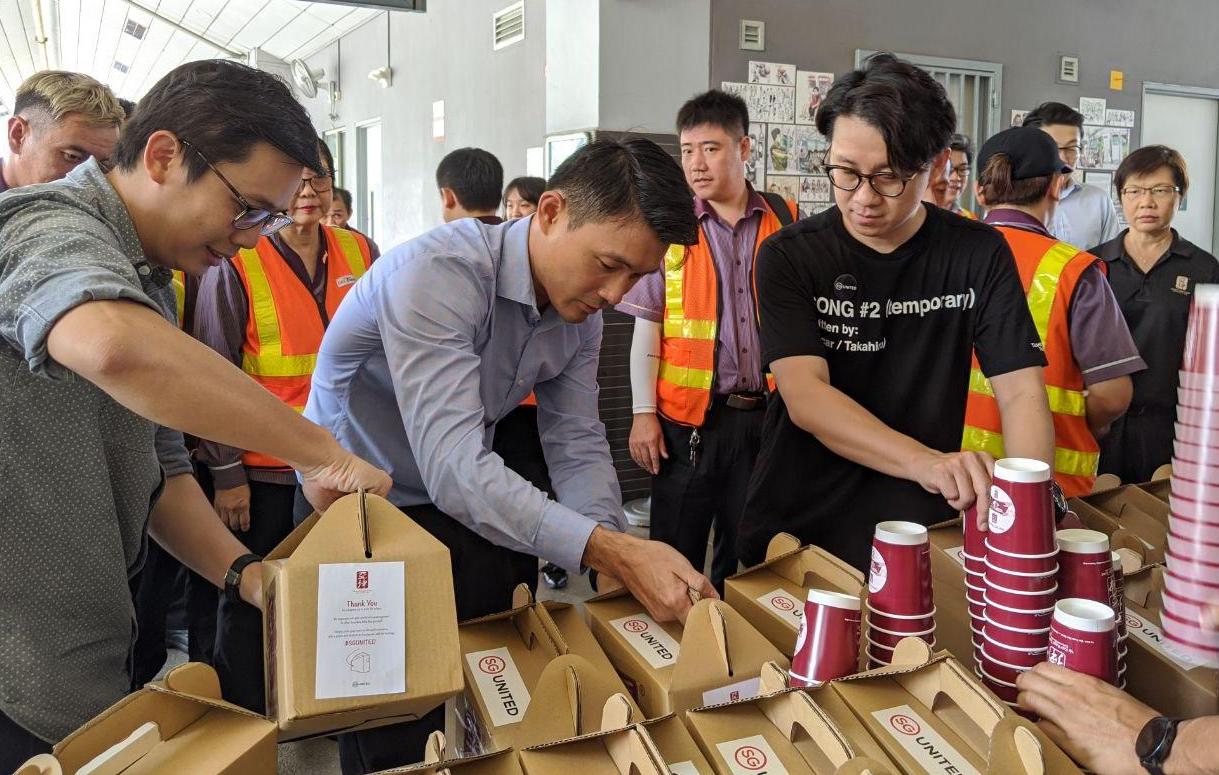 About 50 workers were served free coffee and tea by Jesher Loi (left), director of branding and market development at Ya Kun Kaya Toast, Mr Baey Yam Keng (centre), Senior Parliamentary Secretary, Ministry of Transport and Ministry of Culture, Community and Youth, and Jeff Cheong (right), deputy CEO of DDB Group Singapore. Photo by Gracia Lee.
Some 50 bus drivers and MRT staff members at Tampines Interchange were treated to free cups of coffee and tea from Ya Kun Kaya Toast today (February 21) in a show of appreciation for their faithful service to the community in the midst of the COVID-19 situation. 
Mr Baey Yam Keng, Senior Parliamentary Secretary, Ministry of Transport and Ministry of Culture, Community and Youth, was present to serve the beverages to the workers and thank them personally for their work.
He was joined by Jesher Loi, Ya Kun Kaya Toast's director of branding and market development, as well as Jeff Cheong, deputy chief executive officer of marketing agency DDB Group Singapore. The pair were the ones who started this initiative to honour those on the frontlines.
Lin Junmin, 36, assistant interchange supervisor at Tampines Interchange, told Salt&Light that he appreciated this "kind gesture" to recognise the efforts of those in the public transport sector.
"Our transport workers are also part of those on the frontlines, just that people don't really see them," he said.
He added that though they have to come into contact with many passengers on a daily basis, they continue to do their jobs to ensure people can get around.
Loi, 34, whose grandfather is the founder of the local café chain, said: "For someone on the frontlines, it's not just about the work or the danger but also about the mental stress. If we can ease the pressure a little bit and build camaraderie by providing coffee, we will do what we can.
"It's about loving your neighbour (Leviticus 19:18) and having compassion on them. When I brush my teeth and go to sleep, sometimes I stop and think that there's still somebody out there wearing a mask and working. So, during the daytime I must do something to help these people, to reach out to the community during this time."
Tampines Interchange is the fourth stop in the pair's commitment to give out 2,020 cups of coffee and tea to frontline workers. To date, more than 400 cups have been given out, said Loi.
Apart from transport workers, they have also delivered drinks to healthcare workers from KK Women's and Children's Hospital, Tan Tock Seng Hospital and Changi General Hospital.
In the coming weeks, they hope to continue reaching out to more unconventional groups on the frontlines, such as cleaners and those in the Singapore Civil Defence Force.
Operation #BoosterShot: Cell group offers healthcare workers boost of encouragement with free coffee
"Thank you for risking your lives": 1,000 notes of appreciation delivered to healthcare workers
If you have enjoyed reading Salt&Light...
We are an independent, non-profit organisation that relies on the generosity of our readers, such as yourself, to continue serving the kingdom. Every dollar donated goes directly back into our editorial coverage.
Would you consider partnering with us in our kingdom work by supporting us financially, either as a one-off donation, or a recurring pledge?
Support Salt&Light