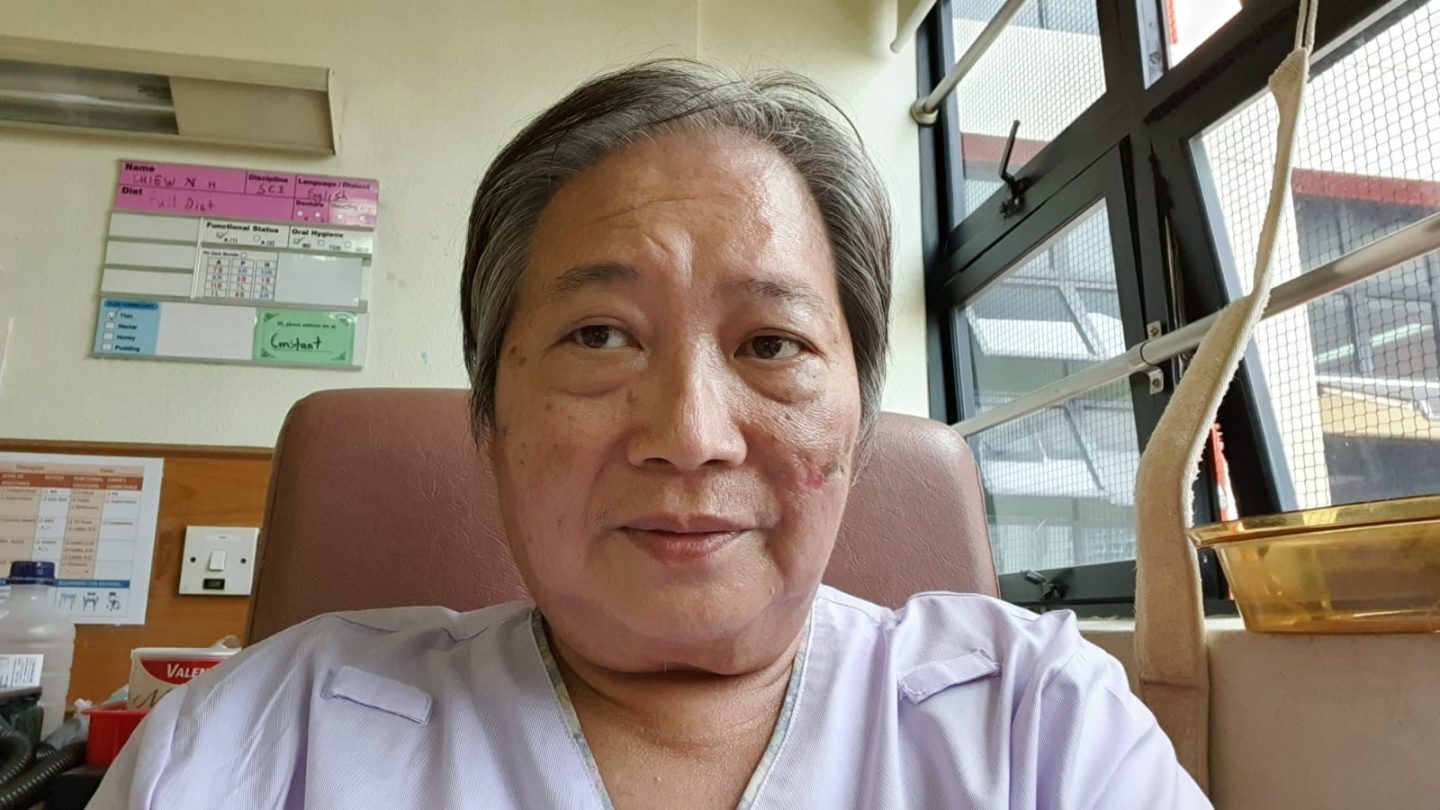 Constant Chiew, 63, spent almost seven weeks in the ICU after his lungs were severely damaged by COVID-19, but "Jesus never left me, He accompanied me through my darkest moments", he said. Photo courtesy of Constant Chiew.
First he was in a makeshift tent, sheltered by the heavy rain as medics fought to save his life. Then the rain morphed into a river, and Constant Chiew found himself in a medical boat floating down the Singapore River.
When the boat docked, the 63-year-old remembers yearning for a cold drink of water. He tried to get out of bed but doctors came in and restrained him. A little while later, he found himself in a medical plane, wondering how his wife would know where he was headed.
"Jesus never left me, but accompanied me through my darkest moments."
In reality, Chiew was in an intensive care unit at the National Centre for Infectious Diseases (NCID), fighting to survive COVID-19 and the severe damage it had done to his lungs.
But under powerful painkillers that caused him to hallucinate, he could not make out for certain what was reality was. "It was like I was on drugs," he told Salt&Light.
He was certain, however, of the sharp discomfort he felt, caused by a tube lodged deep in his throat to aid his breathing. It was terribly painful, he said, adding that the tube caused phlegm to accumulate in his throat and, on several occasions, choke him almost to death.
"I felt like I was in a tomb left as the living dead," he said.
Yet, the father-of-two testifies that throughout his harrowing seven-week stay in ICU, the Lord was beside Him always. "Jesus never left me, but accompanied me through my darkest moments."
On the brink of death
The taxi driver's ordeal began on March 14 after the Ministry of Health informed him that he had ferried an infected passenger the previous day. He developed a high fever on his third day of home quarantine.
Subsequently diagnosed with COVID-19, he was placed in an isolation ward at NCID. For the first few days, Chiew wasn't too worried.
But then doctors informed him that his lungs were badly affected, though he does not remember being in any pain or discomfort. But when he was transferred to the ICU, he blacked out within an hour, he said.
According to Chiew's wife, May Lim, who related her ordeal to Salt&Light in a previous article, doctors had told her that his lungs were infected, his heart was under stress and his oxygen levels were low. There were times she did not know if he would pull through the night.
Chiew, however, was largely unaware that he was in such critical condition, he said, adding that his weeks in the ICU went by in a blur.
Though he was heavily sedated and reality was marred, he was acutely aware of his physical pain, often accompanied by anger and frustration.
But through 2 Corinthians 10:5, the Lord constantly reminded him to "take every thought captive to obey Christ", he said, adding that it helped him not to take out his emotions on the doctors and nurses caring for him.
A glimpse of heaven
What helped him get through that prolonged period was an encounter he had with Jesus, something he is confident was not a mere hallucination.
He said: "I met Jesus at the foot of the throne of grace. I couldn't really make out his face because it was too bright, but I knew it was Him. I've met Him many times before in times of prayer and worship, so this encounter was not new to me.
"I couldn't really make out His face because it was too bright, but I knew it was Him."
"It's difficult to explain, but you know the feeling when you are with someone that you know and are comfortable with? That's how I knew for sure that this was Him. I felt very at ease and unafraid.
"Jesus also gave me a glimpse of heaven. I was feeling thirsty and dry, so He pointed me to the dew of heaven, which refreshed and strengthened me. He brought me to a beautiful garden and I just had a good time with Him.
"But then He told me that it wasn't time for me to stay. I had to go back. He said if He could go through all that suffering for me on the cross, what is my present suffering compared to that?"
This encounter comforted him and assured him of the Lord's presence, he said, adding that it helped him through his long and agonising stay in the hospital. "It made suffering on the bed less painful," he added.
Your will be done
On May 8, Chiew's condition had improved enough for him to be transferred to a high-dependency ward. No longer fighting for his life, it seemed that the worst was now over.
But his road to recovery would be a bumpy one.
His whole body had "gone back to infancy", he said. "All my muscles became like tofu. I couldn't even do the simplest thing. I couldn't move. I couldn't write. I couldn't walk."
Weakened by the virus, Chiew's lungs also struggled to be weaned off the ventilator. Each time the oxygen support was decreased, even by just a bit, he would end up gasping for breath, he said.
"All my muscles became like tofu. I couldn't move. I couldn't write. I couldn't walk."
Doctors told him that if his lungs did not strengthen in the coming days, he might need to go for a tracheotomy, a surgical procedure that would allow a breathing tube to be inserted through his neck and into his windpipe.
"That would be terrible," he said, as it would impair his speech and prolong his recovery.
But, after some struggle, he surrendered the outcome to God. "Lord," he said, "I really don't want to do a tracheotomy. But Your will be done. I leave it to you."
Miraculously, his ability to breathe on his own improved just a few days before doctors decided to go ahead with the surgery, and he was able to have the ventilator removed without having to undergo the tracheotomy.
"God was very good to me," Chiew said. "It was from one miracle to another."
"Lord, I really don't want to do a tracheotomy. But Your will be done. I leave it to you."
But not long after this, he was dealt another blow. Doctors found a bug in his bloodstream and he came down with a fever of 39.5 degrees Celsius.
Despite this, the Lord reminded him through 1 Thessalonians 5:18 to give thanks in all circumstances. "Even through all this?" he asked the Lord.
Chiew said: "It wasn't easy. But since it's the Lord's will, then I will give thanks. I gave thanks that I'm in Singapore, which has good medical facilities. I gave thanks that I had already survived (the worst)."
After being treated with antibiotics, his fever came down the next day and he was able to focus on his recovery. Chiew is now in a rehabilitation facility, where he is training up the strength of his lungs and relearning the basics of how to sit, walk and move.
Christ in the vessel
Looking back on the past few months, Chiew is confident that God never once abandoned him. (Deuteronomy 31:6)
"Praise the Lord, for His mercies and love never fails us," he said in an update to friends and family.
"We have to call upon His name. He can calm the storm."
"I cannot thank God, Jesus and His Holy Spirit enough for seeing me through each step of this journey and for looking after my family during these difficult times."
He is also grateful for the doctors and nurses who cared for him and encouraged him along the way, as well as for those who prayed for him and his family during this trial, he said.
Even though it will still take some time before his health is fully restored, he is trusting in God's sovereignty and love.
He told Salt&Light: "Jesus is always with us. That doesn't mean that we don't go through storms in our lives. But when we do, we have to call upon His name. He can calm the storm. (Matthew 8:23-27; Mark 4:35-41; Luke 8:22-25)
"My recovery is nothing short of a miracle. All glory to God."
"God, I'm going to break": Wife watches from afar as husband with COVID-19 fights death in ICU
"It was out of our control, and God came through for us": Couple who both had COVID-19 on the birth of their miracle baby