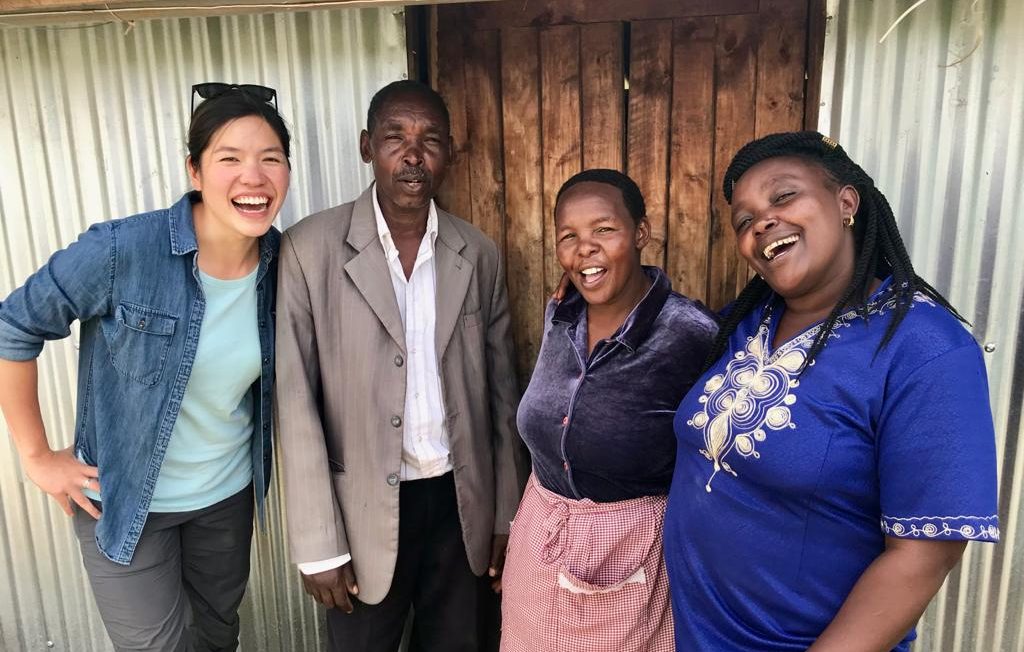 In just a few months, God enabled Singaporean missionary to Africa, Jemima Ooi, and local leaders, to triple the number of people they were feeding as they weathered the effects of COVID-19. Ooi (left) is pictured here in a refugee settlement in Kenya with a village elder, a refugee woman and her pastor's wife. All photos courtesy of Jemima Ooi.
When Singaporean missionary Jemima Ooi, 32, heard in February that a coronavirus was sweeping across Asia and Europe, she knew it would only be a matter of time before it arrived in full force on Africa's shores.
And when it did arrive, anticipated Ooi, who works in war-afflicted refugee communities in Kenya, Congo and Rwanda, its impact on the people she had come to embrace as her own would be devastating.
"Sometimes we hear mothers wailing in despair because their child had died of hunger and didn't wake up that day."
Ooi worried not just about the region's inadequate healthcare capabilities, but also about the economic fallout from measures implemented to curb the spread of the virus.
If countries went into lockdown, her people – most of whom live hand to mouth – would not be able to work or eat, she thought. Furthermore, if borders closed, supply chains would crumble, driving up the cost of food.
It would be a fatal blow to these communities she has been working with for the past seven years, which includes shunned Ebola survivors, HIV patients, war refugees and massacre survivors.
Many of them are already so destitute that survival itself is a daily challenge, Ooi told Salt&Light.
Some can only afford to eat once every three days. Women, particularly those who have been abandoned by their husbands, are often driven to prostitution just to put food on the table for their children.
Even then, it is still not enough. "Sometimes we hear mothers wailing in despair because their child had died of hunger and didn't wake up that day," said Ooi.
"This is the reality we're in. With COVID-19 thrown into the equation and food becoming too expensive, you're thinking mass starvation."
Divine foresight
As Ooi and her team of local leaders in each field grappled with the impending fallout, they began to feel what Ooi calls a "Spirit-led urgency" to stock up on essential foods like rice, maize, flour, vegetables, beans, sugar and salt.
"We wanted to stockpile food so that when prices got too high, at least we would have a whole storehouse that we could give or resell to our people at a price they can afford," said Ooi.
Their plan proved to be life-saving.
By March, the number of COVID-19 cases in African countries had begun to climb, prompting governments to shut their borders. As Ooi had feared, the price of food "skyrocketed".
A woman's daily wages, earned from labouring in the fields for 10 hours straight, were no longer enough to buy a 2kg bag of flour for her family. Families returned home from the market empty-handed and resigned to starvation.
In one area that Ooi works in, almost every household had children lying on the floor, so malnourished and weak with hunger and sickness that they could not even sit or stand up.
In another area, her team who visited one of the villages found families boiling grass to eat, she said.
But thanks to the divine foresight that the Lord had put in their hearts, Ooi and her teams were able to provide food from their stockpiles to more than 800 families by mid-March.
Upon receiving the food rations, one mother of five in a refugee settlement told a local leader: "I thought I was forgotten, but today I know that God knows me."
God knew what was coming
Looking back, Ooi, whose passion is to raise up and empower local leaders who care for their communities, marvels at how God had prepared her teams for the fallout of COVID-19.
In Kenya, local leaders had already started stockpiling food last year when the country suffered a prolonged season of drought and famine. During that time, they had also identified the most vulnerable families and set up mercy teams to take care of them.
This existing structure ensured that food could now be stockpiled effectively and distributed to those who needed it the most, said Ooi.
In Rwanda, the Lord had also prompted Ooi's team to buy a one-hectare banana plantation last year. She had thought of it as an investment, to sell it off later at a higher price and plough the money back into the ministry.
But the bananas and plantains turned out to be a food bank that has fed and sustained some 200 HIV-positive widows and their families during this period, said Ooi.
"God knew what was coming and He prepared us way in advance," she said.
Feed my sheep
In March, the 800 families – or about 6,000 people – she and her teams were feeding had seemed like a lot, Ooi said, admitting that she had felt uncertain if they could keep it up.
"We don't know how long COVID-19 is going to last. We don't know how long we have to sustain them. We don't know if we will have the resources," she said.
But she heard the Lord speak to her clearly from Genesis 26:12. "Like Isaac, God wanted me to sow in a time of famine," said Ooi.
To her, this meant continuing to stockpile in faith, even though food prices were soaring. So, she liquidated projects that were non-urgent and threw all the funds into increasing their food banks.
To circumvent the high prices, her teams went straight to farmers and wholesalers, and set up their own processing and packaging facilities.
Meanwhile, the needs of the people were increasing, with more families in need of rations.
Ooi said: "I remember taking a deep breath and thinking, 'Okay God, how are we going to do this? How are we going to continue?'"
As she mulled over these questions while out on a walk one night, she had an encounter with Jesus.
"I felt like He was standing right beside me," Ooi said. "And He said, 'Jem, don't hold back. If you love Me, feed My sheep, and do it well (John 21:15-17).'"
Walking-on-water experience
Both emboldened and humbled by this encounter, Ooi obeyed. "Okay God," she said to the Lord. "I will feed everyone whom You send my way."
As more needy families in each community were brought to their attention, Ooi and her teams took them under their wing and committed to providing for them.
Ooi also began receiving requests for help from pastors and missionaries outside of her fields, who were struggling to feed their communities. They shared that God had directed them to her.
"I was like, 'Wah, God. You say one ah!'" said Ooi with a laugh. "I was really just standing in faith to see Him provide for all the people He wanted us to."
"I remembered feeling like we were under God's obsession for the poor and the broken."
And provide He did, as the Holy Spirit moved a group of people in Singapore to rise up and help. 
"I never asked anyone for help, but miraculously, friends and family started giving generously and even thanked us for helping them sow into the lives of the severely impoverished.
"So stage by stage, we just faithfully provided and provided. And it was like the story of the widow and her small jar of oil in 2 Kings 4 – we poured the oil from the vase and realised it wasn't running out!" said Ooi in amazement.
"It's been a real walking-on-water experience of exercising faith. But in the midst of everything, I remembered feeling like we were under God's obsession for the poor and the broken.
"God is behind this. He's not going to let His people die."
God's obsession for the poor
By God's grace, Ooi and the local leaders were able to triple the number of families they were feeding. They are currently providing for almost 20,000 people, including many whom they believe God had sent to them.
In Uganda, where Ooi works with destitute communities, a man had gone out in search for food for his hungry family, only to come up short after walking for 30km. On his way home, he saw a sign for a church and turned into it, hoping someone in there would spare him just a cup of water.
Instead, he met the church's pastor and his wife, who generously loaded him up with sacks of food from their stockpile. The man could not help but cry with relief, said Ooi.
Over in Rwanda, two boys in ratty clothes had come to their storehouse begging and pleading for food. A local leader later found out that they were orphans whose parents had died from HIV. They were living alone in a self-built mud-brick house the size of a cabinet.
The leader cried after hearing their story, provided them with some food and put them on her radar so she could continue looking out for them.
Ooi said: "The amazing thing is that all this food distribution and building up of these Joseph storehouses have caused people who are so destitute to come out of the woodwork. We never knew they existed in our communities, but now we can bring them under our fold."
How much faith?
As the number of COVID-19 cases in Africa rises – as of June 15, the continent has recorded more than 240,000 cases and 6,500 deaths – she and her teams are expecting to continue providing for many in the months to come.
But Ooi is convinced and assured that God is the One who ultimately provides.
While it is easy to feel inadequate when she looks at the overwhelming needs of the people around her, she has learnt to bring those feelings to the Lord and humbly ask what He would like her to do for Him.
"Once I gained God's heart for these people, I stopped being afraid of lack because I know that He is sending me to them and He has got the solutions.
"Really, the limiting factor is my mind. The limiting factor is my faith. I wondered, how many people can we feed? 
"We can feed as many people as God wants us to. The real question is: How many do I have the faith to feed?"
Would you let your daughter go to Congo and Rwanda? "It's our honour," say this missionary's parents
If you have enjoyed reading Salt&Light...
We are an independent, non-profit organisation that relies on the generosity of our readers, such as yourself, to continue serving the kingdom. Every dollar donated goes directly back into our editorial coverage.
Would you consider partnering with us in our kingdom work by supporting us financially, either as a one-off donation, or a recurring pledge?
Support Salt&Light