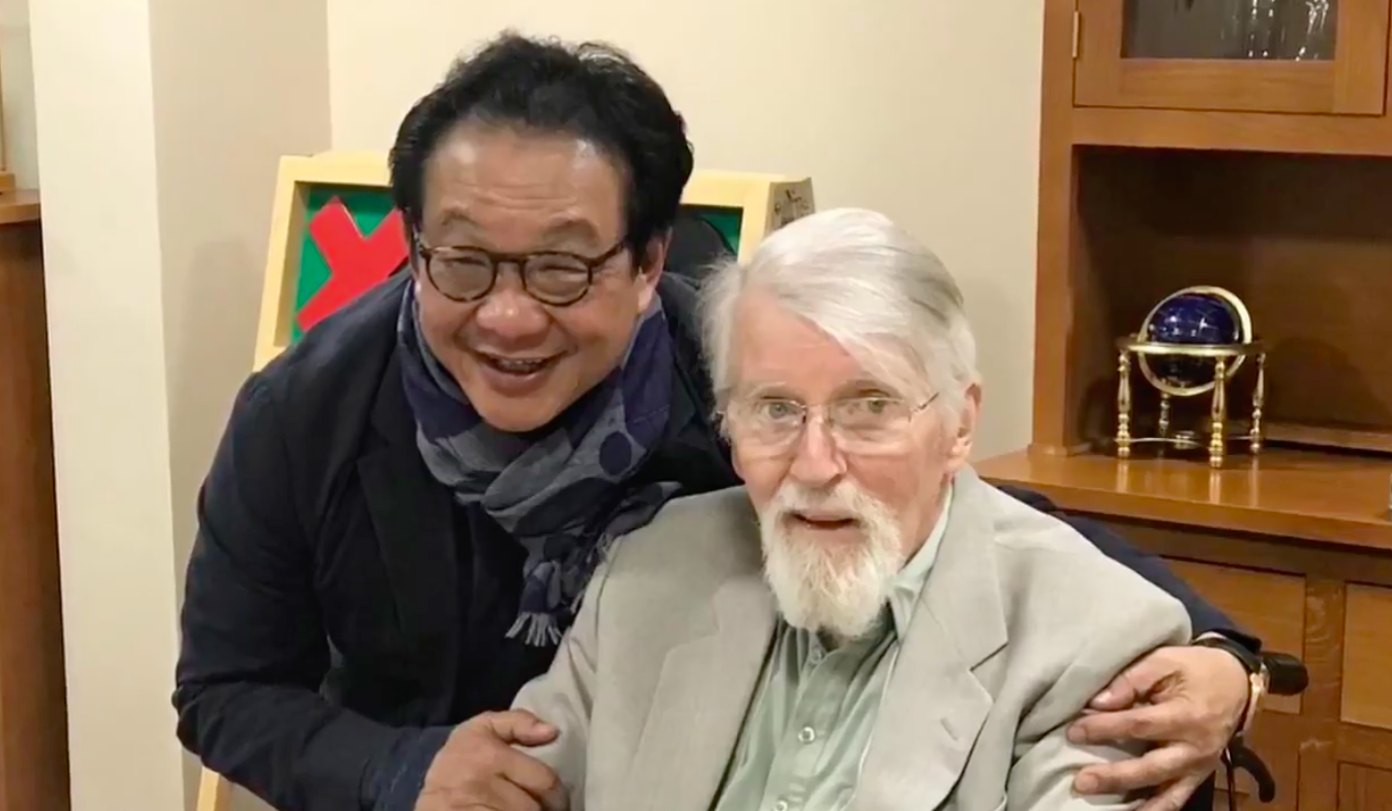 Rev David Pawson (right) with Tan Sri Francis Yeoh (left) in a video tribute posted by Tan Sri Francis on his Twitter account.
Singaporeans have been listening to his Bible teachings since his sermons were on cassette tapes.
When Reverend David Pawson went home to the Lord on the morning of May 21, 2020, many paid tribute to the British preacher who had made an impact in Asia.
The theologian, who had a worldwide ministry that included Singapore, suffered from advanced prostate cancer and Parkinson's disease, according to the news posted on his website.
His cancer diagnosis in 2016, and subsequent fall in early 2019, led to a much-reduced itinerary. He had spent this past year in a nursing home shortly after his bad fall, where he broke several ribs and had to be hospitalised. 
Up until then, Rev Pawson had an active ministry as a preacher and author.
Shaped lives and ministries
Rev Pawson was widely known for his expository preaching that has led many to consider him one of the finest Bible teachers in this generation.
Tan Sri Francis Yeoh, Managing Director of regional conglomerate YTL Group of Companies, is just one of many in Asia who have been impacted by his teachings and considers Rev Pawson his "spiritual father", having known him for over 30 years.
"We have lost one of the great bible teachers of our time," Yeoh posted on Twitter: "I was blessed to sit at his feet and listen to his teachings."
"He was absolutely brilliant," Pastor Yang Tuck Yoong told Salt&Light. Ps Yang, the senior pastor of Cornerstone Community Church, remembers listening to all of Rev Pawson messages on cassette tape.
"I have developed a deep confidence in the authenticity, relevance and power of the Bible because of men like him."
Pastor Vincent Lun, senior pastor of Kingdom Community Church, agreed: "I have often told others that I can listen to David Pawson for hours on end!
"His unwavering, scholarly, prophetic and pastoral devotion to teach the whole counsel of God has shaped the life and ministry of a generation of believers and church leaders like myself. I have developed a deep confidence in the authenticity, relevance and power of the Bible because of men like him. "
Rev Pawson, whose father was also a preacher, held a bachelor's degree in agriculture, but soon felt led to ministry. He completed his theological studies at Cambridge University before becoming a chaplain in UK's Royal Air Force for three years. He eventually launched his preaching ministry in 1979 after a decade as a pastor.
Having written over 80 books and recorded more than 300 teaching videos, Rev Pawson leaves behind a treasure trove of teaching materials in addition to his legacy as a Bible teacher and expositor.
His most famous book, Unlocking the Bible: A Unique Overview of the Whole Bible, started as a preaching series borne out of his conviction that the Bible was meant to be studied as a whole instead of "a verse at a time". The book-by-book study remains one of the best and most widely-read Bible study tools available today.
A legacy of passion and compassion
His commitment to the truth, however, was not without controversy within the Church.
Rev Pawson had great wit and British humour, and was "a teacher par excellence", but he also held strong views on various topics which were not always well-received, said Pastor Yang.
"What he taught decades ago is still relevant today simply because He stayed true to the timeless, unchanging Word of God."
"That's what I love about David. He was a straight-shooter. He meant what he said and said what he meant. We will miss him."
Rev Pawson never shied away from controversial subjects, added Pastor Lun. "But he always taught with clarity, grace, passion and compassion, because he cared deeply for the truth, and the health and mission of the church."
The introduction to every book Rev Pawson has ever written ends with this sentence: "As always, I ask the reader to compare everything I say or write with what is written in the Bible and, if at any point a conflict is found, always to rely upon the clear teaching of Scripture."
It is a refrain that he constantly reminds his audiences of, Pastor Lun told Salt&Light. "What he taught decades ago is still relevant today simply because He stayed true to the timeless, unchanging Word of God."
In 2011, Pawson set up a non-profit trust to provide free Bible teaching to the global church – digitising, transcribing and translating over 1,000 of his messages and teachings. Today, an extensive library of resources is available on his website free-of-charge.
"I'd never thought I'd reach 90, so it looks as if the Lord has more work for me to do," Rev Pawson said in a video recorded on his birthday in February this year.
"It's been a joy to serve you."
"God, let me go one last time to preach the Gospel": The late Thio Gim Hock when told his time on earth was limited
40 years after the Billy Graham Crusade, two generations ask: What's next?