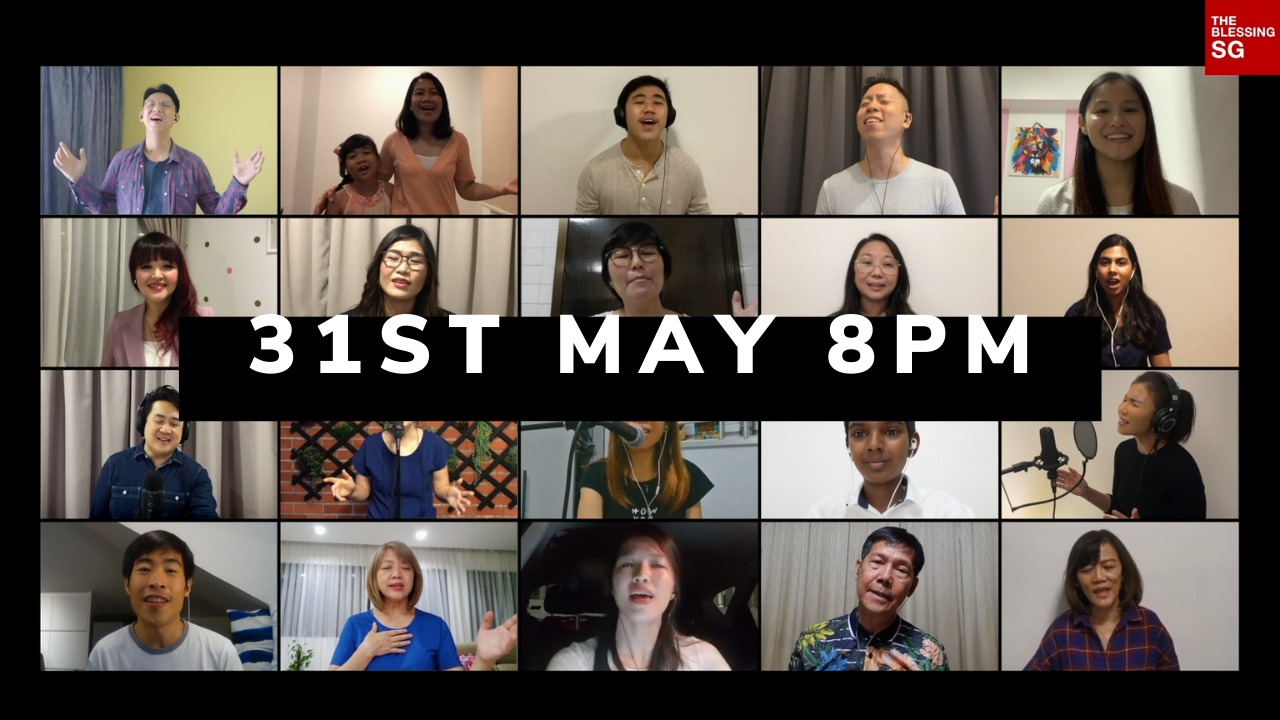 A screenshot from The Blessing SG. The full video will be published on May 31, 8pm (Singapore time).
Scores of pastors and worship leaders from churches in Singapore have come together – digitally – for an unprecedented proclamation of the Aaronic Blessing over the nation.
A preview clip released this evening (Thursday, May 28) showed a 10-second excerpt of The Blessing SG, which will be released in full on theblessingsg.com, and on Facebook, YouTube and Instagram, this Sunday, May 31, at 8pm (Singapore time).
This Sunday is Pentecost – a day that celebrates the gift of the Holy Spirit to the Church, as described in Acts 2.
​The video will feature clergy and lay leaders from almost 200 churches in Singapore singing The Blessing by Kari Jobe, Cody Carnes and Elevation Church. A similar movement saw more than 65 churches and organisations unite for The Blessing UK, while closer to home, more than 80 churches did the same for The Malaysia Blessing, recognising the need for unity amid uncertain times caused by the coronavirus pandemic.
The Singapore version features The Blessing being sung over the nation in English, Mandarin, Bahasa, Tamil and Sign Language.
It is on many of our hearts to now gift to the nation a prayer and a song, to bring hope and speak blessing.
"The powerful priestly blessing in Numbers 6:22-27 has been spoken over generations of lives all across the world. We sense in our hearts that the time to sing this blessing over our nation is now," said the cross-denominational team organising The Blessing SG.
"It has been beautiful to see how the Singapore church has risen to love and care for the city, from supplying thousands of meals, masks and giving donations, to opening their churches for the homeless, and to the many unseen acts of love and kindness (to those affected by COVID-19).
"As we continue to do so, it is on many of our hearts to now gift to the nation a prayer and a song, to bring hope and speak blessing. We have called on worship pastors, leaders and singers of Singapore to come together (from your homes) for a unique opportunity to sing together as one, the Priestly Blessing/Benediction over Singapore."
The Lord said to Moses, "Tell Aaron and his sons, 'This is how you are to bless the Israelites. Say to them: "The Lord bless you and keep you; the Lord make his face shine on you and be gracious to you; the Lord turn his face toward you and give you peace." (Numbers 6:22-26)
Catch #TheBlessingSG on Pentecost Sunday, May 31, at 8pm on:
This Pentecost, will you help give the New Testament to a language group without Scripture?