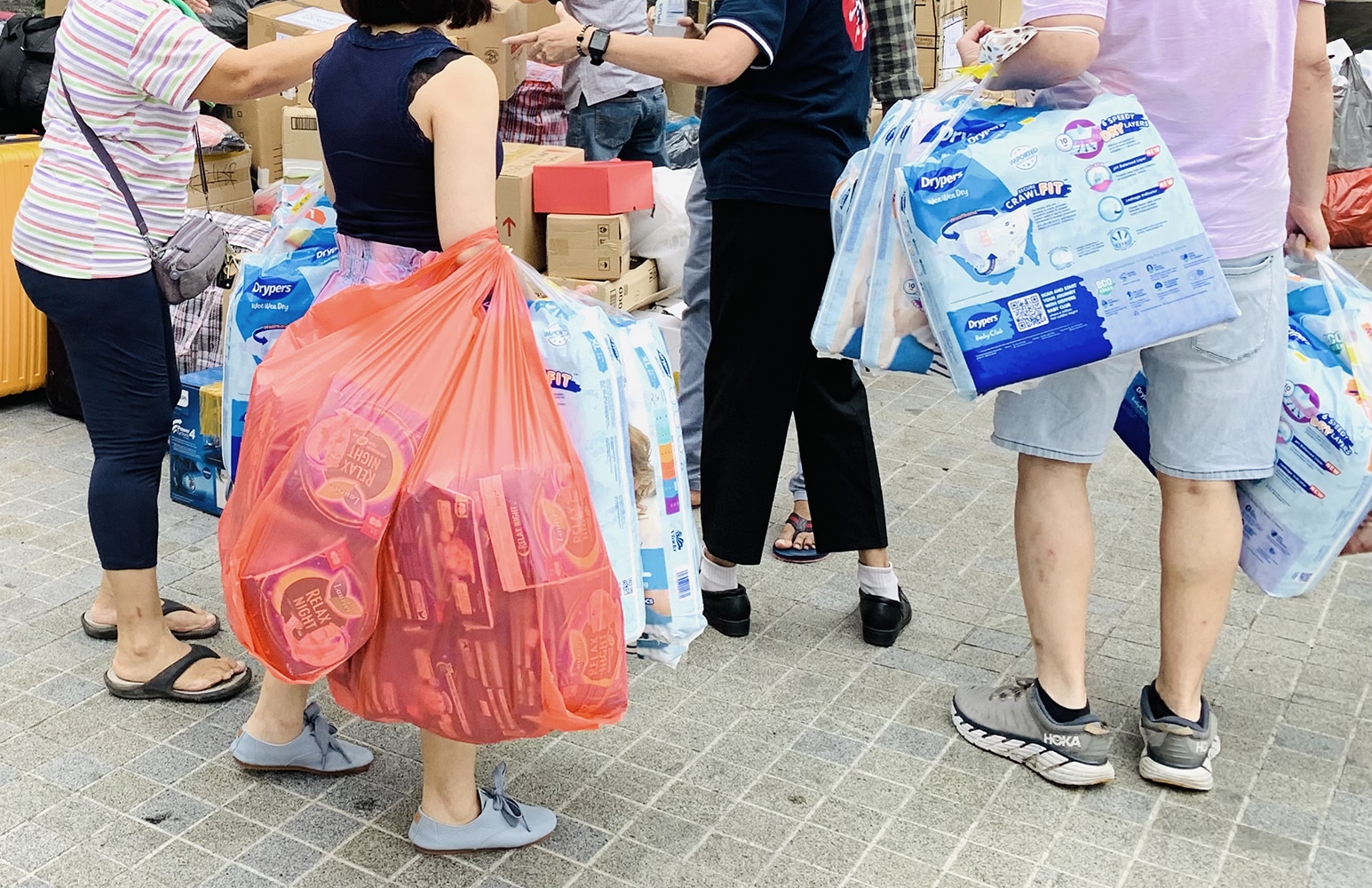 Crowds gather at the collection centre for donations in the wake of the Turkey-Syria earthquake, 9 Feb 2023.
My first month in a newsroom was December 2004. If that month sounds familiar, it's because that was the month of the deadly Indian Ocean earthquake and tsunami which claimed more than 200,000 lives.
It was the deadliest tsunami in history. But while such a death toll is rarely matched, I came to realise that massive disasters are not uncommon.
In the 18-plus years since then, we have seen the Kashmir earthquake of 2005 (87,000 dead), Myanmar decimated by Cyclone Nargis (138,000 dead), the 2010 Haiti earthquake (more than 300,000 dead by some estimations) and the 2011 Tohoku earthquake and tsunami (almost 20,000 dead), which led to the Fukushima Daiichi nuclear disaster.
Move your hands, and you will slowly move your heart.
Then there are unnatural disasters – the ravages of war. Iraq, Darfur, Syria, Yemen, Ukraine. Millions dead.
After a while, working in the newsroom – just as it may be for the newspaper reader or TV viewer at home – death tolls can easily become mere numbers, distant statistics.
I saw the jaded journalists around me and knew how easy it would be to slip down that path. Every disaster becomes just another front-page headline that would be page 12 news within a week, and within a month it's not even worth putting on newsprint.
And so in December 2004, I resolved not to allow that to happen to me. As soon as my newsroom shift ended – or in the day before my late shift started – I went to wherever people were responding, and instead of being among the news ranks interviewing the volunteers, I swapped roles and became a volunteer myself, packing shipments meant for the tsunami survivors.
Move your hands, and you will slowly move your heart.
Open hearts, open eyes
I paused after writing that previous paragraph to watch another video making its rounds via Whatsapp – a compilation of buildings collapsing due to Monday's earthquake.
"The earth is broken up,
the earth is split asunder,
the earth is violently shaken."
– Isaiah 24:19
The visual is so difficult to watch. Does not compute. Buildings should not behave that way.
But we cannot avert our eyes from those in need. "He who shuts his eyes to the poor shall have many a curse." (Proverbs 28:27)
"If a man shuts his ears to the cry of the poor, he too will cry out and not be answered." (Proverbs 21:13)
Then a different visual comes to mind. An hour ago I was at one of the collection centres for public donations, watching near-arguments ensue as volunteers and members of the public jostled for space about an overflowing and still-growing heap of diapers and other donations.
We cannot avert our eyes from those in need.
Friction aside – this is a good thing. Big-hearted people finding time in the middle of a busy day to pack or buy the needed items, sacrificing time and money. We are far removed from the Middle East, and for now we do whatever we can do.
There is another collection of medical supplies coming up this weekend, organised by Relief Singapore. As a member of the church which is the collection centre, already I am seeing requests coming through: 
"I have thousands of spare blankets, do they need them?" 
"I work in a pharmacy, how much can the organisers take?"
"I work as a helper in Singapore, but I have a few boxes of medicine expiring in April, will they be accepted?"
If these are the worst in times – let them bring out the best in us. Volunteer. Donate. Stay updated. Look for ways to help. (See the sidebar on "How you can help" below.) And above all else, pray.
Open hearts, open hands
And what next, after this disaster? Shut down our hearts and wait for the next earthquake to stir us?
There's a verse I've been meditating on, Deuteronomy 15:11. It starts: "There will always be poor people in the land." 
I've heard this used as justification for not being generous. There's no end to the need, so there's no point trying to meet every need.
Of course, we can't give everything to everyone everywhere all at once. Stewardship – discernment – wisdom.
But embrace the heart of the verse, which continues: "… Therefore I command you to be openhanded toward your fellow Israelites who are poor and needy in your land."
Because there is need, we must open our hands wide to them in compassion and charity. Because there are poor among us, we need to learn to keep on giving, and ever more generously – the worst of times bringing out the best in us.
MORE UPDATES ON THE TURKEY-SYRIA EARTHQUAKE DISASTER:
"I immediately ran to my children; I did not know which one to carry": Survivor of devastating Turkey earthquake
Turkey-Syria earthquake: Relief Singapore conducting medical supplies donation drive this weekend
Singaporeans stream in to give towards victims of Turkey/Syria earthquake: Last day of Relief Singapore's donation drive tomorrow
"The devastation is immense. We need medicine, food, water": Church leaders race against time to help freezing survivors
Here's how you can help
To help with the massive needs following the devastating earthquake, you can donate to these organisations based in Singapore that are either supporting or engaged in rescue and relief efforts in Turkey and Syria:
If you have enjoyed reading Salt&Light...
We are an independent, non-profit organisation that relies on the generosity of our readers, such as yourself, to continue serving the kingdom. Every dollar donated goes directly back into our editorial coverage.
Would you consider partnering with us in our kingdom work by supporting us financially, either as a one-off donation, or a recurring pledge?
Support Salt&Light