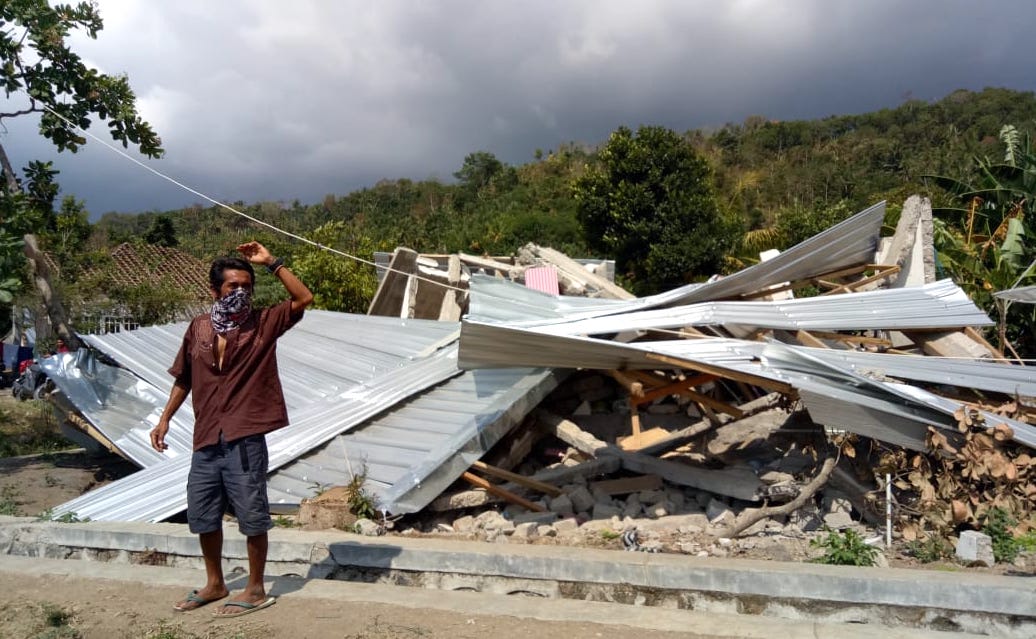 Today's earthquake comes on the heels of the 6.9 magnitude earthquake on August 9 which killed more than 460 people.
The Indonesian island of Lombok, already crippled by a series of strong earthquakes over the last three weeks, suffered another setback today (noon, Singapore time) when a 6.3 magnitude earthquake rocked the island.
Today's earthquake, the fourth between 6.2 and 6.9 on the Richter scale since July 29, was centred in East Lombok, with tremors felt in neighbouring Bali, according to the US Geological Survey.
The extent of damage is still undetermined.
This comes on the heels of the 6.9 magnitude earthquake on August 9 which killed more than 460 people barely two weeks ago. Violent aftershocks are constantly occurring. 
The death toll is rising as rescue teams comb through the rubble and the situation is developing into a humanitarian crisis. 
The successive earthquakes have displaced more than 420,000 of the 3.4 million people of Lombok.
James Tan, the executive director of the Anglican Relief and Development Agency (ARDA International) who is currently in Lombok with a team on a disaster response mission, told Salt&Light: "It is not uncommon to see a make-shift shelter randomly sited next to a destroyed village." 
Due to the widespread destruction and high frequency of aftershocks, many are living in make-shift accommodation in the open. There are numerous clusters of internally-displaced people (IDP) around the island. 
Most IDPs are now relying on donated materials, food, water and shelter, as well as whatever they have managed to salvage from their damaged or destroyed homes. 
Tan himself has been in Lombok for a few days. "As we moved around, I witnessed much communal generosity and sharing among the Lombok villagers. More than anything, it is this positive communal spirit that is, from my observation, helping the IDPs to cope and move on with life."
In several areas, some villages experienced almost total destruction. The few concrete houses that remain standing have also suffered structural damage and are no longer safe.
Besides physical distress, death and loss, the earthquakes have brought economic and livelihood ruin for many.
Financial loss is estimated at US$509.6 million (S$698.1 million) and is expected to weigh heavily on the island's economy as tourists stay away. 
Ongoing relief efforts
The Indonesian government's disaster response agency, Badan Nasional Penanggulangan Bencana, has been the main co-ordinating body. However, because of the scope of the disaster, they are assisted by the military, police and other agencies. NGOs, foreign agencies and ad hoc groups are also providing assistance.
"When a disaster strikes, it is often the already-poor that are the hardest hit."
Several Singapore-based humanitarian agencies are on site: Singapore Red Cross, World Vision and ARDA International have already sent disaster response teams to assist ground operations. 
Thus far, most immediate efforts have focused on providing IDPs with essentials such as food, water, shelter and medicine.
But, common to many disaster relief efforts, distribution of relief rations are uneven.
Tan says: "Villages located along the main road networks receive a lot of assistance, but those that are harder to access have typically been neglected. Together with partner organisations, we are working to identify some of these overlooked areas."
An Australian businessman, who declined to be named, told Salt&Light that locals are taking the initiative: "An extended family of 40 set up camp next to a main road so that they could receive help easily.
"To supplement their relief rations, the family has been picking wild kangkung from the stream."
The needs on the ground
The near-term physical needs of the people are generally clear. However, less obvious needs, such as psycho-social and emotional support, may be neglected or given less attention.
But Tan commented that "it was heartening to find that there were some agencies who sought to meet these less visible needs.
"Some used children's programmes, like art-and-craft, games and story-telling, to help the children express their traumatic experiences, while other medical-oriented NGOs included some form of trauma counselling.
"Going forward, the long-term needs will be more complex, involving the rebuilding of homes, lives and livelihoods.
"As my team and I sat with several of these villagers, these were the worries that were foremost on their hearts and minds. For each one, the basic concern is similar: How can I ever rebuild?"
How can Singaporeans help? 
Tan, who has extensive experience in crisis-zones, says: "When a disaster strikes, it is often the already-poor that are the hardest hit.
"Rebuilding will require resources that the average Lombok villager will not likely possess."
Using the basic framework of Give-Pray-Go, Christians can actively and tangibly help deliver the Good News through our good works to the distressed IDPs of Lombok.
How to help
Give to a trusted agency, so that those at the front-lines of humanitarian action can have the material resources to feed the hungry, clothe the naked and comfort the broken-hearted. There is still a huge need for emergency supplies and for reconstruction efforts in the near future. 
Pray for Lombok, and that Christian humanitarians may be strengthened in spirit, mind and body to minister to the wounded and those in need. 
Go, so that the Lord's servant army may be reinforced in the field. We can collectively present a stronger witness for Him. Volunteering options are being worked out by several agencies such as the Anglican Crisis Relief, Outreach & Support, Singapore (ACROSS).
To donate or volunteer for relief and rebuilding efforts:
Singapore Red Cross: Donate here
World Vision Singapore: Donate here
ACROSS: To volunteer or donate, please contact 

[email protected]
If you have enjoyed reading Salt&Light...
We are an independent, non-profit organisation that relies on the generosity of our readers, such as yourself, to continue serving the kingdom. Every dollar donated goes directly back into our editorial coverage.
Would you consider partnering with us in our kingdom work by supporting us financially, either as a one-off donation, or a recurring pledge?
Support Salt&Light