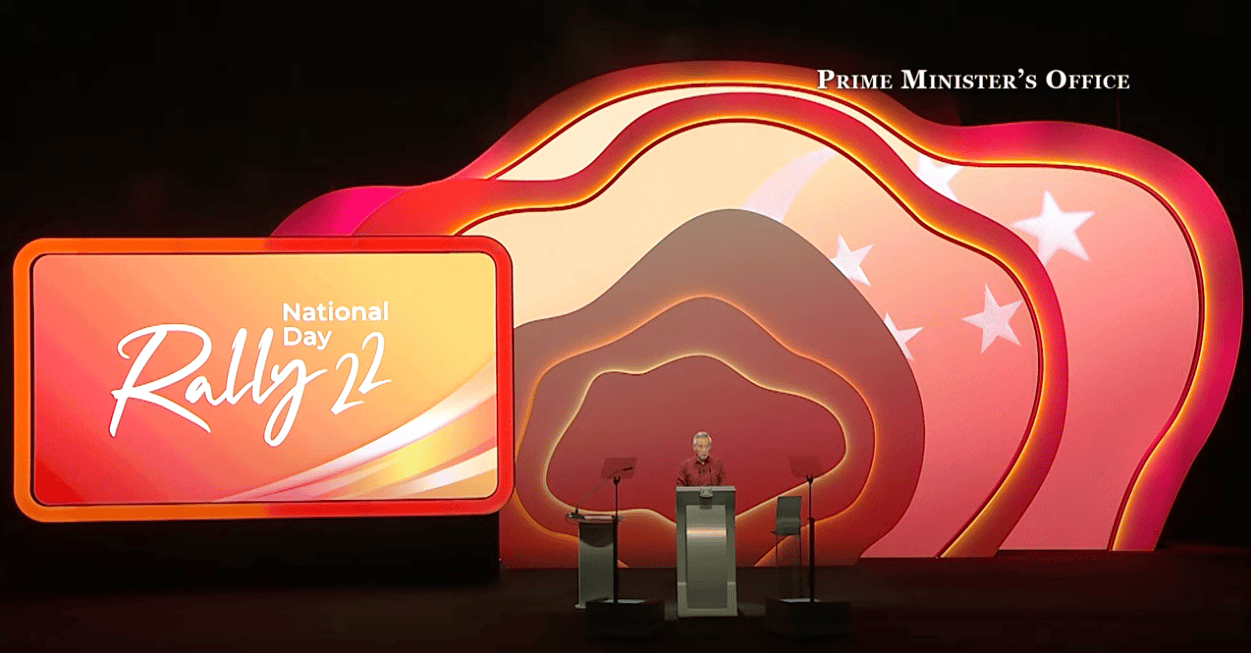 Prime Minister Lee Hsien Loong speaking at the National Day Rally 2022.
At the National Day Rally yesterday, Prime Minister Lee Hsien Loong announced the Government's intention to repeal s377A.
Over the last few months, LoveSingapore has been actively engaged with pastors, like-minded groups and individuals, as well as the Government on this matter. It is only natural that many are concerned and wonder what the future might look like for our nation. And now that our Prime Minister has addressed this issue, we feel that this is the time for us to share our heart with you.
The repeal of Section 377A is not the end, but rather the beginning of a new work for the Church.
LoveSingapore's involvement with matters concerning Section 377A goes back quite some time. Over the last decade, we have done our best to promote awareness, raise concerns, and equip the Church regarding Section 377A matters. Our focus on Section 377A back then was very much needed, because that was the epicentre of LGBTQ activism. As activists continually challenged the constitutionality of Section 377A, our defence of Section 377A had to increase accordingly.
We did not always know the best way to do things. But as we journeyed on, we learned together, and we grew together.
Admittedly, we were very inexperienced in this area. We did not always know the best way to do things. But as we journeyed on, we learned together, and we grew together. There were certainly things that we could have done better. But there are also many things that are possible today because we did what we did.
For example, our years of campaigning and speaking up have borne fruit. Our Government is well aware of our concerns. More importantly, they know our heart for this nation. This has resulted in us developing a collaborative relationship with them.
And so, when Section 377A found itself at the centre of attention this year, we had the opportunity to dialogue very honestly with the Government.
Earlier in February 2022, the latest challenge against the constitutionality of Section 377A was dismissed by the Court of Appeal.
Subsequently in March, Law and Home Affairs Minister K Shanmugam announced in Parliament that the Government is considering the "best way forward" in relation to Section 377A. We were concerned, and so we participated in petitions and surveys to highlight our concerns regarding Section 377A. We are thankful that our voices were heard, because this led to a series of closed-door dialogues between LoveSingapore, other like-minded groups and individuals, and key Government leaders.
Any move should be accompanied by new constitutional safeguards that are better, stronger, more strategic and more effective than Section 377A.
Through these closed-door dialogues, we became aware of the Government's thought process and learned more about the complexities surrounding Section 377A.
As mentioned by Prime Minister, one of the Government's key concerns is the increasing chance of Section 377A being repealed through the Courts. Despite the latest challenge being dismissed by the Court of Appeal, we learnt that Section 377A may still be challenged. And while the judgment was favourable to us this round, it must be noted that the Court of Appeal had referred to the current position regarding Section 377A as a "political compromise". It had also given indications that there must be a clear distinction between the Courts and political institutions.
As such, the Government made the decision to initiate the repeal of Section s377A instead. Their rationale for this is to take the pro-active lead in order to secure the space to set the direction and to shape the outcome.
My Team and I have heard their reasoning. In response, we have stated our position as follows:
1. As a matter of biblical principle, the Church cannot support the repeal of Section 377A.
2. Nevertheless, we know that s377A can be repealed without the support from the Church. In such an event, our request is that any such move be accompanied by new constitutional protections and safeguards that are better, stronger, and collectively more strategic and more effective than Section 377A per se.
(a) For example: By Law and Policy, strengthen the definition of marriage as heterosexual, establishing this core moral value as the norm, the model for natural procreation, and the stable foundation to bring up the next generation for the long term good and continuity of our nation.
(b) For example: By Law and Policy, protect and preserve the right of the Church to profess, practise and propagate our biblical convictions regarding gender, sexual morality, heterosexual marriage, traditional family structure and parenting — without harassment from any third party.
(c) For example: By Law and Policy, protect the young and vulnerable in our society from the undesirable LGBTQ influence. That the promotion and indoctrination of LGBTQ ideologies in schools, tertiary institutions, and universities will not be allowed. That the blatant flaunting of the LGBTQ agenda, lifestyle and culture through public media will be curtailed or otherwise restricted to the adult audience.
We are thankful that the Government has been open to our concerns and has been in continual dialogue with us. We are heartened to hear from Prime Minister that the Government "will uphold and safeguard the institution of marriage", with the definition of marriage being between male and female.
This definition of marriage is what we strongly hold on to. And what we have learnt is that heterosexual marriage has not been directly safeguarded by Section 377A. Rather, it has been Section 12 of the Women's Charter that has been the silent guardian in this area.
And so, we are very appreciative that the Government will amend the Constitution to protect the definition of marriage in the Women's Charter – as between male and female – even as it moves to repeal Section 377A.
LoveSingapore's core mandate has always been to pray for our nation.
Based on what we know thus far, this new direction of looking beyond Section 377A will cover many of the loopholes that have existed all this while. Therefore, we want to seize the opportunity to work intentionally with the Government to further develop and contribute to this new direction.
Even then, we must understand that many decisions are not ours to make. Nonetheless, even if or when we disagree, we do not want to disengage. We want to put ourselves in the best position to love and serve Singapore.
So, where do we go from here?
Firstly, we must continue to pray for Singapore. LoveSingapore's core mandate has always been to pray for our nation. Come what may, we believe that it is of utmost importance to seek the welfare of our city.
Secondly, we must continue to remain actively engaged on social-cultural issues. LoveSingapore remains committed to championing our biblical convictions. Singapore is a multi-religious society with a secular Government that steadfastly upholds religious freedom. Therefore, the Church must be both aware and engaged with the many other complex issues besides Marriage and Family. We thank God for many like-minded partners, both secular and religious, who have launched various social initiatives and efforts to keep us engaged. This is crucial as the Church in Singapore continues to play our role as salt and light in the world.
Finally, we must continue to preach the Gospel and make disciples. Our hope is not in laws or policies. Our hope is in Christ alone. The world will only continue to deviate further and further from the ways of God. But we must not give up. More than ever, we must preach the Gospel with all fervour so that none should perish.
Dear Family and Friends, we know this has been a long journey marked by many ups and downs. But we have a long way ahead of us still. Thank you for journeying with us thus far. Let us continue to run this race and spur one another on in Loving Singapore.
Don't rush review of Section 377A unless and until concrete safeguards are in place: APCCS
How can the church respond better to those with same-sex attraction?
If you have enjoyed reading Salt&Light...
We are an independent, non-profit organisation that relies on the generosity of our readers, such as yourself, to continue serving the kingdom. Every dollar donated goes directly back into our editorial coverage.
Would you consider partnering with us in our kingdom work by supporting us financially, either as a one-off donation, or a recurring pledge?
Support Salt&Light