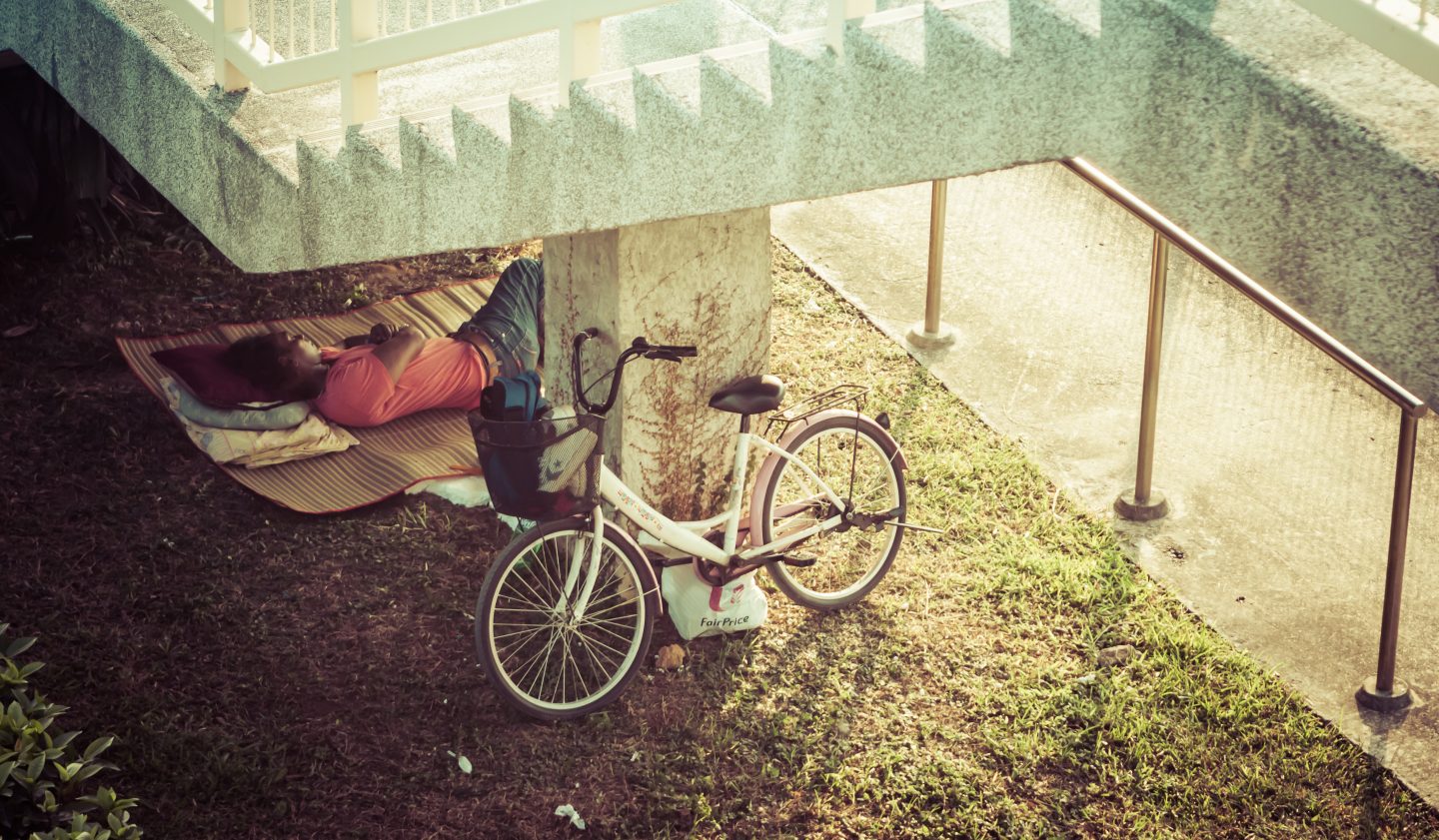 The first-ever nationwide survey of the homeless in Singapore found over 1,000 rough sleepers on the street. Photo by Jirka Matousek on Flickr.
It was 2003 and four ex-offenders needed a temporary home while they tried to integrate back into society. That spurred Pastor Andrew Khoo, 61, into starting Singapore's first homeless shelter.
Four years later, the founder of New Hope Community Services went on to open another transitional shelter for homeless families and individuals.
In Singapore, there are only three such shelters providing temporary accommodation.
"There has been no official definition of homelessness in Singapore – until this year."
What is remarkable, however, is not his response to the needs he encountered. Rather, it is the fact that there has been no official definition or systematic measurement of homelessness in Singapore – until this year.
Earlier this month, the results of the first-ever nationwide survey of the homeless were released at a public lecture.
The independent study, funded by a research grant from the National University of Singapore's Lee Kuan Yew School of Public Policy, found over 1,000 people sleeping on the streets across the island. Not surprisingly, older estates in Rochor, Kallang, Bukit Merah and in the city area were hotspots for the highest concentration of rough sleepers.
A historic pilot
But it was also at this lecture that the Ministry of Social and Family Development (MSF) issued an official definition for a homeless person – someone who "feels he has no home to go back to, whether he owns a house or is renting a place".
Ps Andrew commented that such a definition actually reflects the government's emphasis of homelessness as a social issue – an encouraging sign because the complexity of situations faced by the homeless is being acknowledged. This translates into partnerships and conversations that the government is encouraging across organisations.
Take for example The Safe Sound Sleeping Places model pioneered by the Catholic Welfare Services, where churches open up their premises for the homeless to stay the night. The MSF has been inviting other groups to consider a similar initiative. 
Church of Christ the King was the first church to open their doors in January last year. Its successful implementation led the Church of St Mary of the Angels to follow suit in April.
"The entire Gospel of Jesus is about reaching out to those who are in need."
Father Clifford Augustine, parish priest of Church of St Mary of the Angels, said: "The entire Gospel of Jesus is about reaching out to those who are in need. And being a Franciscan parish, we are inspired to go to the margins of society and meet God in the people who are in need."
As of September, there are a total of six Safe Sound Sleeping Places, of which four are churches, including the historic Prinsep Street Presbyterian Church located in the city. 
"We were told by MSF that Rochor is a hot spot for these rough sleepers," said church manager Edmund Chan.
The leadership behind Singapore's oldest Presbyterian church believes that it should not be "just an illustrious monument of national significance but, more so, it is a living movement of Kingdom significance". That's why they are trying a six-month pilot project to open up their premises.
They reasoned that if they could find a way to make this work – in terms of logistics, security and operations – it would be a powerful statement of the Church's concern for the poor and needy and also pave the way for other churches to become "empowered witnesses" to the world.
The pilot is due for a review in March 2020 and Chan said that there have not been any difficult situations or incidents in the past three months. In fact, one of the three they have provided shelter for has successfully transited into his newly rented flat at the end of last month.
Leading the way forward
Abraham Yeo, the 38-year-old founder of Homeless Hearts of Singapore, sees the government's acknowledgement of the problem as an opportunity for more churches to get involved.
When Yeo first mooted the idea of a homeless ministry to his previous church, the leadership was supportive but reticent. While the Church has always been involved in doing good works, it has been "more cautious in general" with the homeless, he noted.
"I was advised to consider separating the homeless ministry from the church as this was, back in 2014, considered a 'politically sensitive' issue," Yeo said.
But things have changed: Mainstream media has been reporting the increasing numbers since 2017. He pointed out: "Frankly, I hope that the national study will help open their (the Church) eyes to see that God's Word has always been right all along."
Help of a different sort
While the issue of homelessness is now being addressed holistically with an inter-government agency task force and religious groups and charities working together, there is still the hurdle of true inclusion of the homeless.
"There's a perception of society blaming homeless people for their own predicament," said Ps Andrew.
Yeo gave an example of how a small group of believers were struggling to disciple a young homeless couple who were new Christians.
"We need to focus on meeting the homeless where they are at, help them hear from God and grow in obedience."
The well-intentioned group found it hard to understand the couple's mindsets and saw them as being "uncooperative" even though they'd shown genuine interest about the faith and were earnest in studying the Bible. "The homeless brother promptly obeyed the call to be water-baptised the night he received the teaching about water baptism," Yeo emphasised.
Explaining that most of the group were university graduates while the couple were from ITE, Yeo pointed out the difficulty: "There was a significant cultural difference because education in Singapore has a heavy influence in culture.
"We tend to overlook the role of culture in helping people feel welcome. Even the kind of jokes we crack are influenced by our upbringing."
Yeo thinks that we as the Church need to focus on meeting the homeless where they are at, help them hear from God and grow in obedience instead of expecting them to conform to our established programmes and culture.
He said: "Ultimately isn't this what 'being missional' means? To cross into other cultures so as to make disciples and teach them to obey everything Christ has commanded us?"
Personal connections matter
Ps Andrew holds a similar stance: "Ministry can only be impactful in the context of relationships, allowing God's love to flow through us. The key to helping the homeless and rough sleepers is all about sustained engagement, beyond just providing a shelter."
He says that what most homeless individuals want, much like everyone else, is to be able to talk about and share their problems with someone, connecting in a meaningful way that affirms their existence and establishes ways to overcome isolation and loneliness.
This is why Ps Andrew started the "Now I Am A Volunteer" project two years ago to continue to engage their ex-clients while opening opportunities for them to give back, as they are better able to empathise with current beneficiaries and can share the hope they have experienced in their lives.
Organisations may lead the way forward but individuals can play a part too.
"God's heartbeat for the poor and needy is so clearly intense and evident in the Scriptures."
Yeo said a fellow church member is helping to mobilise Christian families to open up relationally, such as extending invitations to the homeless for warm, family-style dinners.
"Loving the poor and needy should not be seen as a radical thing but as a basic and essential Christian thing," said Yeo, who was recently featured in media for inviting 25 homeless friends to his wedding party.
 "It's even more important than 'nice' worship songs and 'seeker-friendly' services," he added. "God's heartbeat for the poor and needy is so clearly intense and evident in the Scriptures.
"Ultimately, God will open doors for each one of us as we pray, and equip and give us His supernatural wisdom to discern how He wants us to do our own part as He so leads."
For those who are willing to see how God will lead, Yeo suggests a simple but bold prayer: "Lord, open my eyes to see what You see, and my heart to feel what You feel, and my hands to do what You do. In Jesus' name, Amen."
I was a failure but a family gave me a home; today I'm the National Director of YWAM Singapore
If you have enjoyed reading Salt&Light...
We are an independent, non-profit organisation that relies on the generosity of our readers, such as yourself, to continue serving the kingdom. Every dollar donated goes directly back into our editorial coverage.
Would you consider partnering with us in our kingdom work by supporting us financially, either as a one-off donation, or a recurring pledge?
Support Salt&Light