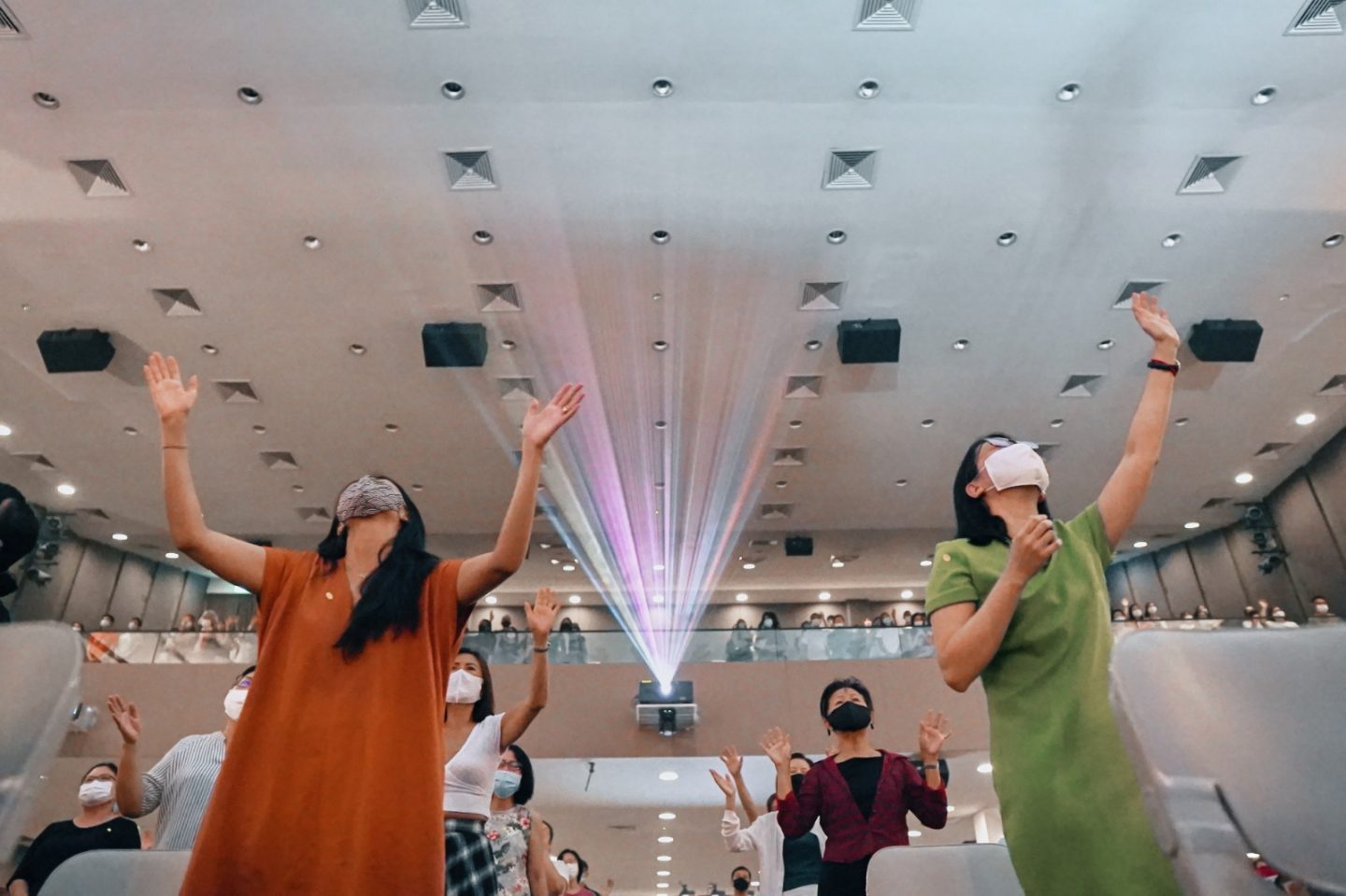 "As we gather together (even online) to worship God on Sundays, we are not just gathering to have multiple individual devotional times in the same space," says Aidan Spencer. "He is present with His people when we're gathered in a way that He isn't when we're scattered." Photo courtesy of Bethesda Bedok-Tampines Church.
Come Phase 3, starting from Dec 28, 2020, all churches and other religious organisations will be allowed a maximum capacity of 250 in attendance – up from the current 100 – the highest number allowed since COVID-19 forced the shutdown of churches in April's circuit breaker.
Some live performance elements, such as unmasked worship leaders, will also be allowed, the Ministry of Culture, Community and Youth announced in its Dec 26 advisory.
"As we resume more religious and other activities in Phase Three, we will have to remain vigilant and regularly refine our safe management measures in order to minimise the risk of COVID-19 transmission," cautioned the body which governs religious activity in Singapore.
The transition to Phase 3 on Dec 28 was previously announced by Prime Minister Lee Hsien Loong earlier this month. Phase 3 could last a year or more, Singapore's health authorities had previously cautioned.
NEW GUIDELINES FOR CHURCHES IN PHASE 3
1. UP TO 250 ATTENDEES PER SERVICE
This number is up from the current 100 per service in Phase 2. The congregation will have to be divided into zones of 50 worshippers each, with zones completely separated from another by either a physical solid partition – at least 1.8m high if not floor-to-ceiling, and from wall-to-wall – or at least a 3m physical spacing demarcated by continuous physical barriers.
There must either be a separate ingress/egress for each zone or staggered entrance/exit timings so that worshippers from different zones do not mix with one another during entry/exit. Churches should also take reasonable steps to ensure that worshippers do not cross zones.
In Phase 3, worshippers can be grouped in up to 8 persons – up from 5 today – with a 1-metre safe distance between groups.
The 250 cap excludes religious and supporting workers, whose numbers should be kept to a minimum. Services should be kept as short as possible, with no reception or mingling between worshippers, before, during or after each worship service.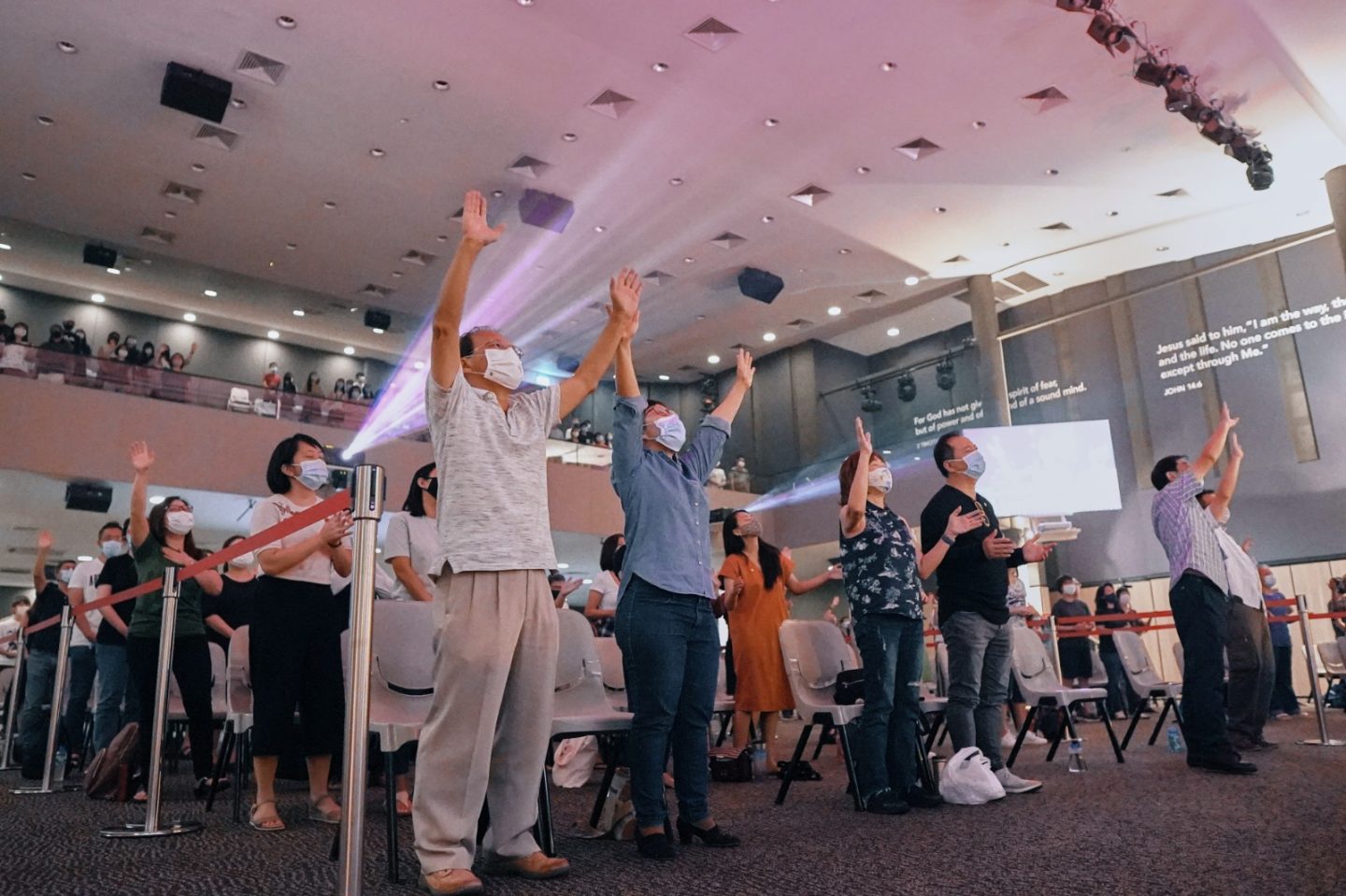 2. LIVE SINGING ALLOWED ON STAGE
For services held on church premises, up to 10 persons who are involved in the worship service will be allowed to unmask to perform their duties, of which up to 5 persons can be unmasked for singing. Only the performing singers can be unmasked; all others in the congregation are not allowed to take off their mask nor sing during the service, though spoken responses are allowed.
There should be a setback of at least 3 metres those on stage and the rest of the congregation. Venues without a clearly defined stage area should have floor markings to mark out the 3-metre boundary. For venues with elevated stages, a safe distance greater than 3 metres is encouraged.
There should be a 2m gap between singers and 1m between those on stage. No sharing of equipment, such as instruments or microphones, is allowed. If they must be shared, equipment should be cleaned and disinfected before being handled or used by others.
For services held at indoor third-party premises, events will be limited to live instrumental music (non-wind) only. No live performance elements – including live instrumental music – will be allowed at outdoor third-party premises.
3. UP TO 150 ALLOWED ON PREMISES, BEYOND THE 250 AT SERVICE
Churches can conduct religious rites and other religious activities – such as pastoral services, religious classes for adults and children – so long as each gathering does not exceed 50 people including the staff and volunteers, with a total cap of 150 persons on premises.
These activities can take place concurrently during worship services. This means a maximum of 250 in the service and an addition 150 on premises at such times. However, MCCY encouraged churches to reduce other concurrent activities when congregational and other worship services are ongoing, "so that there is a smaller total number of people on the premises at any one time".
The usual safe distancing and other safe management measures should be in place for such activities. Those teaching in a classroom or lecture style setting may wear face shields in lieu of masks, keeping at least 1 metre away from any other individual. "As a best practice, we encourage a greater separation of 2 metres between groups of students attending religious classes," said MCCY.
Live performance elements, such as a worship leader, are allowed at such activities, subject to the same guidelines for worship services (see Point 2 above), if they are held in the church premises. At indoor third-party premises, events will be limited to live instrumental music (non-wind) only. No live performance elements – including live instrumental music – will be allowed at outdoor third-party premises.
4. 30 PEOPLE ALLOWED ON SET DURING RECORDINGS
Churches can have up to 30 persons on-location for recording productions, of which up to 10 persons can be unmasked at any one time. If there is "live" singing during these recording/broadcast sessions, a maximum of 5 persons present may be unmasked at any one time. Those who are unmasked for singing keep 2 metres' safe distance from others; everyone else should remain masked with 1m safe distancing.
The time spent on location for recording should be kept as short as possible. There should also be no cross-deployment of production crew between locations where possible, with minimum socialising during breaks. Technical equipment should be sanitised regularly and frequently.
"Churches are encouraged to continue supporting the religious needs of their communities via remote means such as recording and broadcast of religious services and prayers," said the MCCY.
5. CHURCHES SHOULD GEAR UP FOR TRACETOGETHER-ONLY SAFE ENTRY
TraceTogether-only SafeEntry, using either the TraceTogether App or Token, will be made mandatory for churches and other public premises by early next year, once has had a chance to collect their Token at a Community Club or Centre. The national rollout is still ongoing.
In preparation for this, churches must make the necessary preparations to accept check-ins by the TraceTogether App or Token. Churches can refer to the SafeEntry website on how to set up TraceTogether-only SafeEntry for their premises.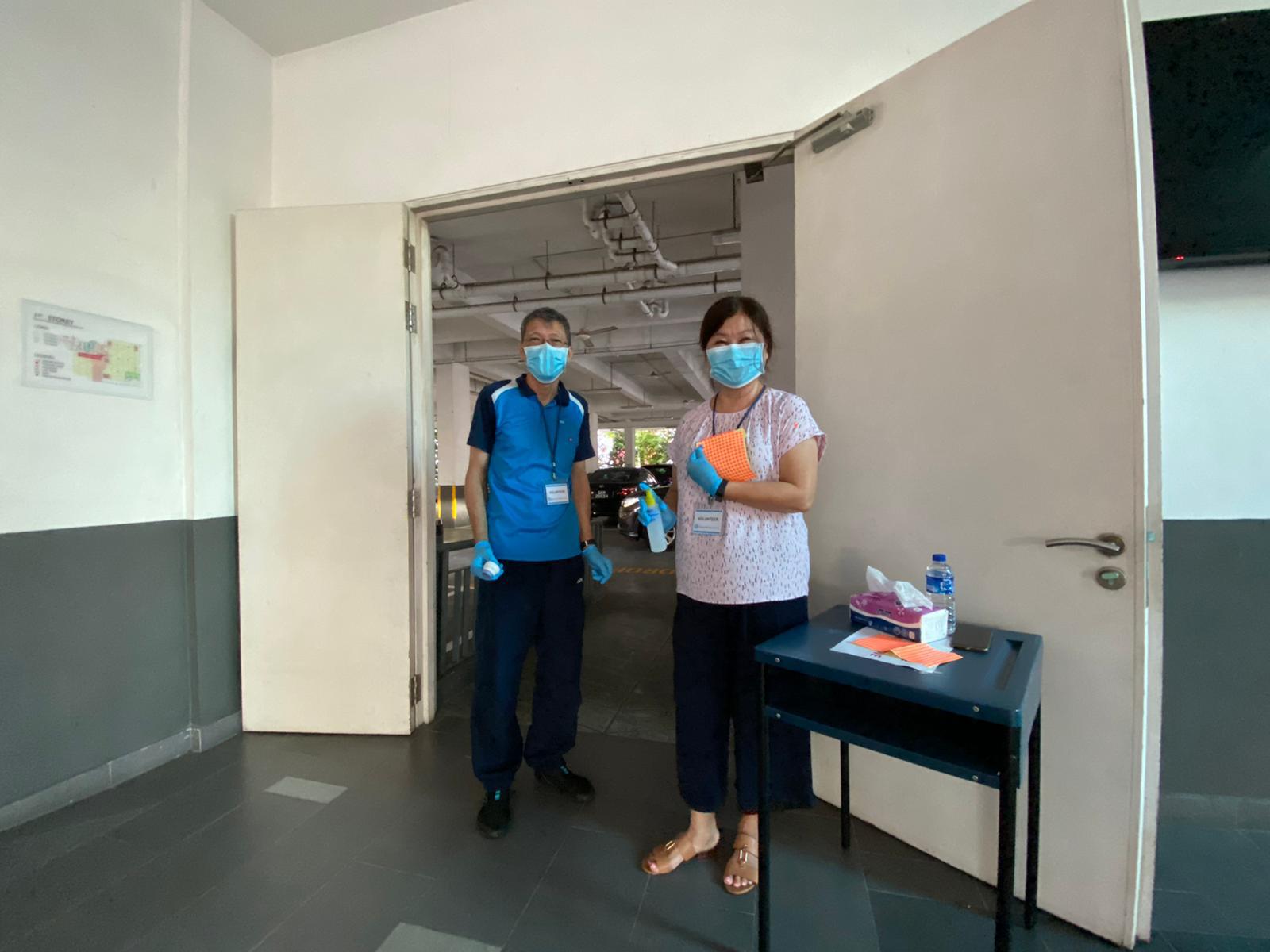 6. LIVE INSTRUMENTAL MUSIC ALLOWED AT WEDDINGS, FUNERALS, WAKES
From Phase 3, live instrumental music will be allowed at weddings, funerals and wakes, but with no singing or wind instruments. No other performances, such as dances or variety acts, will be permitted at these events.
Up to 100 attendees are permitted at weddings, not counting the solemniser and religious staff/volunteers, in zones of up to 50 persons. Up to 30 attendees are allowed at funerals, wakes, installation of niches and post-funeral rites at places of worship.
No receptions with food or drinks are permitted at weddings, funerals or wakes.
7. SAFE MANAGEMENT PLANS MUST BE SUBMITTED
Churches must submit their Safe Management Plans (SMPs), including manpower deployment plans, to MCCY's CPRO (Crisis Preparedness for Religious Organisations) department at least 3 days before commencing Phase Three activities. SMPs should be emailed to [email protected].
Churches that have yet to submit their Phase 3 SMPs may only continue with the permitted religious activities under Phase 2 parameters. Those that have not previously been on either the 250-attendee pilot or the live worship leader pilot must phase these in gradually – proceeding with either services with 250 persons but without live performance elements, or proceed with services for 100 persons but with live performance elements.
"MCCY reserves the right to suspend a religious organisation's activities if there are gaps in the SMP submitted and until the necessary rectifications are made. Religious organisation are responsible for the implementation of Safe Management Measures and action could be taken for lapses and breaches," the Ministry said.
"Should there be any confirmed COVID-19 cases linked to a RO's premises or place of worship, the premises may be closed for a period of time as determined by the authorities."
If you have enjoyed reading Salt&Light...
We are an independent, non-profit organisation that relies on the generosity of our readers, such as yourself, to continue serving the kingdom. Every dollar donated goes directly back into our editorial coverage.
Would you consider partnering with us in our kingdom work by supporting us financially, either as a one-off donation, or a recurring pledge?
Support Salt&Light