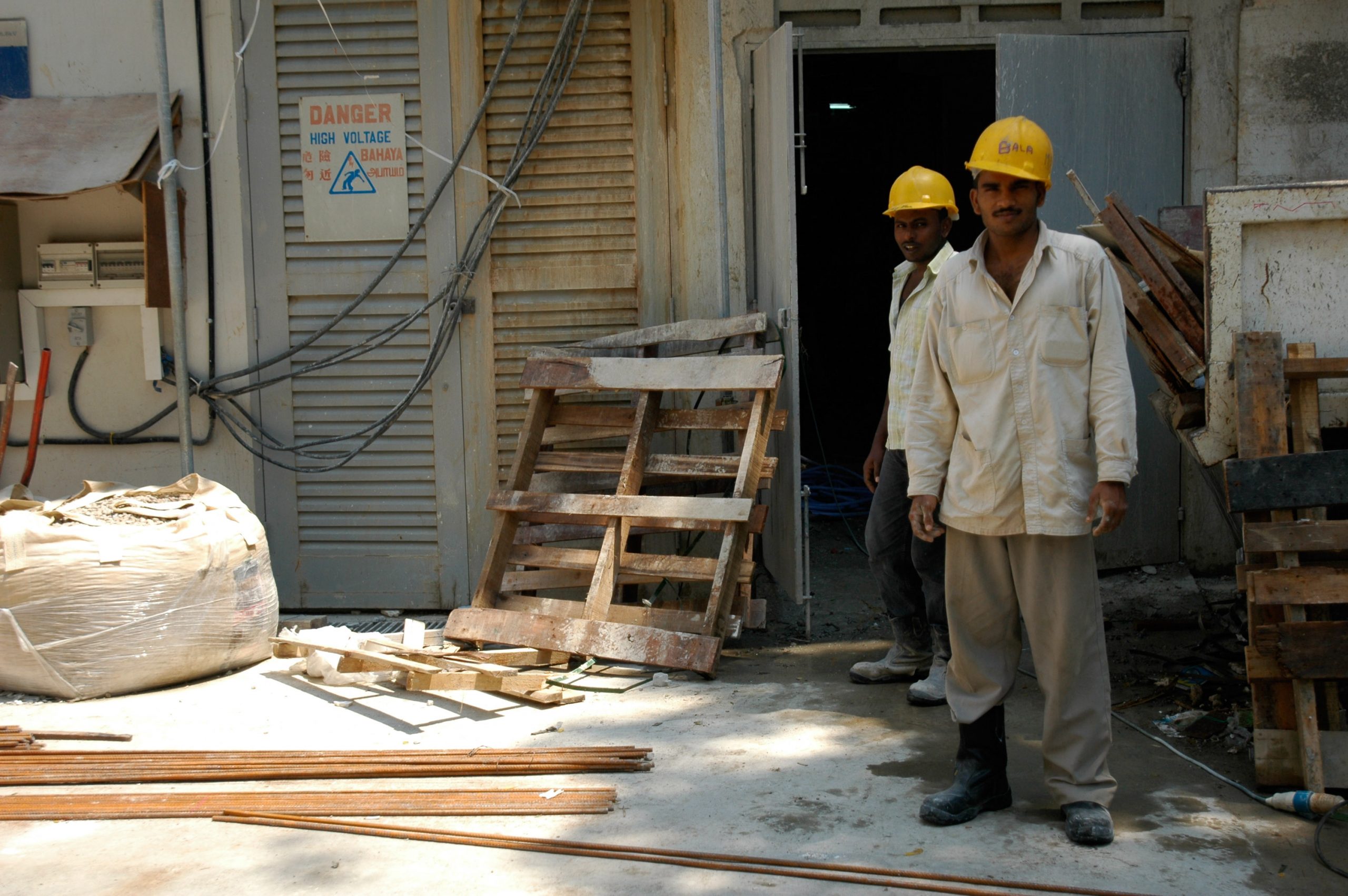 Recent calls for help on the counselling helpline have grown in intensity and severity, noted HealthServe executive director Michael Cheah. Photo by Justin Zhuang on Flickr.
When Covid-19 sent the migrant worker dormitories into lockdown last April, Indian national Ramasamy Ilangovan, 28, was so worried that he could not sleep.
He was not worried about catching the virus, though it was spreading like wildfire through the migrant worker community. Neither was he too distressed about being isolated.
Rather, the thing "disturbing" his mind the most was not being able to earn his wages and work overtime to pay off his loan, which he had taken to come to Singapore in the hopes of providing a better life for his parents and two school-going siblings.
Just thinking about how stressed out his parents – a farmer and a housewife – were about repaying his loan, and not being able to do anything about it, was enough to keep him up at night.
In the nick of time
Since the pandemic's impact on the mental health of migrant workers was thrust into the spotlight in the middle of last year, advocacy groups have ramped up mental health education and support for workers like Ramasamy.
Last November, the Government also set up a task force, Project Dawn, of which HealthServe is a part, to improve mental health awareness among migrant workers and provide better access to care services.
"Our counsellor shared that the worker already had a noose around his neck when he called us. We returned the call just in time."
These efforts have been needful as the mental health of the workers remains a pressing concern despite the fact that many of them are back at work, staff at HealthServe told Salt&Light.
"When we speak to them, it's the same few things: Loneliness, being away from family, friends, relatives. They feel a bit hopeless and helpless. And then they have family issues back home. It adds to their stress," Michael Cheah, executive director of HealthServe, told Salt&Light.
While the number of calls to HealthServe's counselling hotline has dropped from up to 200 calls a day at its peak last year to about 30 a day now, the calls for help have grown in intensity and severity, noted Cheah.
"Recently, one of our volunteer counsellors shared that the worker already had a noose around his neck when he called us. We returned the call just in the nick of time," he said, adding that the counsellor managed to offer him hope and talk him out of taking his life. 
Several employers have also reached out to his team asking for their help after observing that their workers are out of sorts.
"The workers are kind of in their own world. Some have attempted suicide, so their employers are panicking."
"They feel the workers are kind of in their own world. Some have attempted suicide, so their employers are panicking. Others are just dazed all the time and their employers don't know why this is the case," he said.
Cheah added that the workers' poorer emotional and mental well-being could possibly be a contributing factor to the rise in workplace accidents among migrant workers.
In February alone, there were at least 10 workplace fatalities, including three who died in an explosion at an industrial building in Tuas. Last month, there were two lorry accidents involving migrant workers in four days, killing two and injuring 25 others.
"There's no study (to prove this), at least not from us. But a lot of times the workers tell us that they're very tired. They have enough sleep, but they say they're tired," he said.
He added that HealthServe is providing psychological first-aid training for employers, to help them look out for and understand certain signs and signals of when a migrant worker may need help.
Provider and protector
One of the largest stressors migrant workers currently face is the well-being of their loved ones back home, said Justin Paul, who heads HealthServe's mental health and counselling services.
"How can I be here when my family is suffering back home?"
As many of them come from patriarchal societies, they carry the heavy responsibility of providing for and protecting their wives, children, parents and siblings as the head of their household, he explained.
This was why many of them were stressed out during the lockdown, as they were worried about not being able to work and send money home to their families, said Paul. However, their concerns have now shifted.
For workers who come from countries like India, which is currently grappling with the world's worst outbreak and record-breaking daily death tolls, and Myanmar, where the military coup has caused civil unrest and killed more than 700, the inability to be with their families is a huge struggle, he said.
"Many of them are going through aspects of guilt. They ask, 'How can I be here when my family is suffering back home? Why is my life better when at home they have no food, no oxygen, no medication?'"
"A lot of these workers do not share with their families what really is happening to them."
These feelings of guilt are not new, said Paul.
Last April to October, when he was based at Singapore Expo, converted into a community care facility, to provide workers with psycho-social support and counselling, he observed that many were wracked with guilt when they could not fly home to do the last rites for family members who had passed on. Some were even disowned by their family, he said.
"The reason for this is, as part of their role of the protector and provider, a lot of these workers do not share with their families what really is happening to them. We had workers who were lying to their family, telling them that they're safe because they don't want them to worry, but actually they're Covid positive.
"This then results in their family's expectation: If you're okay then why are you not working? Why are you not sending money home? The whole cycle of miscommunication and misinformation creates issues."
A toll on mental health
Another stressor is their inability to move about freely, said Paul. It has been a year since the pandemic first swept through the migrant worker community, sending them into a lockdown that has yet to be fully lifted.
Currently, migrant workers are only allowed in their dormitories and workplaces, though authorities have also set up for them eight recreation centres, which they can visit up to thrice a week at pre-booked and staggered timings.
"Even though they're going out to the recreation centres, they're not connecting."
While there had been plans to relax restrictions and allow some to be in the community once a month, these were put on hold after the recent dormitory cluster and surge in infections in some of the workers' home countries.
While the workers understand the necessity of these restrictions, it has undoubtedly prolonged the toll on their mental health, said Paul.
"The freedom of movement is not (merely) about freedom of movement. It is about meeting with their friends and connecting with their community, which is what is lacking now," he explained.
"Even though they're going out (to the recreation centres), they're not connecting," he said, adding that perhaps more can be done to help workers within each dorm block or room to bond and create friendships with one another.
However, he stressed that, from a public health point of view, it is important to understand the reasons for the Government's restrictions and the need to ease them gradually.
"From an advocacy point of view, yes, we need to advocate for certain things … it's very easy to comment and criticise. But we also need to be mindful that there's a bigger picture at play and many aspects to consider," he said.
Breaking down walls
To boost awareness of mental wellbeing, HealthServe has been conducting mass psycho-education sessions for the migrant workers in their native language, teaching them how to identify feelings of stress and anxiety and ways to manage them.
They also educate the workers on how they can care for others, such as by starting conversations and showing empathy, as well as ways to get more effective rest at night.
Ramasamy, who had been struggling with sleepless nights when the pandemic hit, said he greatly benefited from these self-care classes. This, coupled by the fact that he can now go back to work, has helped him to sleep better at night, even as he continues to pay off his debt.
"Culturally, for them to accept that they're breaking down is also difficult … But now they're more ready to share."
Aparna Verma, 46, who has been a volunteer counsellor at HealthServe for a year, has observed that the workers have grown in awareness of their own mental health, how to identify what they are feeling and where they can get help.
This has led to them being more open about sharing their own struggles, added the human resource professional who is doing a Masters in counselling.
"These men have always seen themselves as hardy and sturdy. They don't want to be seen as somebody who can't handle stress. Culturally, for them to accept that they're breaking down is also difficult," said Verma, who is from India.
"Last June and July, they used to feel guilty … But now they're more ready to share, which is a good thing."
HealthServe is also looking at tapping on the workers themselves to raise awareness of mental well-being in their own communities. The idea is to train some 600 migrant workers themselves so that, by the end of 2022, they are able to conduct psycho-education classes of their own.
After finding the methods taught in the class useful, Ramasamy volunteered to be trained so he can help others like him. He has since taught his subordinates in his dormitory room how to look out for signs of stress and manage it.
"I want to thank the trainers for doing this mindset training with their heart. Many of my friends also feel the same," he said.
Round-the-clock hotline
Nevertheless, Paul said there is still a long way to go in terms of addressing and bolstering the migrant workers' mental health, which he believes is an integral part of caring for them holistically.
To do this, HealthServe will also be launching a pilot round-the-clock crisis hotline in July for the workers to call in at any time. This is done in partnership with the Samaritans of Singapore, a crisis intervention and suicide prevention centre. The current hotline only operates during office hours.
Currently, they have about 60 volunteers. However, they are in need of some 240 more by July
"People think that by just giving the workers a job, giving them money, the problem goes away. But the reality is that there are so many underlying issues – relationships have been broken, emotional well-being has taken a toll," said Cheah, who stressed the importance of providing the workers with holistic support.
Currently, they have about 60 volunteers. However, they are in need of some 240 more by July, said Cheah, urging people to consider stepping forward to volunteer.
Training will be provided, such has how to hone one's empathy and listening skills, and how to ask the right questions, including ones about suicide.
And while it is an added bonus if volunteers can speak the language of migrant workers, such as Tamil and Bengali, it is not a pre-requisite to volunteer.
He added that volunteers play an important role of supporting his staff members, who have been working tirelessly since last year, some to the point of burnout.
But amid the long days, he reminds them of Micah 6:8 and the reason why they press on in doing what they do.
He has told you, O man, what is good;
and what does the Lord require of you
but to do justice, and to love kindness,
and to walk humbly with your God? 
"I share with the team that we have to continue to give Christ's healing ministry, which is what we believe the Lord has called us to do from Day 1," he said. "The need is so great. It's just a matter of whether you open your eyes and make yourself available."
Small action, big difference
Paul does stress that volunteers need to be in it for the long haul, for the sake of staff members, who are often left holding the bag when volunteers drop out. The migrant workers themselves can be affected. 
While he was at the Singapore Expo caring for the migrant workers, one had come up to him and said: "Brother, you're the only one we know who is still here, though we come and go. 
"Go and say hello to the migrant workers who are cleaning your estates … It could make a very big difference."
"All the other places, people come in one time, two times, give us things, then disappear. Or befrienders ask us to call them. But after we call them a while, they stop answering us."
Said Paul: "I don't think that's the way we should treat any human being, not just migrant workers."
Additionally, many of the issues they are facing will not magically disappear after the pandemic ends, he said. After all, these problems had already been present before.
"If we're here, we're here for the long-term, even though the journey is going to be challenging. There's a need to be present and to stay the course," he said.
Even if people are not able to commit to volunteering regularly with non-profit organisations like HealthServe, they can always start small, he added.
"Go and say hello to the migrant workers who are cleaning your estates. Check in with them. If they need any help or have any difficulties, see what you can do. It could make a very big difference."
If you have enjoyed reading Salt&Light...
We are an independent, non-profit organisation that relies on the generosity of our readers, such as yourself, to continue serving the kingdom. Every dollar donated goes directly back into our editorial coverage.
Would you consider partnering with us in our kingdom work by supporting us financially, either as a one-off donation, or a recurring pledge?
Support Salt&Light