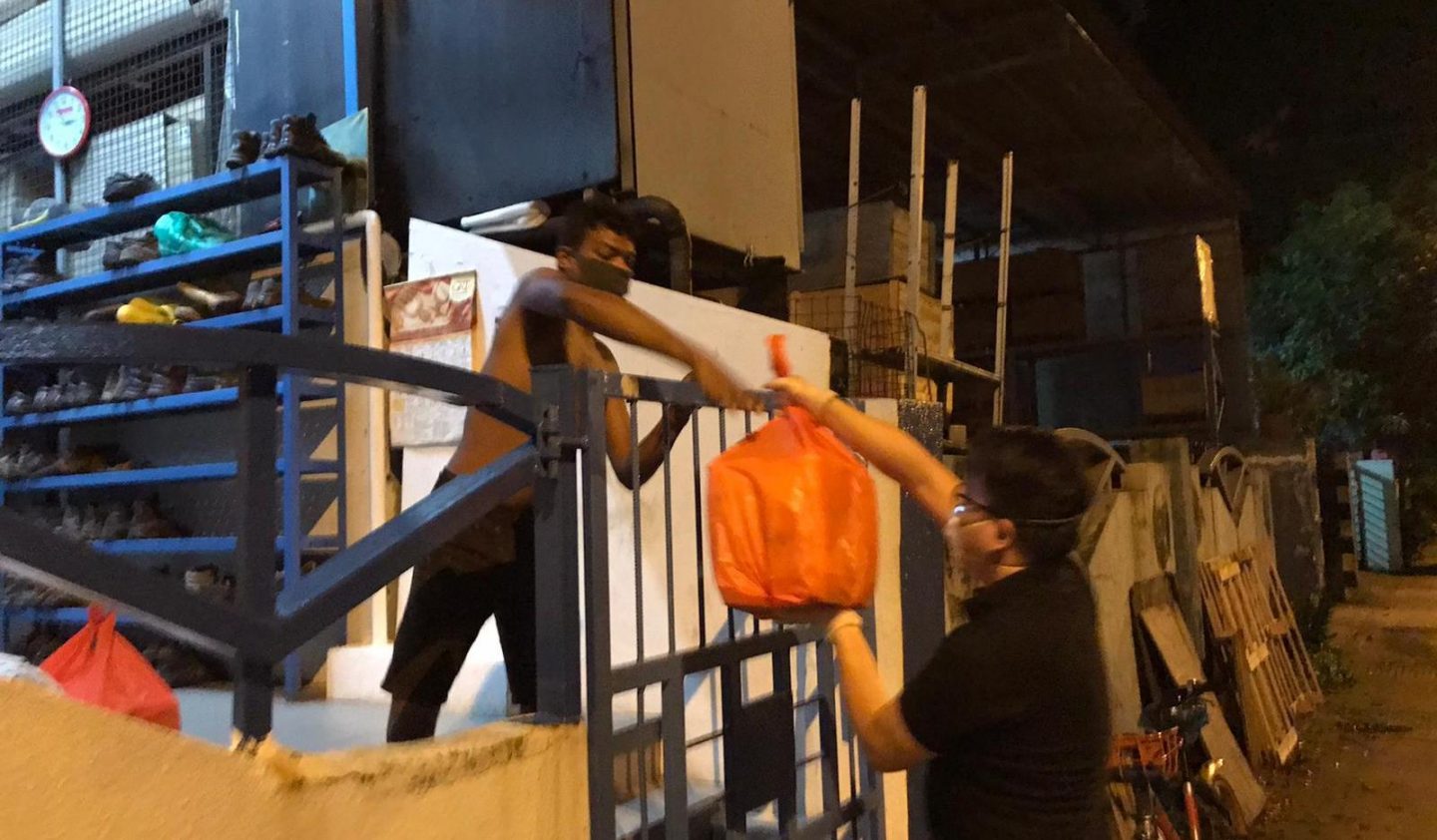 A volunteer drops off a 3am meal delivery at one of the three factory-converted dormitories that Covenant EFC has adopted during this Circuit Breaker. All photos from Bless the Migrant Worker on Facebook.
When one couple decided do something to help meet the urgent needs of migrant workers, they had no idea that many more in their church would come alongside to offer their own five loaves and two fishes.
Project Bless the Migrant Workers (BMW) is an undertaking by Covenant Evangelical Free Church kickstarted by husband and wife, Phillip Ee and Figin Seng, who are members of the church.
"I knew that Singapore had fallen into a crisis, and we must not just sit around and be onlookers."
Under the umbrella of local charity Hope Initiative Alliance's (HIA) "Adopt-A-Dorm" programme, Project BMW provides meals and holistic care for 480 workers living in three dormitories and operates a meal distribution point for around 200 workers holding special passes.
In addition, they also provide groceries and hygiene packs to over 150 migrant workers living in small residential houses fortnightly.
"When we began, we thought we had only one pair of hands. Yet, God stretched our faith by providing more than 100 faithful volunteers on the ground, and even more people behind praying, interceding and sponsoring things for this work," they told Salt&Light.
It is not about us, it is about God and His ways, said the couple (Isaiah 55:8-9). 
"As God has placed this burden in our hearts, we also saw how He led us and opened the doors. For what is beyond our own scope and understanding, God leads the way and we follow." 
Having since served 1,000 people with 15,000 meals and 300 grocery packs, the Ees share how this ground-up initiative grew into a church-wide project within 48 hours.
How did Project BMW come about?
When news of the Circuit Breaker was announced, I knew that Singapore had fallen into a crisis, and we must not just sit around and be onlookers. These words rang in my mind and heart: "If you love Me, feed my sheep" (John 21:17).
We got to read about what Alliance of Guest Workers Outreach (AGWO) working under HIA started doing in partnership with the Singapore government, to provide meals to workers in factory-converted dormitories (FCDs).
Talking to the team, we understood that there was a need, not only to provide meals, but to provide deeper support to workers, many of whom are on Stay Home Notice, currently living in fear and confusion and lack information and understanding.
"Churches have this open window to adopt a dormitory under HIA and heed the call of missions."
Our plan was to complement the government efforts and support the smaller groups within the FCDs and residential homes, outside of the 43 large scale purpose-built dormitories.
After discussions with our missions pastor, we came up with three simple goals during this period:
Provide meals to those who are not able to cook.
Distribute groceries to those living in residential units.
Engage and encourage guest migrant workers and to offer any practical help within our means.
We made a request to adopt one factory-converted dormitory and help share the load by providing meals and support to the 200 workers there.
Beginning with just two couples, we started reaching out to our own circle of friends, church mates and family members.
That Sunday, we sent a WhatsApp message sharing what Project BMW is about and the opportunities for contributions, which would go into meals and grocery packs.
Within the first few hours, we received the funds needed for our first phase and beyond.
How was this rolled out as a church-wide project?
We have the most supportive leadership team one could ever ask for.
Almost immediately, the fire was caught by many like-minded pastors, leaders and members. They put up their hands to volunteer and go to the field to serve alongside us.
Our pastors spoke to the congregation on two Sundays to encourage giving, praying, volunteering and most importantly, recalibrating our own discipleship journey towards loving our neighbours.
A prayer intercessory group was formed and they intercede daily for the guest migrant workers and for the volunteers.
"Our pastors encouraged us to recalibrate our discipleship journey towards loving our neighbours."
Volunteers mobilised their own church-mates or friends to sponsor things that we lacked such as masks, face shields, sanitisers, alcohol wipes, and even fruits, dates, and snacks for the guest workers.
This is the anchor verse our church is using for BMW:
"When a foreigner resides among you in your land, do not mistreat them. The foreigner residing among you must be treated as your native-born. Love them as yourself, for you were foreigners in Egypt. I am the Lord your God." (Leviticus 19:33-34)
How was the response?
The heart posture of all our volunteers are commendable. They do not know us personally, yet they share our load and treat the BMW movement as their very own.
"On four different occasions, migrant workers approached us saying they had no place to stay. It was heartbreaking."
They are so passionate that despite taking what some would see as menial or ad-hoc tasks, they serve with deep humility. 
On four different occasions, migrant workers approached us saying they had no place to stay.
It was heartbreaking to hear that their landlords kicked them out because they had no money to pay the rent.
We had members who put up their hands to offer their spare rooms to host them.
We thank God for His providence: A group that works with the homeless has since helped us house these workers.
Project BMW's commitment to HIA has more than doubled. What sort of commitment does it take to run this project?
The scale of the work is huge. Every day, we are either on the ground at the dorms or at the meal distribution site, or constantly on calls connecting with the dorm ICs and individual workers who call for help.
We are also constantly giving feedback to the caterers on the meals and preparing for deliveries of necessities.
Daily, we communicate with the different work streams to ensure things are moving.
Such as ordering groceries, fixing drivers' and volunteers' schedules, sending updates on social media to account to our donors and addressing many queries from different people over safety, hygiene, health matters.
It is not easy on everyone involved. What keeps you going?
For many of us, we have just a few hours of sleep each day. Most of us are working from home full-time and have to ensure time is set aside for our own family and children.
"We thought we had only one pair of hands. Yet, God stretched our faith by providing more than 100 volunteers."
However, our hearts are so full, and so thankful that we can be part of this – especially during this pandemic.
We have made friends with some of the migrant workers and they have shared about their families back home, what their dreams and aspirations are, and how thankful they are to Singapore and our churches for helping them.
During a meal distribution, one of the caterers was very late.
With only 50 packets on ground and more than 100 hungry workers in queue, we decided to just distribute the first batch. However, to our surprise, everyone walked away with one meal packet and a cup of juice.
I watched in awe as the miracle of five loaves and two fish came alive for us.
How can readers contribute in this time of need?
BMW is a humanitarian movement where we all can do a part to love and provide for one another. 
Churches have this open window to adopt a dormitory under HIA and heed the call of missions in a time like this.
As disciples of Christ, we can all partner in this work, to welcome them, to love them as how Jesus loves. We can be their friends and they shouldn't have to feel that they are lowly or ostracised, no home to stay, no food to eat, no way to call their family members.
Our migrant workers live here and this is their home, many of them will tell you that. We can make this their home by changing the way we perceive their social background, where they come from, their jobs and treat them as one of us!
How you can help in "Adopt-A-Dorm"
1. Get your church or organisation involved in HIA's "Adopt-A-Dorm" programme
"Adopt-A-Dorm" is a programme by HIA in partnership with Alliance of Guest Workers Outreach (AGWO).
This initiative, which welcomes any organised group to participate regardless of religious affiliation, hopes to provide more holistic care to migrant workers who are currently on Stay Home Notice until May 18. 
Rev Ezekiel Tan, president of HIA, told Salt&Light: "Beyond supplying meals during the circuit breaker period, we hope that by adopting a dormitory, churches can continue to help reach out to guest workers to enable them to better integrate into our society during their employment here.
"Our testimony of graciousness would be remembered and shared when they return to their home countries."
2. Make a donation or volunteer your time for the "Festive Care Packs @ Vesak/Ramadan" effort
On Vesak Day, May 7, HIA will be distributing 12,000 "Care Packs" as part of this effort. Co-organised by HIA, SowCare and Singapore Press Holdings' Chinese Media Group, these "Care Packs" consist of fruits, breakfast items, medical supplies, hygiene products and dates for 4,000 Muslim workers.
Click here to donate and here to sign up as a volunteer for various roles including back-end support. 
"At this time, what they need is family," say volunteers who deliver thousands of 2am Ramadan meals to migrant workers
"Don't lose heart in doing good", urge charities facing plummeting donations and isolated beneficiaries
If you have enjoyed reading Salt&Light...
We are an independent, non-profit organisation that relies on the generosity of our readers, such as yourself, to continue serving the kingdom. Every dollar donated goes directly back into our editorial coverage.
Would you consider partnering with us in our kingdom work by supporting us financially, either as a one-off donation, or a recurring pledge?
Support Salt&Light