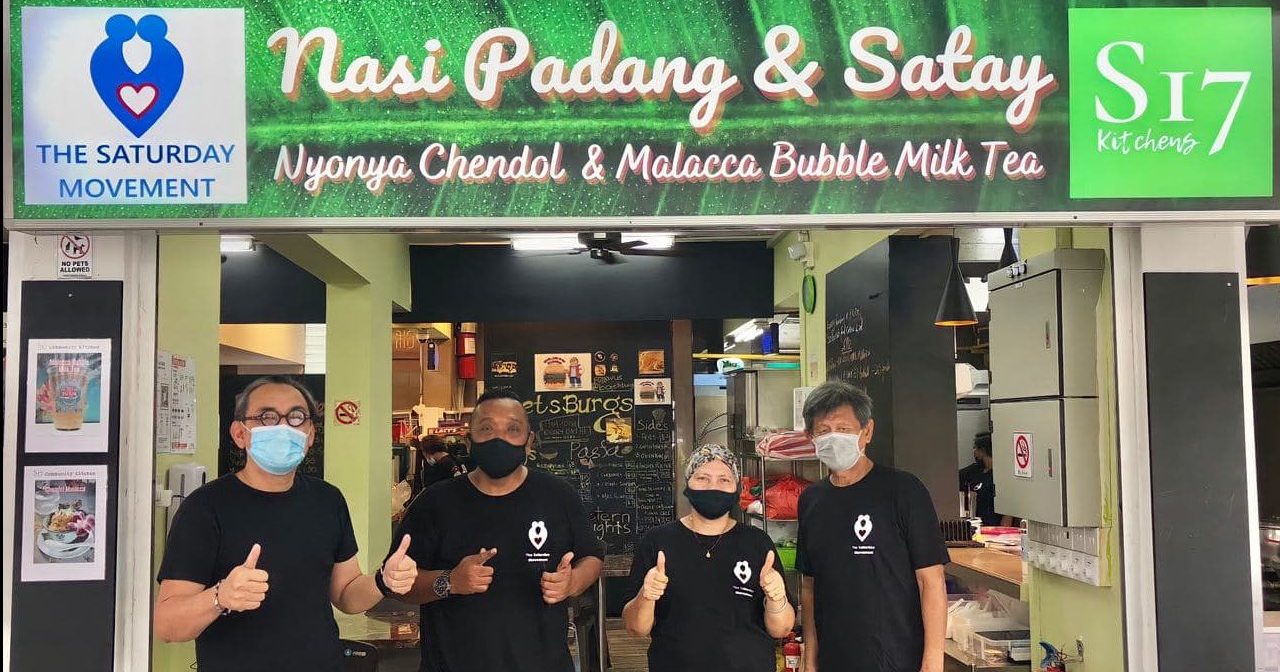 Community kitchen and kopitiam, S17 Kitchens, was started by Raymond Khoo (left), founder of volunteer group, The Saturday Movement. He mentors tenants (from left to right) Mohammad Nizam aka Tokmat and Rumiati. Resident volunteer, Mr Ang (right), helps to clean tables and greet customers. All photos by Silas Low unless otherwise stated.
Not many would open a F&B business in the midst of Covid. 
But Raymond Khoo, 57, did.
Raymond is the owner of The Peranakan restaurant and founder of non-profit volunteer group, The Saturday Movement. 
In November, the seasoned restaurateur opened S17 Kitchens, a community kitchen and kopitiam (coffee shop) in Lengkok Bahru. It is an extension of The Saturday Movement's nine-and-a-half-year ministry of serving the elderly in Lengkok Bahru and Henderson. 
It is also a hotbed of entrepreneurship. S17 Kitchens is open to paying customers.
Boss with heart
S17 Kitchens houses two stalls. One is BajetsBurgs (Bajets is a play on the word "budgets") which serves up Western burgers with Malay flavours. Prices start from a pocket-friendly $1 for mini burgers. 
S17 Kitchens is an extension of The Saturday Movement's ministry of serving the elderly. 
This year has been one of change for the burger stall's owner, Mohammad Nizam, 50, aka Tokmat.
His wife passed away during the Circuit Breaker earlier this year. In an attempt to keep him busy, his children encouraged him to upgrade his business of selling burgers. 
He has been making and selling them for decades. In the late 1990s, he was selling Ramly burgers for $1 at the old Geylang Bazaar. Most recently, he was selling them out of his home, and had quite a following.
S17 Kitchens also houses a nasi padang stall run by Rumiati, 64, who until November, was only cooking for her family.
Raymond mentors the tenants, Tokmat and Rumiati. 
Tokmat told Salt&Light, "I joined because of the boss (Raymond) lah. He got the heart, and he really gave me the opportunity. This opportunity I couldn't say no (to)."
Raymond, who was introduced to Tokmat by a social worker, encouraged him to move his business into S17 Kitchens. 
Rumiati had no prior experience in F&B. Raymond persuaded her to start selling her dishes. She is not only assured by his guidance, but inspired by his heart for the community. 
Holding hands 
Raymond is laying the foundation for the tenants to become entrepreneurs.
"For now we are holding hands. But soon we will let go and let them manage the business on their own. Maybe over the next six or 12 months," Raymond told Salt&Light. 
The idea is for the tenants' businesses to become self-sustaining.
Both tenants get a percentage of profits. The remainder goes towards business operations as well as ingredients for The Saturday Movement's weekly food distribution to the elderly. Tokmat and Rumiati curate the menus at the kopitiam.
Raymond contributes his expertise and years of experience in F&B. For example, he introduced kerisik, a golden fried and buttery coconut paste, to Rumiati to "help elevate the dishes". It is a richer and pricier alternative to store-bought coconut milk. 
Raymond also seconded a manager from his holding company S17. Kat, 38, assists with administrative issues and day-to-day operations of the kitchen, helping with tasks from basic accounting to operating the dishwasher. 
Raymond's standards are high. 
"This is a commercial business after all," Raymond said. "Our standards, including cleanliness, all must be tip-top."
In a time when many F&B businesses have slammed shut, the opening of S17 Kitchens would have been ill-advised by most. Not that it matters to him.  
"This is a long-term project," he said. The idea is for the tenants' businesses to become self-sustaining.
Raymond and Kat had to ease the tenants into certain processes that were unfamiliar to them. This included the Point of Sale (POS) system. 
The key was not to overwhelm them, said Raymond, who had to be patient and attentive to their concerns. 
The tenants are growing in confidence, and becoming increasingly open to trying out new things, said Kat, the kitchen manager. 
"Business will only grow this way", she said.  
Community kopitiam 
S17 Kitchens is located in the midst of blocks of one-room rental flats, occupied for decades by many of the elderly in Lengkok Bahru.  
It has a distinct warmth and familiarity as staff and stall-holders greet their customers like old friends.
Many of them have been abandoned by family, some even swindled. 
When Salt&Light visited S17 Kitchens, it was packed with small groups of elderly patrons, conversing in Malay and Chinese dialects over cups of kopi (coffee). 
With its unassuming shopfront, S17 Kitchens could pass off as yet another kopitiam in the heartlands. But it has a distinct warmth and familiarity as staff and stall-holders greet their customers like old friends. Everyone seemed to know everyone. Perhaps it is also because the staff and stall-holders reside in Lengkok Bahru too.
S17 Kitchens is a product of the pandemic. When Covid-19 hit Singapore and large gatherings were no longer permitted, The Saturday Movement had to cease its befriending programme at a void deck in Lengkok Bahru.
As such, there was an urgent need for a new space for the elderly. S17 Kitchens emerged as the solution to the problem.  
In January, The Saturday Movement will resume their befriending programme – this time at S17 Kitchens. 
Elderly residents in the area will be given time slots during the week, to come and mingle with each other, with safe distancing measures in place. They will be also be given coupons for free meals at S17 Kitchens. 
The Saturday Movement also uses the kitchen to prepare about 500 meals for distribution each week.
A sense of belonging to the community is crucial for the mental wellness of the elderly. 
The meals are delivered to the doorsteps of the elderly in the community in a matter of minutes. Previously they were prepared at The Peranakan at Orchard Road. 
"Now the food arrives fresh, and is better and nicer to eat," Raymond said. 
Raymond, together with volunteers from The Saturday Movement, encourage residents to support and take care of one another as though they are family. It reminds them that "they're not alone, and that somebody still cares for them and wants to support them". 
He hopes that S17 Kitchens provides the warmth of a loving family – one that many of the elderly patrons do not have. 
Having a sense of belonging to the community is crucial for the mental wellness of the elderly, he said.
Unconditional love 
The key behind all this is "showing unconditional love". 
Business at Khoo's own business, The Peranakan, dropped by 80% during the lockdown. But it did not stop him from continuing the charity food distribution or opening S17 Kitchens. 
The key behind all this is "showing unconditional love". 
Earlier this year, he opened a space for displaced vendors from the former Sungei Road Market.
When asked by his various beneficiaries why he does what he does, Raymond's reply is the same: "I'm a Christian doing this out of love for Jesus. I will love you as He has loved me."
Raymond had a vision for the Movement to have its own space for its ministry. Now that they have S17 Kitchens, they are able to "share about our faith" with those who are interested.
They were not able to talk about religion at the void deck during their earlier befriending programme due to restrictions on certain topics of conversations in public spaces. Some of the elderly have started asking Raymond and volunteers for prayer and have been inviting them to their homes.   
Raymond believes that in time, "mini cell groups" will be formed. 
Anything I will do
The S17 Kitchens family includes its resident volunteer, Mr Ang, as he is known.
The energetic former shipyard worker, 73, does everything from cleaning tables to greeting customers. He banters cheekily with them. The volunteer puts in as hard a shift as anybody on staff. All reside in the area. 
A resident of the Lengkok Bahru community for over 50 years, Mr Ang has been volunteering with The Saturday Movement for close to five years.
"I have a passion to look after all these people," he said of the elderly. "They're very poor and their children have left them all alone."
Which is why he puts in the work he does, cleaning the kitchen and tables till 11.30pm. 
"I don't care whether it's washing plates or cleaning tables, anything I will do," Mr Ang said.  
"Sedap-licious" menu
Salt&Light visited S17 Kitchens over lunch on a Wednesday.
The nasi padang on display looked delicious. It was a treat to taste the dishes Rumiati has been cooking for her family for decades. 
On Raymond's recommendation, Salt&Light tried the beef rendang, sweet potato leaves in curry, sambal goreng with tempeh (fermented soybeans) and a potato begedil. The spice hit the right spot on a rainy afternoon.
The beef rendang, in particular, deserves special mention. The meat was extremely tender and moist, and the kerisik gave it a richness of flavour. 
Salt&Light also tried the mee rebus. It contained garago (fried krill, commonly used in sambal belacan or cincalok); Raymond had introduced the ingredient to enhance the taste of the dish. 
BajetsBurgs offers a more contemporary Malay flavour. Dasyat (Malay slang for powerful) John Burgs is a bestseller. It is Roti John in burger form. 
For a sweet ending to a meal, there is Malacca bubble milk tea and Nyonya chendol ($3.50 each), made from recipes from The Peranakan. 
To borrow a phrase from Raymond, the food is "sedap-licious" (sedap is Malay for delicious).
Want to support S17 Kitchens and The Saturday Movement?
S17 Kitchen is at Block 57 Lengkok Bahru, Singapore 151057. 
Opening hours:
Mondays to Fridays: 6am to 10pm (The nasi padang stall opens only at 11am)
Saturdays: 6am to 12noon (The nasi padang stall operates only from 11am to 12 noon; it is closed for the rest of the day to prepare for The Saturday Movement's food distribution programme)
Sundays: Closed
Raymond Khoo invites F&B establishments to join The Saturday Movement in preparing food or providing manpower for food distribution. Those interested can contact him via The Saturday Movement's Facebook page.
If you'd like to support Khoo's charity, The Saturday Movement, you may do so here:
RELATED STORIES:
The Peranakan's Raymond Khoo loves his neighbours with belacan and pineapple tarts
If you have enjoyed reading Salt&Light...
We are an independent, non-profit organisation that relies on the generosity of our readers, such as yourself, to continue serving the kingdom. Every dollar donated goes directly back into our editorial coverage.
Would you consider partnering with us in our kingdom work by supporting us financially, either as a one-off donation, or a recurring pledge?
Support Salt&Light