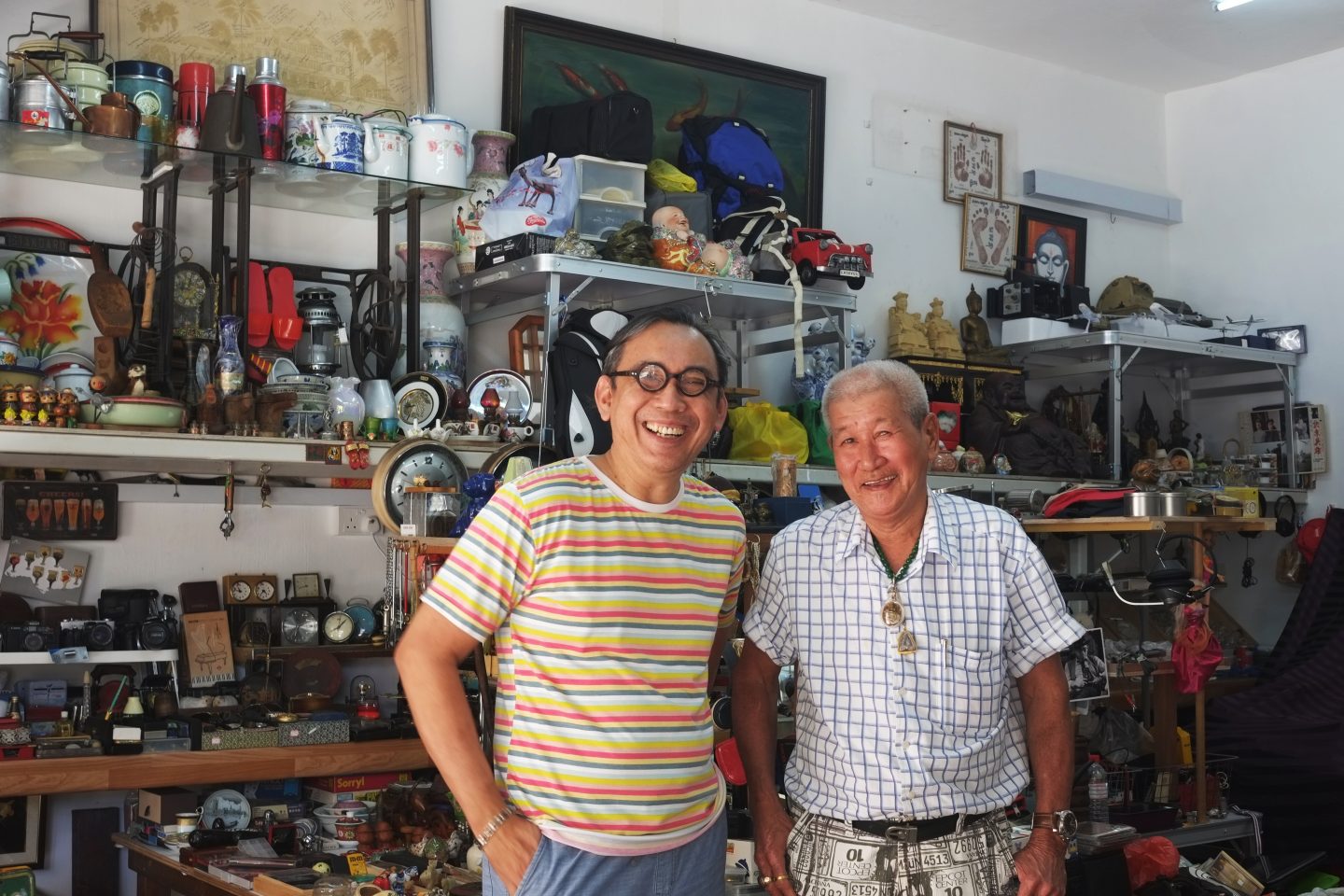 Former Sungei Road Market vendor Tang Khai Lam (right), 69, is just happy to have a new place he can finally settle in, thanks to the founder of The Peranakan, Raymond Khoo (left). Photo by Gracia Lee.
When Sungei Road Market closed in July 2017 to make way for new developments, a huge part of David Sein's life was evicted along with his stall.
The market, also known as Thieves' Market, had played a large role in the 58-year-old's life for as long as he could remember.
As a little boy he would accompany his father to sell secondhand goods – quite literally anything from toys and trinkets to radio sets and sewing machines.
After serving in the army, Sein returned to take over the business from his father and remained there for decades.
"When the market closed, of course we were sad. We didn't have anywhere to earn money anymore and had so many unsold goods," he told Salt&Light in Mandarin.
For three years all his goods sat piled up in the three-room flat he shares with his father and a tenant, which overlooks the plot of land where he once plied his trade.
"My whole house was like a dumpster. My sleeping space was only this small," he said, using his hands to outline the size of a small mattress. "I'm not lying."
To make ends meet, he drove taxis, did deliveries and other odd jobs. But he missed the joy that came from his passion in selling, as well as the friends he had known for decades.
No income, no food
This September, however, Sein and 19 other former Sungei Road Market vendors were given a new place to resume their trade – in two ground-floor units at 28 Kelantan Lane, just 250m away from their original location.
It was Raymond Khoo, founder of restaurant The Peranakan, who had rented the units, renovated them and opened them up to the former vendors to help rebuild their lives.
"They're very downcast. They just want enough money to survive."
"The eviction hit them very badly," said Khoo, 57. "Many of them had been there for years, and their parents and grandparents had supported their entire family from their business there."
After the Sungei Road Market closed, some moved their stalls to Market Gaia Guni in Woodlands, while others switched jobs to become cleaners. Still others looked for occasional opportunities to sell their goods at pasar malams (night markets), he said.
"They've been nomads moving all around," said Khoo, who has been quietly and faithfully looking out for them since 2017.
For three years he provided them with meals once a week. During the two-month Circuit Breaker earlier this year, he provided 80 packets of food a day for them as he knew that they could not sell their goods and had no income.
An elderly vendor was caught for illegally hawking items and fined.
During Christmas and Chinese New Year, he would also host celebrations and gatherings for them at his restaurant on Orchard Road. Additionally, about three to four times a year, he would organise little bazaars at The Peranakan Gallery, a 1,000 square feet space beside his restaurant, for the vendors to sell their goods.
"They're very downcast," he said. "They just want enough money to survive … They're just happy to be able to pay rent, have a bit of transport money, a little for expenses."
A breaking point came last year after an elderly vendor was caught for illegally hawking items and fined, said Khoo. "I said, we need to do a lot more to help out."
"I will provide for you as Jesus provides for me"
Even though the pandemic has caused business at The Peranakan, which funds his charity The Saturday Movement, to drop by 80%, Khoo has stayed true to his resolution to help.
The Saturday Movement not only paid for the renovations and rental deposit of the two units at Kelantan Lane, but also sponsors weekly meals to the elderly living in one-room flats in Lengkok Bahru.
Even though the pandemic has caused business at The Peranakan to drop by 80%, Khoo has kept his resolution to help.
Khoo has told the former Sungei Road Market vendors that they just need to set aside $10 a day to help out with the rent, which costs about $3,000 per unit, and he will make up for the shortfall for at least a year until they can support themselves.
Going above and beyond, Khoo also provides them with dinners five times a week. Two meals a week are sponsored by The Peranakan, while the other three are sponsored by his friends.
On Saturdays he also gives each of them a loaf of bread, while a friend sponsors tong sui (a Cantonese dessert) on Sundays.
"I can understand their frustration (after being evicted from the market), so we want to show unconditional love and assure them that they're not alone," he said simply.
However, it was not a decision that he had made easily, said Khoo. While he had a desire to help them, he initially worried if he had enough resources.
"We want to show unconditional love and assure them that they're not alone."
"It's a financial step with diminishing or no returns," he said matter-of-factly. "But I said, this is the right thing to do. It's not an easy thing to do, but do I want to do it?
"I sought the Lord in prayer and the word I got was that God will provide. I had the peace of mind to say, just do it. I believed God will provide," he said.
And as he stepped out in faith, the Lord miraculously provided an alternate source of income that Khoo never expected. "How do you quantify this? You can't," he said.
As God provides, he is committed to provide for others. His generosity and faithfulness to the vendors have opened up doors for him to share the love of Jesus with them.
"They're asking me: Why are you doing this for us? And I told them: I'm a Christian doing this out of a love for Jesus. I will provide for you as Jesus provides for me."
A piece of nostalgia
When Salt&Light went to visit the shops – now rebranded as Sungei Road Green Hub – the place was packed with all kinds of vintage items – old cameras, analogue clocks, typewriters, televisions – and every other thing you could think of, including old CDs, crockery, chairs, laptops, dolls, pots and comics.
Put succinctly in Sein's gleeful words: "I sell everything!"
"I'm a Christian doing this out of a love for Jesus. I will provide for you as Jesus provides for me."
Khoo recalled going with his late elder brother to the Sungei Road Market as a child and thinking: "It's a mess! Why would people want to buy things from junk?"
But as he took a closer look, he began to appreciate the history and value of the items, he said, encouraging people to drop by to check out the items and consider purchasing "a piece of nostalgia" this Christmas.
He, too, has bought some things from the shops, including a rare $25 note and a $1 coin. "Things like that, wow! It's very interesting to keep it for generations to come," he said.
Vendor Tang Khai Lam, 69, who had been selling at the market for almost 30 years before it closed, is just happy to have a place he can finally settle in.
"This is better. There is no competition, no need to endure the rain and the sun," he said. Business has been "enough to get by", he added. "As long as I don't have to beg from others, it's enough."
Added Sein: "We're happy here. Sure, we don't earn enough money to live in a big house. But look, at least everyone has something to eat every day. And it's because of Raymond's kindness."
Want to support The Saturday Movement?
During the pandemic, Raymond Khoo has been making an even greater effort to reach out to vulnerable groups.
Apart from caring for these former Sungei Road Market vendors, he is also providing for the elderly at one-room flats in Lengkok Bahru, a ministry that he has been keeping up for the past nine years.
He also started an "Adopt-A-Bento" programme, which allows the public to donate $5 for a bento set and $2 for a cup of bubble tea, which went to feeding the frontline workers in healthcare. From now till November 30, Khoo is offering a 50% discount to frontliners for all dine in meals.
"During times like these, people are more in need. Why should we take a step back? I think we should step up and step forward to support wherever we can," he told Salt&Light in a previous interview.
If you'd like to support Khoo's charity, The Saturday Movement, you may do so here.
---
FOR MORE STORIES ON DOING GOOD, READ:
Business down by up to 97%, yet these restaurant owners are still giving to the community
When a quiet prophecy to a Singapore healthcare worker led to a 6-year-old Filipino child's heart surgery
"Each person is a perfect gift from God": Bethel Church healing pastor and father of disabled daughter
If you have enjoyed reading Salt&Light...
We are an independent, non-profit organisation that relies on the generosity of our readers, such as yourself, to continue serving the kingdom. Every dollar donated goes directly back into our editorial coverage.
Would you consider partnering with us in our kingdom work by supporting us financially, either as a one-off donation, or a recurring pledge?
Support Salt&Light