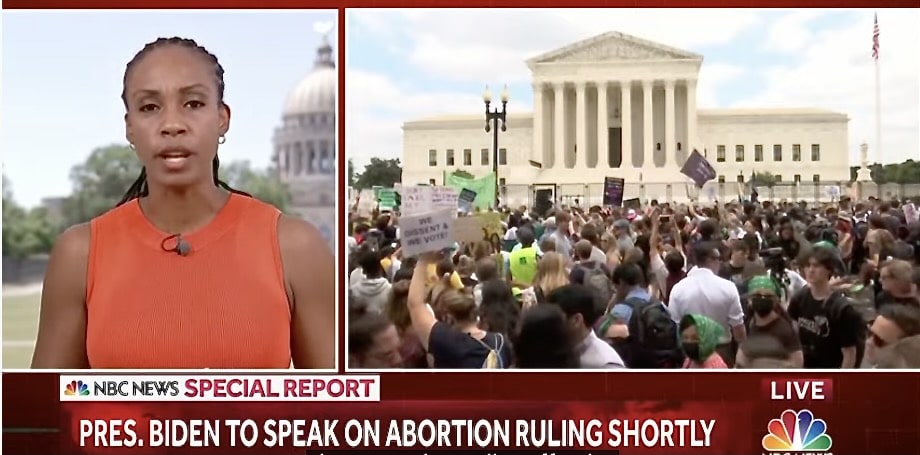 Live coverage by NBC News on the moment the historic ruling was announced by the US Supreme Court.
The US Supreme Court has overturned Roe v Wade, reversing the constitutional right to abortion which has been upheld in the country for almost half a century.
The landmark federal ruling, made on Friday (June 24), allows individual states to decide if, when and how to allow abortions, fundamentally altering the nation's landscape on the issue of reproductive rights. 
BBC reports that about half the states are expected to introduce new restrictions or bans after the court reversed the 49-year-old Roe v Wade decision. In addition, 13 states have so-called trigger laws in place that will see abortion banned within 30 days. 
US federal laws are generally applicable across all state borders. However, under constitutional laws, every state is a sovereign entity in its own right and is granted the power to implement and enforce its own laws in additional to federal laws, according to its needs. 
Strong public reaction
In 1973, the historic Roe v Wade ruling allowed the right to an abortion within the first three months of pregnancy, with legal restrictions and bans in the second and third trimester.
Yesterday's decision, a draft of which was leaked on May 2, has been met with strong public reaction.
The UN World Health Organization reports that around 73 million abortions take place globally each year, including 29% of all pregnancies. 
Both joy and rage have erupted across America, as tens of thousands made their voices heard for and against the ruling.
In Phoenix, police fired tear gas after pro-choice protesters banged on the doors and windows of the state capitol. In Los Angeles, protesters took to the highways, blocking traffic. Protests are expected to continue in cities around the country today. 
News agencies are reporting confusion in abortion clinics, some of which are shuttering, while abortion providers scramble to understand the legal implications of the ruling. 
Globally, abortion rights generally have been increasing. The UN World Health Organization reports that around 73 million abortions take place globally each year, including 29% of all pregnancies. 
In Singapore, abortion has been legal since 1970. There is no age limit for the procedure, although those under the age of 16 are required to undergo mandatory counselling prior to the procedure.
No parental consent is required except for those below 14 years of age, when sex is deemed to be statutory rape and is required to be reported to the parents and the police.
Procedures on pregnancies over 24 weeks are prohibited unless necessary to preserve the life or health of the pregnant woman. 
If you have enjoyed reading Salt&Light...
We are an independent, non-profit organisation that relies on the generosity of our readers, such as yourself, to continue serving the kingdom. Every dollar donated goes directly back into our editorial coverage.
Would you consider partnering with us in our kingdom work by supporting us financially, either as a one-off donation, or a recurring pledge?
Support Salt&Light