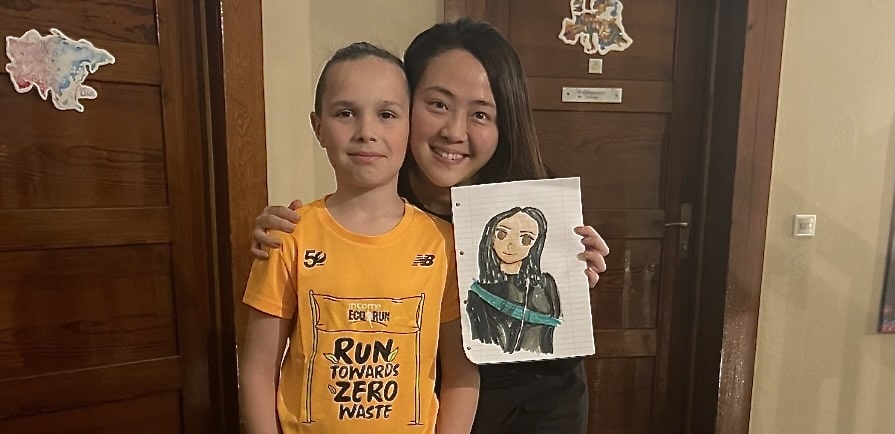 Baoyan with young Svyatoslav who, traumatised by the war, lost the will to pursue his artistic gift. After receiving Christ, he boldly took up the pen again. This is his first drawing since the war broke out. All photos courtesy of Lam Baoyan.
A pair of twin children, healed from their individual cancers. A wheelchair-bound woman and a visually-impaired couple, meeting divinely and escaping their war-torn homes together. A gifted child confronting his trauma and re-discovering his gift in art.
These stories of hope unfurled before missions team leader Lam Baoyan, as she led a team from Tung Ling Bible School in May 2022. The team travelled from Singapore to Germany to help Ukrainian refugees.
Here is her video interview with Salt&Light.
"The doctors had no answer for it"
When I was in Germany, we were helping many Ukrainians. When I was there, I met a lady. Her name is Luda. She and her husband have a pair of twins. They are three years old. In Ukraine, they (the twins) had cancer, and they recovered.
But during the war, they were so stressed, and the cancer relapsed. The twins had nerve cancer and bone cancer.
Both are only 3 years old. The parents were very heartbroken, and they were dealing with much stress. They had lost their home. They did not know what's going to happen to their future.
So the team went and reached out to them and prayed with them. And they were very moved, and they received Jesus into their hearts. And the children, we prayed fervently for the children, for them to be healed as well.
"We got to pray with them and listen to them, inspiring them with hope to give them strength for the future."
And one week later, we received news that the children were miraculously healed. The doctors had no answer for it. They were very surprised that this happened. But we know it is God who has healed them.
So the family is so grateful to the team, and most importantly to God, for what He has done in such a time of their lives.
When we first arrived in Germany, it was difficult to connect with the Ukrainians. Understandably so, because they just escaped from the war zone, and they were traumatised, depressed. It took us some time to know them better, to love on them and to gain their trust.
Slowly they would build relationship with us, and they started warming up to us and also sharing with us about all that they have been through. We got to pray with them and listen to them and be with them, inspiring them with hope to give them strength for the future.
Physically and visually challenged, but walking free in Christ
One lady stood out to me. Her name is Valentina. She's wheelchair-bound. She has a spinal cord problem. So during the war, she could not escape and hide in the underground bunker.
She was praying to God for help. She could not reach anyone, because there was no electricity, her phone was not working and she just prayed to God. And then someone just thought of her.
Someone, that she doesn't even know very well, thought of her and suddenly reached out to her. That person arranged for two persons to wheel her out to the border and out of Ukraine. These two persons, they are blind people. Husband and wife, they are both blind, and Valentina led them out.
It was something unforgettable, because what a scene it is, to have three people who are handicapped, leaving the war zone.
He thought he would never draw again
I met another boy. When I first met him, he was very quiet and withdrawn. And he said to me that when he was in Ukraine, he was put in a special school, because he's gifted in arts. He draws very well.
"He told himself he would never draw again, because there's no future in his life. But he drew a picture of me."
However, when the war broke out, he was traumatised, and he was very depressed, and he didn't want to draw any more.
This boy became a believer when we were there. He received Jesus in his heart. He says now he has peace, and he wants to bring God's love to the people around him, to the other people who are also refugees. He wants them to know that God is someone that they can put their trust in.
Late one night, he knocked on my door, and he said, "Yan, I have a picture for you. This is my gift for you."
When I saw that picture, I was so moved and touched, because this was his first picture that he drew after the war. He told himself he would never draw again, because there's no point, there's no future in his life. But he drew a picture of me and that meant so much to me. 
He was telling us how much it meant to him that our presence, the Singapore team, made a difference in his life and also his mother's life.
His mother is having a tumour in her brain right now, and she's going through pain and fear and lots of anxiety.
We prayed with her, and over the weeks that we were there, she decided to follow Jesus and even join a DTS (Discipleship Training) School, to be trained as a missionary and reach out to the people in Ukraine, telling them about Jesus and that the war does not end their life, and they can make a difference and reach out to the people for our Lord Jesus.
"My family, may you rise up again"
To my Ukrainian family, I thank God for the chance to be able to come alongside with you and to be with you. Thank you for sharing your lives with us. I know this is a hard time, it is difficult, but I just want you to know that we will always be here, loving you, praying for you, and that you are not alone.
Remember God is always with you and that He is the one who is able to turn all things around. We will always be here for you whenever you need us, and may you rise up again.
Rise and shine, for His light has come.
---
MORE ON UKRAINE:
From Ukraine to Germany, the crisis is flinging hearts open to the Gospel
Poland seeing solidarity like never before over Ukrainian refugee crisis, says pastor as churches, NGOs, authorities rise up to help
Photos of Ukraine war taken by men and women who see mercies in the midst of misery
If you have enjoyed reading Salt&Light...
We are an independent, non-profit organisation that relies on the generosity of our readers, such as yourself, to continue serving the kingdom. Every dollar donated goes directly back into our editorial coverage.
Would you consider partnering with us in our kingdom work by supporting us financially, either as a one-off donation, or a recurring pledge?
Support Salt&Light