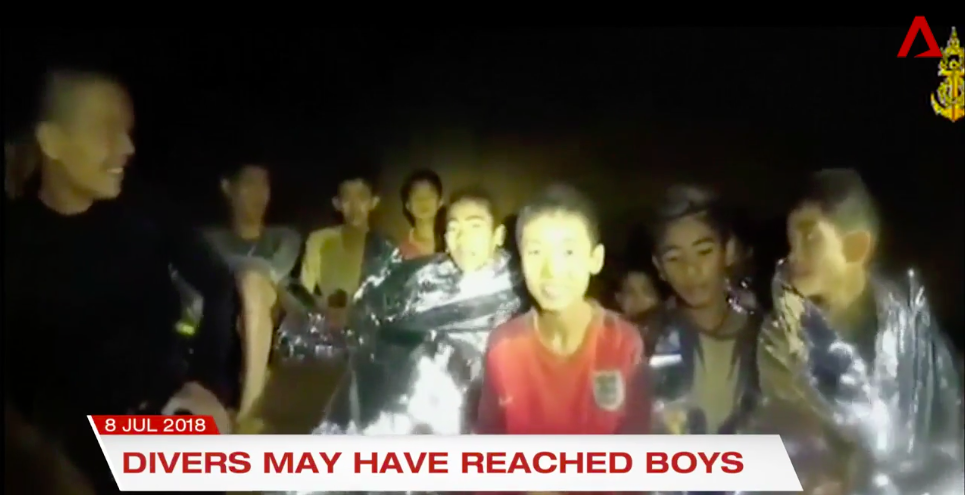 A screengrab of a telecast of the Thai cave rescue mission on Channel NewsAsia.
"Everyone safe. Hooyah."
The Thai Navy Seal team's simple post on Facebook belied the immense relief of all watching, as the last two persons were evacuated from the Chiang Rai cave where 12 boys and their football coach had been stranded since June 23.
The rescue operation ended just before 8pm on Tuesday (July 10), as churches in Thailand continued to pray unceasingly for their safety.
"This crisis has taught us and all Christians to hope and trust in God by uniting in prayer," said Reverend Decha Janepiriyaprayoon, a pastor based in Bangkok who spoke to Salt&Light earlier in the afternoon.
"This crisis has taught us and all Christians to hope and trust in God by uniting in prayer."
There had been no sign of the 13 members of the Wild Boars, a local football club, for the first nine days after they ventured into the Tham Luang cave, located in the Mae Sai district in northern Thailand.
Help from around the world poured in, and British divers found them on July 2, in spite of rising flood waters precipitated by heavy rains. They were trapped on a small ledge about 4km from the cave's entrance.
The urgent task of rescuing them began on Sunday (July 8), amidst fears that time was running short. A former Thai navy diver, Petty Officer Saman Gunan, died after he lost consciousness on his way out of the cave complex, where he had been delivering air tanks.
Churches sowing in prayer
Pastor Janepiriyaprayoon, 48, the associate pastor of Mahapawn Bangkok Alliance Church, said that his church had been praying for all concerned, especially for one of the boys named Adul Sam-On. 
The pastor said that boy is a believer from Myanmar. The 14-year-old has been under the care of a local Thai church which has supported him since he was seven. According to a report by Agence France-Presse, Adul speaks English, Thai, Burmese and Chinese, and he was the only one able to talk to the British divers when they discovered the boys.
"We believe God used Adul to be involved in a significant way, by communicating in English to the rescue team," said the pastor. Mahapawn Bangkok Alliance Church and other churches in Thailand have been constantly praying for Adul and his family, he added.  
According to Pastor Janepiriyaprayoon, the church leaders and members of the local church, where Adul is a member, went to the cave last week to worship and pray for the 13 individuals.
A post on Mae Sai Grace Church's Facebook page showed photos of its congregation members praying for the boys, their coach and the rescue team as well. 
"We have experienced the power of prayer. Our prayer lives have been revived."
The experience of 'great joy'
Philippians 4:6-7 has been at the core of his church's prayers, Pastor Janepiriyaprayoon said.
"The verses say not to be anxious, but by prayer, by petition, by giving thanks, we presented everything to God. And I sense that those involved in prayer since the beginning have experienced great joy," he said. He and his family – his own children are aged 13 and 12 – had prayed for the football team every night. 
"We have experienced the power of prayer. Our prayer lives have been revived, our faith and love have been strengthened."
If you have enjoyed reading Salt&Light...
We are an independent, non-profit organisation that relies on the generosity of our readers, such as yourself, to continue serving the kingdom. Every dollar donated goes directly back into our editorial coverage.
Would you consider partnering with us in our kingdom work by supporting us financially, either as a one-off donation, or a recurring pledge?
Support Salt&Light