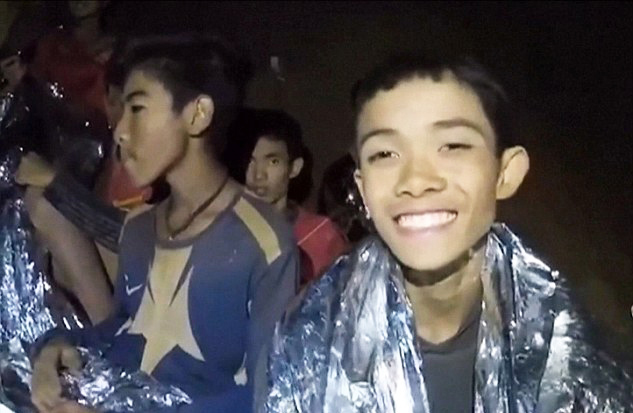 Screegrab of Adul Sam-On, one of the 13 rescued after a misadventure into a Thai cave.
Adul Sam-On's "amazing" smile, and capacity to communicate in multiple languages, has made him the darling of the Thai cave rescue operation.
"He is a boy with great character and wisdom, and you hear everybody talk about how he just wants to give and love," said Brandon Fox, a volunteer at the rescue site who spoke to Salt&Light. 
Adul Sam-On is one of the 13 members of the Wild Boars football team successfully evacuated from the Tham Luang cave complex in Mae Sai, a district in northern Thailand. His ability to speak English put him in the media spotlight throughout the entire operation; he was the only one able to communicate with the British divers who discovered the stranded team on July 2.
According to a report by Agence France-Presse, the 14-year-old also speaks Thai, Burmese and Chinese. A believer from Myanmar's Wa State, he has been under the care of a local Thai church since he was seven. 
Faith in action
Fox, 36, said that he and his team of 10 volunteers from Ignite Dreams Foundation and Youth With A Mission (Thailand) had headed to the rescue site to "serve in whatever ways" they could. Besides assisting the journalists and United States Army personnel with translation, they brought fruits and helped set up power outlets for the boys' families, who were accommodated in tents near the cave.
Fox's team kept watch over and prayed with Adul's family, who are Christian. According to Fox, the family shared that they felt less lonely when they were together with their team of volunteers.
The boys and their football coach are reported to be in good health with no significant signs of distress. Those who were rescued on Tuesday evening were flown to a hospital about 70km away by helicopter.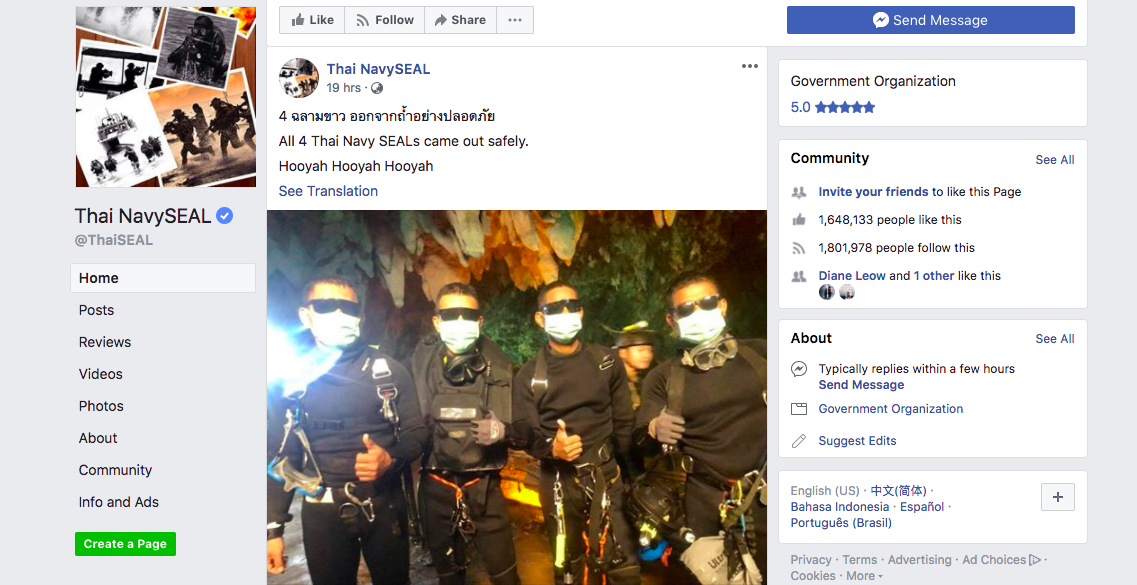 Meanwhile, media outlets worldwide and their social media counterparts celebrated the end of the 17-day ordeal, which started on June 23 when the boys and the coach went missing. According to Reuters, the #hooyah has been trending among Thai netizens after the Thai Navy Seals signed off with "Hooyah Hooyah Hooyah" on one of their Facebook posts.
"It's a great symbol of all the people coming together, giving their time and lives, so that others will have life."
Now that the mission is over, Fox's Ignite Dreams Foundation, a Christian organisation based in Thailand that does development work with rural communities, is praying about the next steps they should take to support the boys and their families.
They are also praying for the family of the former Thai navy diver, Petty Officer Saman Gunan, who died during the operation. 
Tributes to Gunan have been pouring in to the Thai Navy Seal's Facebook page from his colleagues and members of the public.
"He made the ultimate sacrifice dying to help save these kids, and I think it's a great symbol of all the people coming together, giving their time and lives, so that others will have life," Fox said.
If you have enjoyed reading Salt&Light...
We are an independent, non-profit organisation that relies on the generosity of our readers, such as yourself, to continue serving the kingdom. Every dollar donated goes directly back into our editorial coverage.
Would you consider partnering with us in our kingdom work by supporting us financially, either as a one-off donation, or a recurring pledge?
Support Salt&Light