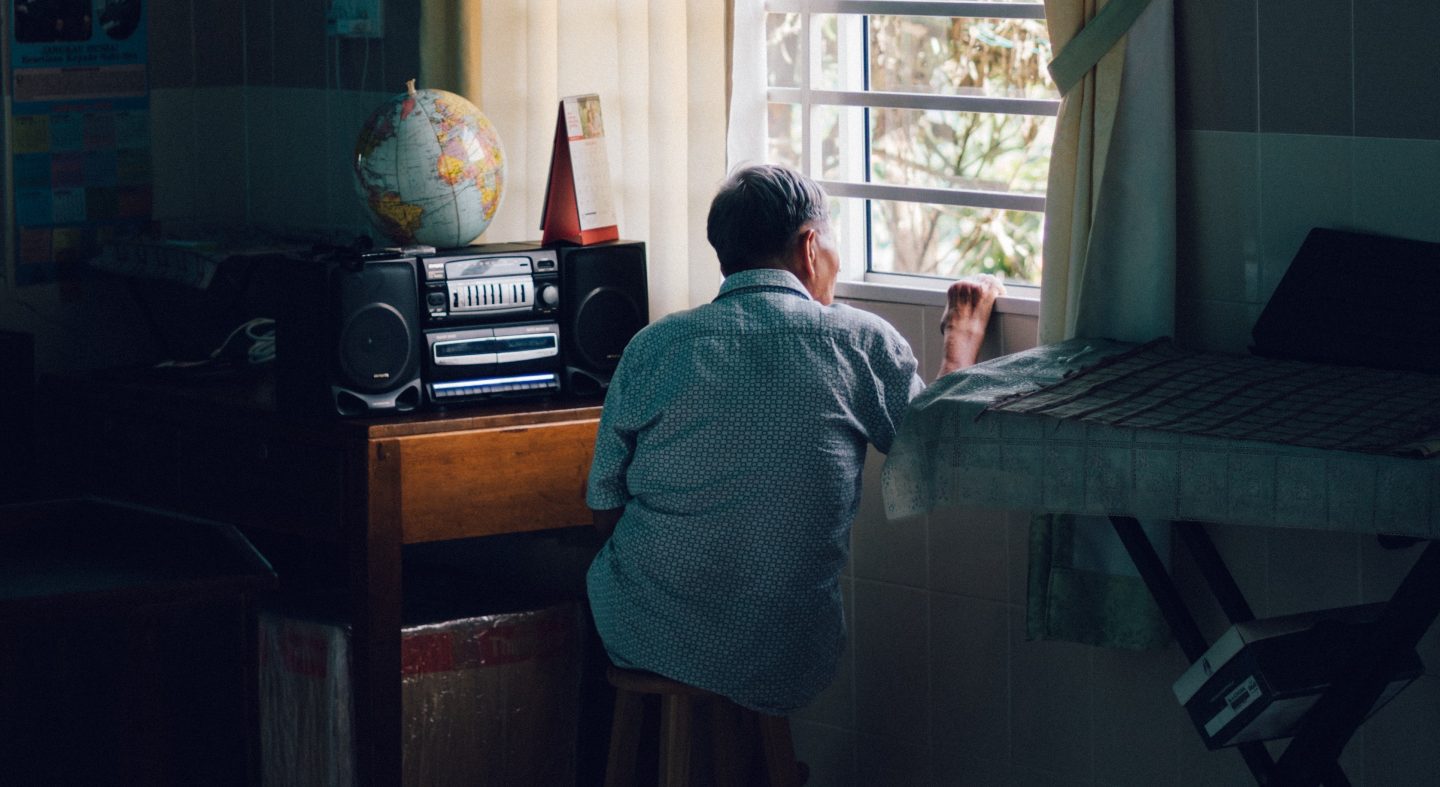 Photo by Haydn Golden on Unsplash.
Two Saturday nights ago, I got a message from my 82-year-old Ah Ye (grandfather).
"Gracia, can u help me to open a Skype account? I asked Ana (his domestic helper) to do it. She is not able to do it. We put the password n it turn down. If you can come to my place n help to do when you are free"
I chuckled to myself as I read his text on WhatsApp, which I had painstakingly taught him to use two years ago when he got his first smartphone.
"Okay sure," I replied, amused. "But who do you want to talk to?"
"For DG, Bible study at home."
Oh. That had not crossed my mind.
As someone who belongs to a generation that grew up on e-learning and technology as part and parcel of life, it did not occur to me that my grandparents, or anyone else for that matter, would have difficulties with church switching to livestream services and cell groups moving online.
Feeling a little guilty about my ignorance, I dropped by Ah Ye's place the next day and set up his Skype account in three minutes.
I felt sorry as I thought about how much time poor Ah Ye, who has glaucoma, had spent squinting at his tiny Samsung smartphone trying, and failing, to do the same.
He was glad that I had finally set up his account, but that was just the beginning of more unknowns for him: How they know how to add me? Must I give them my password? How I call them? If they call me, how to answer? Can I see everyone's face? How they hear me?
Falling through the cracks
That visit to his home, along with the multiple phone calls and technology-related questions I received from him in the subsequent days, got me thinking.
Virtually all of church life has been moved online since the government suspended all religious gatherings until May 4 to curb the spread of the coronavirus.
The technologically illiterate – most of whom are the elderly – have been acutely affected by the mass migration to technology.
Many of us have adapted to this shift with few problems, but there is at least one group – the technologically illiterate, most of whom are the elderly – that this change has affected acutely.
I count my Ah Ye as one of the more fortunate ones. He has a smart phone and WiFi at home. He has a keen desire to learn. He also has children, grandchildren and even cell group members who have been helping him along during this time.
But what about those who may not be as fortunate?
Curious, I called up a few dialect service pastors and was shocked by what I heard.
At the Hokkien service in Bethesda Bedok-Tampines Church (BBTC), a whopping 75% of the elderly congregation do not have WiFi at home, according to Ps Sharon Liau, who is in charge of the service.
"Even if we send them the livestream link, they don't have WiFi to access it. The link can't reach the majority, though we will still put it out to reach as many as possible."
Her team of leaders spent the past week getting in touch with their members' children to ask and encourage them to help their parents access the link.
Their efforts have paid off to some extent, as many managed to tune in to the first online service on March 28, thanks to the help of their children, grandchildren, helpers and other church members, said Ps Liau.
Still, the leadership is "trying all ways and means" to ensure that her flock of 200 is being cared for during this time, she added.
For example, about 20 of her lay leaders – or "shepherds", as she calls them – have each been assigned 10 members to look after, she said. 
"They will call the members over the phone and share something with them, sing a song and say a prayer, especially for those who cannot go online. At least they still receive some personal touch over the phone and be reminded to draw near to God."
However, this comes with some difficulty as some of the elderly cannot hear well or have dementia. "But we try our best," she said.
Nevertheless, despite this disruption, Ps Liau said there is a silver lining: "Now, the shepherds are closer to the sheep because they are calling them more often than before. It improves their relationship with each other."
Her team is also looking into setting up a "tinkle ministry", where congregants without smart phones can call a number from their landline and hear pre-recorded hymns, sermons and devotion material.
Cellphone discipleship
Fortunately for Telok Ayer Chinese Methodist Church, the Hokkien service has had such a ministry for the past five years, though it was mainly meant to serve the homebound elderly.
But with the suspension of worship services, Rev Dr Joshua Tan, an associate pastor who is in charge of the service, will be adding in more content, such as audio recordings of Sunday services and a singing choir, for those without smart phones to listen to, he said.
About half of his congregation are above 70 and many of them are not adept at using technology, said Rev Tan. Even if they do have smart phones, they often do not know how to access the livestream link from the church's website or Facebook page, he noted.
As such, the church pre-records the sermon message, uploads it onto YouTube and sends the link directly to their members through WhatsApp, cutting down the number of steps needed for them to access the sermon.
Cell groups have also been cancelled, but the church leadership will be making calls to their members every now and then to check in on them, said Rev Tan.
Social isolation
Apart from facing technological hurdles, the elderly also miss the communal aspect of the church, said Ps Roy Koh from Holy Grace Presbyterian Church.
"Without meeting for church, the seniors lack this intangible support from the community of faith."
Of the 330 active members in the church – which holds bilingual, Mandarin and Hainanese services – about 70% are aged 70 and above, he said.
"Community plays a very important part in their lives. In church, they can communicate in their own dialect and seek relief emotionally and psychologically.
"Without it, they lack this intangible support from the community of faith. They may be stressed but lack a channel to express it," he said, adding that he has also observed that some feel guilty if they fail to go to church to worship God.
Ps Elvis Yong from Renewal Christian Church, where about 35% of the congregation are above the age of 60, raised the same concerns.
"For those who go to church regularly but are technologically illiterate, this change (to digital) will cause them to feel depressed and uneasy.
"This is because they go to church, not just to worship God, but also to fellowship with one another. In particular, having the Lord's Supper together is very important to them."
Without technology, Ps Yong and his leaders care for the elderly through phone calls or short home visits, where they are mindful to keep a safe 1m distance by standing only at the door, he said. (This has stopped until May 4, in light of Circuit Breaker measures.)
Making sure no one is left behind
As pastors and leaders double down on their efforts to reach out to the elderly during this time, let us also consider how we can be a helping hand or a listening ear to the elderly in our lives, be it our parents, grandparents, church members or even neighbours.
"We need to go beyond plugging the technology gaps and consider social ones too."
Isaiah Chng, founder of Empower Aging, a non-profit organisation that works with seniors with dementia, encourages us to teach seniors how to access online resources in straightforward and simple ways.
"For example, for my mum, I get her to drop by my place to watch the livestream. I also set up Facebook on her phone so all she has to do is tap an icon on Safari and it goes straight to the church's Facebook page," he said.
He added that we need to go beyond plugging the technology gaps and consider social ones too.
"Can family members plan intentional times to FaceTime with their parents? They can't make excuses now since many are working from home.
"It is important not to let seniors feel like they can't function without technology or are being left behind."
Plug in to your elderly folk: You may be the livestream they need
"They are not forgotten": Vulnerable seniors receive care packs and have homes disinfected by volunteers
If you have enjoyed reading Salt&Light...
We are an independent, non-profit organisation that relies on the generosity of our readers, such as yourself, to continue serving the kingdom. Every dollar donated goes directly back into our editorial coverage.
Would you consider partnering with us in our kingdom work by supporting us financially, either as a one-off donation, or a recurring pledge?
Support Salt&Light