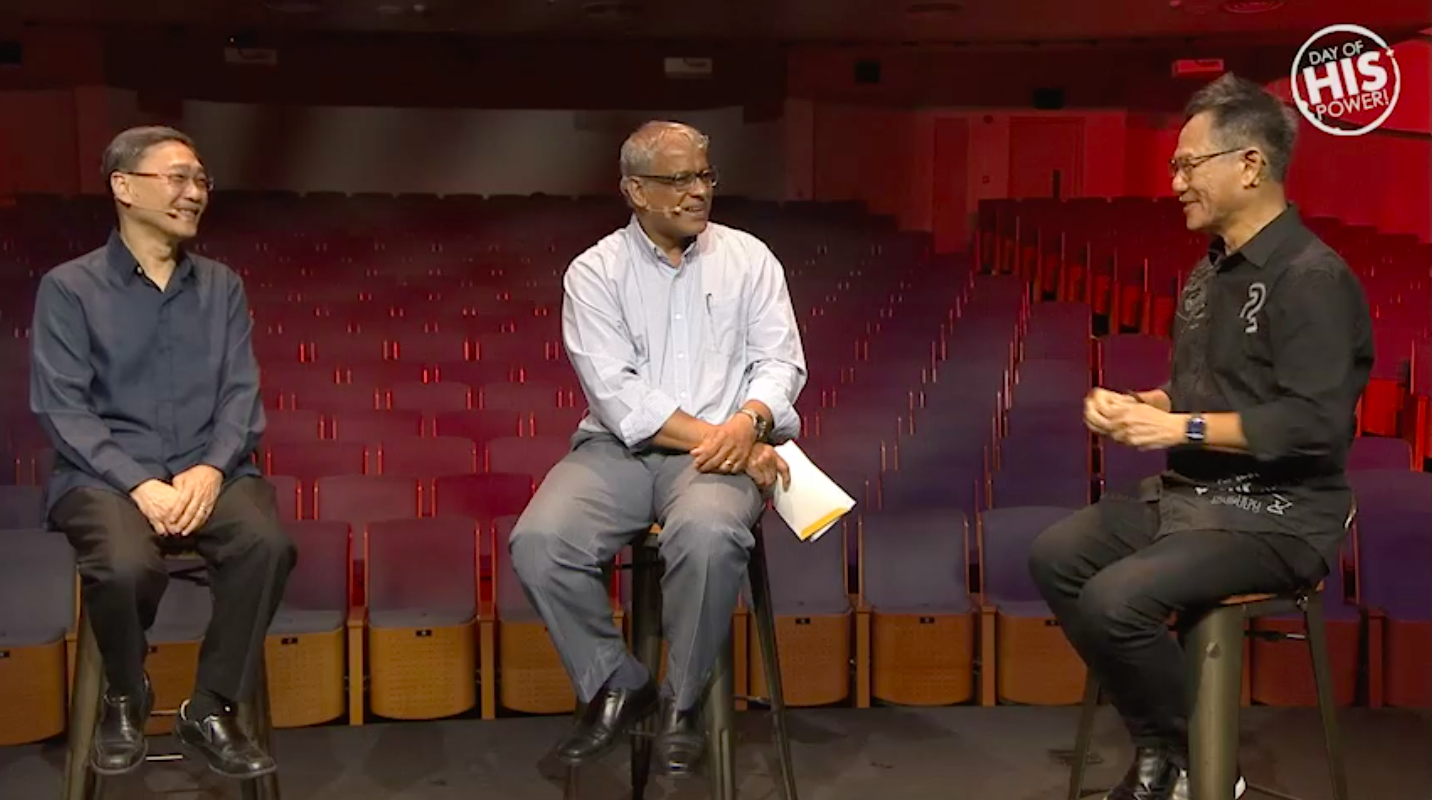 (From left) Pastor Edmund Chan, Bishop Rennis Ponniah and Pastor Lawrence Khong during this first segment in this year's Day of His Power, titled The State of the Church. Screengrabs from DOHP's streaming.
The current season of disruption is a "tremendous opportunity for the Church to arise" as God challenges His body to deepen in its sense of unity and purpose, said leaders tonight (Aug 7) at this year's Day of His Power.
It is a kairos moment of God, said Rev Edmund Chan, referring to the Ancient Greek word meaning the right, critical or opportune moment. "It's a God-appointed window of a God-appointed opportunity of a God-appointed season for a God-appointed harvest."
Rev Chan, Leadership Mentor of Covenant Evangelical Free Church, was sharing the stage with Pastor Lawrence Khong, Apostolic Overseer of Faith Community Baptist Church, and Bishop Rennis Ponniah, Anglican Bishop of Singapore, in the first of three segments of the programme, titled The State of the Church.
The 90-min programme was held online for the first time due to Covid-19 restrictions.
Reshaping our ideas of church
Sharing his thoughts on what God is doing in this season, Ps Khong, who is also Chairman of LoveSingapore, said it is a time for us to "examine the very wineskin that we operate in as a church".
"I've discovered that in a church, if we're not careful, often we depend on the big meetings, the excitement of coming together in the thousands. And our spirituality begins to build around that (spiritual high)," said Ps Khong.
Not that there is anything wrong with enjoying God's presence corporately, he clarified, but the church goes beyond just that.
Rather than just a big gathering of people, the church that Christ died for is "a community in which God lives in, where people come in and they see the presence of God", explained Ps Khong.
The church that Christ died for is "a community in which God lives in".
"The community of a small group in a home, in which there is genuine love, and we walk through differences out of that love and care for one another, is an Exhibit A to the world that God is alive … that He leaves us a community in which we can experience Him."
Bishop Ponniah added that "Covid has forced us back into the heart of how we live our lives at home, in small groups. It's evangelism through changed lives".
Rev Chan, who is also the founder of the Global Alliance of Intentional Disciple Making Churches, shared about a cartoon comic he recently read, which pictured Satan sneering at Jesus, saying: "With one pandemic, I closed down all your churches."
Smiling, Jesus replied: "You're wrong. With one stroke, you've opened up all the churches in the homes."
"And that's what God is doing, I believe," said Rev Chan. "Going back to the homes, the families, the small groups, to bring life and vitality in the body of Christ."
Deepening our bonds of unity
This shift in focus to families and smaller groups is also challenging us to deepen our understanding of unity and discipleship, said Ps Khong.
"Sometimes we think that unity comes by (having) big gatherings and more lunches. Those things are good. But I think it's a real test of unity when some of these things are being muted."
Elaborating on what unity in Christ looks like, Rev Chan said: "We worship Him … We come together and we're excited about Him and what He is doing in our lives.
"It's a unity focused on Christ and His Kingdom, of what God is wanting to do in our family, in our cell group, in us."
With this common focus, we are able to encourage one another to this same goal. "The purpose of unity is rooted in the unity of purpose," said Rev Chan.
"It's a unity focused on Christ and His Kingdom, of what God is wanting to do in our family, in our cell group, in us."
Ps Khong shared that he has weekly WhatsApp calls with Rev Chan and Bishop Ponniah, where they come together to pray for one another and hear God's voice – this, even though all of them are from different church backgrounds and traditions.
"I think this is just a little glimpse of what unity is, and I really enjoy that unity so much," said Ps Khong.
Rev Chan added: "We need one another. We need to come to pray together, to share our lives together, share our journey together and cry out to God to say, Lord we are inadequate. You please help us.
"And we pray for one another that our lives may be changed, that our lives may be aligned together for the redemptive purposes of God, unto the nations, for the sake of the nations."
"We are celebrating a felt oneness, not a structural one. And it's coming through prayer," said Bishop Ponniah.
"We're also beginning to sense the oneness between pastors and lay leaders. The oneness between generations. So I am sensing a surge of the Spirit and that is why we're experiencing a certain joy."
Witnessing to the nations
As we live out this love and unity in our families and small groups, we become witnesses of the transforming power of God to others who have yet to know Him, said Rev Chan.
"The Gospel is the power of God to change our lives."
"The Gospel is not just a message. It's not just some belief system. The Gospel is the power of God to change our lives."
"So when we think about missions, when we think about evangelism, let's start with God's heart, God's redemptive change, God's transformational power to bring about the grace of His love, changing our lives, transforming us.
"So that with that changed family, changed marriage, changed children, changed parents, we become a witness, a testimony before the world that a new life is possible."
Bishop Ponniah added: "God is calling the church to have a renewed love for your people, for your nation. So that means discipleship is at the core, because you can't reach a nation and bless the nation unless you are loving and following Christ."
Closing the segment in a prayer for the nation, churches and families, he said: "We are not praying for a new normal where we carry on with the old way of life. We are asking for a new normal where God is exalted, where nations follow the life-giving ways of God – justice and compassion, Lord, (and) steadfast love.
"Lord, we are asking for a righteousness that glorifies you."
Our orphan spirits can only be quenched by love from the Father: Day of His Power 2020
"It starts with me": Love Singapore block by block this National Day
If you have enjoyed reading Salt&Light...
We are an independent, non-profit organisation that relies on the generosity of our readers, such as yourself, to continue serving the kingdom. Every dollar donated goes directly back into our editorial coverage.
Would you consider partnering with us in our kingdom work by supporting us financially, either as a one-off donation, or a recurring pledge?
Support Salt&Light