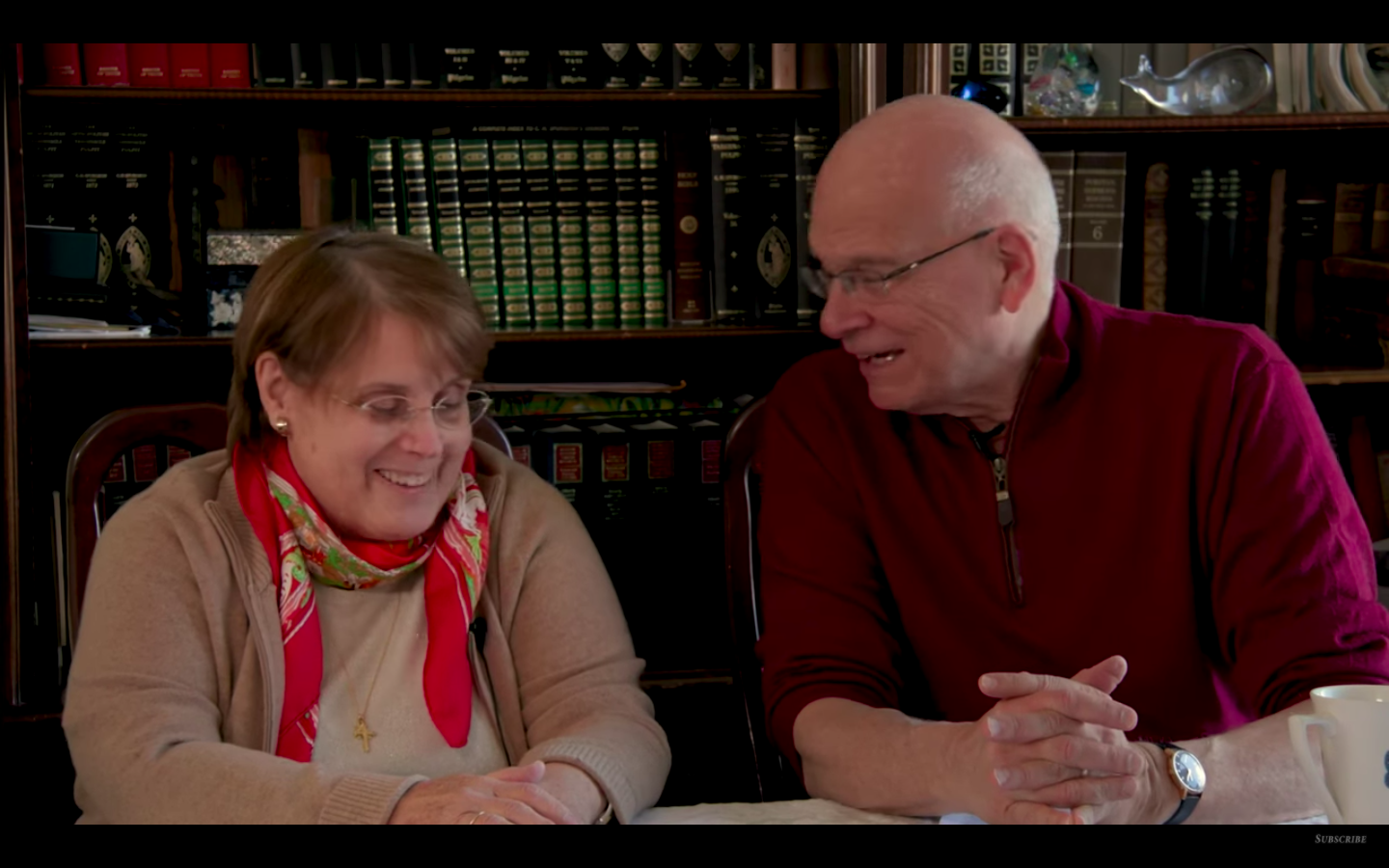 Kathy and Tim Keller during a Q&A segment on Gospel In Life's devotional videos.
One year after his announcement of being diagnosed with Stage 4 pancreatic cancer, well known theologian and Christian author, Tim Keller, 70, posted an update on social media yesterday (June 14) about the "extremely encouraging" results from his latest medical scans.
The scans showed that there has been "no cancer growth" under "less aggressive" chemotherapy, Keller said.
Scans from August, November 2020 and February this year showed a "significant decrease in size and number of tumours" which allowed him to get "downshifted" to less aggressive treatment.
"I want to glorify God – knowing that He is always loving, wise and good." 
Keller then underwent surgery in May 2021 to remove several cancer nodules which had "remained unchanged for nine months".
The only "visible cancer" left is the primary tumour on his pancreas. 
Keller is still praying for the tumour to "decrease to the point of invisibility or remain unchanged", echoing his request for prayer in June last year.
But "in any event", he said, he desires to "glorify God by 'running the race set before us with perseverance' (Hebrews 12:1-2) – knowing that He is always loving, wise, and good". 
Divine work
Keller, a survivor of thyroid cancer in 2002, called his diagnosis a "providential intervention" though it had "still caught (him) unprepared".
Just one month before the diagnosis, the New York Times best-selling author had just published his latest book On Death, about "talking to people about the role of faith in the face of imminent death".
"I felt like a surgeon who was suddenly on the operating table."
Stage 4 pancreatic cancer is an advanced state cancer that has low survival rates and low average life expectancy ranging from three to eight months. It is seldom detected early enough for treatment because it does not cause symptoms until the cancer has spread to other organs.
In fact, it was a trip to the hospital to treat an unrelated intestinal infection in February 2020 that led to the eventual discovery of his cancer three months later, wrote Keller in an article for The Atlantic called Growing My Faith In The Face Of Death.
Scans showed enlarged lymph nodes which are a common indication of an underlying illness, though not specific to pancreatic cancer. 
Christ is "more than a match for death"
After the discovery, Keller and his wife, Kathy, spent "much time in tears and disbelief".
"I felt like a surgeon who was suddenly on the operating table. Would I be able to take my own advice?" Keller reflected introspectively in The Atlantic article. 
"Despite my rational, conscious acknowledgment that I would die someday, the shattering reality of a fatal diagnosis provoked a remarkably strong psychological denial of mortality."
"Would I be able to take my own advice?"
He then set out to "reexamine my convictions and to strengthen my faith so that it might prove more than a match for death". 
Since then, however, Keller has declared that he can "sincerely say, without any sentimentality or exaggeration, that I've never been happier in my life, that I've never had more days filled with comfort" in spite of "many days of grief".
In yesterday's update, the founder of The Gospel Coalition and chairman of Redeemer City to City said he is "very well" and continues to "write and speak (via zoom) and enjoy my grandchildren".
One of his original prayer requests that he can continue writing and speaking throughout the treatment process has been answered.
"Thanks so much for continuing to pray!" he concluded.
---
RELATED STORIES:
"We are rejoicing": Tim Keller in update on fight against cancer
If you have enjoyed reading Salt&Light...
We are an independent, non-profit organisation that relies on the generosity of our readers, such as yourself, to continue serving the kingdom. Every dollar donated goes directly back into our editorial coverage.
Would you consider partnering with us in our kingdom work by supporting us financially, either as a one-off donation, or a recurring pledge?
Support Salt&Light