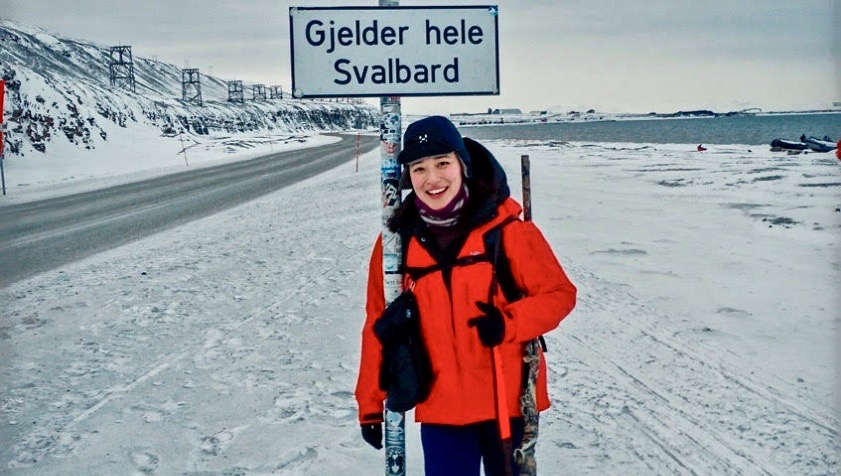 Singaporean Low Weisi has been working since she was 19 years old. For the past six years, she has been juggling her international business and communication studies with digital marketing gigs, and freelancing as an artiste.  
Yet when the 26-year-old finally graduated with the highest distinction in communications and new media from the National University of Singapore last year and was offered numerous attractive branding and marketing jobs, she decided to give it all up. 
Instead, she decided to move up North – way up North – to the Svalbard Islands, located in the Arctic Ocean, halfway between Norway and the North Pole.  
The sleepy archipelago is home to about 3,000 people and some 1,000 polar bears.  
"Success is (often) society-recognised. I want a success that is God-recognised."
What prompted the young Singaporean to move from sunny Singapore to a place covered in 24-hour darkness for three months of the year, and where the lowest temperature last summer plunged to -35 degrees celsius? 
"It was about pursuing calculated risks in my life, which meant understanding and accepting the opportunity cost of moving, and specifically figuring out whether the benefits of the move would outweigh the risks," said Weisi.  
Though she aspires to be a branding and digital marketer, which often operates in a fast-paced and changing environment, she did not want her life to revolve around work.  
"I wanted to take life slowly, and not begin working straight away when I knew I could be working for the next 30 years of my life," she said.  
She also wanted to live a "basic" life and redefine what a "successful" life looks like.  
"I wanted to strip myself off everything I learnt – that to be successful you need to have this certain job, this certain apartment, be married by this age, and have kids by this age. That success is society-recognised but I want a success that is God-recognised," said Weisi.  
Back to basics
Apart from not being too worried about not hitting the typical life milestones, returning to basics for her meant being able to live with less.  
Given the obscurity of the Svalbard Islands, the cost of living is high and fresh food can be hard to come by.  
A loaf of bread costs $6 there and if she feels like having some protein, she would have to fork out $30 for a slab of chicken fillet. So, she makes do with buying mostly frozen food and topping up her diet with vitamin supplements.  
She found that she was not only able to own and live with little material possessions, but the scarcity of basic necessities has pushed her to prioritise her spiritual growth. 
"My life in Singapore would have focused a lot on work and would have been very fast-paced as well. Living with my family, I wouldn't have the mental and physical space to take time off and spend some quiet time with God. Up here, the pace of life is slow and I also don't work every day," she said.  
To the young adult, worshipping God and pursuing intimacy with Him is a natural outflow of being in the midst of the immense vastness and beauty all around her.  
She wakes up to a snowy landscape, with reindeer and foxes roaming outside her window. The mountains are behind her in her backyard as she worships in the morning and at night. She also loves worshipping while hiking alone and her favourite activity is praying on the mountaintops.  
"The silence, the vastness, reminds me so much of who He is, being the Alpha and Creator of it all," said Weisi. Yet she also continually reminds herself to direct her worship to God – His creativity, intelligence, and effort in creating those landscapes – and not in the work itself.  
When she sees foxes, reindeer, birds, polar bears, whales and seals, she experiences first-hand what "ruling over" these animals and "having them for food" means. (Genesis 1:26-29)
So far, she has hunted for ptarmigans – gamebirds slightly larger than partridges – using a shotgun with bird hunting bullets. She baked the four birds in the oven with onions and garlic.  
"Through hunting them I'm able to form a connection with the food I consume which is very different from how it's been like for me in Singapore," said Weisi.  
"In the process, I felt God's love for me through His provision. I knew he loved all His creation and if He provided them to me as food and allowed me to kill it, I knew how much more He loved me and that really touched me," she added.  
When camping overnight, she and her friends depend on each other to stay up while others sleep to be on guard for polar bears.
Just last month, a polar bear attacked and killed a man at a campsite near Longyearbyen, the main town of the island in the Svalbard archipelago where Weisi lives. BBC reported experts saying that polar bears' hunting grounds have diminished as the Arctic ice sheet melts because of climate change, forcing them into populated areas as they try to find food. 
Recently, a curious polar bear made its way up to the window of a bar in her neighbourhood one night before running off. The bar can be seen from Weisi's window.  
Zero Covid-19 cases
Despite being in awe of His creation, she also recognises the possibility of stagnating in her spiritual walk, given the secluded nature of the place she lives in.  
It is so cut off from the world that the World Health Organisation reports zero Covid-19 cases in the Svalbard and Jan Mayen Islands. 
Though she has lost work shifts and income from the lack of tourist visits to the island, Covid-19 has been a blessing in disguise for Weisi as she is able to continue interacting with her cell group in Singapore as well as attend Bible study classes online.  
There is one non-denominational church over there which she does not attend as she does not speak Norwegian. However, she said she has had many opportunities to have conversations about faith with the locals.  
"Some don't believe in the existence of God. In these conversations, I prayed for the Holy Spirit to lead me, allowing me to share how I came to know Jesus and why I know my God is real," she said. 
"They asked questions like: 'If God exists why does bad things happen?' Or made statements like: 'History dictates that Norsk gods existed before Jesus.' And we would talk about it."  
Sometimes, Weisi would share with them how God provided for her in the land she is in.  
When she first arrived, she made arrangements to be put up at a hotel for the first month.  
"I don't really care about career prospects or when to get married. I let Him take the wheel and lead me accordingly."
She had only intended to search for a proper apartment after she found a job. By the time she got there, it was the dark season when tourism was low and not much staff were needed.
Nonetheless, she printed out about 30 copies of her resume and went around town to distribute them. Within one week, she got a waitressing job and, while job searching, she also met a lady who was looking for a tenant. So she also had an apartment within two weeks of her move there.  
"Usually in Svalbard, it's really hard to find an apartment because there aren't many empty ones but God provided," said Weisi. She has since found part-time jobs selling Arctic expedition equipment and clothing as well as being a bicycle guide.  
When she is not working, she would usually be out hiking in summer or riding her snowmobile in winter. She bought the snowmobile for $2,000, her biggest purchase there so far.  
Once, she and her Norwegian boyfriend from Trondheim, Ole-Martin, were driving the snowmobile from Barentsburg, a Russian town in Svalbard back to Longyearbyen where she lives. Suddenly, they encountered a raging snowstorm. The snow was waist deep and there was almost no visibility.  
Thankfully, they found another group of people who were also attempting to make their way back and had much more safety equipment than they did. Using their shovels to dig their snowmobiles out of the snow whenever they got stuck, and a Garmin device to navigate their way, both groups tried to go back together.  Halfway through the journey, they could not make further progress and called for a rescue helicopter.  
"I think without them joining us, we would've been stranded with no one knowing where we were and that would've been dangerous. I also thank God for a beautiful helicopter ride back to Longyearbyen which typically we would have had to pay for but the local government deemed it as necessary, so we didn't have to pay after all," said Weisi. 
She intends to remain there for two or three years before returning to Singapore.  
"Right now, I don't really care about career prospects, saving up 'enough', or when to get married. I let Him take the wheel and lead me accordingly," said Weisi.  
Yet it does not mean that she is not financially prudent or fails to make plans for the future.  
She tries to save part of her salary if she is able to and she also seeks to keep herself relevant in the marketing industry by setting up a website ( thesvalbardlife.com ) to connect Southeast Asian travellers to its local tourism partners.  
One of her main goals now is to learn to hear the voice of God.  
"I want to build that foundation, and that closeness to Him so that no matter how loud or bright the environment I live in, or whether I return to a fast-paced city or remain in a slow-paced place, I still can hear Him clear as a bell," said Weisi, who came to know the Lord five years ago. 
She is humbled to be in a place where she feels the calmness and the joy towards His creation.  
 "Only when I truly quietened down my life could I feel the intensity of His love for me," she said.