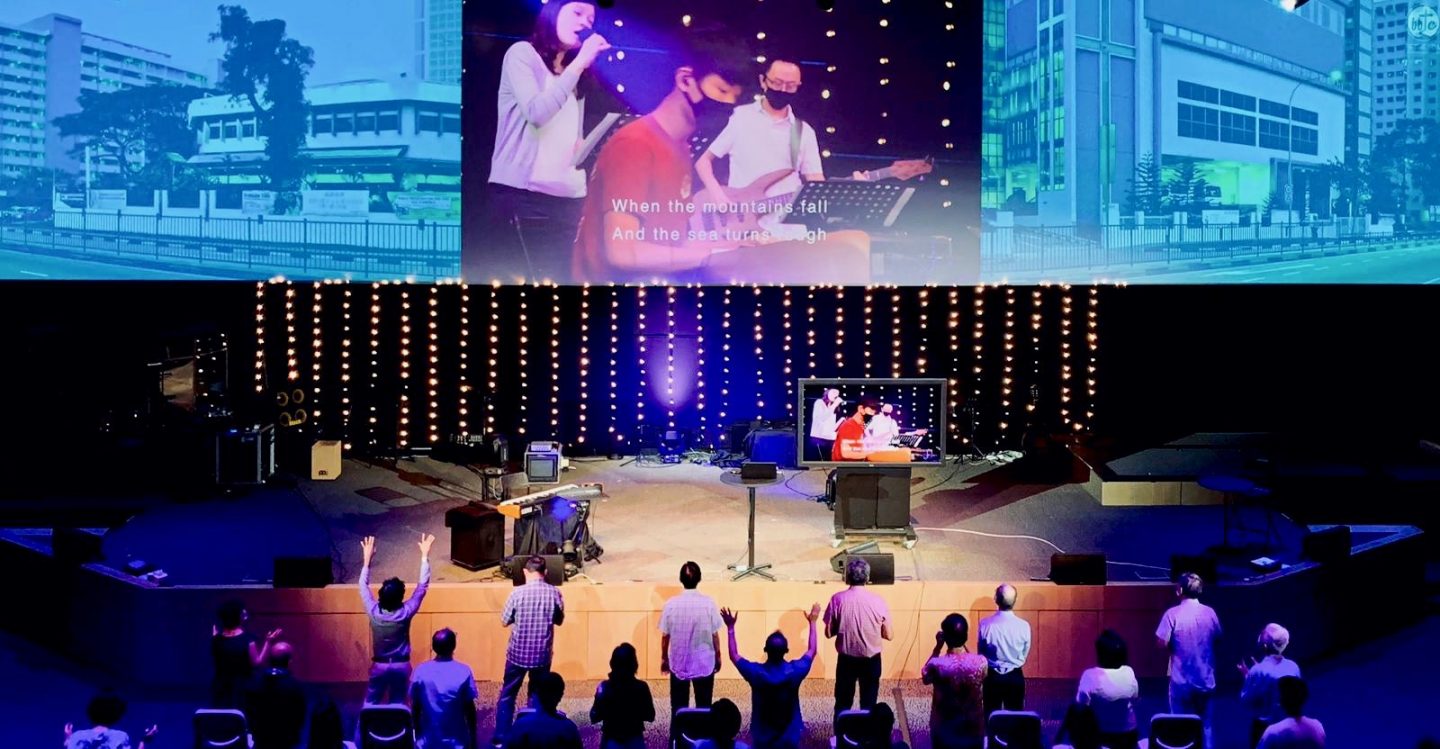 Bethesda Bedok-Tampines Church, one of the seven churches approved for live worship in the pilot programme, have had congregations watching pre-recorded worship videos since physical services resumed in July. Photo courtesy of BBTC.
Live worship – a mainstay of church services – will resume from October 3 for some churches in the latest round of easing pandemic restrictions, said the Ministry of Culture, Community and Youth (MCCY) in a media release today (September 26).
The seven churches which can resume live worship are among 16 religious organisations in a pilot programme that includes Hindu, Buddhist and Taoist temples, as well as gurdwaras.
These places of worship "reflect the diversity of religious practices and worship settings in Singapore", said MCCY, which had identified the 16 organisations in consultation with members of the National Steering Committee on Racial and Religious Harmony.
The seven churches are: St Joseph Church (Bukit Timah), Covenant Evangelical Free Church (Woodlands Centre), Blessed Grace Church, Bethesda (Bedok-Tampines) Church (BBTC), Zion Full Gospel Church, New Life Community Church, and Covenant Vision Christian Church.
"To finally hear live worship resounding through our sanctuary will be an emotional moment for many of us."
The religious organisations in the pilot programme must ensure that a maximum of 10 musicians or singers are on stage, with up to five people unmasked.
If singing is conducted in an indoor space, there can only be two singers unmasked at any time, said MCCY.
A safe distance of 1m applies to all who are masked. Those who are unmasked should keep at least 2m from other individuals.
During the service, the congregation must remain masked and can give spoken responses, but with no singing.
After half a year of pre-recorded worship during services, churches welcomed the news.
"It's been six long months," said Worship Pastor Jessie Tan from BBTC, one of the churches in the pilot programme. "We've gone from recording at home, or with just one person on stage at the height of the Circuit Breaker, to full band recordings.
"To finally hear live worship resounding through our sanctuary will be an emotional moment for many of us. It will really give poignancy to our praise and worship – for the goodness of God, who has seen us through the worst of times.
"We are very conscious of our responsibility to keep our members safe, so we will go the extra mile to abide by the guidelines and educate our congregation. But at the same time, we want to encourage members to build up the faith conviction that, truly, it is God who protects and preserves us!"
Rev Dr Chua Chung Kai, the Pastor overseeing the Woodlands Centre of Covenant Evangelical Free Church, told Salt&Light: "While worship does involve music and singing, many of us are aware that it is much more than just music and singing. Music and singing is an incredible medium by which we express our devotion to the Lord.
"We are grateful for the opportunity to be part of this pilot test where the emotional dimension of music is allowed to be expressed during a service. We see the Lord's hand in this as the timing dovetailed with our planned resumption of services at our centres.
"We are taking all the necessary precautions and safety measures stipulated for this pilot and see it as part of our contribution in measured steps for more churches, Lord willing, to reopen with live worship in the future."
The pilot programme follows an announcement by authorities earlier this week that up to 100 attendees will be allowed at all worship services from October 3, double the current limit of 50.