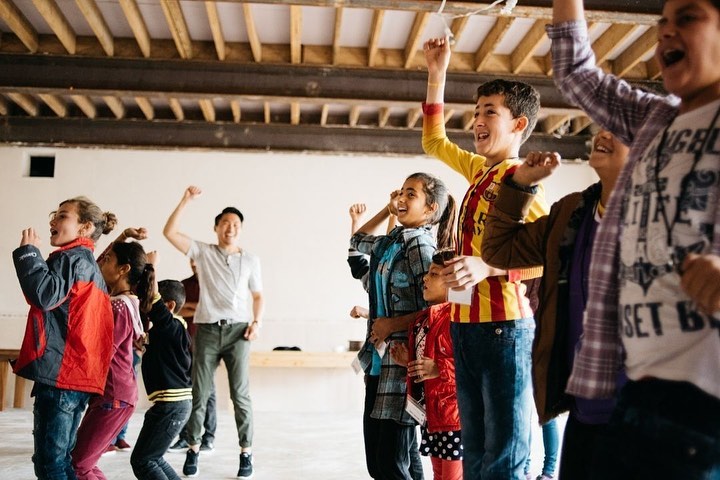 Every summer, Habibi International conducts exciting summer English programs for children who have been forcibly displaced. Photo from Habibi International's Facebook page.
With Singapore's doors closed to refugees, the various refugee crises around the world can seem like a distant problem. But this has not stopped many Singaporeans from opening up their hearts to those who have been forcibly displaced.
Young adults who packed their bags to serve refugees in the Middle East. An entrepreneur whose cafés in Amoy Street Food Centre and Depot Road support the livelihoods of refugees.
A local social enterprise that provides education and skills development to refugees virtually. A Catholic organisation with 50 volunteers who have been quietly serving the displaced in Asia for more than 40 years.
For this year's World Refugee Day (June 20), some of these Singaporeans want to share that, though the 82 million forcibly displaced people worldwide may seem too far removed from us, we too can play a part to love and care for them in tangible ways.
The last, the lost and the least
To raise more awareness on this, an informal network of nine Christian organisations who are involved in refugee work globally have banded together to commemorate World Refugee Day Singapore for the first time this year.
The organisations are Relief Singapore, Jesuit Refugee Service Singapore, Habibi Singapore, World Vision Singapore, Marhabtech, Mad Roaster, TOUCH International, WEC International Singapore and Interserve Singapore.
In the lead up to World Refugee Day Singapore, which will also fall on June 20, the group will be sharing more information on their Facebook and Instagram pages about the refugee situation around the world.
"They're the lowest of the pecking order when it comes to getting the help they need in the pandemic."
It will also profile the work of the nine Singapore-based organisations, in hopes that people can come alongside them to help out in practical ways.
Soh Wei Jie, manager of local programmes for World Vision Singapore, said: "There are many in Singapore who follow the news about refugee crises – from those closer to home in Myanmar and Bangladesh, to those further afield in Afghanistan and Ukraine – but who may not know about the variety of ways in which they can play a part in responding to these needs.
"We hope that this will be an opportunity for them to discover how they can act on what they've learnt about the needs of refugees, and share their compassion through their time, treasure, and talent."
In the next few weeks, the group will also be releasing prayer pointers (see sidebar below) to encourage churches in Singapore to join their hearts in prayer for the refugee situation around the world on Sunday, June 19.
"We want churches to pray on this and open ourselves to how God will reveal something about his heart through the shoes or the lenses of the refugees," Ng Zhi-Wen, who helped to start the initiative, told Salt&Light.
Asked why Singaporeans should care about refugees, he pointed to how God commanded His people in the Old Testament to look after the destitute and the foreigners who are living away from their homeland.
"Many refugees tick all those boxes (of being destitute and foreigners). Most refugees would fit into the category of the last, the lost and the least," said Zhi-Wen, who sits on the board of Habibi Singapore, a non-profit organisation that journeys with forcibly displaced communities in the Middle East.
Never too far away to help
It was a little project at the start of the Covid-19 pandemic that had first opened Zhi-Wen's eyes to the plight of those who are forcibly displaced from their homes.
"The project opened my eyes to the plight that refugees face, and the possibilities and potential of what can be done out of Singapore."
As Singaporeans were hunkering down at home during the Circuit Breaker, he was roped in by non-profit organisation Relief Singapore, which is involved in refugee work in South Asia and Southeast Asia, to help provide masks to refugees in the largest refugee camp in the world.
Almost a million refugees, most of whom are persecuted Rohingya who have fled neighbouring Myanmar, live in the sprawling and overcrowded Kutupalong mega-camp, which lies in the coastal district of Cox's Bazar in Bangladesh.
Housed in makeshift tents made of bamboo poles and plastic sheeting, most of them have no adequate access to clean water, sanitary facilities or healthcare.
"Then there's this pandemic going around and these guys aren't going to get vaccines, they don't have masks, they're the lowest of the pecking order when it comes to getting the help they need in the pandemic," said Zhi-Wen, who is on the staff at Zion-Bishan Bible Presbyterian Church.
In June 2020, there had been evidence that the virus was spreading quickly in the camp. Two refugees had already died from it.
Seeing this urgent need, the team put together by Relief Singapore leapt into action in an initiative called Solidarity 88 – named after Bangladesh's country code.
In less than a month, they raised enough funds from Singaporeans to donate some 338,000 reusable masks to refugees in the camp – a feat that was recognised by the United Nations High Commission for Refugees (UNHCR) on its Facebook page.
"The project opened my eyes to the plight that refugees face, and the possibilities and potential of what can be done out of Singapore," said Zhi-Wen, who is also an active member of social justice advocacy group Micah Singapore.
Shortly after the Solidarity 88 project, Zhi-Wen was approached by Habibi International, which serves refugees in the Middle East, to sit on the board of its upcoming Singapore office, Habibi Singapore.
As he became more acquainted with the refugee scene and spoke to more people, he found out that there were many others in Singapore – both individuals and organisations alike – who were actively connected and involved with serving refugees all around the world.
As someone who enjoys connecting people, Zhi-Wen decided to bring together these people who share the same heart and passion for the displaced. Together, they hope that even more people can come alongside them in their work.
Unity is a special privilege 
The new partnership has been of great encouragement to those involved, as they know they are not alone in their service to God and His people.
"I've always carried a passion that Singapore's destiny is really entwined with the destiny of the nations around us and how we serve them."
Madeline Chan, founder of Mad Roaster, a café in Amoy Street and Depot Road that supports refugees, said: "When I was just starting out doing refugee work in 2019, I knew of only one or two people working in the same field in Singapore. But most of the people around me did not know anything about refugees.
"At that time, there was no platform like this to 'join'. So to now be able to join other like-minded groups to further awareness and action on refugee issues is a privilege I don't take for granted."
Eugene Seow, advisor to Relief Singapore and former chief executive officer of Touch International, recognises this privilege as well.
"In all my years of service in the non-profit and social services sector, I've not seen such a collaboration to serve refugees. This is special!" he said.
"I'm really encouraged and excited to see so many NGOs in Singapore – of different shapes and sizes and working across so many parts of the world – so willing to come together and help raise awareness to remember and honour refugees as really a unique part of our global humanity."
He added: "I've always carried a passion that Singapore's destiny is really entwined with the destiny of the nations around us and how we serve them. If God has called us to do something about serving nations, then surely somewhere in this journey going forward, Singapore must contribute and play a part in the refugee space."
---
How you can pray for the refugee situation
Pray for the Church that we may grow to regard and love refugees as our neighbours, remembering that the afflicted are people whom Jesus identifies Himself with.
Pray for child refugees who face the risk of living in cramped settlements with little privacy, psychological trauma, susceptibility to ill health and disruptions to education.
Pray for those directly involved in serving refugees that through their ministry, many will come to know and receive the love of Jesus.
---
RELATED STORIES:
Classrooms in tents, families torn apart: Refugees share heart-to-heart on living in insecurity
From lawyer to "kopi lady", why this millennial gave up the corporate life
"This is what I've set you aside to do, so go do it": How the founder of Habibi International started serving genocide survivors
If you have enjoyed reading Salt&Light...
We are an independent, non-profit organisation that relies on the generosity of our readers, such as yourself, to continue serving the kingdom. Every dollar donated goes directly back into our editorial coverage.
Would you consider partnering with us in our kingdom work by supporting us financially, either as a one-off donation, or a recurring pledge?
Support Salt&Light