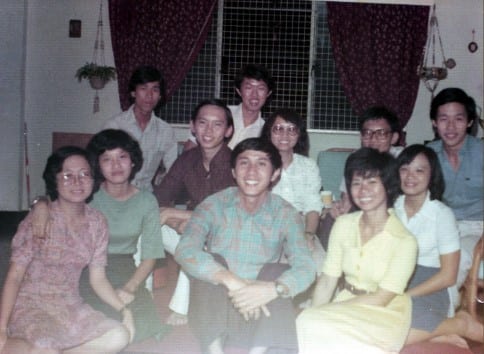 Dr Chan as a young leader (middle in green) with fellow servers in Cru's High School Ministry. As an SAF regular in his 20s, "for me to leave the military was so tough, but the Lord led me out". His mission work would range from schools in Singapore to house churches in East Asia. All photos courtesy of Chan Chong Hiok.
By his own admission, Rev Dr Chan Chong Hiok, 72, never saw himself in anything but his green uniform.
The second national director for Christian ministry Cru Singapore (formerly Campus Crusade for Christ) quipped: "If you cut my veins, you will probably find that my blood is green."
Yet, God has a way of introducing twists and turns to our lives' narratives in ways we least expect.
At the peak of Dr Chan's military career – which included being commander of one of the Singapore Armed Forces' ammunition depots – God pivoted the army man to full-time ministry. 
"What does he have that I don't?"
Dr Chan recalled how in his early 20s, a fellow Christian officer had sought him out for help after making a procedural mistake. Despite being in trouble, "the guy had an unspeakable joy", he said.
"I really loved the military life. For me to leave was so tough, but the Lord also seemed to be leading me out."
The officer's effervescence intrigued Dr Chan, who himself desired to be a strong Christian witness.
He thought: "What does that guy have that I don't?"
It turned out that the officer was associated with Cru.
Dr Chan admitted that he had been too prideful to attend any of Cru's leadership training courses at the time.
Eventually he signed up for one of Cru's week-long courses in South Korea, as it was headlined by big names such as Bill Bright, founder of Campus Crusade.
This move turned out to be a significant turning point in his Christian faith, leading him to do street evangelism in Seoul, where to his surprise several South Koreans he spoke to prayed to invite Christ into their lives.
Called out from the military
Invigorated and filled with the Holy Spirit after returning from Seoul, he began sharing his Christian faith with fellow soldiers in his camp.
Within a week, more than a dozen of them accepted Christ. This was electrifying as he had been a Christian for six years by then and had not led a single person to the Lord though he had desired to do so.
Consequently, Dr Chan felt a tug in his heart to do more beyond his role in the military.
Dr Chan began to take steps to determine if, indeed, it was the Lord's will for him to enter into full-time ministry.
"I was so excited by this change in my life. At the same time, I really loved the military life," he admitted. "For me to leave was so tough, but the Lord also seemed to be leading me out."
Dr Chan began to take steps to determine if, indeed, it was the Lord's will for him to enter into full-time ministry.
He knew that the first major challenge would be for him to receive blessings from his mother. As a non-believer, she would decry his stepping out of a stable military career into a pastor's role, he thought. To his astonishment, his mother asked him to seek counsel from his eldest brother who had assumed the role of the father figure after his dad passed away.
His eldest brother, who was also a non-believer, told him that as a married man, Dr Chan had the prerogative to make decisions for his own life.
With an all-clear from his family, Dr Chan further asked the Lord for a personal confirmation of His calling.
The Lord gently spoke to him through the book of Daniel to trust in Him to take care of every aspect of his life. His security in the future was as certain as the way God had protected and provided for Daniel.
Further reassurance came as he meditated on the book of Ezekiel. God gave him affirmation that He would make his life a fruitful witness for Him.
The biggest hurdle was yet to come.
He had to ask the military to release him. SAF was then a relatively young organisation and he had a sensitive and key role. He had also signed on as a permanent regular. His first request to the military was swiftly rejected.
But after seeking confirmation from the Lord on his calling, Dr Chan wrote another appeal to the Ministry of Defence explaining that he would still be serving the nation, albeit in another capacity.
This time, the military agreed to let him go.
Serving in the trenches  
Stepping into full-time ministry, the first port of call was to undergo basic staff training in the Philippines. Dr Chan considered this training to be the most impactful in his life.
For the next eight months, he soaked in the fundamentals of evangelism, discipleship and leadership while engaging in direct ministry amongst high school and university students.
Cru leadership later assigned him further theological training at the International School of Theology in the Philippines where he picked up a degree in Mass Communications at the University of the Philippines, alongside a Masters course in Divinity.
Dr Chan was disappointed to learn that he had been tasked to begin the ministry for high schoolers.
One of his most memorable ministry joys in the Philippines was commuting weekly up the mountains to the goldmines. He and his team would return home late at night for dinner and only have time to catch a few winks. While it was a punishing schedule, this season was "the most fulfilling, seeing lives touched and transformed".
Returning to Singapore, Dr Chan was tasked to begin the High School Ministry for youth, including students from top schools. It was a portfolio that he initially found disappointing as he was hoping to serve amongst military personnel. But he pressed on and spent time mentoring the students, many of whom went on to lead in their respective fields of academia, government and the marketplace.
"Looking back now, I saw that the Lord was able to use me to touch many of the nation's brightest minds, nurturing them to be the next generation of Christian leaders," he said.
Road to East Asia
His humble beginnings walking the ground stood Dr Chan in good stead as he was subsequently appointed as the National Director for Cru Singapore.
One of the highlights, he said, was when the late evangelist Billy Graham came to Singapore in 1978.
Cru Singapore joined hands with churches across Singapore to plan, pray over and stage the Billy Graham Crusade in the National Stadium. Dr Chan was tasked to ensure that the stadium was filled with more than 50,000 nightly.
"God was using us and Singapore as the Antioch of Asia to be a blessing to the rest of the world," said Dr Chan.
As it happened, God would take Dr Chan beyond the shores of Singapore to other parts of Asia. During a lunch with Dr Bailey Marks, Cru's then Vice-President for International Ministries, he was asked: "Would you lead the campus ministry in East Asia?"
Dr Chan was taken aback. Besides being well-settled into his role in Singapore, with two sons aged 17 and 16 at home, he did not have the slightest interest in going to East Asia.
His wife asked him: "If not you, then who?"
Hoping to fend off the request by saying that he needed serious prayer, he was surprised when Dr Marks replied: "Sure, let me know by the end of our lunch."
He went home to discuss the matter with his wife. 
His Mandarin was terrible, he reasoned, and he had no experience leading Americans, who made up the bulk of the team in East Asia. Moreover, there were over a billion people in East Asia; this was way out of his league.
He was all ready to call Dr Marks to decline the offer when his wife, Margaret, said: "But if not you, then who?"
This stopped Dr Chan in his tracks; God spoke directly to his heart: "You are the man!"
God also affirmed in his heart that his past experiences were meant to equip him up for this opportunity. He decided to bite the bullet; he told his wife that his plan was to "go in for three years to set things up and leave after that".
It would be the start of his 17 invigorating years serving in the East Asia region.
Raising up local leaders
Entering into uncharted territory, God tapped on Dr Chan's military training to create breakthroughs in a region that was incessantly fraught with political sensitivities. He had to think, plan, and execute church planting activities swiftly, all the while juggling life with a young family and shuttling between Singapore and East Asia every other month.
"Check what God says to you in His Word, and take Him at His word."
But he began to see God's hand moving. First, he managed to boost the local team with additional manpower by promising his partners that he would send their people back better than when they came to him. He maintained his conviction to raise up local leaders for the locals.
"When I went into East Asia in 1995, God impressed upon me that it will become the largest missionary sending base of the future. We were to press forward in faith toward that vision, " he said.
Operating under the radar, Dr Chan and his team started evangelising one on one. Wherever possible, the team screened the Jesus Film to the masses, especially those living in the rural areas. Staying true to God's vision for East Asia, the team also focused on discipleship, enabling students to double up as pastors for smaller home churches.
"Within a generation, God miraculously fulfilled that vision. Literally, every house church today yearns eagerly to send missionaries out into the world," said Dr Chan.
After an amazingly fruitful 17 years, Dr Chan saw God raising a local to take his place – a goal he had had from Day One of his stepping into East Asia.
He returned to Singapore to take up the appointment of President of the East Asia School of Theology (EAST), continuing the work of training and sending out servant leaders into the mission field. 
Stepping out with God's grace 
During the recent pandemic, Dr Chan capitalised on Zoom and launched a Christian training outfit in the Philippines (LEAD Academy).
"Missions is always on the heart of God."
The organisation has since made inroads in establishing a mentoring system for the uniformed groups, students and youths. In areas where typhoons had left trails of disaster and chaos, LEAD also curated relief efforts to provide food, water and solar electricity.
"Missions is always on the heart of God," he said.
With countries once again opening up in the wake of the pandemic, Dr Chan believes that overseas mission work will pick up again.
His advice to aspiring missionaries, after spending the past 30 years in the mission field: "Check what God says to you in His Word, and take Him at His word.
"And when you step out, know that everything can only be achieved by the grace of God."
---
This article is part of a special series produced in collaboration with Cru Singapore, which is celebrating 50 years of God's grace in disciple-making.
Did you know that there are still approximately 7,400 ethnic people groups that are unreached? Journey together with Cru Singapore to Reach Boldly, Build Deeply and Send Urgently. Explore opportunities by visiting Cru Singapore's website or following them on Instagram and Facebook.
---
FOR MORE STORIES ON CRU:
Ministry as "a way of life": Veteran Cru Singapore staffer Pauline Lau continues to press on even after brain tumour surgery
Let's rock 'n roll! Cru veteran Mark Suredhran on pioneering its music missions
If you have enjoyed reading Salt&Light...
We are an independent, non-profit organisation that relies on the generosity of our readers, such as yourself, to continue serving the kingdom. Every dollar donated goes directly back into our editorial coverage.
Would you consider partnering with us in our kingdom work by supporting us financially, either as a one-off donation, or a recurring pledge?
Support Salt&Light