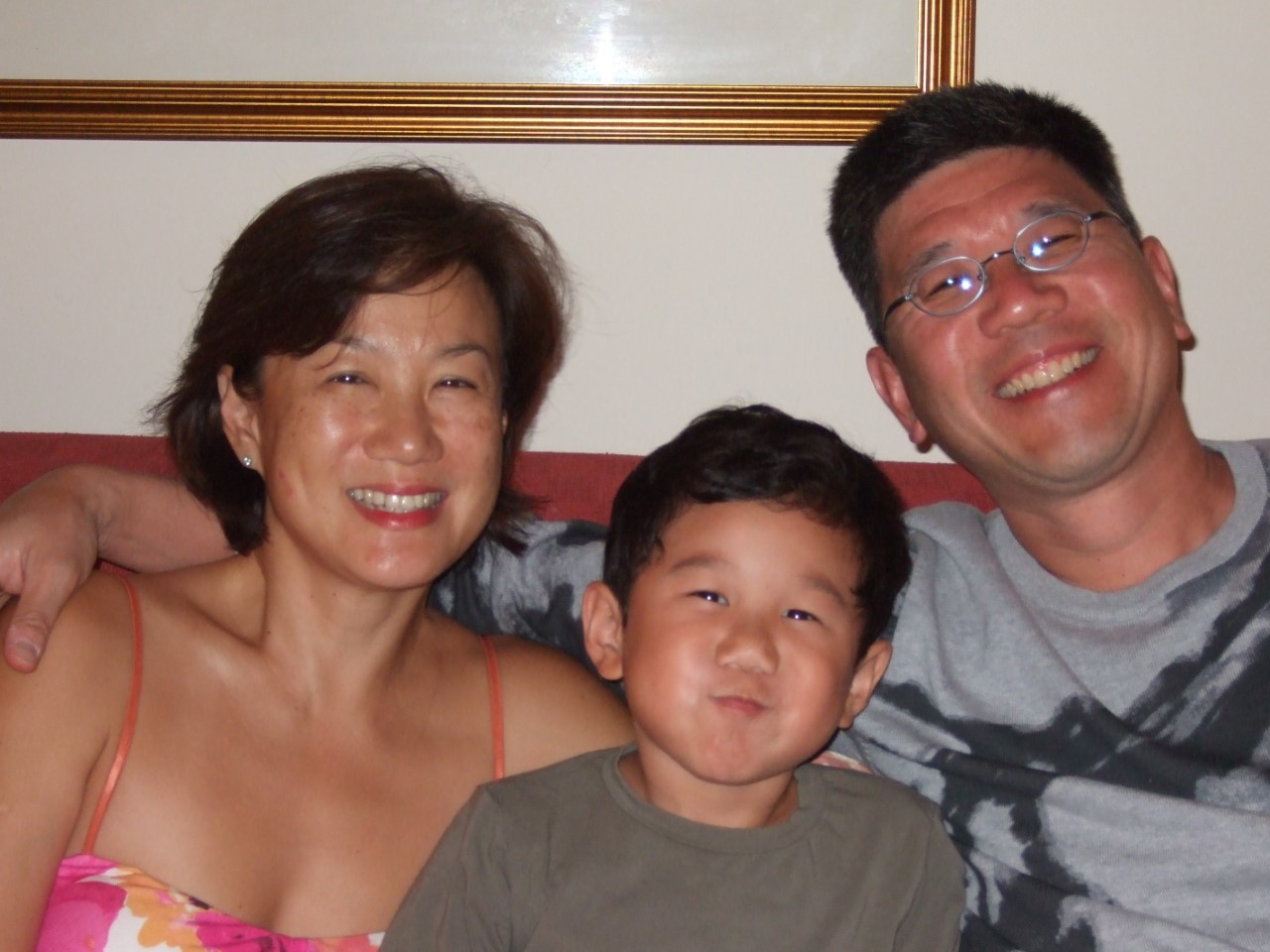 Grace, her husband Roy and their "miracle child" Kenneth, who is now 16. Grace was in tears when she shared the news of her pregnancy with her Bible Study Fellowship group. They were studying Genesis at that time – in particular, Sarah, whom God had also gifted with a miracle child. All photos courtesy of Grace Young.
She has seen God in every step of her journey which won her golds for Singapore, and turned her into a national sports icon
In 1998, Grace Young slipped away quietly from competitive bowling. And about two years later, stepped away from our TV screens as a sports, entertainment and news presenter when she married American Chinese, Roy Diao.
Sports and fitness still feature strongly in her life. And, better yet, if she gets to combine them in a "purposeful and meaningful" way to help communities in need.
Around 2009, she took up cycling even though she did not own a bicycle at that time. Barely two months later, she joined friends on an eight-day fundraising cycling tour in Thailand, visiting villages that few tourists without bikes are able to access. She raised almost $20,000 out of the total amount.
She realised she had not had a break since giving birth to her son – her "miracle baby" – in 2004, so it was somewhat of a holiday for her as well.
Young is also on the board of Ambulance Wish Singapore. It grants wishes to terminally ill patients.
"There's a sense of urgency," she said.
"Many of the 'wishes' are doable but require swift planning and manpower and mostly a willing heart."
Requests from beneficiaries include wanting to attend their children's wedding. Grace recounts how their team of volunteers rushed to organise a tea ceremony at the hospital for a man who was in his last days. "And then he made it to church, and walked his daughter down the aisle." The man was in a wheelchair and was breathing with the help of an oxygen tank.
He passed on two days later.
"These wishes are so humbling and simple," she says of the requests that have included visiting an old (or new) place, a meal, or a photography session with loved ones.
The family is unable to organise these experiences as caregiving in itself is overwhelming. "You need people who have the time to put it together – the ambulance, a nurse or doctor (or a safety aide to accompany the patient) to make it happen and to make it nice."
"We are a bit like our children who remember and learn best only when they learn a hard lesson."
Young does not miss the limelight of her bowling or TV days.
"What I would miss is time with God who has taught and guided me more than anyone.
"I would miss the Holy Spirit if He decided to leave."
There was one instance where she felt the Holy Spirit almost did when she had "ugly feelings of anger" with a family member.
"Just because you are walking with Jesus, doesn't mean that everything's going to be hunky dory.
"He is not a forceful God. He allows for us to make the decisions. He is merciful to grant us the grace and mercy when we falter. We are a bit like our children who remember and learn best only when they learn a hard lesson.
"He continues to refine you and refine you and allows for all sort of opportunities."Time and time again, she has experienced it.
(Here's where to read Part I of Young's story on an omnipresent, omnipotent God who has been with her in "every high, every low, every middle ground, every struggle".)
The missing file
Young has seen God's intervention when her fitness pursuit was not aligned with what He wanted for her.
In 2002, Young was training to be a yoga instructor.
In her mind, yoga was "just exercise, just stretching".
"But that was not what God desired for me," she said.
The training required her to submit an exam paper.
Young was sitting at her computer, typing in the finishing touches to the paper, getting it ready to be sent out when she lost the file.
Then her phone rang.
It was her dear friend and leader from the very first Alpha course she had attended.
Her friend was calling from the UK where it was morning. In her chirpy voice, she asked Young: "You alright, love? I just thought about you. What have you been up to?"
Young related what had happened.
Young took the out-of-the-blue phone call, plus the missing file, as confirmation not to pursue the yoga course.
"I guess that's why I was prompted to call you," said her mentor. "Drop it," she advised.
Young had shared that that particular school she was attached to included chants in its teachings. "I didn't think they were harmful, but I didn't know the source. Nor did I thoroughly understand who particularly I was glorifying. Not that I took the chants seriously. It was just a means to getting certified.
"God must have known me better. I might have delved deeper, being the person that I am as an athlete. My great, big God was not going to allow that.
"John 10:27 says, "My sheep hear My voice; I know them and they follow Me."
Young took the out-of-the-blue phone call, plus the missing file, as confirmation not to pursue the course.
"You know how you can always find a missing file? I never found the file again."
"This is God's omnipresence we are talking about. And this is his omnipotence because he is able to make those changes.
"As it says in Job: 'I know my God can do all things, and His purposes cannot be thwarted'." (Job 42:2)
That Sunday at church after the sermon, the vicar announced: "I sense there's someone in the congregation who has a message for us."
A lady went up. When she finished, the vicar insisted that there was a message from "another person".
An embarrassed Young "felt this nudging all the way up to the pulpit" to share.
Her message resonated with at least two women who came up to her after the service: One had been planning to take up yoga. The other had a daughter who was either planning to start a course or practise yoga.
"I have many friends who practise yoga. Not all are Christians. I have, at opportune times, shared my experience. Some continue, saying they like it for the stretching component and it is purely an exercise. Others tell me they do not chant anyway.
"Our walk with God is personal. Perhaps they, too, are on a journey to discovery."
Miracle child
But God is not a just a God of safe boundaries. Young has also seen how God gives beautiful gifts.
Young and her husband had been trying and praying for a baby for a number of years.
They had gone through three-and-a-half rounds of IVF, each time "feeling dejected, sad and traumatised".
"We had all these photos of what could have been," she says, of scans showing her embryos.
Then Young surrendered the decision to God, asking him to give them one if He thought that they were "fit to be parents".
"We had all these photos of what could have been," she says, of scans showing her embryos.
Over Christmas in 2003, the couple left for their annual visit to see Diao's family in the US.
When they returned to Singapore, Young was in the finals of a golf tournament when she fell ill.
"I was coughing, I was chesty, I thought it was some respiratory issue."
She went to see the doctor who sent her for an X-ray.
There, the nurse gave her a form to fill out. At the question "Are you pregnant?", Young did not give a response.
"I don't know why I left it blank."
When the nurse asked if she was pregnant, Young replied: "I can't be."
The nurse asked the question again.
Young replied: "I've been trying but nothing happened."
The nurse advised Young to see the gynaecologist.
Young was irritated by the nurse's persistence. But, looking back, describes her as "an angel sent from God".
"I obediently went to see the doctor on the same day, wanting to get it over and done with so that I could continue my golf tournament."
Her urine test was negative.
The doctor did a blood test "just in case". They had to wait for the lab results, but the doctor decided to scan her.
"Lord thank you. You are so majestic, sovereign over all. How else do you explain this?"
"I almost fell of the bed," said Young, on seeing a dot on the screen of the ultrasound machine.
"I sat outside the clinic, on the phone with Roy. We were speechless and silent. I couldn't say a word."
She was six weeks pregnant at age 41.
"Indeed, God's plans cannot be thwarted."
They only had one opportunity to try for a baby – just before her husband fell ill for the rest of the trip.
"Lord thank you. You are so majestic, sovereign over all. How else do you explain this?" she says.
Kenneth, her "miracle child", is now 16.
Young was in tears when she shared the news with her Bible Study Fellowship group.
The moment was poignant as the group was studying Genesis at that time – in particular, Sarah, whom God gifted with a child when she was 90, fulfilling His promise to her and Abraham.
Shaking off the dove
Young would learn that God is present even when things are not going smoothly.
About five years ago, she received "a wakeup call".
She had "anger issues with the spouse" and had been sleeping in the guest room for a week. She couldn't let go of the thought that she wanted out of the marriage.
On a Sunday night, she saw the devil's face.
"It was ugly, ugly ugly – the ugliest, most evil face you can imagine staring and grinning at me."
"This gives me goosebumps," she said as she recalled it.
"When the Holy Spirit leaves, the devil takes over. Especially when you consume yourself with anger, negativity and frustrations."
"I had to rebuke the devil. I went to the window of the study, looked out and asked, 'Lord, where are You?'
"I always describe the Holy Spirit as a dove that sits on my shoulder. If you're frantic, rattled and angry, you're going to shake the dove off. That's when you feel empty And that's exactly how I felt.
"When the Holy Spirit leaves, the devil takes over. Especially when you allow the devil to do so, consuming yourself with all that anger, negativity and frustrations.
When morning came, she "felt like death". She had not slept in days.
But she had promised to bring fruit for BSF fellowship. She had not done any shopping.
She told God: "If you want me to go for BSF, I'm going to my fridge and I'll see what's in there. If there is fruit, I will make an effort to go."
There was fruit. She did not recall asking her helper to buy fruit nor had she ordered fruit to be delivered.
It was 8.30am when she decided to prepare the fruit and get herself ready.
Then she remembered that the BSF leader had advised the group members not to drive to the church where they were meeting as there were insufficient parking lots.
"I was still very defiant. God had already answered me. And I had the encounter with the devil. And I was still so prideful."
By the time she got herself and the fruit ready, it was 8.50am – 10 minutes to starting time.
"If there is no taxi, I am walking home," she told God. "I was still very defiant. God had already answered me with the fruit. And I had the encounter with the devil the night before and I was still so prideful."
She was just about to backtrack when, not one but two, taxis arrived from different directions.
"So which taxi do you want me to get into, God?" she asked.
She picked one. The driver was one who "steps on the brakes every few seconds".
Young, a stickler for punctuality (she hates being late) was not happy. "I'm going to have to sit in the other room and not in the same place with everybody else, and it's going to be embarrassing," she thought.
When she got out of the taxi, it was 9am.
"I just don't understand how I got there in 10 minutes."
The ride – at regular speed –would have taken 16 minutes on a good day.
"Who does this? Who can claim this?" she said.
"Do I walk away from God? No way! He's been present every single moment in my life. Every high, every low, every middle ground, every struggle. He's been there."
Never too late
Her encounters with God would continue to guide her through different, at times painful, seasons.
While running the inaugural Alpha Youth that Young kickstarted at her church in 2019, her brother was in his last days of his life.
"My brother was not a believer. I wanted to pray with him many times, but he never took me seriously."
During Alpha Youth, an intercessor had a word of knowledge for the participants, the team and their loved ones. The phrase was "bloated stomach".
When Young visited her brother that evening, she saw his bloated stomach, and realised that word was for him.
Her brother had smiled "such a beautiful smile" in his last breath.
She saw it as an opportunity to share with her brother her efforts with the youth at church.
"I sat by his side and laid my hands on his very bloated stomach. Then I told him a little of what I was involved in.
"Words of knowledge can be a little eerie and maybe even silly for some. Especially non-believers who think it's all coincidence. I've witnessed enough moments to know they are thoughts, words and images impressed upon individuals who have been praying specifically for an event or a group. I explained that the participants usually seek prayer when the words mean something to them.
"There was no response to the word 'bloated stomach' and surely it didn't resonate with me then."
When she saw her brother, she said: "I think 'bloated stomach' is for you."
For the first time in his life, her brother allowed her to pray for him.
"I then asked my husband and son who were with me to gather around him and we prayed. It was a precious moment."
Not long after, her brother was admitted to the hospice. There, he asked to be baptised.
He and a sister who was present bore old grudges.
"But my sister went to my brother, held him and prayed with him," said Young.
"I felt like I was watching a movie with the plot unfolding before me."
Her brother reconciled with God, and also reconciled with his sister, on what was to be his final full day on earth.
"It was a reconciliation only God could have orchestrated."
That night, Young kept vigil by his bedside. She sang worship songs to her brother who was restless.
She must have fallen asleep by his bedside, and awoke at 6am.
"When I got out of the chair, I lifted him and checked on him. He was sort of wet. I called the nursing assistant to change him. That's when she said, 'He's passed on'."
"It's perfectly normal to question God. And please question. Because Truth will stand up to any form of investigation. Try Him."
Young told the nurse: "No, no, no, he's smiling. He's not gone."
It turned out that her brother had smiled "such a beautiful smile" in his last breath.
"I was and am confident that my brother who denied God most of his adult life was embraced by Yahweh Tsabaoth, The Lord of Hosts."
It was a great assurance to Young to have witnessed her brother "having a personal encounter with Jesus".
In her brother's final journey to the crematorium, 20 Harley-Davidson motorcycles escorted the cortege to the crematorium.
Young, who gave the eulogy, had the opportunity to share about her brother's salvation with his biker friends.
"It was a moment of truth of God's love, His presence.
"God's mercy and grace is for everyone. But He allows for us to make that very poignant choice to believe in Him. It's perfectly normal to question. And please question. Because Truth will stand up to any form of investigation. Try Him."
---
RELATED STORIES:
She lost her dad at 19, and her boyfriend 100 days later: How national bowler Grace Young played through pain and loss
"It had to be the Lord": Former national swimmer Joscelin Yeo on her life's dramatic turnaround