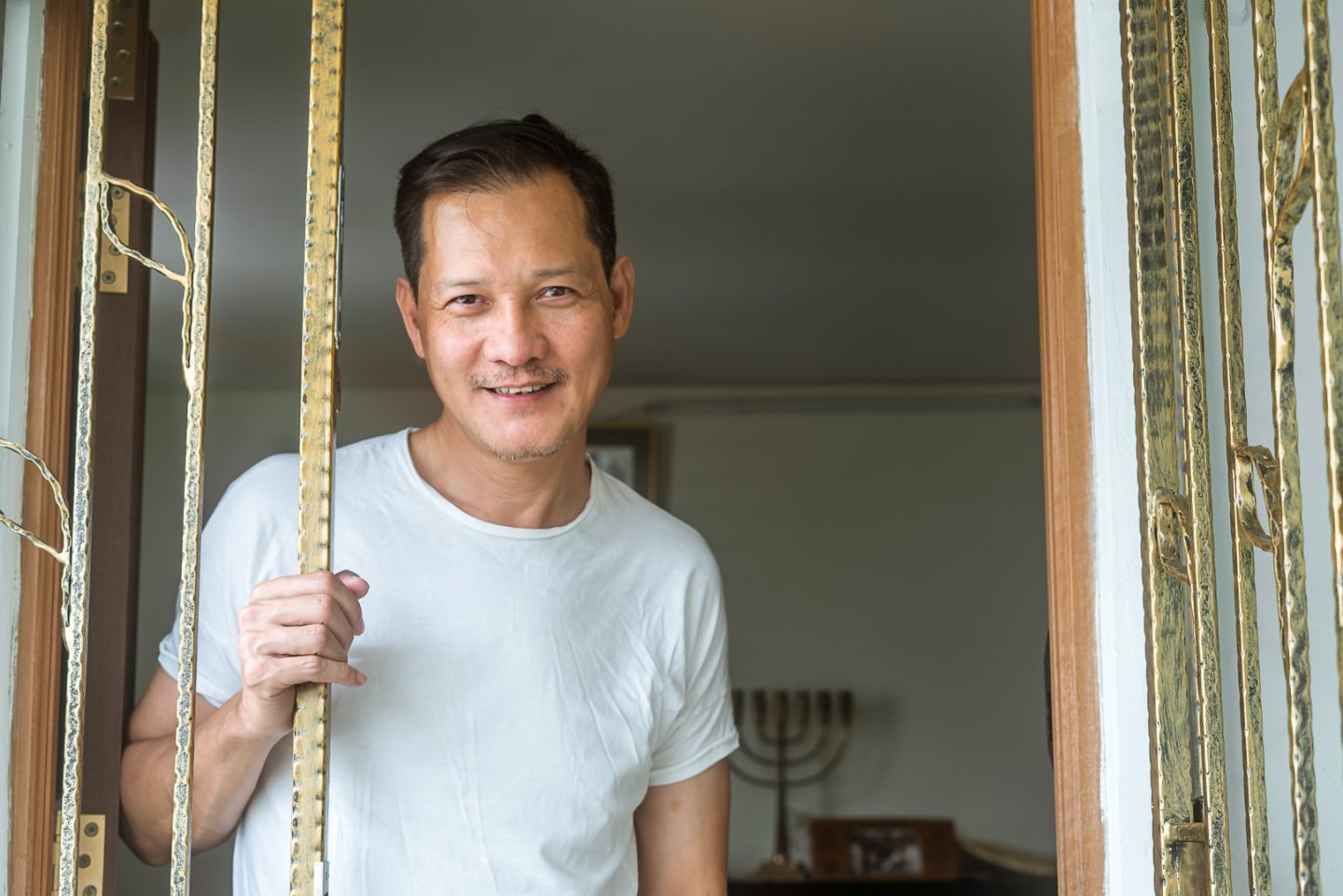 Former Mediacorp actor Peter Yu was once a gambler saddled with debts of more than $100,000 but has since turned his life around. He credits his transformation to his conversion in 2011. Photo by Rachel Phua.
He told God: "This life, I'm returning it to you. I don't want it anymore."
Former Mediacorp actor Peter Yu is in the same living room where he said these words eight years ago. His then-girlfriend, Brenda Leow, was in custody after attempting suicide at the flat they shared. Meanwhile, he was in a corner, bawling.
His girlfriend's mother came over and prayed for him. Yu began to tremble and then, he recounted, the atmosphere completely turned around. He suddenly felt calm. By the time he fetched Leow and they were back at home together, there were smiles on their faces.
Later, when Leow's mum asked them to return to church, the couple agreed.
Thinking back about that fateful day, Yu wondered perhaps God heard him, and told him: "Okay, if you say that you want to return your life to Me, now you must listen to Me."
Hitting rock bottom 
Today, Yu is best known as the lead in local indie flick A Land Imagined, which was the first Singaporean film to win the top prize at the Locarno Film Festival last year. Yu himself clinched a nomination in the festival's Best Actor category. The film has also been selected as Singapore's entry for the Oscars.
Since then, the seasoned actor, who was often spotted on the small screen in the nineties, has made a comeback. He most recently appeared in the television series Fried Rice Paradise and will next star in Taiwanese-Singaporean horror film collaboration Circle Line. He will also be working on a feature directed by Kelvin Tong, called A Year of No Significance.
"If you say you want to return your life to Me, now you must listen to Me."
But about 10 years ago, the 51-year-old made headlines for a vastly different reason. He and prominent variety show host Quan Yi Fong were ending their decade-long marriage. Reeling from the divorce, Yu subsequently fell into drugs, booze and gambling.
It wasn't his first brush with a hard-partying lifestyle, but it was the wake-up call he needed, Yu said. Over time, he incurred more than $100,000 in debt from his spending habits.
Yet, it was all in God's timing, he said. God had to empty him until he hit rock bottom. "He knows my character," he said. "He allowed Satan to do what he needed to do until I reached the pits, then God rescued me."
That was how he was "reborn" and became a Christian in 2011. He married Leow in the same year and they now have two sons, Christian and Israel.
"Who would want a lao kok kok?"
Yu was in his mid-40s when he had to start all over. He became a taxi driver, an idea hard to swallow for a former celebrity, but one Yu gradually came to enjoy once he got over his self-consciousness.
During this period, Yu said he was also aware of his spiritual infancy, and spent most of his spare time watching sermons, reading the Bible and "having conversations with God", on and off the road. "You know, when you first return to God, you know how loved you are," he exclaimed excitedly, holding his palms close to his chest.
After three years of driving and seeking spiritual direction, he decided to weigh in on his prospects. "How do You think I can glorify You in my future?," he asked the Lord. Should he go on to study theology and become a pastor? Remain a taxi driver, which Yu said he was fine with as his cost of living had reduced dramatically since his conversion. Perhaps return to property, for which he still had his licence. Or could it be that he belonged in the entertainment industry?
Soon after his question to God, a guest preacher came to his church and prophesied that God would "open the doors" in time to come.
"You walk and walk, you will feel God is always speaking to you."
Within a week of the visit, Yu received five calls for various acting gigs – two short films, one evangelistic play, and two more for roles at Mediacorp. It was the last thing he'd expected, even though he loved performing. "I was 40-plus, who would want a lao kok kok (Singlish for an old person)?"
Since returning to set, he's had few opportunities to drive, Yu said. He bought a car and switched to being a Grab driver but, even then, he hasn't spent much time ferrying passengers around.
Surprisingly, it hasn't been difficult to proclaim his faith in the industry. There are plenty of fellow Christians in the Singapore scene, said Yu, who counts Chew Chor Meng and Moses Lim as friends. He's also had many chances to talk about his past with co-stars during breaks and flights back from overseas filming.
And the affable chap's secret? Whenever he remembers to pray in the morning for an occasion to share, he would find himself deep in a one-on-one conversation that day, he said.
Not bothered about money
Yu knew Christianity was the answer to his brokenness the day he stepped back into church, a place he left in his teens and had only sporadically returned to until then. "I cried and cried," he described. "The Holy Spirit came to heal me."
Thereafter, his knowledge of the faith grew, as did his confidence that God, though invisible, was ever present. "God promised us He is the light before our feet (Isaiah 42:16; John 8:12). You walk and walk, you will feel God is always speaking to you. That's what it's like to be in communion with God."
"How can I glorify You in my future?"
Even as a gambler, he never stopped delving into the spiritual realm, but had sought good luck in other religions, sometimes a few at once. What cemented his belief in Christianity was the realisation that it was futile praying to these other gods, as they were idols that "you don't strike up a relationship with".
Defining his temperament as "enjoying life", Yu professes to always be chirpy and relaxed.
"How do I live with so much peace? It's because I don't think so far ahead, as I know God will lead me," he said. It's enough to "know what God wants you to do for today (Matthew 6:34)".
This is the philosophy he takes with his burgeoning acting career, he added. If there comes a day when the roles dry out, he reckons he will have no problem going back behind the wheel.
"When you are rich spiritually, you don't bother about money anymore. Peace and joy, money cannot buy (Matthew 16:26).
"Because you know this world is just temporary, like what God says. Gaining eternity – that's richness (1 John 2:17; 1 Corinthians 7:31)."
"I don't think so far ahead, as I know God will lead me."
But if there's one thing he hopes will come true in the future, it's restoring his relationship with his daughter, actress Eleanor Lee, from his previous marriage to Quan. While he gets updates from Quan about his daughter when they bump into each other at Mediacorp, he hopes they can have a meal together someday. He prays for both Quan and Lee, he said, and is leaving everything to God's timing.
But for now, he is contented with the present, even if he has no clue what the future holds.
"Like Jesus said, 'If you don't understand what I'm telling you in human language, what more do you think I should talk to you about heavenly things (John 3:12).'
"I just ask for today's revelation, what God wants me to do. It's the same principle. This is the way to happiness."
On call: Taxi drivers' simple faith drives a profound impact
Peter Yu will be sharing about his journey at the dialect Gospel rally Hope You Come, which will be held on November 16, 2019, 3pm-5pm. He will be speaking at the Hainanese Gospel Rally, held at Holy Grace Presbyterian Church. More details here.
If you have enjoyed reading Salt&Light...
We are an independent, non-profit organisation that relies on the generosity of our readers, such as yourself, to continue serving the kingdom. Every dollar donated goes directly back into our editorial coverage.
Would you consider partnering with us in our kingdom work by supporting us financially, either as a one-off donation, or a recurring pledge?
Support Salt&Light