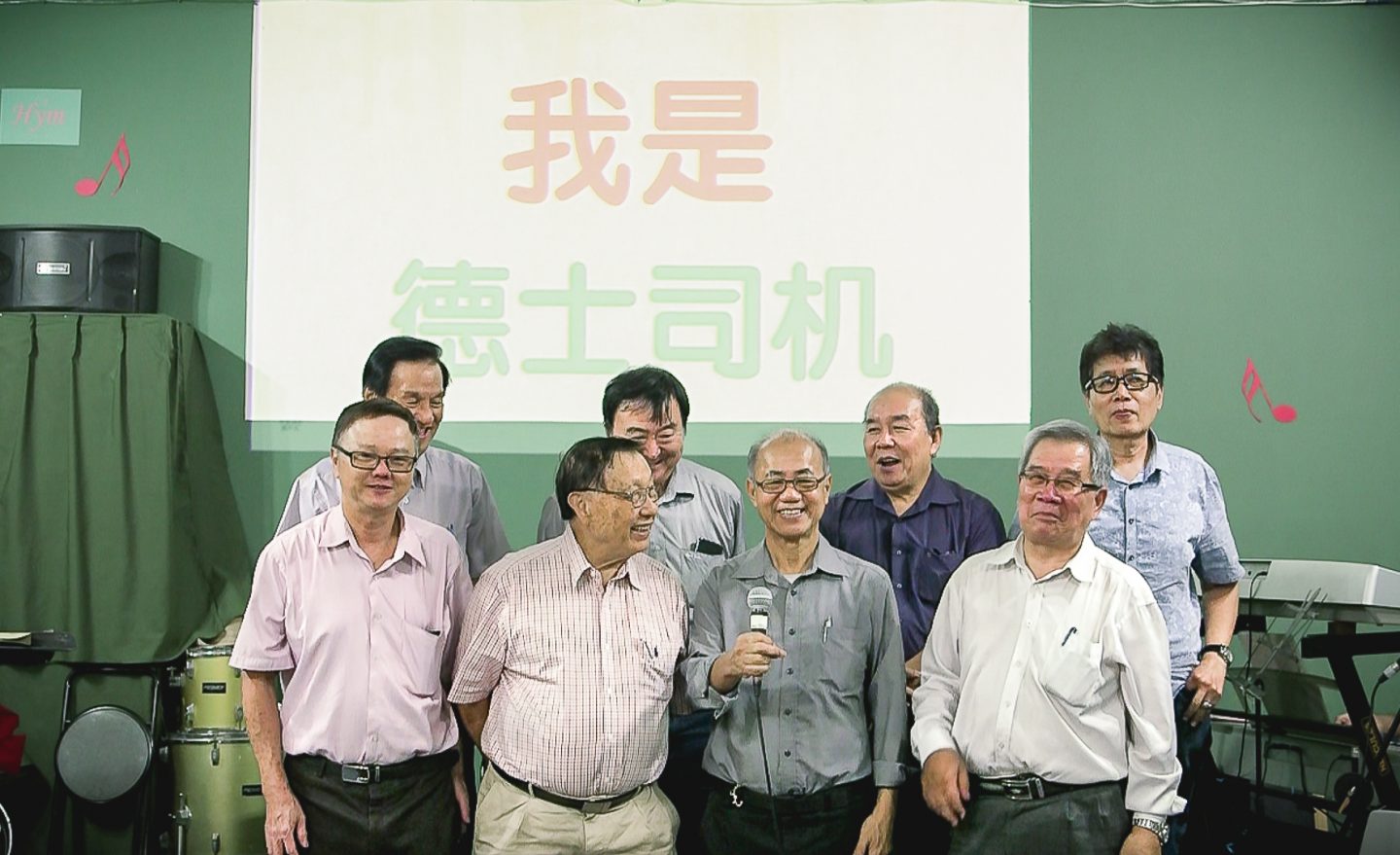 The Taxi Drivers' Christian Fellowship was set up in 1989 to provide a spiritual support network for the mostly-solo workers. Here, some of the members are shown rehearsing for a performance at an elder care centre. Photo by Rachel Phua.
It was not easy to reach Richard Koe, going by 21st century standards (mostly determined by my reliance on social media and the Internet). The taxi drivers group he heads has no Facebook page, website, or phone number in public directories.
Fortunately, three degrees of separation is no matter for God to manoeuvre on my behalf. I became friends with a pastor at a conference, who introduced me to a congregation member – a retired taxi driver – who presented me with Koe's number. 
We spoke. Initially, it appeared that I was en route to another disappointment. Koe, 62, sounded reluctant to talk about the fellowship, apprehensive at the thought of an interview.
He insisted that what his circle of friends do is a very "simple" affair. The members are not intellectuals – what theology could they summon?
Turns out, this "simple" belief enlivened my dulled faith more than sermons and personal spiels have in a while.
Missionaries on wheels
The Taxi Drivers' Christian Fellowship (TDCF) was started in 1989, formed so that Christian drivers could find fellow brothers and sisters (1 Corinthians 12:13) and be equipped to be missionaries on the road (Matthew 5:13-14).
The TDCF members "encounter all sorts of people" and could literally disciple the nation.
They have the "opportunity to encounter all sorts of people" and could literally disciple the nation, as Chen Jia Tai, a church elder, puts it. Chen, 83, recently stepped down as the group's spiritual advisor. 
TDCF member Ken Lim, 60, says the fellowship is a place for drivers to learn from other cabbies how to live out their convictions. Specifically, what happens if a customer accuses the driver of a blunder and refuses to pay for the ride? If they encounter a passenger who runs away before paying, should they file a report? What should they do if another car rear-ends theirs?
Because this occupation leaves the men and women mostly isolated from their peers for eight to twelve hours a day, these dilemmas may never be resolved unless they get together. 
The answer they have collectively arrived at is: Grace.
That often means holding back on calling the police, and even picking up strangers who say they have no cash on them but are in urgent need of a ride.
Not just because this is what believers are called to extend (Colossians 3:12), but it is through showing grace that one finds purpose as a taxi driver.
"If you treat driving a taxi as a means to earn money, of course it's just a job. But we treat it as a form of service to others," Lim says in Mandarin. 
Community of faith
Many of the cab drivers are from humble circumstances. Koe shares that he used to earn about $100 a day; this fell to $80 after the introduction of private hire car services.
Vincent Lim, 62, joined the taxi industry in 2004 after his metal stamping business failed. He could not take up a more labour-intensive job as he had just gone through a liver transplant. 
Yet, they are generous with their money and time – in an industry where time is money.
The drivers take time out during their shifts to visit those in hospital, and pool together a sum of money to help their sick friend cover his or her taxi rental cost while the latter is unable to work. 
The members may not have much, but they stick their hand out for those temporarily in need.
"Saying is easy, but doing is another thing," says Koe. "It's not just telling them that we'll pray for them.
"Those in our fellowship know that when they're in difficulty, we don't just pay a visit and say a prayer. We also contribute in deed (James 2:14-16)." 
Even when all is well, these cabbies would still take "precious time out" to keep this fellowship intact, says Vincent Lim in Mandarin. "You wouldn't come to spend your time if you didn't have confidence that God will take care of your earnings."
Koe estimates that the fellowship currently only has 26 members, almost all of them over 50 years of age (he does not keep an official database). This comes as the number of taxis on the road in Singapore has dwindled to just over 23,000 as of end-2017 – the lowest in the last 10 years.
Koe sounds dejected as he chalks up the numbers, and admits that disagreements about the way the group is run caused several members to leave as well. He hopes that restarting Alpha sessions – the fellowship ran them between 2013 and 2016 – will draw more people in again. 
Blessed to be a blessing 
On Tuesdays, the band of brothers and sisters meets for lunch or a prayer meeting. Once a month, they get together at Wan Min Community Services' eldercare centre in Potong Pasir to spend time with the senior folks, because "with the blessing we have received, we also want to come and bless others (1 Thessalonians 3:12)", Koe says. 
Every time I met these uncles and aunties, they were reluctant to get up from their chairs, lingering instead at the coffee shop to chat until the conversations ran dry. Some of them, like Koe, would ferry those on their day off to and from their homes to the coffee shop before they turned on their taxi metres. 
They accommodated my every request as I captured them on camera. One Thursday afternoon, Koe postponed his vehicle handover time so I could shoot a last-minute interview. Never a tut or hesitation. 
On one drive, I ask Koe: Has he ever resented God for putting him in a job that offers little financial gain or stability? 
His answer is disarmingly simple: It's precisely by being a taxi driver that he has learnt to be content with what he has. 
"People from all walks of life come into my taxi – rich, poor, old, young. And I realised all of them have problems."
He cites the time when he picked up a well-heeled passenger whose phone never stopped ringing. At one point, he told Koe: "Can you wind down the window so I can throw my phone away?"
Another time, Koe fetched a Filipino woman to the airport. She told him she had come to Singapore to visit her family, who were living here. Her husband refused to see her and told her that he would send their children over to the Philippines to visit her in due time. 
"If I were rich, maybe I would not have become a Christian," he says. "I thank God for putting me in this job." 
"God promised that what we need, He will provide. I think that's good enough."
Koe repeatedly mentions that the "God we believe in" is a God of peace (Romans 15:33) and joy (John 15:11) – freely imparting these same gifts to His people.
At the same time, He is constantly watching over us. The Lord took care of Koe as he raised his now-grown three children on a single income. What is there to begrudge? 
"God promised that what you need, He will provide (Philippians 4:19). I think that's good enough."