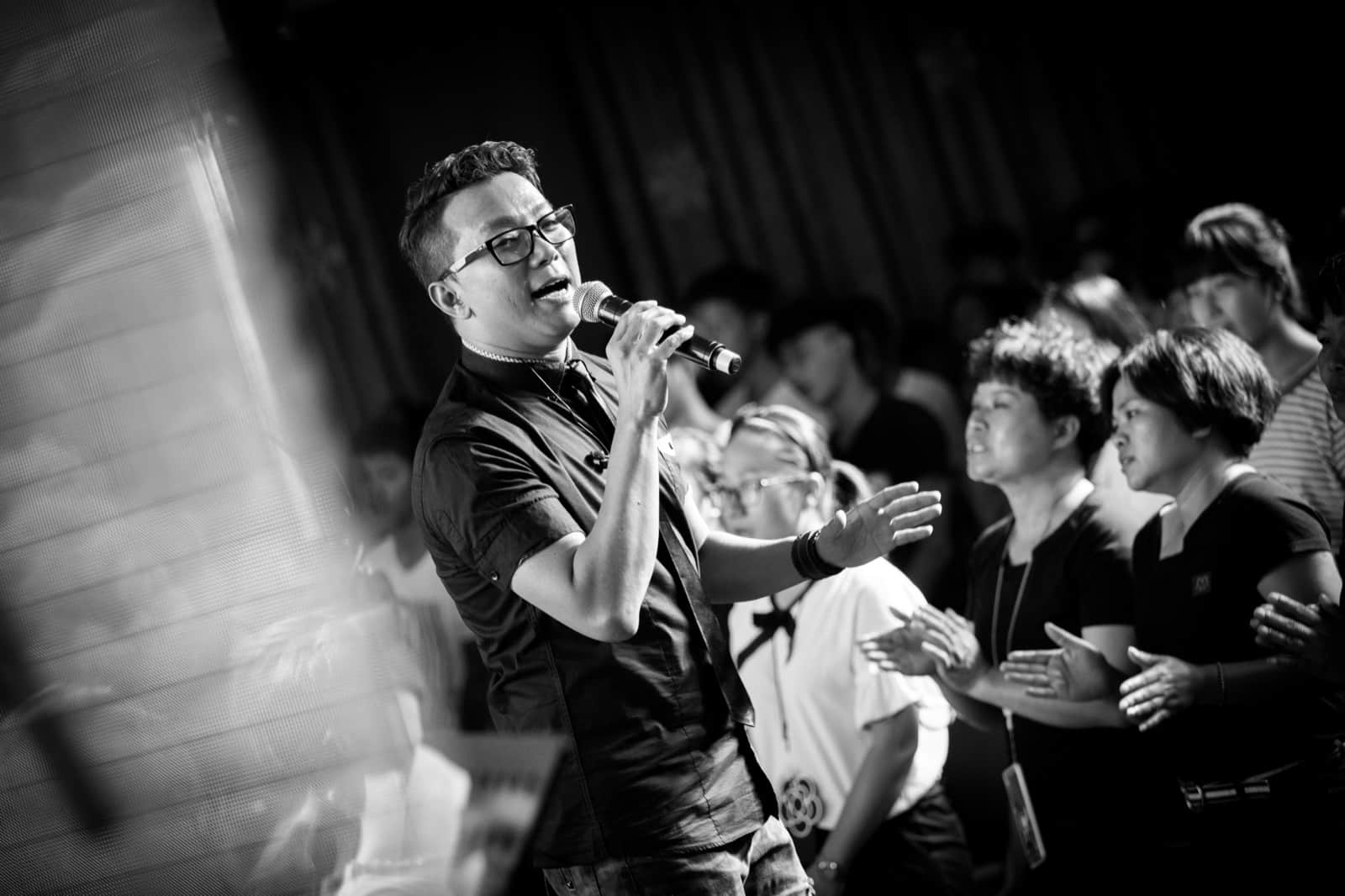 "You'd be surprised that in the midst of bad times, God actually lets you see so much more of Him than you think," said Matthew Tan, who is now a worship musician. All photos courtesy of Matthew Tan.
In the six years that Matthew Tan was in the police force, he had to call his colleagues on his father, not once, but twice.
The second time he did so, he was the one who personally opened the door to his father's house so that his colleagues could enter and arrest the older man.
His father, a long-time drug addict and gang member, was bringing friends home and taking drugs with them in front of Matthew's two youngest siblings who were just in primary school then.
Having his father arrested was not something Matthew delighted in doing, and he felt torn between being a son and fulfilling his duty as an older brother and policeman.
It drove a wedge between the pair. "My dad hated me. He definitely hated me. When my colleagues handcuffed him, he wanted to bash me up," recalled Matthew, now 51.
"Don't waste your blood on my father"
The resentment Matthew's father had towards him continued for decades after this incident and, right before the older man died by suicide, he cried in his wife's bosom lamenting the broken relationship he had with his eldest child.
"It was only when my dad died that I saw a side of myself that I had never seen – my vengeful spirit which had withheld the sharing of the Gospel to my father.
"I always told God, 'Don't waste your blood on my father, he doesn't deserve it'," admitted Matthew.
Nevertheless, his father's death threw him into a tailspin. For three years he struggled with unresolved emotions of anger, sadness and guilt, until a good friend assured him that despite the deep pit he had fallen into, God was still holding him up.
"That's when I knew that God had never deserted me. He was merely answering my prayer to be a true worshipper, who worships God not only in the heights of their life but also in the pits," he said.
In learning to lean into God during this season of depression, Matthew realised that there was so much of God to be found.
"You'd be surprised that in the midst of bad times, God actually lets you see so much more of Him than you think," he told Salt&Light.
Reaching the lost through music
It is the knowledge of this hope, even in life's darkness and messiest moments, that spurs Matthew to do the work he does each day.
With a desire for others to know and experience this same hope, the founder of music ministry Sowers Music has produced three albums and four singles over the past 20 years, hoping that others will encounter the love of God through music.
Apart from worship songs, Matthew has also produced contemporary love songs that point to Christ's love, as well as Chinese New Year songs that sing of God's love and protection. He performs many of these songs in evangelistic events in Singapore and beyond.
In the works are also partnerships with secular artistes who are believers, to produce music videos and short films built on biblical values that can reach more non-believing audiences.
"Sowers Music is about worship evangelism, how we can help people – be it Christians or non-Christians – encounter God through music and media. This is what God put in my heart," said Matthew, a former worship pastor and current worship consultant for Chinese churches in Asia.
Today, Matthew is living out a calling he received when he was just a teenager, but it look him a long, bumpy and eventful road to get there. Yet despite all the twists and turns, God was weaving everything together in His perfect plan.
Born into a gang
Much of Matthew's passion for music can be traced back to his formative childhood years, which he spent as part of a Teochew street opera troupe.
As a little boy he was immersed in Chinese opera performances and music as the troupe, which his parents were a part of, travelled around Southeast Asia performing in temples.
"Since young I had concert tours already!" he joked, adding that he developed an acute sense of rhythm as a result of this early exposure to the art form.
But it was not just music he was exposed to, but the culture of drugs and gangsterism too.
"The opera was where they made money. Then after work they would gamble, do drugs, be involved in gang activities, fight, defend their territory," Matthew recalled.
The uncles and aunties from the troupe – along with his father – often indulged in opium and heroin, and it was normal for these adults to be taking drugs beside Matthew and his younger sister at home as they sat watching television.
As his father was part of a secret society, gang fights were also commonplace. Matthew remembers cheering for his father during fights and witnessing a man's hands getting severed during a particularly violent altercation.
Since children elicited less suspicion from the police, he was often roped in to hide weapons like knives, as well as to help deliver drugs to others.
"I didn't join a gang. I was born into it. But I wouldn't say I was a super active gang member. I just followed my dad," said Matthew, who stopped his education after secondary school.
Trying out the faith like trying durian
It seemed unlikely then that Matthew would have wanted anything to do with the Christian faith.
"No girls liked me! All my friends had girlfriends but I didn't have, so I was very sad. I felt very inferior."
He used to view Christianity as a religion for the more "atas" (sophisticated) and highly-educated, English-speaking crowd.
But growing up poor with little education and having a father who was in and out of jail had crippled Matthew's self-esteem, in particular when it came to romance.
"No girls liked me! All my friends had girlfriends but I didn't have, so I was very sad. I felt very inferior," he said.
In secondary school, a friend who was fluent in English offered to tutor him in the language on one condition: Matthew had to attend church services with him every Sunday.
Wanting to boost his dating eligibility, he agreed.
He attended church regularly and heard the Gospel countless times, but did not made the decision to accept Christ until he attended a camp by Youth for Christ (YFC).
During the camp, the youngsters were challenged to write down three precious things in their lives to give to God.
Remembering his mother's advice not to become "too crazy" about the faith, Matthew cheekily wrote down three things: His blue pen, red pen and black pen.
"I was like, 'Siao!' (Crazy!) Give their lives? Give their parents? Isn't that unfilial?"
However, looking over his shoulder to what others had written, he saw to his shock and confusion what they were offering to God: Their studies, their future, their parents.
"I was like, 'Siao!' (Crazy!) Give their lives? Give their parents? Isn't that unfilial? Like God, please take my parents away, this is my offering to you," he said.
Though he was bewildered by his friends' responses, he reasoned that they were not stupid. After all, they were university students, polytechnic students, junior college students. There must be something he was missing, he thought.
He felt challenged to give the faith a try.
"Like trying durian, you know? If you like it, you like it. If you don't like it, forget it, that kind of thing. No harm!" he said.
So, not really knowing what he was getting himself into, he prayed to give his life to Jesus that night.
The growing burden
The first few months of being a new Christian was, in Matthew's words, "a torture".
"I always say that I was bluffed by Christians, because they told me that once you believe in Christ, life will be wonderful, life will be amazing. But they never told me that discipleship would be difficult!" he said.
Trying to steer clear from vices like swearing and stealing, which had long become so natural to him, was no easy task. Yet, for reasons he did not understand himself, he pressed on.
Curiously enough, as time went by he began to find meaning, purpose and wisdom in the ways of God.
Trying to steer clear from vices like swearing and stealing, which had long become so natural to him, was no easy task.
"No one ever told me that I could speak words of blessing.
"No one ever told me that I could be kind, or to give sacrificially and not expect anything in return. At first I didn't get it, but as I did it, gradually I appreciated and understood it," he said.
As his relationship with God deepened, he also began to notice how much his life had changed for the better, having had his once empty life filled with the fullness of Christ.
"I've tasted love, I've found hope, I know that I have a future, I know that I'm important, that I'm treasured, not just by God but through the acts of love from all my Christian peers," he said.
"Then I looked at my mum, my dad, some of my peers. I realised that people out there don't have that – and it began to burden me."
It was this call, subtle but sure, that convinced him to give himself fully to the work of evangelism one day.
So many dying without hope
At the advice of a Christian mentor, Matthew decided to have some experience in the working world before committing himself to full-time ministry. So, he joined the Singapore Police Force. 
Acknowledging that it was a rather ironic choice of career given his checkered past, he said that he resented the loansharks who had beaten up his mother for his father's debt, and was determined to execute some form of justice.
On the days he spent at the morgue as a policeman, he would be reminded of the hopelessness of those without Christ.
Matthew thrived in the force, rising quickly through the ranks from being a patrolman to a detective and then to an investigator in just two years.
He also appeared in the newspapers several times for his involvement high-profile cases, including the controversial Michael Fay case in 1993 which saw the American being caned six times for theft and vandalism.
Thoroughly fulfilled in his job and the success it was bringing him, Matthew found his faith taking a backseat. He stopped serving in church and willingly worked overtime on the weekends instead of going to church. 
Yet, every now and then, the Holy Spirit would give him a nudge or two, reminding him of the calling he had received in his younger days.
Each day as he attended to cases, he saw ever more clearly the reality of the darkness and brokenness of the world.
"To see how a husband can force a wife to prostitute herself, to see siblings fight over money in front of their dying father, to see a man buy insurance for his wife and then murder her … It's so scary to see what we are capable of. For the sake of self-interest and profit, we humans will do anything, even to our own loved ones," he said.
On the days he spent at the morgue, he would be reminded of the hopelessness of those without Christ. "So many of them are dying without hope," he recalled thinking to himself.
In his sixth year in the force, the weight of his calling – and how far he had wandered from it – fell heavily on his heart.
"I felt sorry for souls being lost but what was I doing about it? I was looking for promotions, for more power, to please my top management. That was a real conflict," he said.
Looking at the lives of his colleagues, some of whom had lost their families and their marriages as a result of their quest for power and success, Matthew knew that if he were to continue in his current path, he would lose himself too.
It was a difficult decision to make, but he eventually resigned from the force.
The bumpy road back to God
For the next three years, Matthew took on a "normal" job as a commercial interior designer to calibrate his life. He went back to church regularly and served actively on the worship team.
In 2000 he got to know a worship leader well-known among the Chinese churches, who eventually became his mentor. The man, whom Matthew declined to name, was keen to start a music ministry in Singapore and invited him to come on board.
After seeking the Lord for three months, Matthew agreed. Perhaps this would be the way to fulfil the calling he had put off for so long, he thought.
Once the loan was approved, the mentor disappeared … Overnight, Matthew found himself heavily in debt. "It was one of the lowest points in my life."
But things took an unexpected turn for the worse.
Just four months into his new job, his mentor could no longer pay him a salary as the ministry had run out of cash. Then, eight months later, the mentor suggested taking a bank loan of USD90,000 under Matthew's name to keep the company afloat.
"I trusted, admired and respected him. He was well-known among the churches. Even my pastor trusted him," Matthew explained of his decision to say yes to the request.
Once the loan was approved, the mentor disappeared, said Matthew, who by that time was married with two young daughters. Overnight, he found himself heavily in debt.
"It was one of the lowest points in my life. I said, 'Lord, I sought you for so long. I was making about $5,000 a month before this and I joined this guy without a salary, and now suddenly I'm in debt.' I became bitter for the next one year. I was very bitter against God as well," said Matthew, adding that he had to work three jobs to pay off the loan.
But after a season of rest and care from his pastors, his calling still stood out clearly to him among the clutter of betrayal and disappointment. "Even though I met with a super big hurdle, my calling remains the same," he realised.
Putting the past behind him, he decided to start anew. In 2002, Sowers Music was birthed.
Filling a gap
Though Matthew initially preferred using English to Mandarin as the language for his music, he changed his mind after his worship pastor urged him to join the Chinese worship team.
Thinking about the people dear to him, he realised that writing Mandarin songs would help him speak in their heart language.
"I always thought that English services were more classy. But over time I began to fall in love with the richness of Mandarin.
"I realised that all the songs we were singing were translated songs. There weren't many songs that were written in Mandarin by a Chinese person for the Chinese," he said.
Thinking about the people dear to him who did not yet know Christ, he also realised that writing Mandarin songs would help him speak in their heart language.
"I realised that my mum, my aunties, my uncles in the opera, they don't speak English. If I'm so 'classy', they will never know Christ," he said.
"I still look forward to the day I can transform a Teochew opera song into a worship song!"
When all is said and done, all Matthew hopes to do is what God had placed in his heart all those years ago as a young believer: To enable others to know and experience God's peace, hope and joy no matter life's circumstance.
He said: "I want to keep bringing to others the message of the love of Christ because all of us are called as worshippers. How can we encounter Him every moment, every day of our lives?"
---
RELATED STORIES:
"Playing the violin for me is like praying": One-handed violinist Adrian Anantawan
Let's rock 'n roll! Cru veteran Mark Suredhran on pioneering its music missions
If you have enjoyed reading Salt&Light...
We are an independent, non-profit organisation that relies on the generosity of our readers, such as yourself, to continue serving the kingdom. Every dollar donated goes directly back into our editorial coverage.
Would you consider partnering with us in our kingdom work by supporting us financially, either as a one-off donation, or a recurring pledge?
Support Salt&Light