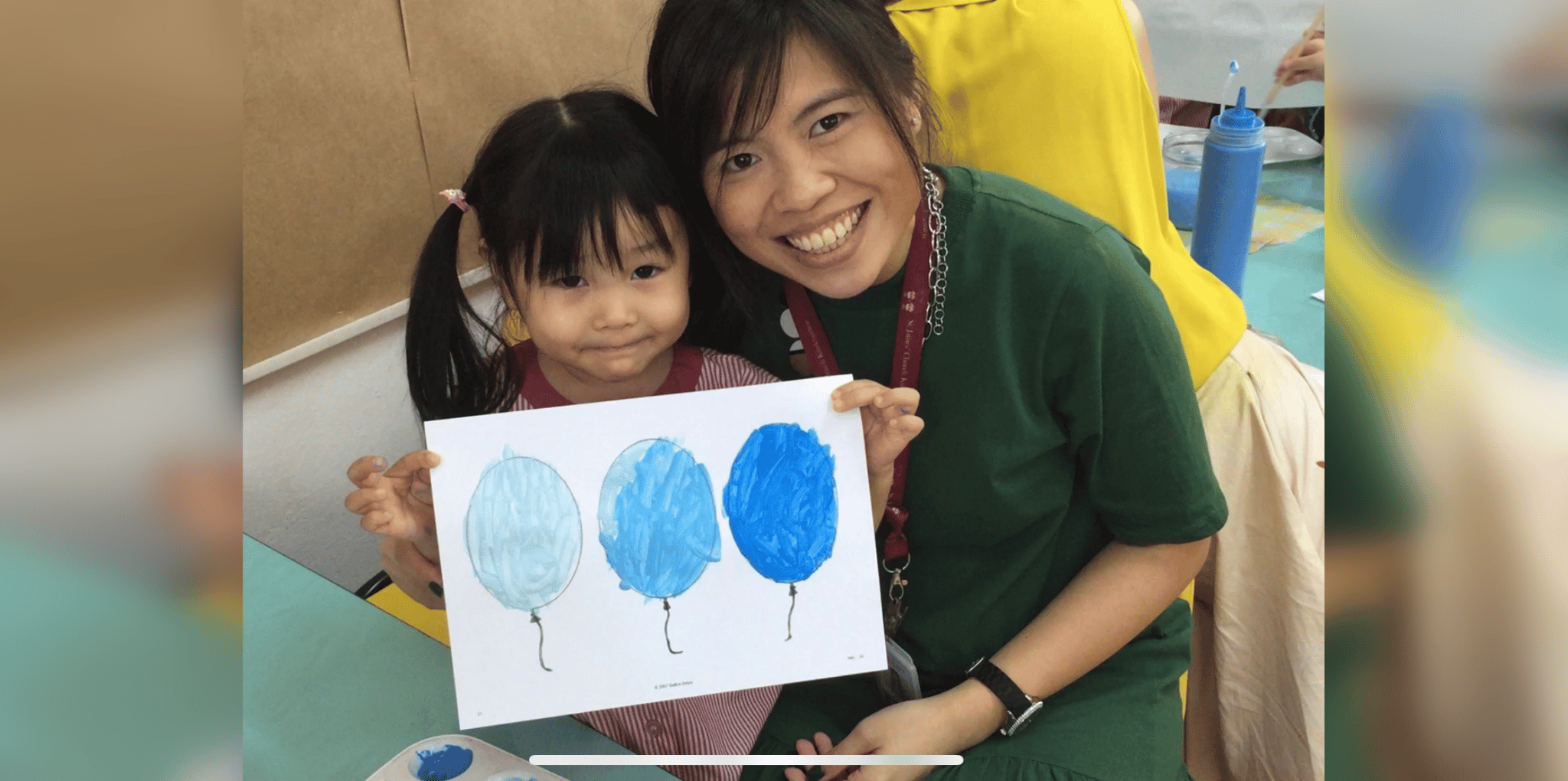 "If you do things right for the kids in the early years, it will make a big difference," said Cara Lee, who is living out her God-given calling as an early childhood educator. All photos courtesy of Anglican Preschool Services.
As a mother of one of her students recounted a strange thing her son had done recently, Cara Lee thought the story sounded oddly familiar.
The boy, who was in preschool, had told his parents to spit into some dirt and rub it on his sister's nose, declaring to them that it would heal her runny nose.
"The mother was like, 'What are you talking about?' But when I heard it, I knew that it had come from somewhere," said Cara, 37.
Turns out, the little boy, who comes from a pre-believing family, had heard a story in school about Jesus healing a blind man by rubbing a mixture of dirt and saliva into his eyes.
"We didn't even tell the children to go home and apply it, but this boy went home and put it into action," said Cara, a tinge of awe in her voice. 
The simple faith of a child
It is this simple faith of children that has encouraged Cara daily in her work as an early childhood educator.
Starting out as a teacher in 2004, she is currently deputy pillar head of the early childhood development centres at Anglican Preschool Services, which houses brands like Little Seeds Preschool, St James' Church Kindergarten and Ascension Kindergarten.
"Children have a special place in God's heart because of the simplicity of their spirit. They really need to rely on others to help them, and that's the kind of faith that God wants us, His children, to have," she said.
Listing some examples of how she witnesses this faith in action every day, she said: "You tell them that their mummy will come. They will bawl their eyes out but they really just believe you that their mummy will come.
"And if you tell them that 'Jesus loves you', they just sing the song with gusto and they believe that 'Jesus loves you' – and they will go and tell other people!"
Receiving the call at 12 years old
Interestingly enough, though Cara is now a veteran in the early childhood education scene, she did not always have a passion for school.
"I didn't want to just do a job. I wanted to be in a place where my presence would make a difference in another person's life."
A student at Paya Lebar Methodist Girls' School, she was unmotivated to study and "barely scraped through" each year.
"I hated studying. I just felt that there was nothing I was learning that was going to make a difference in my life. I was just doing it for the sake of an exam," she recalled.
Even though she found little purpose in studying, she discovered at just 12 years old a passion for working with preschool children, after she was roped in to help out with the younger ones at her church's Sunday School.
"It was in the preschool space that I could actually see the children growing. I could see a lot of fruit, a lot of developmental changes in the early years," she said.
"At this stage, nothing is set in stone. Everything can change for the better. I thought: If there's any time to plant a seed, it is now. If you do things right for the kids in the early years, it will make a big difference," she added.
Though just an adolescent then, she set her mind on becoming an early childhood educator, even though at the time there was no such local education or training track.
"I didn't want to just do a job. I wanted to be in a place where my presence would make a difference in another person's life," she said.
By the time she graduated from secondary school, a new course in early childhood education had opened up in Ngee Ann Polytechnic. However, having just passed her O-Levels, and with more than 300 people fighting for over a hundred spots, getting into the course felt like a shot in the dark.
Surprisingly, she did. And it was here that Cara found her purpose and truly flourished. 
"I was everything I was not in secondary school. My parents were like, 'What came over you?' I was starting to be very sure and very motivated. I really felt like my life was here to make a difference," she said.
She graduated with a diploma with merit and went on to pursue a Bachelor's degree (and later a Master's) in early childhood education, before stepping out into the workforce.
A sacred responsibility 
Becoming an early childhood teacher, however, was not a decision that was looked upon highly by those around her. 
Parroting the typical sentiment on the ground, she said: "Come on, you want to be a nanny? What kind of money are you going to earn from this? It's not even a job. It's like a child-minding service by all the old aunties. Your parents okay with you doing this, ah?"
Despite these discouraging comments, however, she understood that there was something significant that she had been called to do.
"When it's a calling, there is a spiritual aspect in the work. The work is a form of worship. The fact that something is moving in the spiritual realm when I am working is a thought that I cannot ignore. I cannot shake it off," she said.
"I just know I have a sacred responsibility, that the words that I speak have power. The decisions I make have power."
It is this that has kept her going for almost two decades, and she is grateful that God has been kind to show her the impact she has made whenever she grows weary. 
"The fact that something is moving in the spiritual realm when I am working is a thought that I cannot ignore."
For example, she recalled the time when she suspected that a boy in her class had special needs. While she made an effort to educate herself on how to better manage him, she struggled to bring up the issue with his parents.
It was something she could have swept under the carpet, but she knew it would not be the best thing to do for her student. So, gathering up her courage, she broached the subject with his parents.
Thankfully the conversation, though tearful on both sides, went well and the boy's parents were able to accept that they needed to get him some additional help.
"I remember walking out of the conversation thinking that if that was my job to bring them to that starting line, then it was worth it. In the last six months that we had with him in the school, we saw improvements," Cara recalled.
Today the boy is in Secondary 4 and has successfully made it through the mainstream education system "despite some of his quirks", she added endearingly.
Seeing work through faith-tinted glasses
In the coming year, Cara will be focusing more on developing her organisation's Academic Services, which include their programmes, curriculums, professional development and innovation and research.
Even though she does not interact as much as she used to with the students, she still finds meaning in making an impact in their lives through mentoring and guiding their teachers and principals.
Her faith continues to shape the way she carries out her role in two main ways, she said.
The first is in the choices that she makes. "My faith really, really helps me to prioritise what is most important. When I make choices, I think about what has eternal value," she explained.
"I do this from choices as small as whether I'm going to call this parent personally or leave it to another leader, to choices as big as whether I'm going to raise my points of disagreement and convictions at the risk of being the only one," she said.
The other is in what she calls "sense-making", or trying to understand the things – both good and bad – that happen in the workplace.
"When I make choices, I think about what has eternal value."
When there is success, she acknowledges that it is from God. When she runs into problems with people, she strives to forgive them, understanding that they, like her, are on their own growth journeys. And when things do not make sense, she acknowledges that it is okay.
"I need to embrace the fact that I have limitations and I'm not the answer to every question, and that God is above it all," she said. "There has to be a point where you stop asking why. I need to ask instead, how shall I best respond?"
Seeing her work through faith-tinted glasses has also kept her faithful, even though she still receives comments from others about how she could be earning more elsewhere.
"I allow myself to be a human and take this issue to God. But I've come to realise that if the organisation I'm working with still aligns with my calling and if it's totally allowing me to do the work that I believe should be done in early childhood, then until God says go, I won't go."
---
RELATED STORIES:
"As much as it takes a village to raise a child, it takes a child to transform a village": Good Start SG
If you have enjoyed reading Salt&Light...
We are an independent, non-profit organisation that relies on the generosity of our readers, such as yourself, to continue serving the kingdom. Every dollar donated goes directly back into our editorial coverage.
Would you consider partnering with us in our kingdom work by supporting us financially, either as a one-off donation, or a recurring pledge?
Support Salt&Light