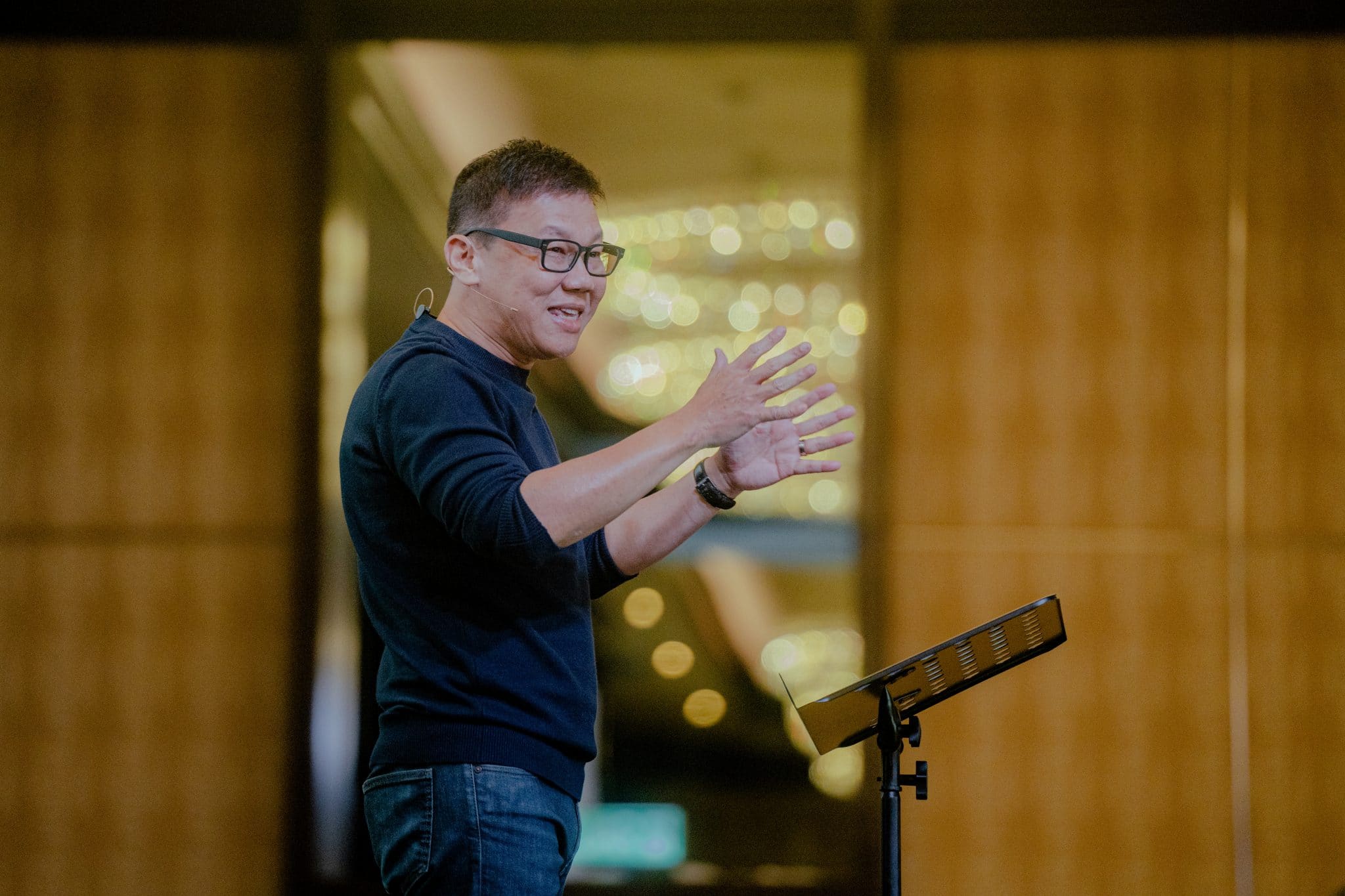 Pastor Jeff Chong at this year's Pastors' Summit casting his vision for LoveSingapore as the newly-installed Chairman. Photo by Thirst Collective.
Pastor Jeff Chong, Senior Pastor of Hope Singapore, was officially installed as Chairman of LoveSingapore during a handover service held on January 9, the first day of the annual Pastors' Summit 2023.
More than 380 pastors and leaders from 108 churches and para-church organisations were gathered to witness the event. Only two other Pastors – Lawrence Khong, whom Pastor Jeff succeeds, and the late Rick Seaward – have led the unity movement since it was founded in 1995.
"People matter to God, and they must matter to us. If we don't preach the Gospel, what are we doing?"
LoveSingapore is made up of a network of churches passionate about interceding for Singapore. Each year, LoveSingapore organises a 40.Day fast and prayer leading up to the Day Of His Power prayer conference the day before National Day.
In recent years it has launched the Loving Singapore Block-by-Block and LoveJapan evangelistic campaigns.
Pastor Jeff has been a full-time minister at Hope Singapore since 1996. He was installed as Senior Pastor in 2009.
"Leaders are called by God to stand up to give a clarion call, and selflessly give himself to what God has purposed for his people," said Pastor Lawrence Khong, Apostolic Overseer of Faith Community Baptist Church, in the installation service on Monday night.
"So it is with great and serious consideration that we believe that God has called my dear brother Jeff Chong to be the leader of LoveSingapore."
A call to move into the playing fields
LoveSingapore leaders gathered around Pastor Jeff to pray for him and oil was poured over his head in a symbolic act of anointing before he made his first address as Chairman.
Pastor Jeff told leaders: "I believe God wants us to focus on three things."
"Give your very best to the One who has only ever given us His very best."
First is turning Singapore Godward, where the emphasis is on both outreach and discipleship simultaneously, he said.
"Part of helping people become more like Christ must include them reaching out to people who are yet far from Christ," he told the assembled gathering of about 400 pastors and other ministry workers.
"People matter to God, and they must matter to us. If we don't preach the Gospel, what are we doing?"
The second prong of his vision is winning youth for Christ.
"We need to engage the youth today and give them a platform to serve and to lead. The best time was yesterday. But yesterday is already gone," he quipped. "The next best time is today."
Finally, he exhorted leaders in attendance to lead the way in missions and be a blessing to the nations.
If the churches of LoveSingapore resonate with the vision, then they should be fully invested in the process, he said.
"Is this a God-thing or a 'Jeff-thing'? And if it is a God-thing, then invest your time, talents and treasure to do what God wants us to do," said Pastor Jeff.
"Give your very best to the One who has only ever given us His very best. Get out of the spectator seat and move into the playing fields. Let's all be involved together."
---
RELATED STORIES:
"Is the Holy Spirit in His rightful place in your life?": Pastor Lawrence Khong at Pastors' Summit 2022
This season of disruption is a kairos moment for the Church to arise: Day of His Power 2020
If you have enjoyed reading Salt&Light...
We are an independent, non-profit organisation that relies on the generosity of our readers, such as yourself, to continue serving the kingdom. Every dollar donated goes directly back into our editorial coverage.
Would you consider partnering with us in our kingdom work by supporting us financially, either as a one-off donation, or a recurring pledge?
Support Salt&Light