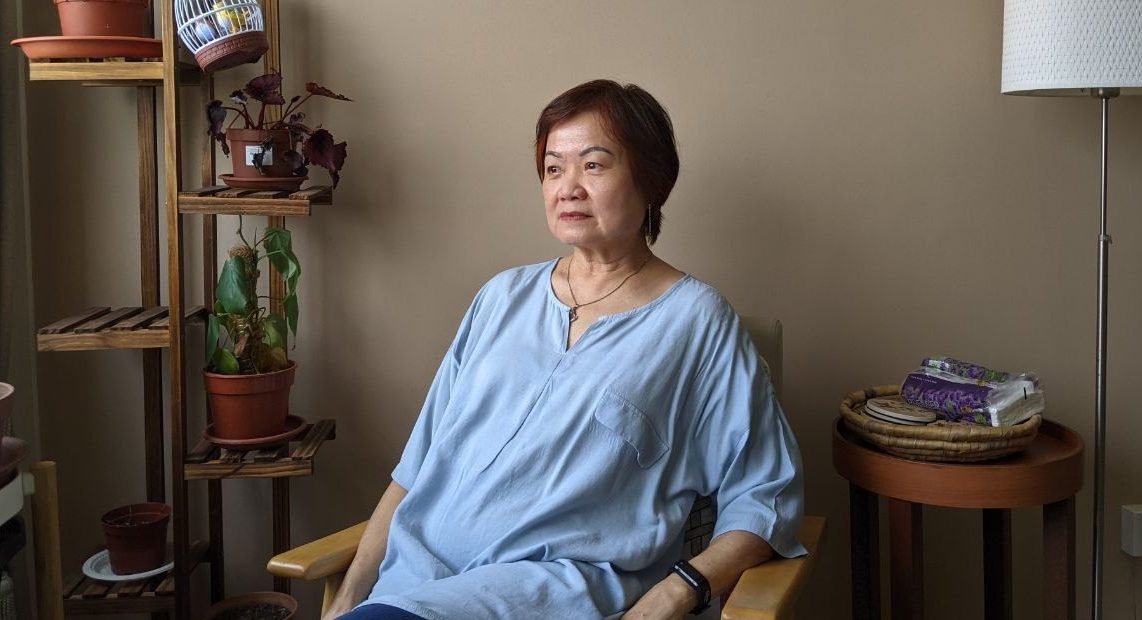 Suzanne Soh hopes that her story will encourage others who are in life's valleys, so that her journey of hardship, loss and suffering can be used for God's glory. Photo by Salt&Light.
"After I got married, I thought I would live happily ever after. I never knew that widowhood would come upon me," Suzanne Soh said as she settled into a rattan chair in her living room, tears brimming in her eyes.
It has been 16 years since Simon, her husband of 23 years, passed away from lung cancer. Yet the grief lingers in ways that those who have not experienced it cannot understand. "The loss of a spouse is daunting," she admitted.
"I never imagined that I would be here after 16 years."
There were seasons when she felt utterly alone. Well-meaning friends, not knowing what to say, would cast her unwanted looks of sympathy. The mere sight of married couples was like a jab to her wounds.
While the pain today has dulled, even the joyful moments of enjoying her six young grandchildren are tainted with a twinge of sorrow.
"He didn't get to enjoy the fruits of our marriage," she said, as she looked at photos of the bright-eyed, cheeky children displayed on the top of a cabinet in her home.
As Suzanne shares her story over the next two hours, it is evident that she has had to grapple with much pain in her life.
Yet there is a tangible wonder in her voice as she recounts how she has experienced God's goodness and love in greater measure.
"I never imagined that I would be here after 16 years," she said with a smile. And this is the reason she wants to share her story.
"Many people are lost in their pain. I want to share my story to encourage them that they can walk out successfully with God's help."
A rattling diagnosis
Life had been smooth sailing before the cancer crisis hit.
Simon and Suzanne had met while studying in the United Kingdom and married four years later in 1983.
They were enjoying their marriage and three children, who were then in their teens.
They attended and served in church as a family, with Simon as an elder.
Responsibility and faithfulness were the two traits that defined his character, said Suzanne, adding: "He was a really good husband and father. We were really one."
They were close as a family too, making it a point to have dinner together every evening and taking trips to nearby countries twice a year.
"I was thanking God because it was like a fairytale, a Cinderella story. I had found my prince and my life was now better," said Suzanne, who had grown up with a difficult childhood.
Then in 2004, Simon discovered a lump on his tongue. A biopsy found that it was Stage 2 tongue cancer. He was then 46.
The family was rattled by the diagnosis but had hope that he would recover. He was advised to remove 40 per cent of his tongue.
"Doctors said he may lose his speech, but by God's grace he didn't. In fact, he began speaking in tongues!" said Suzanne.
He made changes to his life, eating more healthily and making the time to rest. Suzanne also resigned from her job as a nurse so that she could take care of him.
But after two years of remission, the cancer returned in January 2006 – this time to his lungs. It was end-stage cancer.
"It felt like the end of the world," said Suzanne. "He was also very discouraged."
"He was suddenly at peace … He decided to accept whatever God had decided for his life."
Pastors and elders came to their home to pray for a miracle. The couple also attended various healing services – anything they could find.
"It was a fight between God and myself, between letting him go and seeing him suffer, between hoping for a miracle healing and finding peace," she said.
In May that same year, they were invited to a friend's healing centre in Perth, Australia. There, after Simon was prayed for, Suzanne noticed a change in him.
"He was suddenly at peace. Whether he's alive or he dies, it's not important. He decided to accept whatever God had decided for his life," she said, calling what he experienced God's shalom peace. "Before you pass on, you need that peace to be able to look beyond death."
He stopped attending healing services after that and spent his time visiting other terminally ill patients, sharing with them this peace that he had found.
His health quickly deteriorated and he was admitted to an intensive care unit. On June 7, 2006, after Suzanne read Psalm 23 – Simon's favourite psalm – to him at his bedside, he collapsed.
"He woke up just enough to give me a smile. He left with a peaceful look on his face," Suzanne recalled with tears in her eyes.
Crumbling under grief
Though she knew that Simon was at peace before he passed away, his death threw her into a tailspin.
She dropped out of church, angry with God for taking her husband away and disappointed by what she perceived as the lack of support from those around her.
In a community where everyone seemed happy and cheerful, she felt there was no space for her to grieve or share her grief.
"I began to feel like a goldfish swimming in a bowl. Everyone was like, 'Aiyo, poor thing', looking at me and then walking away. I hated that sympathy, yet I desired the care from others," she said.
As an elder's wife, she also felt a pressure to stay strong. "I didn't know it then, but that actually further crumpled my spirit," she said.
She stopped attending her church's cell group. The sight of happily married couples, which comprised most of the group, was too much to bear.
"Am I still your God?"
For two years, Suzanne wandered around in other churches where nobody knew her or her story.
She was trying to hide, but God saw her.
Her friends in Perth, who ran the healing centre where Simon had received God's shalom peace, invited her to return for a visit. She decided to spend a week there.
As she sat in their farm, watching the cows and deer graze in the open field, she heard a voice call her name: "Suzanne."
Looking around and seeing no one, she thought it was merely her imagination. But the voice called her name again. And again.
In that moment, she remembered that God had called Samuel's name three times in the Bible.
"God, is that you?" she called out tentatively.
"Yes," came the reply. "It's your Father."
Upon recounting this, her face twisted with emotion as she broke out in sobs. "I cried just like this when I heard His voice," she said after a few moments.
"I have a plan for you. A plan not to harm you, but to give you a hope and a future. Do you trust Me?"
"I said, 'God, why did You have to do this to me? Why did You have to take Simon away? Why did You have to blow me up like that?'
"Suddenly I just felt like clinging to God, like He was there and I was a child. God just kept silent until I stopped crying. I don't know how long it was."
When her sobs grew quieter, she heard Him ask gently: "I've taken Simon home. Am I still your God?"
She felt the anger rise in her again. "God, why do You need him? I need him more here," she lamented.
But the question came again: "I've taken Simon home. Am I still your God?"
And again, more gently than ever: "I've taken Simon home. Am I still your God?"
Suzanne told Salt&Light, her voice breaking: "The third time He said it, something broke in my heart. I could feel it in my spirit.
"And I told God what I really wanted to tell Him: 'God, I really need You more now. I cannot do without You. I just need You.'"
Then came the simple reply: "I have a plan for you. A plan not to harm you, but to give you a hope and a future. Do you trust Me?"
Who is this G-O-D? 
Looking back on her life, Suzanne had every reason to believe that God was worth trusting. He had been so good to her, even when she did not yet know Him.
The eldest of five siblings born into a poor family, she struggled deeply in her younger years after her mother took her own life when Suzanne was just 12 years old.
In the aftermath of her mother's sudden death, the family was left to pick up the pieces.
Her father worked two jobs to provide for the family. The family of six survived on $2 a day, eating green bean or red bean soup for lunch, and rice and eggs for dinner.
The burden of managing the household and caring for her younger siblings, who were all under ten years old, fell on Suzanne's shoulders, and she struggled to juggle her studies in school.
She became quiet and withdrawn. From consistently ranking the top three in her class, she failed her exams in Secondary 1 and started to lose her sense of self.
She did not know it then, but she was calling out to God – and He had heard her.
She failed her mid-year exam again in Secondary 2 and was summoned to the principal's office. It was her breaking point.
"I walked to the next flat and climbed up the stairs to the 12th storey. I wanted to throw myself down," she said.
Just as she was about to jump, she heard someone call her name. It was a classmate. By coincidence or divine intervention, her classmate lived on the floor that Suzanne was on.
She was suddenly brought back to her senses: "What am I doing? Is it worth it? What would happen to my dad and siblings?"
Tearing up, she told Salt&Light: "Back then I didn't know the word 'God', but I knew that Someone had saved me."
But the struggle remained.
Still as depressed and hopeless as she had been, she looked up into the sky one night and cried out: "Is there a greater one who cares what I'm going through? Why is life such a struggle? Did I do something wrong? Why was I born into this family? Can someone just help me, please?"
She did not know it then, but she was calling out to God – and He had heard her.
A week later, the family was at home when a couple knocked on the door. They were from Geylang Methodist Church, they said, before handing her a tract with John 3:16 printed on it.
For God so loved the world that He gave His only Son, so that whoever believes in Him shall not perish but have eternal life.
"I said, 'Who is this G-O-D?' I didn't even know how to pronounce the word," said Suzanne.
"Faith is a deliberate choice. I could have chosen to be angry and bitter with God. But what would have become of me?"
The couple shared the Gospel with her and that very day, while standing at her gate, she prayed to received Jesus into her heart.
She began attending Geylang Methodist Church and became a part of the community, where people befriended her, helped her and looked out for her, bringing rice to her home every week.
"I saw God's love in those people," she said.
A year later, she began attending Bartley Christian Church with her classmate as it had a bigger community of teenagers her age. "They were my community. I grew up there," she said.
Though her problems did not magically go away, being in the community and building a relationship with God made a difference.
"I was a happier person. It made me more positive," she said.
God had answered her prayer.
Seeking out the lost sheep 
This was just one of the many ways God had shown His love and goodness to Suzanne in her life.
There was also the time He divinely provided her a way to study in the United Kingdom, where she met Simon. And the time God miraculously saved her father – both physically and spiritually – after he fell into a coma.
In the field in Perth, Suzanne told God: "Lord, I have known You so much that I cannot say I don't trust You."
When she returned to her cabin, a bookmark she had not noticed before dropped out of her Bible.
On it was Jeremiah 29:11, the very same verse which God had earlier given her: "For I know the plans I have for you, declares the Lord, plans for welfare and not for evil, to give you a future and a hope."
Tearing up again, she told Salt&Light: "God says that even though He has 100 sheep, He will still go and find that one lost sheep. That was me. I knew God would not let me go."
Finding peace in turbulent waters
The encounter gave her a newfound strength. She was comforted to know that God had seen her sorrow.
She realised that she had two choices: Blame God forever for what has happened, or choose to trust in His love and good purposes for her.
"Faith is a deliberate choice. I could have chosen to be angry and bitter with God. But what would have become of me? I can't think of anything good.
"So I chose to trust that God would turn something bad into good, even though I couldn't see it," she said, adding that she returned to church after her encounter with Him in Perth.
"But now I can see," she added – through her children, her grandchildren, her good health and the healing she has received with God's help – "I've been so blessed."
When asked if God is good after all that she has been through, Suzanne answered without missing a beat: "Yes, definitely. Not only is He good, He is so wise. His wisdom and His knowledge of us is far beyond us.
"Not only is He good, He is so wise. His wisdom and His knowledge of us is far beyond us."
"You may think something is good for you, but actually it's not. Again it comes down to a choice, whether you want to trust in what He thinks is good or whether you want to trust in what you think is good."
It is in God's wisdom and love for her that she finds a peace that surpasses all understanding, even though life at times is still messy and her pain still lingers.
She said: "Have you ever seen a boat that is on turbulent waters? I feel like I'm on that boat, but I can still sleep in the storm."
Through her storms, Suzanne now truly believes that though life is fraught with twists and turns, God is working out something good for those who trust in Him (Romans 8:28).
She said: "This verse sums up my life. We may not understand it. We may not even accept it. But God's purpose in our life is real."
Suzanne hopes that her story will encourage others who are in life's valleys, so that her journey of hardship, loss and suffering can be used for God's glory.
She also wishes to raise awareness among the church about grief and suffering.
"We don't want church to just be a happy place where everything goes well. If that happens, we're just pretending that everything is okay, but actually some people are hurting so much," she said.
"We should be a family where the widows and widowers don't have to feel out of place, where we look out for those who mourn."
---
RELATED STORIES:
"Even if a person dies of cancer, there is still a beautiful story to be told": How one woman found peace and joy in the valley of death
How do we face overwhelming grief? 5 families share how they survive the anguish of loss
If you have enjoyed reading Salt&Light...
We are an independent, non-profit organisation that relies on the generosity of our readers, such as yourself, to continue serving the kingdom. Every dollar donated goes directly back into our editorial coverage.
Would you consider partnering with us in our kingdom work by supporting us financially, either as a one-off donation, or a recurring pledge?
Support Salt&Light