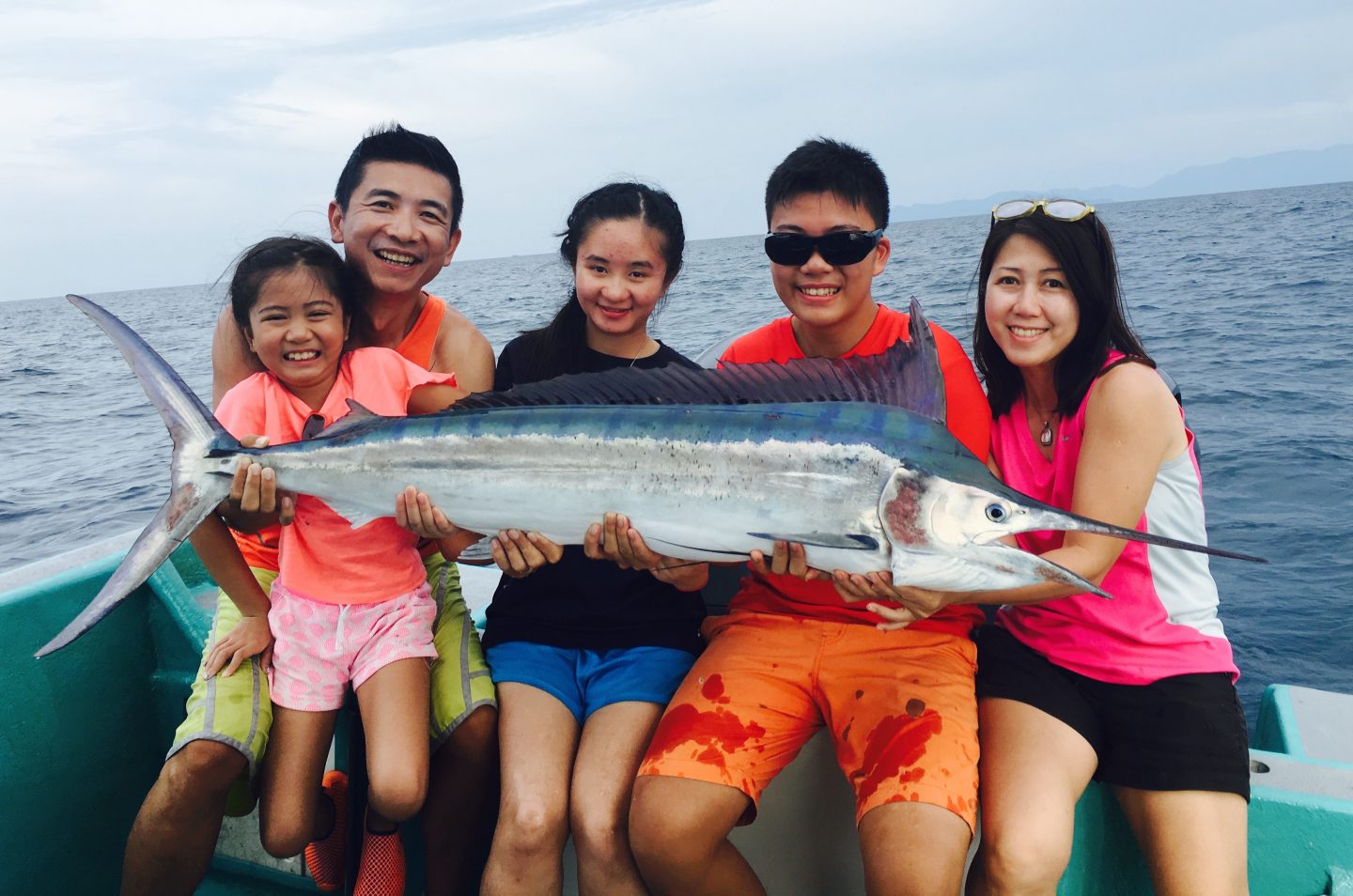 Cynthia Peh, 47, lost her husband Jesse two years ago to cancer. He picked up fishing as a hobby later in life after his first brush with cancer. Here, the couple is pictured with their children (from left to right), Cherie, Kellyz and Denzyl. All photos and videos courtesy of Cynthia Peh.
Pictures of a family of five, beaming whether they are carrying a freshly-caught fish or oranges and hongbaos, add the finishing touch to the newly-renovated flat in Bukit Batok, a 16th-floor oasis that captures the sunset justly, its owner pointed out. Except one man is no longer around to appreciate it.
On March 31, 2017, Cynthia Peh lost her husband, Jesse, to stomach cancer. He was 45.
Jesse was diagnosed more than two years earlier on January 2015, after spending five years in remission. His family was looking forward to getting the all-clear. Instead, he got the "death sentence", said Cynthia.
"Of course we cried ourselves out of the clinic."
But if there is a silver lining to being widowed at 44, it is the time and clarity to experience a divine love that quietly restores the brokenhearted (Psalm 34:18).
Humbled by sickness
Cynthia says the man she fell in love with was gregarious and adventurous. The self-professed introvert "loved watching him interact with others", but soon found that she had to share him with many others. 
It didn't help that Jesse's aloof side gradually unfurled in the marriage, at least when he was finally himself when he came home each night after work. Cynthia said he reminded her of her own father, stern and scary. They slept at the edges of the same bed.
Jesse was a different person around his Air Force colleagues and friends. He was more at ease golfing and drinking with them, or even stressing over the next flight or presentation.
"I told him I wished I were his friend instead of his wife. Then at least I'll like him."
"I think that was the greatest comfort I had from him, knowing that he needed me every moment."
His oncologist originally told Jesse he only had a year to live. His 17-year, half-hearted search for a higher being suddenly became an urgent task.
He had been going to church with his family, but the diagnosis led to a genuine acquiescence (Psalm 51:17). He was, and never would be, in the state to faultlessly care for his family, be the perfect Air Force pilot, or overcome his ailment. Only the good God could do and give what he wanted (Ephesians 1:11). 
Jesse was baptised in March 2015. He was a completely new man after that, Cynthia said. She couldn't be more overjoyed with his sudden eagerness to be close to her, and his frequent public declarations of love.
The exuberance was short-lived. Jesse's cancer relapse brought about a new bout of reticence, first due to an instinctive depression that percolated after the pronouncement, and later a result of a nasogastric tube that went through his nose and throat down into his stomach.
He no longer had the energy to grab hold of Cynthia's hand. 
Every time Cynthia left his ward to attend to the children, Jesse would urge her to come back quickly. "He wanted me to stay beside him even though I would have nothing to do," she said. " I think he took comfort in my company and I think that was the greatest comfort I had from him, knowing that he needed me every moment. That was good enough."
Even when they were in the same house, Jesse wasn't satisfied. When he came home during the final eight days of his life, "I would be in the kitchen, he on the sofa", and even then he would croak Cynthia's name.
The closest thing resembling physical intimacy came in the form of caregiving duties she embraced.
Every Sunday, Jesse spent a couple of hours out of the hospital at church. Before he left, Cynthia would wheel him into the shower, give his head a massage, scrub the dead skin off his body, let the warm water run through his hair and back. She always took her time because "you never know when is the last time", she said.
Something else striking blossomed through these tender moments. Cynthia saw a man, once an arrogant, guarded military officer, humbled. "He had came to this point where he was almost bedridden. He couldn't wash himself. He needed help with everything. His pride was no longer there."
Taking nothing for granted
Though she cherished her remaining days with Jesse that final year, Cynthia was unmistakably worn out too. She was in and out of the hospital, attending to her children if not Jesse, using her spare time to scour medical advice from friends and family.
She remembers the long pathway she had to walk every day to her car from the block where Jesse was hospitalised. "I told the Lord how I wished I could just lie down on the pavement and sleep.
"I knew I was still a wife, a mother, a daughter to my mum and friends to my friends. There were still so many roles to play and I couldn't just collapse."
God's supernatural force was the only thing stopping her from crashing, she said, as she took solace in Isaiah 40:31. She never stopped to think about what would happen after Jesse left – the finances, the children, her impending grief. "I just wanted to make sure that this day is worth living."
To help Jesse cope with his hospital ordeal, the Pehs turned his ward into a mini-church, she said. They decked the walls with family photos and posters of verses and inspirational quotes. Once a week, his son, Denzyl, and their church friends would hold an informal worship session with Jesse's guitars.
There was a warmth in a place that was previously "lifeless", Cynthia said.
Jesse's oncologist discharged him eight days before he died, with Cynthia's consent. It was the hardest decision she had ever made, she said, because she didn't want to feel like she was responsible for his death.
But one day, towards the end, when the nurses failed to draw his blood for tests, Jesse begged to go home. "It's enough," he sighed. 
Cynthia struggled to see him at home and beseeched God to prolong Jesse's life, right till his last breath.
Meanwhile, she tried to focus on relishing every waking moment with him while Jesse was still alive. Eventually, she fell still when she saw that he was at peace.
The doctor had warned her that during a dying person's last days, they would usually be delirious and in great pain, unable to recognise their loved ones. Instead, Cynthia saw none of that.
Jesse never asked for any painkillers, nor did he seem scared about the inevitable.
The night before he died, he repeated to himself, "very good". His last word was "excellent", with a grin on his face.
Cynthia believes that he was getting visions of heaven.
A temporary separation
"I knew I had done well. It's just a temporary separation," Cynthia said.
Despite her conviction, it was hard to wake up without her husband on the other side of the bed.
"The most difficult part of grieving was to wake up not seeing the person you used to see every morning," she said. "You wish the one you miss so much would appear somehow, but till now, he has not shown up."
She longed for his figure, his voice, his smell.
"Now you are the father and the mother, you have to go and work," Cynthia told herself, remembering at the same time that God feeds even the sparrows (Matthew 6:26).
These periods of uncertainty forced her to double down in prayer for the intimacy and assurance she ached for. Insurance money and downsizing their home helped the family to tide things over. Her two eldest children, Kellyz and Denzyl, supported themselves through their job and National Service allowance as well.
As God insulated them from financial strain, Cynthia could spend the last two years writing a book to document her marriage instead of taking up a job immediately. The process gave her stretches of time – for someone who said she has never been good with languages – to press in on the Lord for the words to pen down, and to weep over close to three decades of memories she made with Jesse.
Ask Cynthia which biblical passage consoled her, and she points to 1 John 4:19: "We love because he first loved us."
In fact, it sustained her through times of marital troubles, when she felt she couldn't love Jesse and his glacial behaviour. Now, when she feels she can't move on from her dearly departed, she turns to Jehovah Jireh for enough grace to tend to her kids as she lets grief take its natural course.
"I knew I had done well. It's just a temporary separation."
In July, after 18 years as a homemaker, Cynthia will be returning to work as a receptionist at the church she attends, New Creation Church. The job came after she had prayed, asking God what the next season would be like after she finished writing.
No, it doesn't get easier, even after more than two years, she said.
The part of her that misses Jesse grows bigger every day, though she thinks she's gotten stronger as a person.
She grapples with her bereavement by recollecting the time she spent with her husband, eating the food he liked, baking his favourite pizzas.
She also continues to write to him in her journal, about "how I cope with life here without him and every single blessing God has showered upon our family (1 Thessalonians 5:16-18)."
If you have enjoyed reading Salt&Light...
We are an independent, non-profit organisation that relies on the generosity of our readers, such as yourself, to continue serving the kingdom. Every dollar donated goes directly back into our editorial coverage.
Would you consider partnering with us in our kingdom work by supporting us financially, either as a one-off donation, or a recurring pledge?
Support Salt&Light