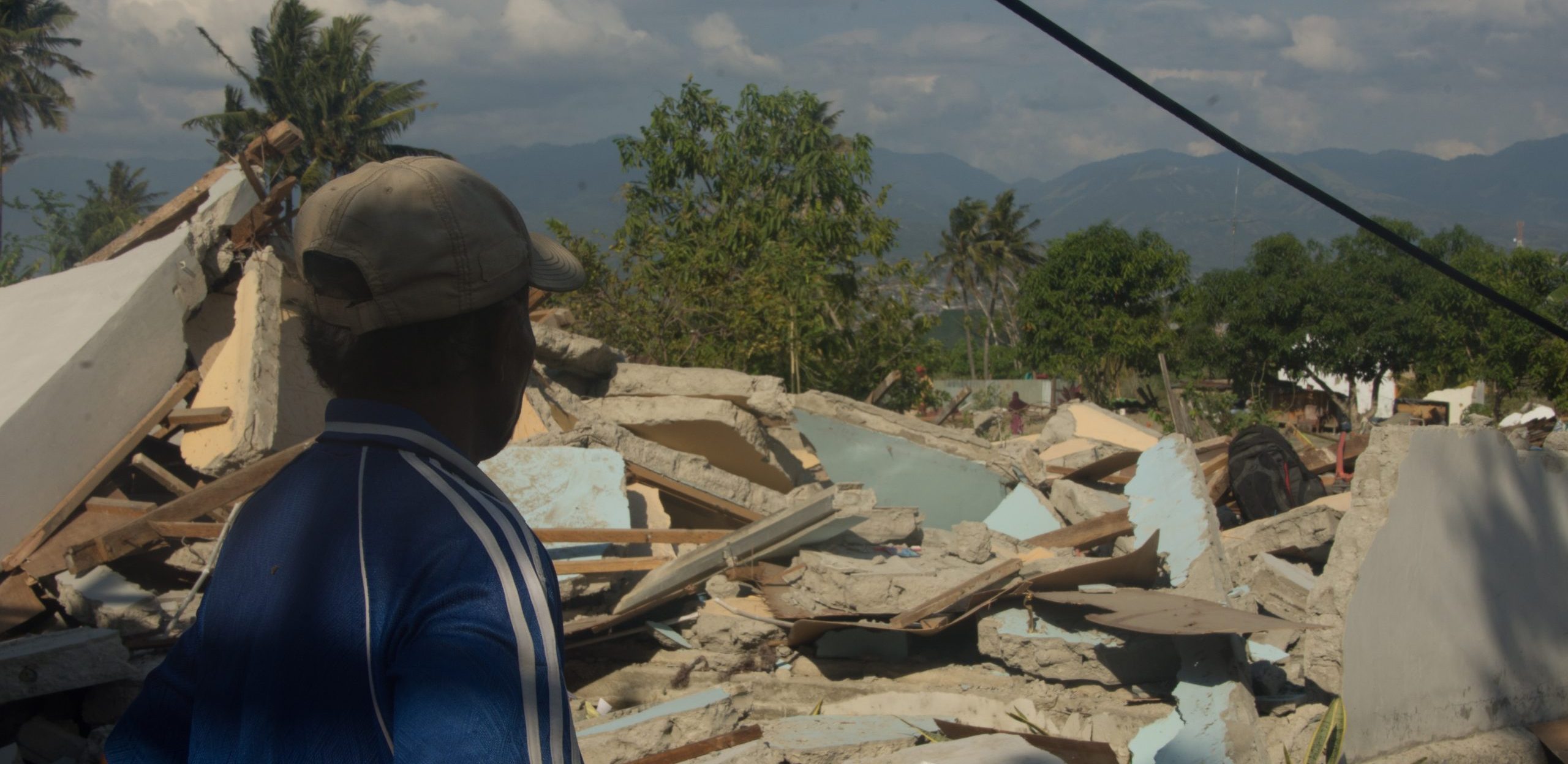 When a natural disaster rocked a certain Asian country in the early 1990s, it opened the door to Peter* and his team to bring aid and hope to its people. Photo by Ellyn Schellenberg, for illustrative purposes.
When he was a young boy, Peter* (not his real name) was terrified of Chinese wakes and funerals. If there was one in his neighbourhood, he could not sleep. 
"In the olden days, Chinese funerals were very frightening," Peter, now approaching his 60s, told Salt&Light.
"But the day I received Christ, that the fear went away, because the peace of God was with me."
Peter knows a thing or two about fear.
In his job, fear and uncertainty lurk just around the corner. He heads a team that extends aid to people in closed countries in Asia, where people are forbidden to believe in any other religion except the one of their lands. It is also offensive for people of other religions to share their faith with them.
"If I am ever taken away, please don't do anything for me except pray for me."
"We cannot let fear control our lives," he said.
Peter and his team believe in expressing God's love through friendship and aid to communities in need. Their actions do not go unnoticed. 
For what he does, Peter himself is "mentally prepared" for the worst. "I have told my wife and son, 'If I am ever taken away, please don't do anything for me except pray for me. Don't call the police, don't call a lawyer. Don't challenge the authorities.'"
His family and his team have seen, more than once, how God has worked through natural disasters to open doors and hearts to Him.
Love on the seas
Peter's introduction to faith came in his secondary school years when his eldest brother becoming more caring in the way he behaved and spoke with Peter and their younger siblings.
His brother had become a Christian.
"I saw a change in his life, and asked him how I could have it. It was very special."
His brother gave him a book, Journey to Life, and led him to Christ.
At a youth group in church, Peter shared: "I feel that God has a big plan for my life. But I don't know what it is."
After his 'O' level exams, Peter ended up signing up with the navy as a marine engineer.
However, it was only eight years later, when his contract with the navy ended, that he realised: "God had a bigger plan. Not just for me, but for the world."
His pastor put him in touch with Operation Mobilisation (OM) and told him: "Now you are ready for God's plan."
It was the late '80s and Peter was just in his mid-20s.
OM's ship, MV Doulos, which crossed the seas to offer knowledge, help and hope to different communities in various ports, needed a marine engineer but had been unable to sail until Peter stepped on board.
"What I did in the past eight years was not a waste, but a preparation for what was coming."
It turned out that the Doulos also needed him to train international volunteers – fresh school leavers between the ages of 18 and 22 – to act as watchkeepers to keep the ship's generators and engines running.
In the navy, Peter had trained officers and others with no engineering experience.
"What I did in the past eight years was not a waste, but a preparation for what was coming," he said of God's hand.
Peter was able to continue the kind of work and the sea-going lifestyle that he enjoyed. 
When the ship docked at various ports, he also had his first taste of going onto the streets or into churches to share with people the difference God made in his life.
Serving with Peter on the ship was his new wife. Their pastor had introduced them when Peter was at Bible school and needed someone to type up his papers for submission.
God, where do you want us to go?
After eight years on the Doulos, Peter grew a heart for a specific group of people, whom he has been serving ever since.
"They are very friendly people. But there are very few who are reaching out to them."
Registering an NGO (non-government organisation) enabled Peter and his team to offer aid to this country in Asia where he saw "a lot of needs". But which community would they work with? 
"God led us. He said, 'Go to the hospital'."
Then in the early 1990s, a natural disaster rocked the country. Through it, God would open a door for their work.
Peter and his team had rice and food staples to distribute to the locals who were affected by the disaster, but were stopped by local authorities from entering villages.
"They only wanted their own people to help.
"So, we prayed, 'God, you have moved us to come to this country to reach these people. Yet we can't get to them. God, where do you want us to go?'
"God led us. He said, 'Go to the hospital'.
The hospital was a scene of chaos, fear and anxiety. Many were looking for their missing relatives. "A lot of people felt hopeless and helpless."
When asked why they were helping, Peter would simply say: "We are a group of people who want to help."
The only thing the team could do was offer a listening ear and words of comfort. "When we offered to pray for them, the people were responsive and open."
A week flew by.
One local man thanked them for praying for his wife. He asked why they were at the hospital and not extending aid at the villages.
They told him that the affected areas were out of bounds to foreigners.
The man turned out to be a village chief. He invited them to distribute their supplies to his village.
Just as it was in the hospital, they found many villagers who wanted somebody to listen to the trauma of what they had just gone through. Peter and team were able to befriend the villagers and visit the village once a month, staying for a few days each time.
When asked why they were helping, Peter would simply say: "We are a group of people who want to help."
The team would go on to have a presence in six villages spread across a few countries. 
Making the right choices
In the villages, the team was able to set up centres where local children could be tutored for free.
Getting the children to do their homework was a long process.
"The children got scolded by their mothers at home, and punished by their teachers at school for not doing their homework. After school, they need some form of release, and would get into mischief. And the process would repeat itself.
It would take the students six months of friendship before they would trust him.
At that point, he would suggest: "Why don't you sit down and I help you with your homework. And you tell me what happened afterwards.'
Peter was able to help them see that their decision to do their homework had a positive consequence.
"When we did it, the kids' mothers and teachers were happy and didn't scold their children.
Peter was able to help the children see that doing their homework had positive consequences.
"Every decision a person makes has consequences".
When the time became ripe to share that Jesus loves them, "they know that your words have meaning", he said.
Sharing about Jesus only took place when the team was invited to make house visits.
"When someone invites us to their home, we become friends and talk about life. They share their problems with us, and we share how, when we are worried and have nowhere to go, we go to our God and cry out to Him. And He listens to us.
"We share that this is a living faith. It is about having a relationship with God."
One of their students, a girl of primary school age, would grow up to work in her country as a mission worker. She has saved up enough to put herself through university.
The Book
During their monthly visits to a particular village, Peter noticed that one particular family would get very excited whenever he visited their home.
He then discovered that the family noticed a pattern to his visits. They told him: "Every time you come to visit us, our father gets discharged from the hospital. But when you are away for a few weeks, our father goes into hospital."
After several visits, Peter felt moved to make a decision. "We need to tell him about the Gospel, because God is waiting for us to do this," he told his team. They prayed about it.
Before they could muster up the courage to tell the father that they were Jesus followers, the man told them: "I know that you are believers and you have something to tell me."
"God loved this man so much that He kept him alive for one year and gave him the chance to hear and respond to the Gospel."
They told him about Jesus.
But they did not push him to say a prayer of confession. "We needed to be gracious to the people. We cannot challenge them to make public proclamations that they have become believers. So, we left it to the man."
They do not know for sure, but they believe that he decided to follow Jesus.
The next week, when the team returned to the village, they discovered that the man had passed away.
The team was sad, but joyous that the man had been ready to embrace God.
"We talk about how God loved the world – well, God loved this man so much that He kept him alive for one year and gave him the chance to hear and respond to the Gospel."
They saw it as a miracle.
On subsequent visits to the village, the man's family members told them: "You have a Book that you need to give to us."
But the team felt the time was not yet right. "Having the Bible would put them in danger. It was evidence that the family had followed Jesus," said Peter.
One day, when Peter was having a conversation about spiritual matters with the family, they suddenly went silent. The family had seen the leader of the village headed their way.
It was only after the leader left that Peter was convinced that the time was ripe to give them a Bible.
Even this process – from "sowing the seed" to the moment people are ready to receive The Book and find out for themselves who God is – is a long one, observed Peter.
"It is not a one-chapter thing, but a whole book of what God is doing for us, from one phase to another."
A price to pay
Peter and team also knew that their every move was observed by the people, who could see "whether we are truthful about what we are doing".
"We were not there to trick them into believing. But we were there to show them love, to show them that we cared about them, and to help them through their difficulties."
For this group of people, there is a price to pay for believing in the God who grants eternal life to those who believe.
"They have seen that God has the power to change their lives."
"When they follow Jesus, it is not just a case of rejoicing. They understand the cost of discipleship and know that they will face hardships that include being ostracised by families, marginalised by employers, and may be labelled as troublemakers. 
"We have to prepare them to face the consequences. That is the challenge of working with them," he said.
The cost of following Jesus, the persecution believers face, varies from country to country. 
For these new believers, "The Word of God is very important for them to stand on, because when they are ostracised, they are alone. They have seen that God has the power to change their lives, and know He also has the power to give the peace and comfort they need."
Like Peter, they believe that "the trade-off for dying for Christ and living with fear and uncertainty cannot compare".
"We should not be fearful of death if we can look forward to eternal life."
No regrets
About a year ago, Peter and his team's work brought the locals to a point where "they own their own mission, they own their faith". The Covid-19 pandemic has accelerated the need for them to reach out to their own community.
Some joked that Peter has "worked himself out of a job".
But God's timing was perfect. Peter and his team had to return to their own countries because of Covid-19 restrictions. They remain in remote communication with the local leaders they ministered to.
"A lot of times, when friends and relatives see a change in a person, they want to know more."
The local leaders have grown in confidence since Peter's early mission work, when "we relied on foreign workers to guide us through everything, provide for us, and think for us", they said.
Keeping believers in their own community and in their own jobs – as teachers, sales people or business people – has huge benefits.
"A lot of times, when friends and relatives see a change in a person, they want to know more.
"It is easier for the local believers to reach out because people know them, and people want to experience the same life-changing power that can change lives."
To the local leaders, Peter encouraged: "We cannot take for granted that people, including our friends, will know God if we don't share Him with them.
"Don't wait until that person has died to regret not telling him about Christ."
---
*Names have been changed for security reasons.
Join OM in bringing His love to those who do not know Jesus. Explore opportunities here: www.sg.om.org or drop a note to [email protected] if you would like to be equipped and mentored for missions.
Follow OM Singapore on Instagram and Facebook.
40 God stories
To commemorate their 40th year, OM Singapore has published a book, Unchanging: On Mission With a Faithful God, capturing 40 God-stories of Singaporeans, including Peter, who love God and His mission in many parts of the world.
"The quintessence of OM rests on the premise that God can use anyone, anytime, anywhere, whenever one hungers for Him. It is about giving God a chance to work in and through us," said Rev Keith Lai, President of National Council of Churches of Singapore (NCCS), who served on board OM's Logos ship.
"The 40 curated stories in this book testify to this truth. What a motley bunch of most unlikely individuals. What diverse and interesting backgrounds. But all with an underlying common thread – a touch of God's grace stirring in their hearts to leave home and venture into the fathomless unknown."
To purchase the book for yourself and your friends, click here.
---
MORE STORIES ON SERVING IN HARD PLACES:
A picture of a sitting toilet confirmed this couple's call to missions
A picture of a sitting toilet confirmed this couple's call to missions
If you have enjoyed reading Salt&Light...
We are an independent, non-profit organisation that relies on the generosity of our readers, such as yourself, to continue serving the kingdom. Every dollar donated goes directly back into our editorial coverage.
Would you consider partnering with us in our kingdom work by supporting us financially, either as a one-off donation, or a recurring pledge?
Support Salt&Light